Best Touring Kayaks in 2023 [8 Kayak Reviews & Buyers Guide]
Purchasing the best touring kayak is not always the easiest decision any kayaker will make. There are heaps of features you can have (or not), a few main materials to choose from and then comes the much-anticipated price tag.
If you've been shopping around for kayaks before you'll probably know that touring kayaks tend to push the price a little higher than your average recreational kayak.
However, the cost does come with a higher quality piece of kit – touring kayaks are usually more specialized and longer than standard kayaks.
The Best Touring Kayaks at a Glance
You ought to look for the best touring kayak which seats you comfortably and has features that make your day or weekend trip more enjoyable – for example lots of dry storage or an area for a kayak cooler.
Traveling longer distances really is where touring kayaks excel, their long and streamlined design allow them to effortlessly cut through the water with ease whilst remaining stable – this allows you to conserve your energy and stamina.
As you'll be traveling long distances you'll need somewhere to store all your much-needed gear whether this is fishing tackle, camping gear, food, or clothing.
I'd always lookout for a touring kayak with storage hatches and bungee rigging systems on the deck – we'll cover all of this in our buying guide.
We have poured hours of research reading customer reviews, watching videos, and carrying hands-on testing to bring you the 8 best touring kayaks on the market today. 
8 Touring Kayak Reviews 
Best Touring Kayak

Perception Carolina 12 Sit Inside Touring Kayak
This awesome kayak from perception takes our top choice due to the outstanding design and features. There is heaps of storage with both a front and rear dry hatch and 2 separate bungee systems to tie things down. The seat is ergonomically designed and fully adjustable, there are knee/thigh pads inside the kayak for added comfort on longer trips.
The excellent stability of the kayak makes it perfect for people of all abilities whilst still remaining fast and efficient through the water - largely due to the V shape design. Safety has been well worked into] the design of the kayak with an integrated foam bulkhead for added buoyancy. 
What we like:
Lots of storage
Great for kayakers of all abilities
Safe & stable design 
Ergonomic seat design
Specs:
Length: 12` / 14'
Weight: 49 / 53 lbs
Material: Polyethylene
Maximum Capacity: 275 / 300 lbs

Next Best Touring Kayak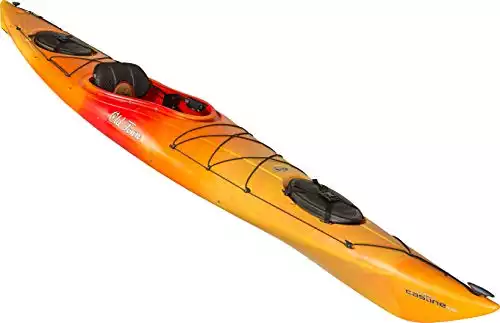 Old Town Castine 140 Touring Kayak
This is an excellent touring kayak choice for anyone who's serious about kayaking. The Castine produced by Old Town is a great balance between maximum comfort and maximum performance. 
There is a lot of storage space, from two dry hatches in both the front and the rear and bungee chords for strapping down items. As well as this the Castine also has a new slide track day storage which sits on the inside of the hull for storing important items you need on hand. 
The Castine also features a fully adjustable seat with a built-in backrest to ensure you are comfortable on your long expedition trips. 
What we like:
Lots of storage
Innovative & comfy seating
Adjustable foot and thigh braces/padding
Lightweight considering the length
Specs:
Length: 14'
Weight: 53 lbs
Material: Polyethylene
Maximum Capacity: 375 lbs
Accessories: None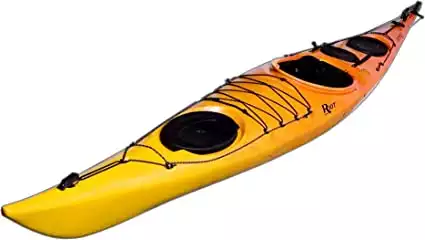 Riot Kayaks Brittany 16.5 Flatwater Touring Kayak
This kayak by Riot Kayaks is an award-winning British style touring kayak. The sleek design makes this kayak agile and fast through the water whilst still being wide enough in the center to offer great stability making it suitable for paddlers of all experience levels. 
This kayak features plenty of storage space both inside the storage hatches and on the deck via the bungee chords. 
You also get a high-performance custom-fit seating system, pilot rudder system, and quick-lock foot-braces.
Many customers report on the comfort of the adjustable kayak seat, making it suitable for longer expeditions. 
What we like:
Lots of hatch and deck storage
Stable but agile design 
Pilot rudder system
Specs:
Length: 16.5'
Weight: 51 lbs
Material: Polyethylene
Maximum Capacity: 300 lbs
Accessories: Skeg and Rudder included

Best Budget Touring Kayak

Pelican Maxim 100X Sit-in Kayak 10-Foot
Whilst, not a dedicated 'touring kayak' this one does make a great value option due to its features which you usually only find on a touring kayak. 
The inbuilt storage hatch and on deck bungee chords give you enough space to store enough gear for a full day trip. 
The V-chine hull design allows the kayak to easily cut through the water whilst remaining very stable - perfect for paddlers of any experience level. 
The Ergoform seat is padded and fully adjustable to ensure that you are comfortable on even longer day trips. As well as this there is a cockpit table with a built-in bottle holder. 
What we like:
Dry storage hatch
Very stable V-Chine hull design
Comfy seat and cockpit table
Specs:
Length: 10ft
Weight: 39 lbs
Material: RAM-X
Maximum Capacity: 275 lbs
Accessories: None

Packable Touring Kayak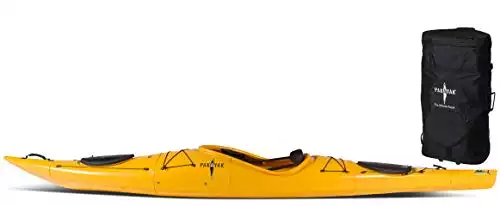 Pakayak Bluefin 14 Ft Touring Kayak
This kayak caught my eye very quickly when it came onto the market. I have always been an advocate for inflatable kayaks due to their portability but they have always lacked in performance. This is where Pakayak has excelled. This is by far the best solid but packable kayak on the market today. 
Coming in 6 separate pieces that securely (and leak-free!) clip together to form a 14ft touring kayak. The shape of the kayak makes it perfect for cutting through the water, turning, and surfing. 
There is two large dry hatch storage areas in the front and rear of the kayak as well as bungee rigging systems. 
Made in the USA, Pakayak also donates a % of profits to help protect endangered marine species. 
What we like:
2 dry storage hatches
Foam supported seating
Packs away in an easy to carry bag
Specs:
Length: 14'
Weight: 59 lbs
Material: Polyethylene
Maximum Capacity: 300 lbs
Accessories: Carry Bag

Best Inflatable Touring Kayak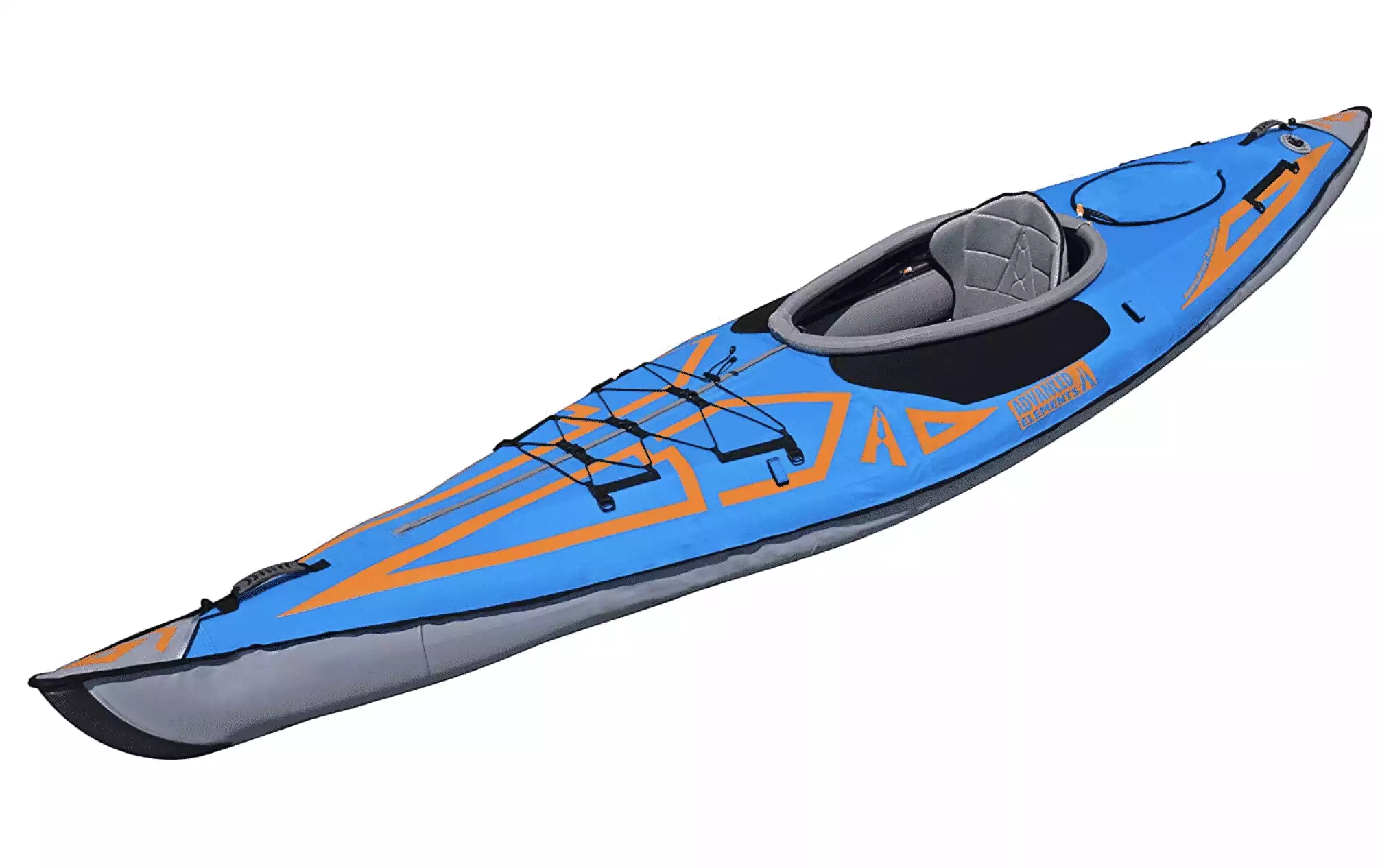 ADVANCED ELEMENTS AdvancedFrame Expedition Elite Kayak
Another great portable touring kayak on our list. This Kayak from advanced elements is inflatable but uses advanced frame technology to provide performance similar to that from a solid kayak. The advanced frame is a foldable aluminum frame that is shaped like ribs throughout the bow and stern to provide a more solid structure and shape which easily cuts through the water. 
Adjustable foot support and a comfortable seat with lumbar support allow you to paddle for hours on end without having to pause and re-adjust for comfort etc. 
Whilst performing at a high level, the kayak has a low center of gravity and stable design which makes it suitable for kayakers of every experience level. The expedition elite can be packed away in a carry bag making it easy to transport to the water's edge. 
What we like:
Lots of hatch and deck storage
Stable but agile design 
Pilot rudder system
Inflatable, therefore easily transported
Specs:
Length: 13'
Weight: 42 lbs
Material: Waterproof Fabric/Plastic with aluminum frame
Maximum Capacity: 450 lbs
Accessories: Skeg and Rudder included


Riot Kayaks Edge 14.5 LV Flatwater Day Touring Kayak
Another touring kayak from Riot Kayaks. The edge is a well rounded day touring kayak suitable for all experience of paddlers. The shape and design allow the kayak to easily cut through the water whilst remaining stable. 
Two storage hatches in both the bow and the stern allow you to pack plenty of gear for your expedition. You also have the ability to strap stuff down with the bungee chord systems for items you need closer to hand whilst out on the water. 
If you are also a keen fisherman, the 11ft and 13ft version comes with integrated rod holders however the 14.5ft kayak does not. 
There is also an integrated pilot rudder system and adjustable foot pedals to help you turn and track straight through the water. 
What we like:
Dry storage hatches and bungee system 
Lumbar support seat
Specs:
Length: 14.5'
Weight: 60 lbs
Material: Polyethylene
Maximum Capacity: 300 lbs
Accessories: None 


Brooklyn Kayak Company Touring Kayak
We've mentioned the Brooklyn Kayak Company a few times on this site already and I'm sure with the quality of their products they'll be mentioned a lot more. 
This kayak is an excellent example of a touring kayak, it's lightweight and easy to maneuver in the water whilst still being able to carry a good amount of gear for your expedition. 
Dual water-resistant hatches in the hull ensure your gear remains dry from waves coming over the kayak and if you're also planning on using your touring kayak to fish then this kayak also has a pair of flush mount rod holders to keep your fishing poles out of the way whilst paddling. 
What we like:
Two dry hatches
Pedal controlled rudder system
Collapsable paddle included
Specs:
Length: 14ft 11inch
Weight: 55 lbs
Material: Polyethylene
Maximum Capacity: 250 lbs
Accessories: Rod Holders and collapsable paddle 

How to choose the best touring kayak – Buyers Guide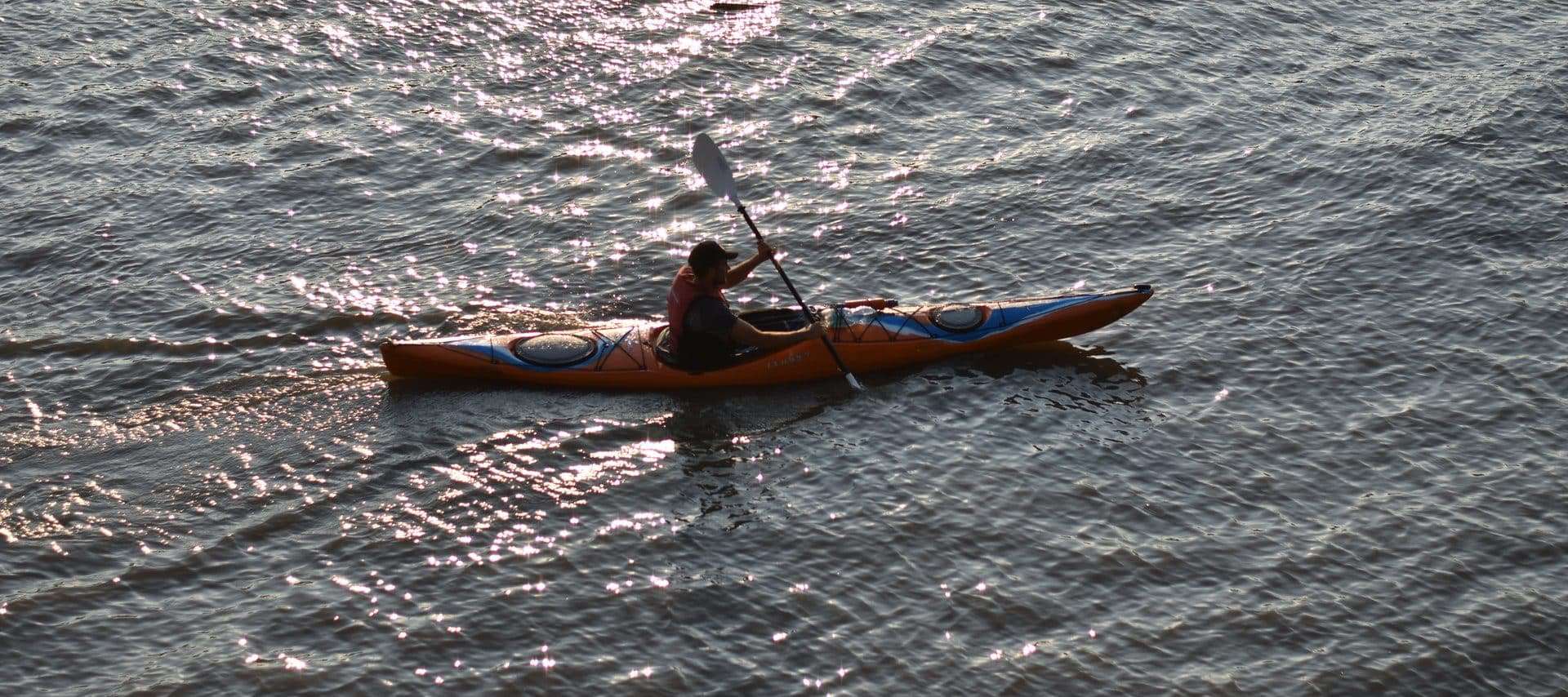 When you begin to shop around for high-quality kayaks you really start to appreciate the number and quality of key features that the kayaks possess.
You can understand the craftsmanship that has gone into each product and understand why certain aspects of the kayak exist and how it helps the kayak for its intended purpose. 
If you aren't 100% clued up yet, this buyers guide should help you get your head around everything you need to know about choosing some of the best touring kayaks on the market and how to avoid a bad one!
Budget
Budget is probably the first thing that most people consider first when trying to buy a kayak – so we will cover this topic first. 
It needs no saying that purchasing a kayak is a large investment and the price range of kayaks varies massively so understand the ratio of price:quality can be difficult.
Due to the price of kayaking – especially touring kayaks for that matter, you want your purchase to last you many years to come and survive thousands of times out on the water. 
The price range of a touring/expedition kayak can vary anywhere between $300 – $3000, sometimes even a little more. As you can see these types of kayak can soon shoot up in price.
This is mainly due to the size and shape of a touring kayak. They require better expertise and manufacturing to produce. 
Whilst you may be tempted to buy the more budget-friendly options on the market (these kayaks can be a great option), just keep in your mind that when it comes to touring kayaks you usually get what you pay for with the higher budget options. 
You may find that the cheaper options wont be as durable and therefore will need replacing sooner. Or that they don't perform as well as expected – performance in touring kayaking is important especially in environments such as the sea. 
In my personal experience a kayak around the $500 mark will be made from high enough quality materials to last you a long time – it may be produced from ABS plastic or similar.
However, when you step up to the $750+ price point you start to have a durable kayak that also performs exceptionally in the water and has some great features like extra storage space. 
If you are looking at kayaks that are priced $1500-$3000 then you should be able to easily get a really high performing kayak made from high quality and lightweight materials such as kevlar.
If I was paying this much I would also expect top-level performance and extra features such as dry storage hatches for my goods and rod holders if I was using it for sea fishing etc. 
If you are truly using the kayak for expeditions in the ocean then the larger the kayak the better.
Usually, a bigger touring kayak also has a bigger price tag. Just remember you'll be getting more for your money if you make a well-informed purchase. You'll get more storage space in the kayak, better stability, and much better tracking in the water. 
It's easy to opt for the cheaper and simpler option, but when you are choosing your budget you have to be realistic with both what you can afford and what options on the kayak you want.
I would always recommend going with a price point you are comfortable with but always remember that you don't want to have to replace your kayak in a year's time because your skill level has outgrown it or it hasn't survived. 
The time of year you buy a kayak can actually affect the price. If you are on a tighter budget then you can time your purchase to your advantage. We wrote a full article on this: What Is The Best Time To Buy A Kayak & Save Yourself Some Money.
Your skill level 
After kayaking for many years I can safely say that I have fallen for the trap of believing I'm a way better kayaker than I actually am! This is common and you should try to be as honest as possible with yourself whilst considering your own skill level. 
Kayaks come in various lengths and shapes and your skill level will be a key factor in the decision of your kayak shape. 
Most beginners will opt for a shorter and wider kayak which offers better stability in the water and they also tend to be easier to turn and control. Recreational kayak types are perfect for the beginner. 
If you have a little more experience on the water you can opt for a longer kayak, maybe around the 10-13ft mark.
You will have more hull/deck space and usually some storage options that aren't available in the smaller kayaks.
Longer options are usually harder to turn in the water but the advantage is that they track straighter and faster through the water making longer kayaks better for long days/expeditions. 
If you're an advanced kayaker and have some experience in a touring kayak / expedition kayak then go for the longer boat. Sea kayaks can start at around 11ft and i've seen them go to 16ft in length.
Touring kayaks are long which allows them to cut through rougher water easily – perfect for long trips. They also tend to have lots of storage space inside the hull. Many people use the storage space to pack camping and fishing gear. 
What are you using the kayak for?
Where and how you are planning on using the touring kayak can alter your purchase decision. If you are planning on using the kayak in the sea you might want to opt for an option that is more sea friendly.
Quite often sea kayaks are sit on top kayaks which have scupper holes to allow water to leave the kayak once it enters. 
If you are looking for a touring kayak to go fishing, you might want to opt for a longer shaped fishing kayak. 
Fishing kayaks usually have more storage than your average kayak this is so you have enough room to store your tackle and rods. Some fishing kayaks also have built-in rod holders and a place to hold your fish finders etc. 
If you can only see yourself using the kayak for shorter, singular day trips then you probably wont need as much storage space and can therefore opt for a smaller touring kayak which will also usually bring your price range down. 
However, if you are wanting to do multi-day trips and camping trips then you'll need the longer type of touring kayak which is more efficient through the water (great for long trips with lots of paddling) and have a lot more hull storage (I'd go for dry storage areas for multi-day trips) for all of your gear, food, kayak tent, etc. 
How will you transport your kayak?
One of the hardest parts about actually getting ready and going out on a kayaking trip is transporting your kayak… Both to the lake or sea via your vehicle and then from your vehicle to the actual water.
Before you go out and buy a 15ft rig you want to make sure you can transport it safely.
Whether this is via a roof rack on the top of your car or via a kayak trailer. I always inform people to check out their local laws when it comes to transporting kayaks with their vehicles.
Certain circumstances require additional steps such as taping a red flag to the kayak if it overhangs your vehicle more than 5 feet.
I don't know every law around the world so please do your own due diligence here and do some research. It's best to be on the safe side!
Roof racks are great as they are easy to set up and don't require too much work. You can easily put your kayak on and off the roof rack and take it where it is needed.
However, if you opt for a really long and heavy kayak a roof rack might not be able to carry your kayak and therefore you may need a kayak trailer.
With some vehicles, you can create your own make-shift roof rack. You will also want to consider the kayak weight whilst transporting both for not exceeding your vehicle's carry or tow limit, but also for your own wellbeing whilst lifting the kayak on and off the racking system you choose.
Most kayaks are designed to be fairly lightweight by their nature, but you don't want to buy a solo touring kayak and realize that you cant lift it from your car to the water on your own.
You also don't want to strain your body/back (especially right before a big expedition!). If you can't lift the touring kayak to the water, a kayak cart will be your best friend. 
Rudder or Skeg?
If you're a keen kayaker and chances you are if you're looking for a touring kayak then you might be aware that kayaks can utilise a rudder and/or a skeg to improve their tracking and stability in the water. 
The key difference between a skeg and a rudder is that a skeg moves up and down, where as a rudder moves side to side in the water. 
The rudder can be found at the rear of the kayak. The rudder is usually controlled by your feet in a touring kayak.
This allows you to keep your hands on the paddle at all times. the benefit is that you can make slight adjustments in your direction by operating the rudder whilst still paddling forward and maintaining momentum. This makes your time on the water more efficient and enjoyable. 
Many people may prefer to just paddle more on one side to turn the kayak which is completely acceptable, but if you are stuck in a strong current or large swell you may find that you'll be struggling to track straight and kayak in a straight line whilst trying to adjust for direction.
In this situation, a rudder is super handy in helping you make slight adjustments but still push forward.
As skeg is used in a similar manner to the rudder in that it helps you maintain good tracking.
However, the skeg is not controlled by the feet to move side to side. The skeg stays stationary in the water and is lowered into the water from the rear of the touring kayak. 
You can retract the skeg in shallow water to avoid it hitting the rocks and sea/lake/river bed. Ultimately a skeg give you much better control over the conditions.
Comfort
Most people nowadays tend to buy everything online and that includes outdoor items such as kayaks.
Whilst it's convenient to have it shipped right to your front door you do miss out on the experience of sitting in the kayak and checking out its comfort for yourself. 
The best way I like to gauge the comfort of a kayak is to read about the materials the kayak seat is produced from, if all that sounds good I will head over to the customer reviews and give them a good read. Chances is are if that it is comfy for many people it could be comfy for you.
Another great tip is to check out the returns policy, whilst I don't recommend ordering a bunch of kayaks and returning them just because you can, it doesn't hurt to know that if it really is a terrible fit for you then you can always return it if possible. 
It's worth mentioning that not all kayak cockpits are a standard size, it's determined mainly by the kayaks length and shape. Larger people may find considerably less comfort in a really narrow kayak due to the width restraints. 
The best touring kayaks by nature are long and thin, if you have a wide frame then perhaps you'll find more comfort kayaking on a sit on top ocean kayak where you have more room to move freely but still some of the advantages of a touring kayak such as efficiency, skeg or rudder etc. You can also view our recommendations on the best kayaks for big people. 
Foot rests are another feature of the kayak which can improve your comfort. I would always recommend getting a kayak with adjustable footrests which you can alter to fit your leg size and seating position. 
Adding additional accessories to your kayak can also make your time out on the water more comfortable. You can attach umbrella holders which can add some much needed shade and shelter from the sun or other elements.
Kayak GPS is also another popular device which can be attached to the kayak. You'll never have to worry about getting lost – a simple device can really put your mind at rest. If you're fishing from your touring kayak then a fish finder or kayak cooler may be the perfect gadget for you as well. 
Key Touring Kayak Features To Look Out For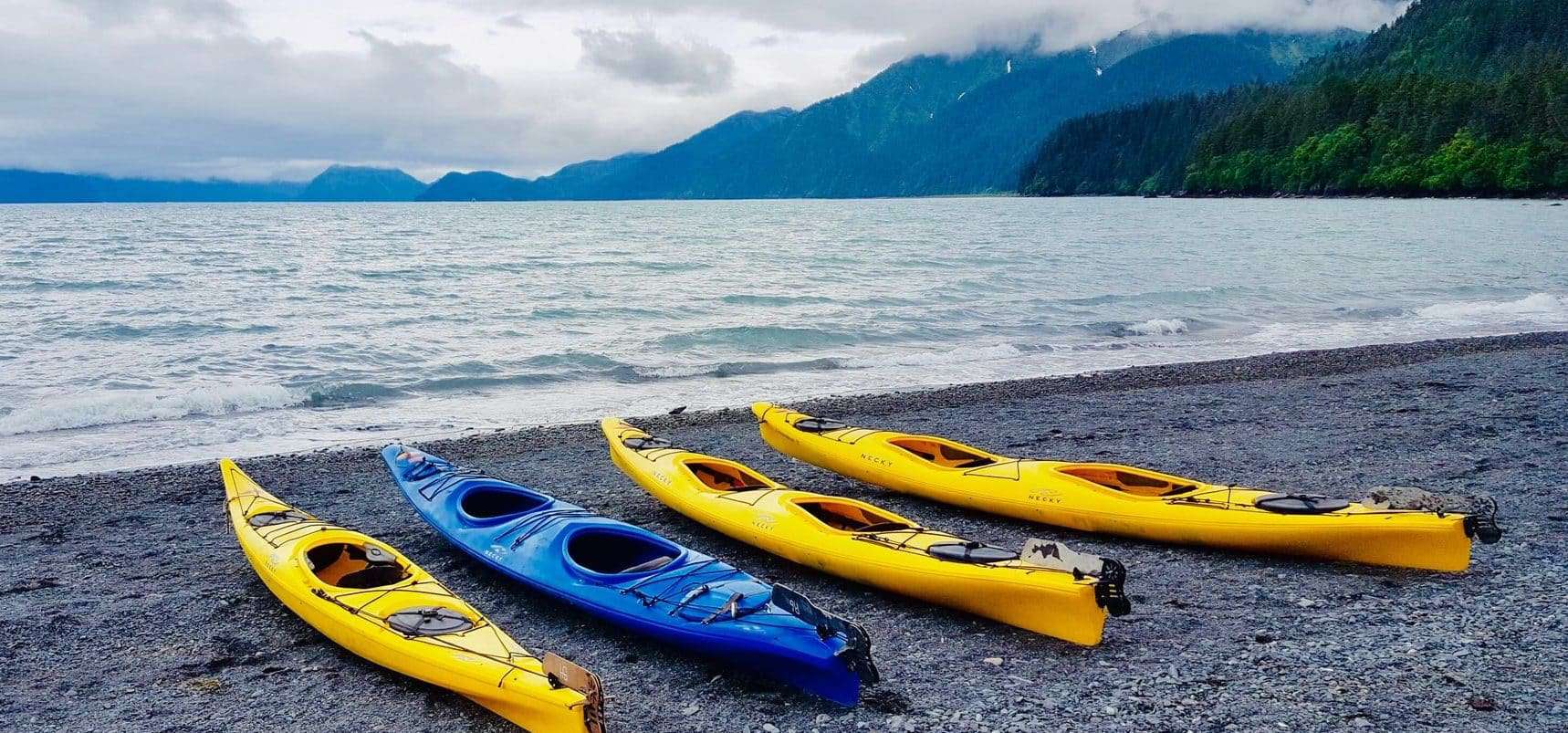 There are many features which make up the best sea touring or best touring kayak. Most enthusiasts will agree that these are a long narrow body, comfortable seating and lots of storage space (preferably dry storage). These are the features that should be at the top of your list. Let's go over them in more depth and over some others.
Storage
Storage is one of the key features in a touring kayak. The whole idea behind a touring kayak is that you can take it out on a multi day trip with your food, gear and camping equipment or perhaps a full day trip with some food and maybe even some fishing gear. Regardless of what you are doing with your touring kayak the storage is key. 
Touring kayaks utilise their long stern and bow areas within the hull to include dry storage hatches which can fully seal all your gear away from the elements. Even in the unexpected circumstance of capsizing the kayak, everything will stay dry. 
As well as storage hatches there is often bungee systems on the deck of the kayak which can also be great for strapping items and equipment down, such as a spare paddle and a kayak crate. 
Touring kayaks are often large and have lots of deck area, this space can be utilized by storing a kayak cooler, to keep all of your drinks and snacks cool on a hot day. 
Seat
Expedition kayaks are made to be used for hours paddling at a time to cover large distances. Therefore making sure you choose a kayak with a comfortable seat it vital.
You can even get customized seats produced to replace the original one that comes with the kayak – it's easy enough to swap them out. 
I would always opt for a seat with a considerable amount of padding, that is shaped to fit the curvature of your bum and back. It's always wise to choose an adjustable seat so that you can always change the sitting position to  you and the conditions better. 
Kayak Material
The material that the best touring kayak is produced from usually is reflected from the price paid. Of course higher cost means higher quality materials. 
Polyethylene is probably the most widely used material used to produced kayaks. It's very durable and affordable. A lot of recreational kayaks are produced from this material because it's cheap but adequate to produce a good quality kayak. 
Polycarbonate is another popular plastic used to produce kayaks. It's another hard plastic and is relatively cheap to buy. You will find some touring kayaks produced from this material. 
Fiberglass is a lightweight material used to build kayaks. It's slightly more expensive due to it's weight which makes it easy to carry and manoeuvre in the water. Whilst it is not as durable as hard plastic kayaks, it is easy to repair.
Kevlar is a premium material used to build touring kayaks, it is super lightweight whilst in some regards being as strong as steel. You are sure to have a kayak which could last you a lifetime if it produced from kevlar. However the weight, strength and reliability of a kevlar kayak does come with a high price tag. 
If you have the budget then of course I would recommend going for the number 1 option, however fiberglass is relatively cheap for the quality nowadays, so that would also be a great 2nd choice.
Cockpit
Ideally, you would want to choose a kayak that best fits your body size. It's sometimes tough to gauge the size of the cockpit and how you will fit inside it but it is something to think about whilst buying the best touring kayak.
The less room you have around your body in the cockpit the better control you will have in the water whilst committing to turns and just overall maneuvering the kayak especially in choppier waters. 
Touring Kayak FAQs
Do I need a specific paddle for my touring kayak?
Your touring kayak paddle is one of the most important pieces of equipment you will use.  The average paddler will take around one thousand paddle strokes per mile so it is very important to ensure the paddle you are purchasing will allow you to further enjoy your time on the water with less fatigue.
Whilst some people will argue that you need a specific paddle for a touring kayak, I believe there is just too many variables at play to say that there is one paddle to fit an entire class of boats.
You must consider your height, arm length, blade size, fitness levels and much more when choosing a kayak paddle. 
One point to note is that you often don't need as long paddles with a touring kayak as the boat is much narrower than a whitewater or recreational kayak. 
How long should my touring kayak be if I'm female?
Touring kayaks usually range anywhere from 11 to 16 ft. Females will usually opt for a touring kayak on the shorter end of the spectrum in the 11 to 13ft range. This will give a kayak which still has ample storage space for long trips whilst remaining easy to control.
Do I need to balance my touring kayak?
This is something that is overlooked by some people and you don't realise what has gone wrong until you're in the water struggling to paddle in a straight line and using all of your energy to stay upright!
Almost every touring kayak will have at least 2 places to store your gear whether it be dry storage hatched in the hull or a bungee system, on the external of the kayak.
If you end up strapping all of your heavy gear on one side of the kayak you will find it much more difficult to turn and paddle the kayak in a straight line as you will have to adjust your seating position to compensate for the weight being unbalanced.
Before you even step into the kayak you want to take a few minutes to analyze the weight distribution of your gear and equipment on your kayak. Make sure it is well balanced to either side and front to back.
You'll notice an increase in paddling efficiency and the amount of energy you will conserve for your trip if you just take a small amount of time and effort to get the balance of your touring kayak correct. 
What is a kayak rudder and how do I use it?
The rudder is a piece of equipment that can be found at the rear of the kayak. The rudder is usually controlled by adjusting your feet in the kayak.
This allows you to remain to paddle and propelling forward all of the time. The rudder moves side to side and allows you to make slight adjustments in your direction. This makes your time on the water more efficient and enjoyable. 
What should I wear whilst kayaking?
Whilst you're out on the water it's always best to be fully prepared for the worst possible outcome of the elements. In the summer I would say that any clothes you will be able to breath in and any shoes you don't mind getting wet will be fine.
Though if you're kayaking throughout the winter months then you should definitely layer up your clothing to ensure you stay warm. Always remember to bring a waterproof jacket with you, this can be placed under your bungee chord system. 
We have more info on what to wear kayaking. Always remember to wear your Kayak PFD/Life vest!
Do I need to be in good shape to use a touring kayak?
Kayaking is a sport which of course involves a certain degree of exercise. But it's easy enough to take up whether you are in poor shape or great shape – it doesn't really matter.
Kayaks will have a maximum weight limit as overloading the kayak can cause it to become unstable and capsize.
Nevertheless, if you are trying to get into better shape, kayaking can be a great workout for you. You can always go at your own pace in a kayak so I wouldn't worry about your fitness levels too much. 
Best Touring Kayak – Conclusion 
It's fair to say that kayaking has always been and remains one of the most loved water sports around the globe.
What better way to get in a workout and enjoy the outdoors than from the viewpoint of the surface of the water – something that you can't always do.
Whether you like solo kayaking, tandem kayaking, or heading out with a bigger bunch of friends a day or two on the water is always great fun for everyone involved.
This is where touring kayaks are great, they allow you to travel longer distances and carry lots of gear for your bigger adventures. Many people often load up their touring kayaks with days (sometimes weeks!) worth of food and gear and head out on an ultra-long expedition.
We really hoped that the buyer's guide and our recommended top 8 touring kayaks will help you make an informed choice.
We believe you can't go wrong with any on our list. To recap, our two favorites are: Perception Carolina Sit Inside Touring Kayak and the Old Town Castine 140 Touring Kayak. 
Related Kayaking Posts