Tandem kayaks are a fantastic way to experience the outdoors with your friends and family. To ensure you get the best tandem kayak possible we have poured hours of research into the production of this article.
Tandem kayaks give you the ability sit 2 or more people inside of the same kayak whilst still having the storage and room to carry along all of your essentials and sit comfortably. The best tandem kayaks are produced from high quality materials, have comfortable seats, good storage and are very stable.
The Best Tandem Kayaks at a Glance
I've spent many years kayaking and throughout that time i've made some really great kayak purchases and some really bad ones. Using my experience and compiling a list of tandem kayaks which have the best features for every paddler I hope you can soon be out on the water with the best tandem kayak for you.
Let's dive right in!
Best Tandem Kayaks – Our Top 7 Picks
How To Pick The Best Tandem Kayak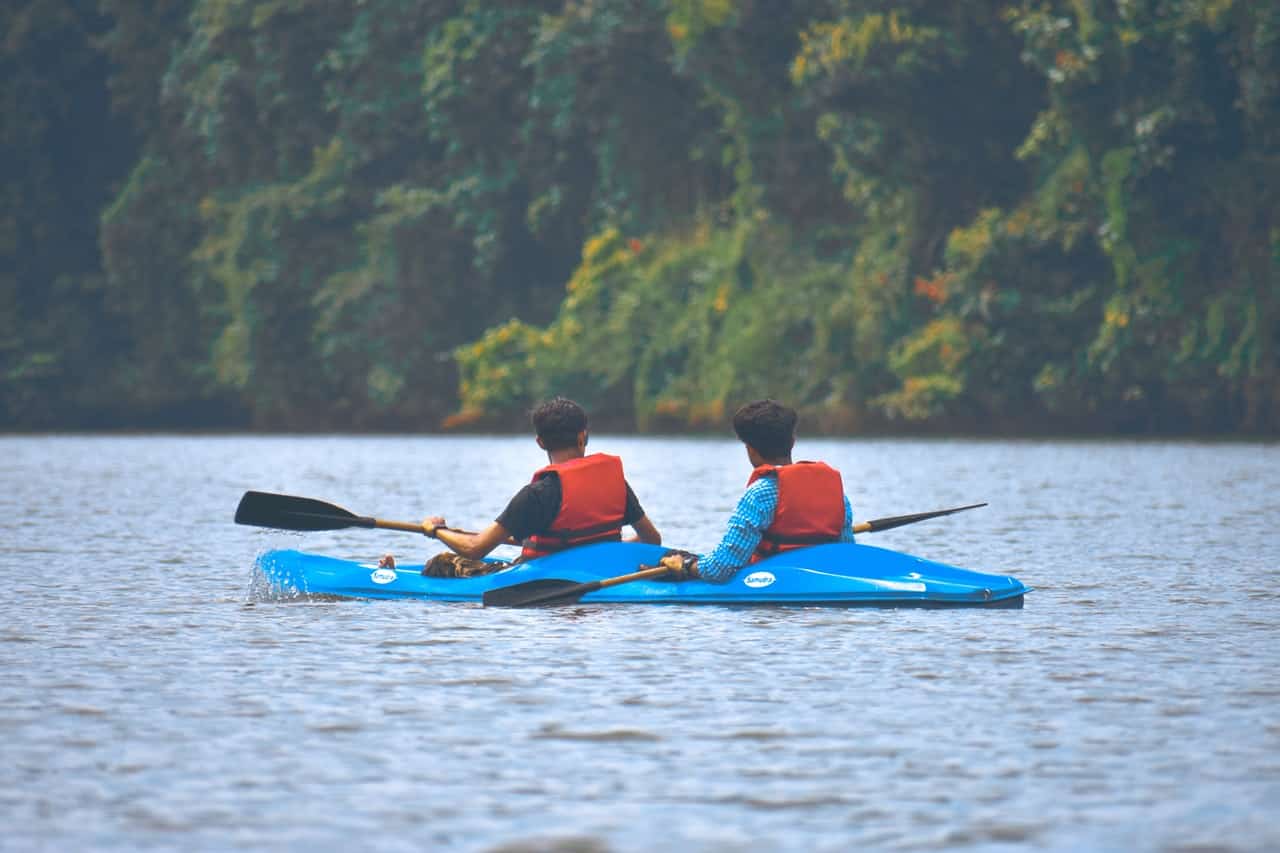 Materials
​The majority of kayaks have a hard shell made from a durable plastic that is strong and requires next to no maintenance. Some kayaks made from composite materials like, fibreglass, carbon, and Kevlar. These kayaks are significantly lighter but they don't wear as well and will require more looking after. They also tend to come with a much higher price tag.
If you opt for an inflatable kayak, make sure to buy one with tear and puncture resistant materials. You don't want it to catch on some rocks at the shore and ruin your adventure!
​Tandem Kayak Length 
Kayak length is one of the most important deciding factors when learning how to choose a kayak. It's a general rule of thumb that a long and narrow boat is faster through the water, and a shorter, wider kayak is slower but offers more stability.
Make sure you understand your needs such as how much storage you will need for your gear, if you need a dry hatch or how many people you will be taking with you. Longer boats will have more storage and room to sit.
​Inflatable or Not?
Inflatable kayaks are also a great option, they can be very comfortable and easy to paddle. They are deflated, rolled up and stored in a bag making them easy to transport. The material is surprisingly durable and if well looked after (cleaned and dried after use) can last for many years. Because they are so soft, they tend to be a lot slower and harder to manoeuvre than hard kayaks.
If you expect to be taking your tandem kayak through harsher waters such as fast flowing rivers and the sea which require more paddling then I would opt for a hard tandem kayak, however if you are in calm rivers and lakes then an inflatable one will do the job.
​Categorizing The Kayak
For a beginner, one must learn that kayaks vary greatly between brands. For that, it might be confusing that 2 brands are offering the same boat, one calling it recreational and other day tours.
You must know that Recreational Kayaks are more stable, affordable and easy to get into and out. They might not be the best for longer trips and waves.
Day touring kayaks are sleek and efficient, which is why they are priced higher than recreational ones. They track straight and allow more control.
A touring Kayak is very efficient. It has either a rudder or a skeg to protect from strong winds and to help track straight. This kayak has a higher price and a large cargo space for overnight trips.
Other Key Considerations
Spray Skirt – Usually found on kayaks which are used on whitewater rivers and on touring kayaks, the spray skirt covers the paddle around the waist and prevents and water from entering the kayak cockpit. Most tandem kayaks are sit on top and therefore don't use a spray skirt.
Rocker – When the designers and planning the shape of a kayak, they consider the rocker, this is the curvature of the kayak and it directly affects how easy the kayak is to turn in the water.
Skeg – The skeg is attached to the bottom of the tandem kayak, it is either fixed or detachable. The skeg helps to stabilize the kayak in harsher/windy conditions. It will keep the kayak tracking in a straight line – very helpful when travelling long distances.
Rudder – The rudder is sometimes confused with the skeg, but they don't serve the same function. The rudder is actually used to control the direction of the kayak in addition to the paddler. Rudders are more commonly found on boats and fishing kayaks when your hands aren't always free to paddle.
Why Choose A Tandem Kayak?
Advantages
You can take your family!
This is the main advantage of a tandem kayak. Some tandems seat 2,3 and occasionally 4 people at a time. If you're after some family time, especially if you have younger children then a tandem kayak can be the perfect thing to get you all outdoors.
If you have a small child, you can often place them in the middle of the two seats in a 2 person kayak, as long as the weight limit isn't exceeded.
I would always advise sitting the child in the front seat of the cockpit and the adult in the back, so you can keep an eye on them at all times and help them out with the paddling. It is also easier to manoeuvre the kayak from the back seat, so if you are the more experienced paddler I'd sit in the back.
Remember when taking kids out on the water, safety should always come first. Make sure everyone is wearing life vest and that some basic ground rules such as no standing up or jumping into the water has been covered.
Can be easier on either person if travelling long distances
One of the beauties of a tandem kayak is that there is 2 or more people paddling. If you are travelling long distances and are worried about getting exhausted, the tandem gives you the chance to have a rest whilst still moving forward.
You can just alternate between paddler ensuring everyone on board has a good amount of rest.
You can also easily multitask in a tandem kayak. If you are wanting to take pictures or eat lunch whilst out on the water it's often easier with two people on board. Plus tandem kayaks usually have more hull space and storage so you can easily pack all of your essentials.
Fishing is often easier with two people on a tandem kayak. If you are reeling in a big fish the other person can help you get it on board and keep the kayak stable whilst you're reeling it in.
Tandem kayaks usually have more speed
If you buy a best tandem kayak which is produced from high quality materials and is streamlined they are often faster through the water than solo kayaks. If everyone on board can time their strokes correctly, you will soon pick up momentum fast and you'll be cutting through the water much easier than if you were on a solo kayak.
Because tandem kayaks are built to carry 2 or more people they are often built a little wider and longer than a solo kayak. this improves their stability in the water.
This makes them great as recreational kayaks and for beginner paddlers.
Kayak fisherman often use a tandem as their fishing kayak due to the increased stability and storage room.
The saying is true… a dog really is a mans best friend. Every dog owner understands the enjoyment gained from being able to take your pooch anywhere with you and to experience the adventurous life you enjoy. After all dogs are closely related to wolves, they love being outside! Getting the best kayak for dogs is going to make your time on the water easier to manage and more comfortable.
Tandems are often the kayak of choice for you and your dog as they have a lot of room and plenty of stability for the dog whilst on board.
Disadvantages
Storage and Transporting the Tandem Kayak
One of the biggest disadvantages of a tandem kayak is the fact that they are often much longer and wider than a solo. This raises the question of storage and transport.
You'll need a bigger car to be able to fit the tandem kayak on the roof or trailer. You'll also need a bigger storage area back home to be able to clean and store the kayak in.
To get around this many people opt for an inflatable kayak which gets rid of the issue all together. Inflatable kayaks roll up and can be transported in a carry bag, which often sometimes can be carried on your back like a big backpack.
Due to the extra size, tandems are also heavier which makes them harder to carry off the car and into the water – luckily there will be at least 2 of you!
Although arguably the best bit of a tandem kayak is the fact you can share the outdoors and the experience with someone else and we've touched on this already.
Some people might argue that the independence and solo adventures is one of the beautiful things about kayaking on the open water. Would you rather be alone or with someone? only you can answer that.
Conclusion 
We really hope that this article has helped you understand how to purchase and enjoy your time in the best tandem kayak.
We believe that after many hours of research that any of the kayaks we have selected to be in out top 7 list will be a perfect choice for anyone wanting a tandem kayak to enjoy the outdoors.
To recap, our top two kayaks were the Vibe Kayaks Yellowfin 130T Tandem Kayak + 2 Paddles and the Driftsun Voyager 2 Person Inflatable Tandem Kayak + 2 Paddles.
If you enjoyed reading our review and guide then you may also be interested in what we have to say on the best kayak paddles or the best fishing kayaks you can get in 2020.