Best Recreational Kayak Under $500 – Best entry level kayak?
Kayaking is one of the most loved water-sports in the world. It's very easy to see why. You get to explore the outdoors from the beautiful vantage point of being on the water, not something you ever experience from a bike ride or hike.
It's also an extremely good workout, you can push your upper body muscles to the max if you want or if you're just there for the scenery and fun, then you can just as easily coast slowly across the surface of the water and relax whilst taking it all in.
Another great aspect of kayaking is that there is an abundance of kayak types and locations to suit every paddler experience level. All the way from twisting and turning down whitewater rivers that end in waterfall drops to a slow and calm paddle across a lake.
The Best Recreational Kayak Under $500 at a Glance
To make things easier for you we have done hours of research into the best recreational kayak under $500. This way you won't get confused whilst shopping around the thousands of variations on the market and best of all you'll be getting the best option $500 can buy.
Let's get right into it!
12 Best Kayaks Under 500
Top Pick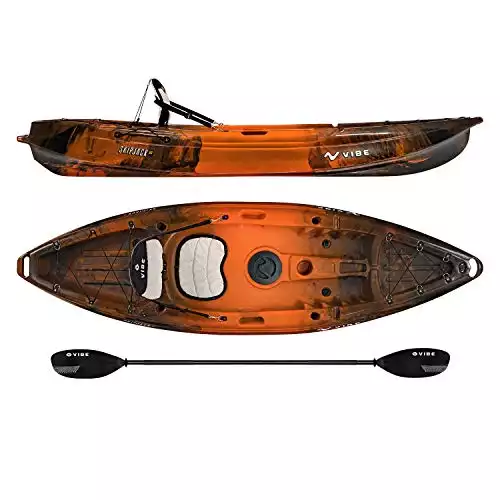 Vibe Kayaks Skipjack 90
This Vibe Kayak takes our top choice for good reason. It doesn't just offer you stability but speeds too which is rare. It has great V-Wave Center Hatch & storage wells in the bow & stern of the kayak which can be quite hard to find in a recreational kayak under $500. 
We think this makes a perfect kayak for the beginner who is looking to purchase a solid kayak that is a sit-on-top ideal for rivers and lakes. 
​This kayak can also be great for someone who is wanting to go kayak fishing. There is 4 flush mount rod holders that allow you to fish from any side of the kayak. 
​Users report on the comfy seat and foot position and how this allows them to kayak for hours at a time without putting too much strain on their back/body. 
At only 9ft long and 32" wide, this kayak is a great size for easy lifting and transport on top or inside of most vehicles. 
We really like this kayak for recreational users and beyond. We wouldn't worry about 'growing out' of this kayak too quickly as you become a more experienced paddler as it's a great kayak choice for anyone. 
What we like:
Comfortable Seat
Flush-mounted rod holders
V-Wave Center Hatch & storage wells
Weighs only 46lbs
Can be used on both lakes and calm seas

Next Best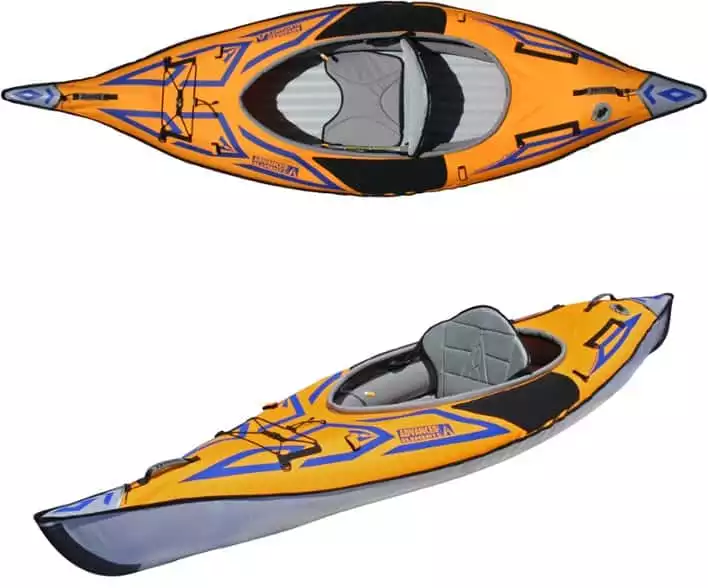 Advanced Elements Inflatable Kayak
At a first glance, you wouldn't expect this kayak to be an inflatable one. This is due to the shape and design similar to that of what you would expect from a solid kayak. 
The shape is defined by Aluminium ribs inside of the bow and stern. This improved shape streamlines the kayak and makes it cut through the water much better than a traditional wider-bodied inflatable kayak. 
This makes this kayak much more efficient through the water and easier to paddle longer distances. 
There are 3 layers of inflatable material to provide excellent puncture resistance. And the seat is removable and very well padded. 
Essentially you are getting all of the benefits of a solid kayak from the ease of paddling and performance along with the portability of an inflatable kayak - this is a great choice!
What we like:
Comfortable Seat
Inflatable
Aluminum ribs provide a streamlined shape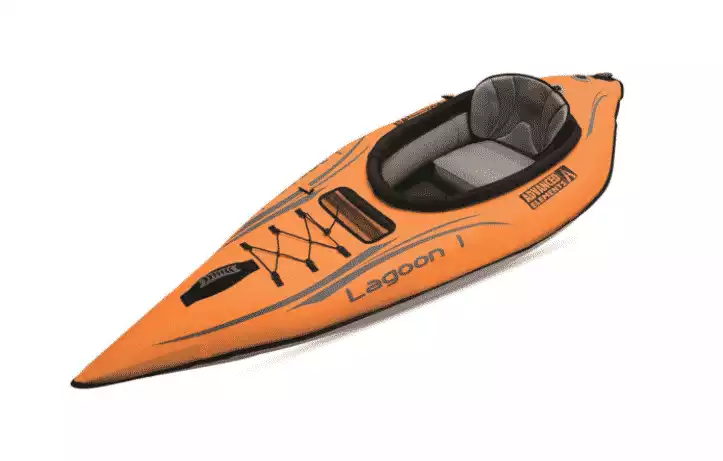 Advanced Elements Lagoon 1 Inflatable Kayak
Another excellent inflatable kayak from advanced elements gives the user all the benefits of a solid kayak with the portability of an inflatable one. 
There are built-in solid panels in the bow and stern to provide the kayak with its shape. The shape drastically improves the tracking and efficiency of the kayak.
The kayak is 8ft 4" long and 34" wide. Weighing only 23lbs when deflated this kayak can be easily transported anywhere, even in a small car. 
What we like:
Comfortable Removable Seat
Solid panels create a streamlined design
Lightweight and inflatable 
Sit inside kayak for better warmth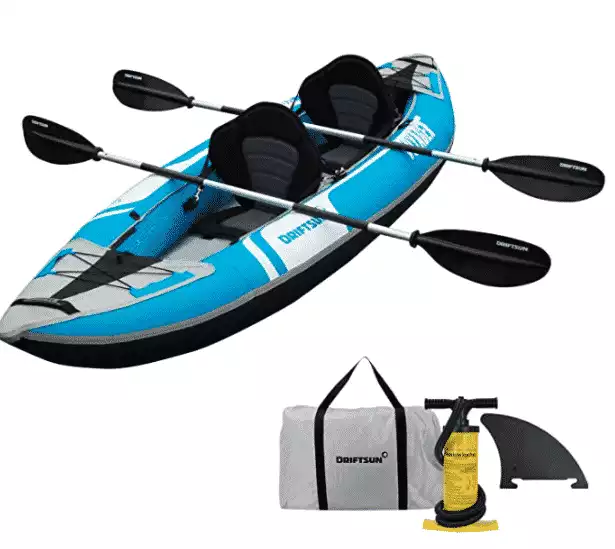 Driftsun Voyager 2 Person Tandem Inflatable Kayak
Driftsun has produced a tandem kayak which has been well received by their customers. We have selected this one as our next best due to its affordability and the fact it's actually inflatable which has many benefits in itself. 
This kayak can inflate to a full size kayak (10ft. x 35" x 16") in less than 5 minutes with the included double action hand pump. You can go from your garage to your car trunk and then into the water in no time at all. 
When deflated for transport this inflatable kayak measures only 26"(L) x 16"(W) x 8"(H) and fits nicely into the included carry bag. Its lightweight design makes it easy to handle by one person, weighing in at only 27 lbs.
The kayak comes with two comfy EVA padded seats, high-quality aluminum paddles, a pump, rear tracking fin, and a durable carry bag. 
Inflatable kayaks are notoriously stable and that's one of the reasons they are great as recreational kayaks used on calmer seas, lakes, and rivers. They are very difficult to capsize and therefore perfect for the first-time kayaker. 
Many users mention that the kayak exceeds their expectations when it comes to the durability of an inflatable kayak and that they believe it will be lasting numerous years out on the water adventuring. 
What we like:
Padded Seats
Inflatable 
Lightweight
Durable and tear-resistant Material
Comes with 2 kayak paddles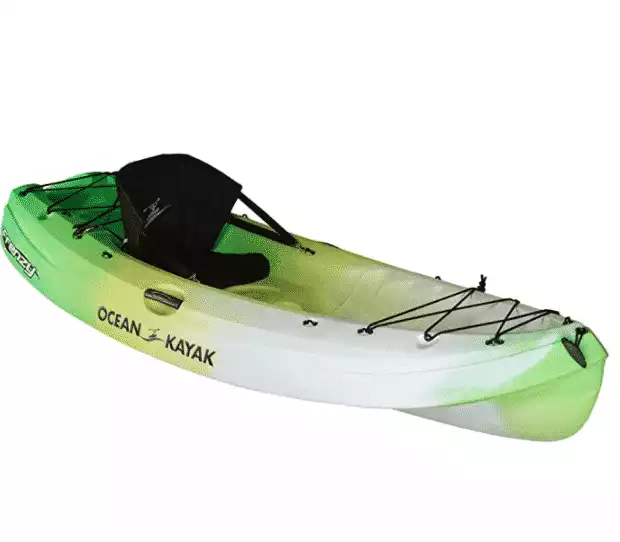 Ocean Kayak Frenzy 1-Person Sit-On-Top Recreational Kayak
Ocean kayak has been a well-loved kayaking brand for many years now. I myself have owned 3 ocean kayaks and I've been very pleased with the quality and performance of everyone. 
This one-person solid recreational kayak boasts great stability even in less calm waters. This is due to its wide base and Tri-form hull. 
There is a 4-way adjustable seat and well-positioned footrests to ensure you are able to comfortably paddle all day. 
There is also storage in the stern tank with enough room to take all of your essentials out on the water with you.
The kayak measures 9 ft long and weighs only 43 pounds so it can be easily transported using the flush side handles. It has a 275lb to 325lb weight capacity and comes with a lifetime warranty on the hull!
What we like:
Comfortable Seat
Very Stable 
Sit on top kayak 
Straight tracking due to hull design
Stern storage and front and rear bungees 
Lightweight so easily carried
Lifetime warranty on the hull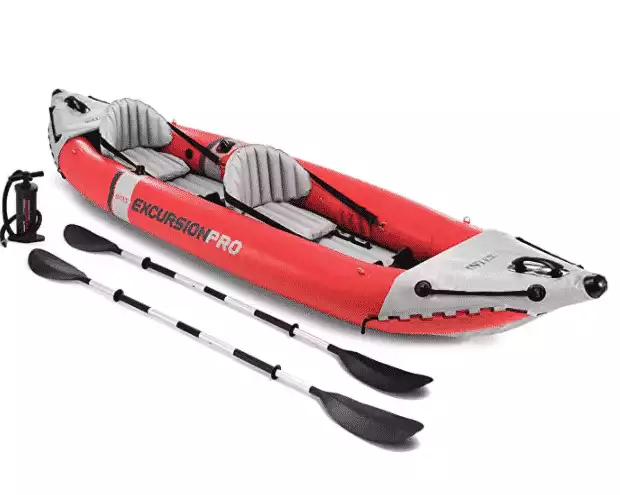 Intex Excursion Pro Kayak
We can't say enough good things about all of the inflatable kayaks produced by Intex. This one is targeted to the more advanced paddler compared to the others they produce, however, we still think it fits perfectly as a recreational kayak. 
It's great for the recreational user due to its stability and ease of inflation and deflation. 
Although it's a tandem kayak, users report on how easy it is for just one person to use if needed. The seat is removable so you don't need to put them both in if only one person is going out on the water - great to have the option!
Made from laminate PVC with polyester core. This kayak is lightweight and highly resistant to damage from abrasion, impact, and sunlight.
You also get 2 removable skews for deep and shallow water, 2 floor-mounted footrests, 2 integrated recessed fishing rod holders, and 2 adjustable bucket seats. 
Another fantastic feature is the storage space both in the bow and the stern along with stainless steel D rings for tying down Dry bags and gear.
The kayak has a total weight capacity of 400lbs so it is also great for larger people. 
What we like:
Removable bucket seats
Made from durable materials 
Rod holders and integrated D rings for strapping down gear
High weight capacity: 400lbs
Good stability and easy inflation and deflation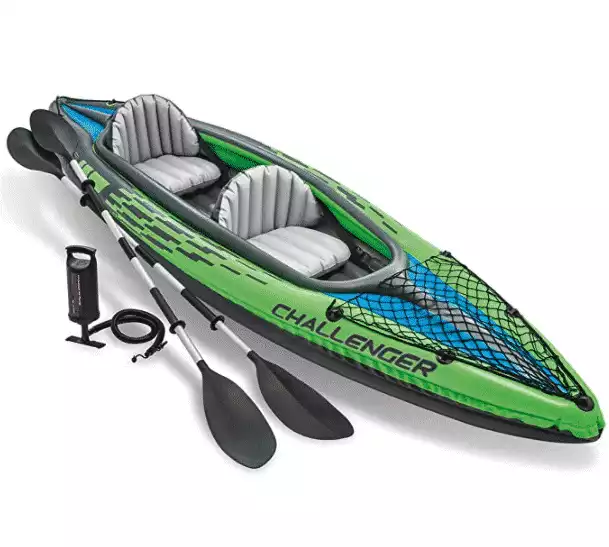 Intex Challenger K2 Kayak
Another portable and inflatable kayak will be great for family adventures on the water. The Intex challenger K2 is an extremely popular choice amongst recreational kayakers. 
Streamlined shape allows for easier paddling which is usually more difficult in inflatable kayaks. 
Produced from Super-Tough vinyl that's puncture and UV damage-resistant for long-term durability - sometimes a worry with inflatable kayaks!
2 very comfy kayak seats ensure you and your kayaking partner won't be in discomfort on your kayaking trip!
A very impressive 400lb weight capacity means you may be able to get 2 people and all of your gear inside the kayak without over compromising the stability
This purchase also comes with two 86 inch aluminum oars. 
What we like:
Great stability
400lb weight capacity
Comes with 2 oars, pump and patch repair kit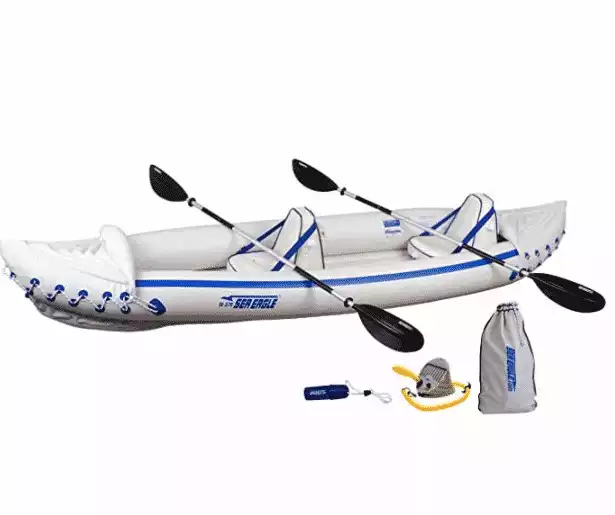 Sea Eagle 370 Pro 3 Person Inflatable Portable Sport Kayak
Another inflatable kayak from Sea Eagle, this one is at a great price point for such an inflatable kayak. 
This tandem kayak can seat 3 people and has a huge 650lbs capacity, so you can be sure it can carry you and all of your gear around. 
Many users comment on the comfort of the padded removable kayak seats which come with the purchase. As well as getting kayak seats you also receive two kayak paddles, a foot pump, and a carry bag. 
Inflatable kayaks are notoriously harder to track in a straight line than solid kayaks however the 2 skegs on the bottom really help guide and track the kayak exactly where you want to go. 
If you are after affordability, lots of space and carry capacity, and super easy transport then this inflatable tandem kayak could be perfect for you. 
What we like:
Durable materials 
Inflatable for easy transport
Big carry capacity
Comes with 2 paddles, 2 seats, pump and carry bag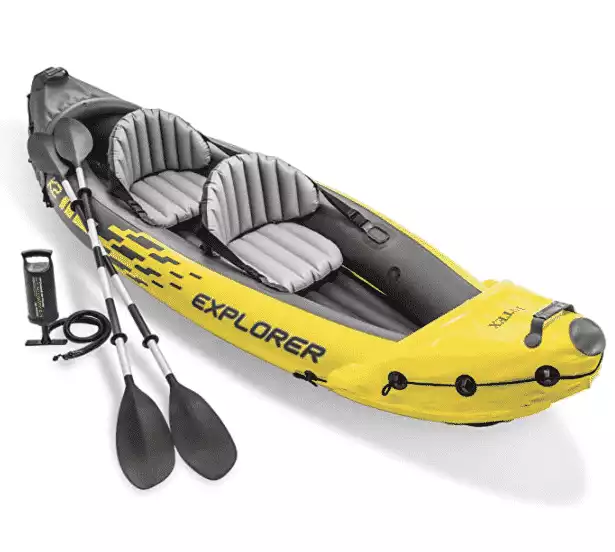 Intex Explorer K2 Kayak
Another Inflatable Intex kayak has made our list and for good reason. Thousands of customers have reviewed this product on Amazon.com and the great reviews keep pouring in. 
Loved for its great portability and small size it packs away. Also for the ease of inflation and deflation. 
Very affordable this kayak is a great choice for beginners and recreational kayakers.
Not short on room, this kayak can easily fit two people and a dog. The comfy seats ensure you stay upright and paddle in the correct position making sure you avoid any back and arm pain. 
What we like:
Very affordable 
Only made for smaller bodies of water such as lakes and mild rivers
Plenty of space for you and your dog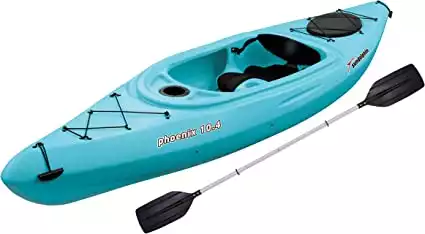 SUN Dolphin Phoenix 10.4
This kayak is a solid sit inside kayak produced by Sun Dolphin. 
Overall it is a great recreational kayak due to its wide base and center which provide the kayak with good stability. 
The kayak has a comfy padded seat and backrest to ensure you can stay out on the water for many hours at a time. 
The main benefit of a sit-inside kayak is that you can attach a spray deck to prevent any water from entering the kayak, this can be very useful in colder climates when the water temperature has dropped. A sit-inside kayak will also protect your lower half from the wind.
What we like:
Padded seat and backrest
Adjustable footrests
Sit inside kayak
Storage hatch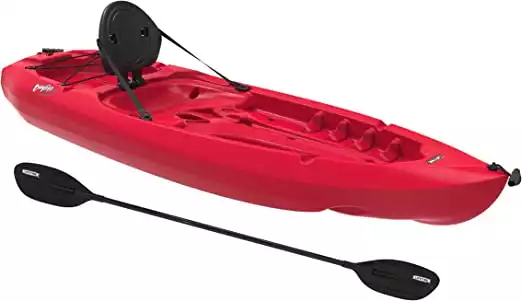 Lifetime Daylite 80 Sit-On-Top Recreational Kayak
Another solid sit-on-top recreational kayak. This one is produced by Lifetime and is perfect for the beginner kayaker. 
It comes with both the backrest and the paddle. 
Weighing only 40lbs this kayak can be easily transported by most people. 
The wide base gives the kayak good stability and a great weight capacity of 250lbs. Therefore this kayak can hold most people and a bunch of gear. 
Users report on how easy this kayak is to control and maneuver even in harsher currents such as on fast-flowing rivers. 
What we like:
Sit on top kayak
Wide base for stability
Scupper holes to get rid of water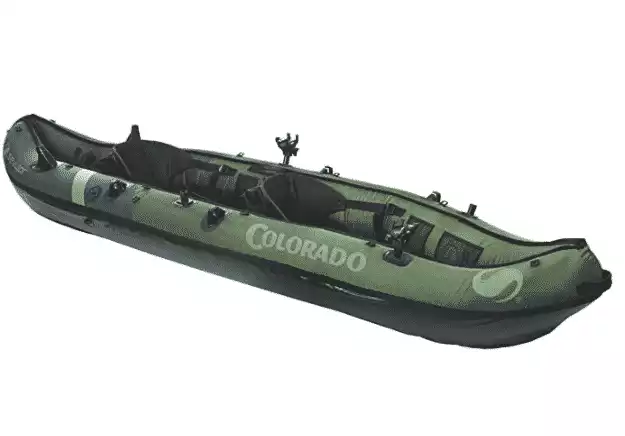 Sevylor Coleman Colorado 2-Person Kayak
This kayak from Sevylor is highly suitable for the recreational kayaker due to its stability and size. Originally made as a fishing kayak, this kayak has lots of room for storage and lots of open hull space to ensure you are very comfortable on your adventure. 
The 1000D tarpaulin bottom and 840D nylon cover provide durable protection from punctures and scrapes. Don't worry about the durability of an inflatable kayak with this one!
As this kayak is technically for fishing, it also has attachment points for a trolling motor, so if you don't want to paddle as much and relax you could also attach one of them.
Many customers report on how comfy the seats are. There are 2 seats and plenty of room, so you could easily fit 2 people and your beloved dog/more gear inside of the kayak. 
What we like:
Great stability
Lots of storage and room
Durable Materials
Inflatable so easy to travel with

How To Choose The Best Recreational Kayak – Buyers Guide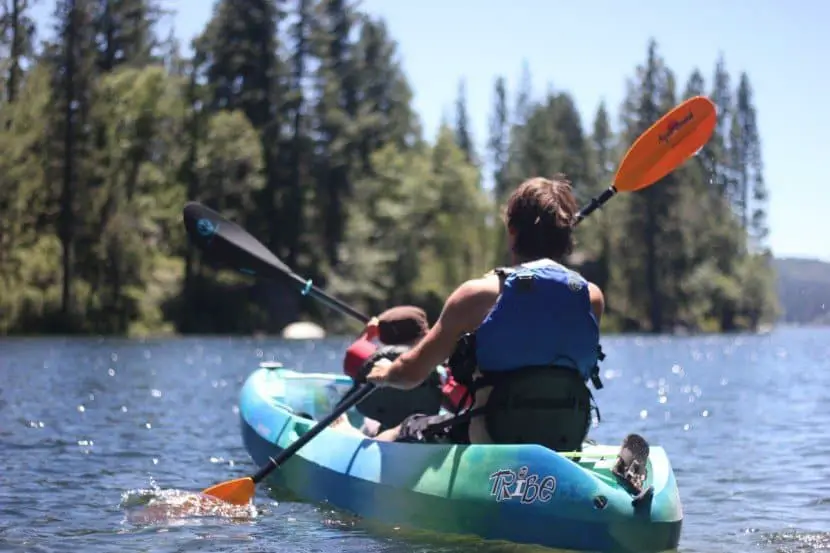 As you have already seen, just from our list of top 12 kayaks that kayaks can vary massively in size, weight, material, how many people it can hold and many other features.
To make things easier for you whilst you're out shopping for the best recreational kayak, we'll tell you how to choose the right one for you.
Recreational Kayak Features
Whilst you're out shopping for your recreational kayak under $500 there is a few main features you should be aware of. Let's go over them now:
Spray Skirt: A spray skirt can only be used on a sit inside kayak which fully covers your lower half. Their main purpose is to keep out any water, whether that be rain or rougher water. If you also capsize, the spray skirt will stop any water entering the kayak keeping you fully dry.
Rocker: The curvature of the kayak hull is referred to as the rocker. If the kayak is very curved (has a big rocker) it is easier to turn and manoeuvre in rough waters however it makes it harder to paddle in a straight line on calmer waters – for a recreational kayak I would recommend getting an average rocker.  
Skeg: A skeg is a solid fin which extend into the water from the kayaks stern (back of the kayak). The skeg is there to improve the kayaks tracking in a straight line in rougher/windier conditions. However having the skeg fully extended into the water makes the kayak harder to turn quickly.
Rudder: A rudder also hangs of the back of the kayak. However it is different to a skeg, it can move side to side allowing the kayaker to turn the kayak without using a paddle. The rudder is often controlled using foot pedals. You often see kayak rudders on fishing kayaks when you need your hands free. They are not common on recreational kayaks.
Shape of the Hull: The size of the hull can vary massively from kayak to kayak. For a recreational kayak where the paddler might not be the most experienced. I would always looks to get a medium length kayak with a wide base. This wil increase the kayaks stability in the water and make it easier to manoeuvre. I would try to avoid really short, wide kayaks which are really easy to turn fast but harder to paddle in a straight line – you often see these kayaks on whitewater rivers.
I would also try to avoid really thin and long kayaks, these are called touring kayaks. They are unstable and tough to turn but track very well through the water in a straight line and are great for travelling long distances.
Types of Recreational Kayak
At a very basic level, I would categorise all kayak types into two main groups sit inside kayaks and sit on top kayaks. The name essentially says it all. You may also come across Inflatable Kayaks which can be either sit inside or sit on top, but due to the fact they are made from a completely different material we will cover the pros and cons of them as well.
Sit Inside Kayaks (Traditional Kayak):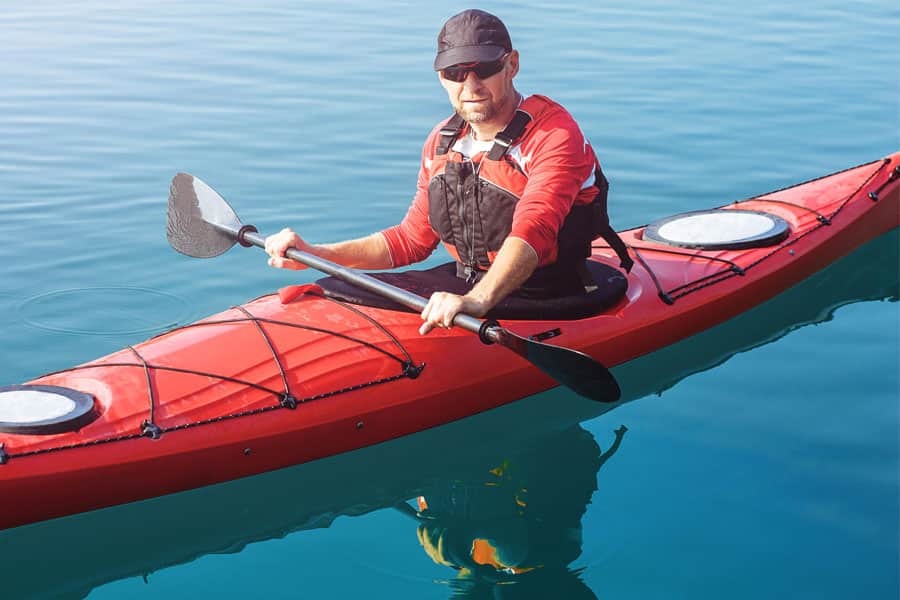 ​
Sit inside kayaks are the traditional form of a kayak. They are what most people picture in their minds when they think about kayaking. With a sit inside you are only exposed from the waist up. Your legs and feet are enclosed inside the bow of the kayak, sheltered from all of the elements.
Sit inside kayaks float lower in the water than sit on tops, this gives them a lower center of gravity and make the kayak more stability and makes it more efficient to paddle.
PROS & CONS​​​​
Better in colder environments
Can use a spray deck to keep your lower half dry
Lower center of gravity increases your stability
Harder to enter and exit the kayak
If you capsize, water can enter the kayak making it harder to retrieve/re-enter
Sit On-Top Kayak: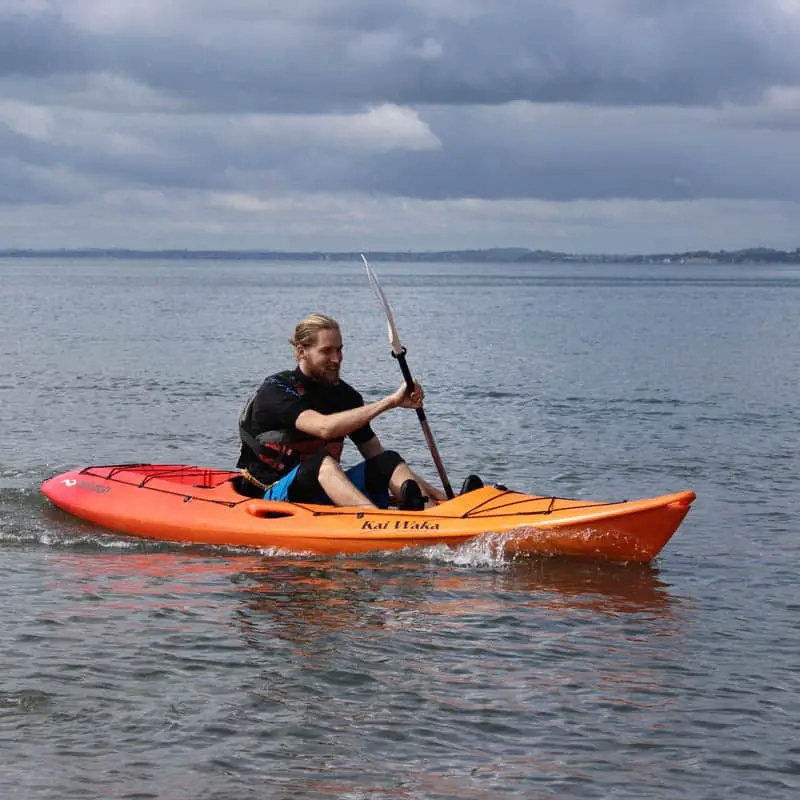 Sit on top kayaks are the most preferred choice amongst recreational kayakers. This is due to their ease of use and you don't have to worry about messing around with a spray deck.
Sit on top kayaks are very stable due to their width and are very easy to get in and out of. If you are worried about tipping over a lot then a sit on top kayak might be the better choice. They float once upside down and can easily be flipped back over and re-entered.
PROS & CONS
Can be easily re-entered once flipped
Great in hot climates as you can enter the water easily
Don't feel restricted – your legs aren't enclosed
Not ideal in cold climates
Less stability and higher center of gravity than a sit inside kayak
Inflatable Kayaks: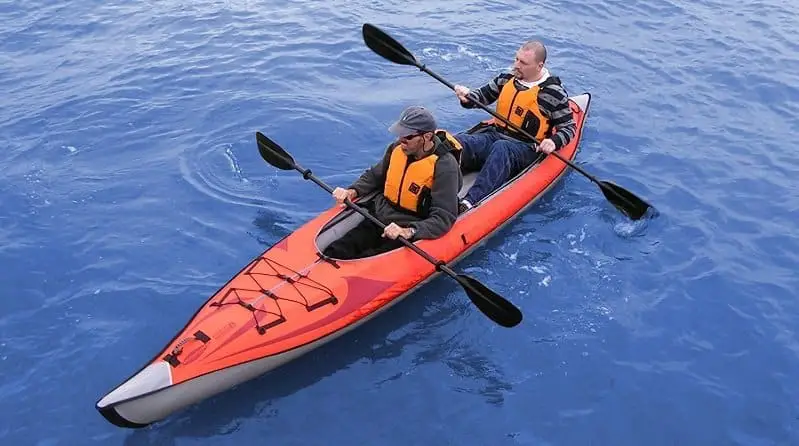 Inflatable kayaks have risen in popularity in recent years, this is largely due to the advancements in materials engineering which is making these kayaks extremely durable and tear resistant. As well as this, the demand for kayaking is increasing however not everyone ones vans or cars large enough to carry a solid kayak.
Inflatable kayaks roll away after use into a small carry bag which can fit in the trunk of almost any vehicle. They are also great for camping and hiking trips where you cant carry a solid kayak with you.
Inflatable kayaks can come in either sit on top or sit inside variations.​
PROS & CONS
Light, compact and easy to travel with
Easy to inflate and deflate
Made from durable materials which are tear and puncture resistant
Less efficient and harder to turn than a solid kayak
Need to inflate and deflate every-time you use
More aftercare needed e.g. Cleaning and drying
Common Kayak Materials 
Most recreational kayaks that you will find on the market are produced out of polyethylene plastic. This is because it is hard and very durable. It will scratch but you wont ever have to worry about causing serious damage to your kayak even on sharp rocks.
Whilst polyethylene kayaks are perfect for the beginner and recreational kayaker, once you get more advanced in the water, you will start to notice the drawbacks of them.
Polyethylene is much heavier than alternatives such as fibreglass, it can also fade when left for too long in direct UV sunlight. I would always recommend storing your kayaks in a shaded area whilst not in use.
Another common kayak material is ABS. It is slightly lighter than polyethylene and has much greater UV resistance. However ABS kayaks will tend to cost a little more, however you still may find a good one under $500.
The most expensive and highest performing kayaks are produced from composite materials such as Fiberglass and Kevlar. The cost of these kayaks can easily run into the thousands of dollars and aren't the first choice for recreational kayakers.
Because fiberglass and kevlar kayaks are more expensive they are often tailored to more experienced kayakers for use in touring kayaks or whitewater kayaks. It would be difficult to find a good recreational kayak produced from these materials.
Storage Space
Another important thing to consider whilst buying the best recreational kayak is the amount of storage space you need.
If you are using a sit inside kayak with a spray deck, you can often store things in the space inside of the hull, although I would always recommend placing your valuables and goods inside of a dry bag in case water gets inside.
Some kayaks will come with built in dry storage areas which seal very tightly and allow no water to enter. If you are taking along expensive gear such as a camera then you may want to consider getting a dry hatch. Even when i'm using my dry hatch, I still place my goods inside of a dry bag. Better to be safe than sorry!
If you opt for a sit on top kayak which traditionally has less storage than a sit inside kayak, you can purchase aftermarket kayak crates which strap down to the bow or stern of the kayak and act as a storage container. These are great if you are going kayak fishing and need to store your tackle gear.
Almost all kayaks you will come across will have some sort of bungee cord system on their hull. This can be used to strap down light items that you may need to access quickly such as your spare paddle, dry bag or map. I wouldn't tie down heavier items onto the top of the boat as you'll affect the center of gravity.
Conclusion
We really hope that this article has helped you decide which recreational kayak to purchase.
We thoroughly believe that any kayak on our top 12 list of best recreational kayaks for under $500, will be a great choice for any beginner paddler.
Happy Kayaking!
Other Kayaking Posts: