How Much Does Ice Fishing Cost?
Are you considering ice fishing? Then you may want to start saving your spare dollar bills to cover the costs as long gone are the days of sitting on a bucket waiting away the hours until you catch something.
Modern-day ice fishing is now implemented with techy gadgets, time-efficient equipment, and shelters and heaters to keep you comfortable throughout your trip.
All these things come at a price, however, not all are essential for ensuring a successful fishing trip, so you'll want to prioritize what is most important for your trip.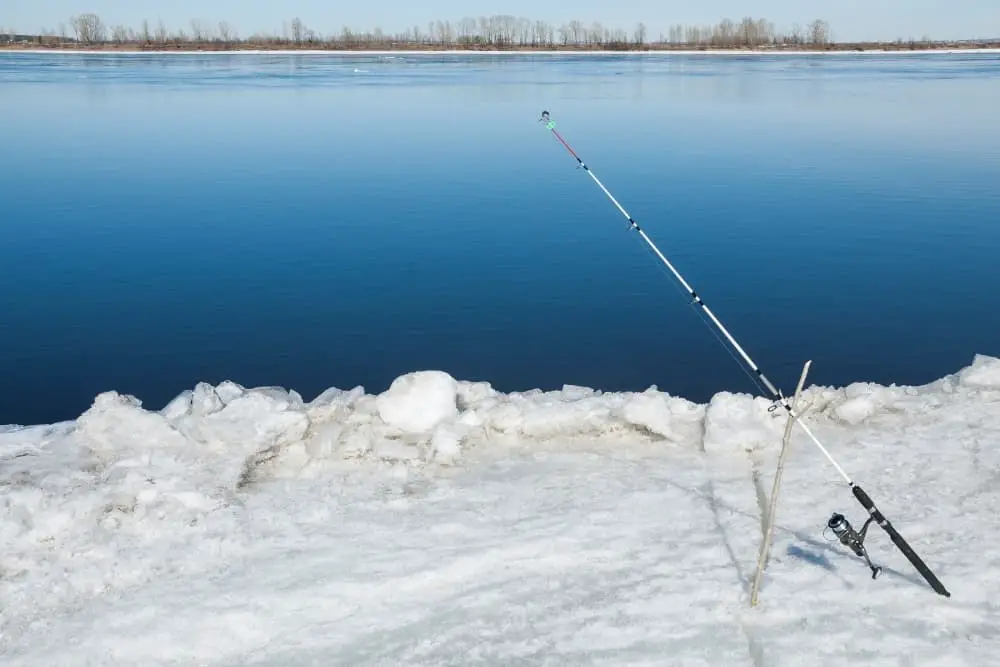 This article will take you through the cost of some of the things you'll need for ice fishing to then be able to come to a general understanding of how much ice fishing costs. 
Equipment
If you'll be ice fishing in your home state and want to buy equipment, then that is where the majority of your budget will be spent. 
Average upfront cost of buying equipment: 
Hand auger – $40
Electric auger – $250
Gas-powered auger – $200
Flasher fish finder – $150
Pop-up shelter – $90-$500
Propane heater – $100
Ice fishing rod – $50+
Tip-up – $25
Otter sled – $60
Fold-up chair – $35
Total Average Cost: $1000 – $1410
If you live in an area that's popular for ice fishing, then you may have the option to rent out equipment for the day or multiple days. The same goes if you're traveling somewhere to do some ice fishing and you cannot bring equipment with you.
If you don't think you'll be spending a lot of your free time ice fishing, then it may be more cost-effective for you to rent out equipment each time instead of paying the initial upfront cost of the equipment. 
Average equipment item daily rental costs:
Hand auger – $15
Electric auger – $40
Gas-powered auger – $45
Flasher fish finder – $40
Pop-up shelter – $50-$90
Propane heater – $20
Ice fishing rod – $20
Tip-up – $6
Otter sled – $20
Fold-up chair – $5
The total average cost for daily rental: $261-$301
Make sure to leave around $20 of your budget for buying bait for your ice fishing adventures. 
However this seems extortionate just for one day of ice fishing and that's not including the cost of buying suitable clothing, food, and fishing license.
That's why ice fishing rental companies will offer a bundle deal to make it more affordable for customers. Most bundle deals will be priced around $100 but will depend on where you go and what is included in your bundle. 
Clothing
You'll need special snowshoes for ice fishing which can cost $100 to buy or $10 a day to rent. 
If you don't live in a naturally cool climate, then you may have to buy winter clothing and accessories like a snow coat and snow pants, hat, gloves, and scarf. All these added up could total to over $300 when bought new. 
Car Hire (Or Buying A Vehicle)
If you're going to buy a vehicle or hire one out for ice fishing, then you'll want to make sure the vehicle you get is a four-wheel or an all-wheel-drive as it offers the best traction on the ice or snowy surfaces. 
A ranger vehicle with tracks could set you back an easy $5,000 when bought new. 
Snacks/Meals
Ice fishing may require a lot of waiting around for hours and within that time, you'll sure build up an appetite. So make sure you accommodate a budget for snacks and or even a meal for your trip to bring with you.
An average of $15 to cover the cost of buying a packed lunch for one person for 6 hours of ice fishing. 
Fishing License
Every state will have its own rules and regulations when it comes to fishing licenses, and what goes in one state may not be honored in the state next door, so double-check with where you live or the area that you're visiting. 
However, some states who share a body of water will sometimes share licenses to make it easier for nearby residents. 
Some licenses will have limits of what you can do with that license depending on what type you choose. The most common types are regular, conservation, sports, and super sports. 
Even if you don't intend to keep the fish and you plan to just catch them and release them for fun, you'll still be required to have a fishing license as you'll be paying for the use of the land and to upkeep the local area. 
In-state residents may be able to get a discount off their fishing licenses, and often active military members or those on leave do not have to pay for a fishing license. The same goes for veterans, seniors, or disabled people, so if any of these titles apply to you then double-check with the state to see if you can get a discounted or free license. 
The average in-state resident annual fishing license costs around $25 whereas non-resident annual fishing licenses cost around $70. 
Often states that have great fishing spots will charge more for a fishing license as they know there is a higher demand for people wanting to fish there. 
If you're more interested in just trying out ice fishing instead of committing to a full-blown annual fishing license, then you can always opt for a 1-day or 3-day fishing license that'll cover you for the duration of your trip. 1-day fishing licenses can be as inexpensive as just $8 a day. 
You may even be able to get an entire family fishing license that comes at a discounted price for your ice fishing trip. 
Some states may also have scheduled state-approved free fishing days where you won't be required to have a license. So if you are looking to save some money when trying out ice fishing, then try to look these days for the areas you plan to visit.
Ice Fishing Trips
If you're unfortunate enough not to experience ice fishing in the area that you live in then you'll probably have a little bit extra money than everyone else for an ice fishing trip somewhere else in a colder climate. 
These costs can vary depending on where you go and how far you go, so you'll want to do some research before you travel.
Some ice fishing companies will cover the cost of your equipment and transport to the ice fishing site within the cost of the trip, so you won't have to pay extra for the additional renting out of these things. 
An all-inclusive trip for 1 day of ice fishing may cost you $300-$500 per person, but this will cover the cost of getting you to your location and also include rental equipment.
A day fee normally covers 6 hours of ice fishing. You may be able to get a half-day deal that will cost you around $100-$200 for 3 hours of ice fishing. 
What Is the Cheapest Way To Do Ice Fishing?
If you're unable to do ice fishing in the area you live in, then try to do it within the nearest state that you can, this will minimize your travel costs as much as possible.
Whenever possible, try to buy your equipment second-hand to reduce the costs, as buying ice fishing equipment brand new can easily cost you hundreds of dollars.
Many experienced and professional ice fishers will sell on their old or used equipment when they decide to upgrade, so check places like Craigslist, Facebook Marketplace, eBay, or even ice fishing forums.