Kayaking is great fun, but what isn't fun is having to carry your kayak to the waters edge, especially if you are heading through the woods or down rocky terrain - a situation made worse when you use larger tandem or touring kayaks. Using the best kayak cart can make life easier by taking the load for you and reduce the likelihood of injuries to yourself and damage to your kayaks.

Kayak carts are also commonly referred to as kayak wheels, kayak trolleys and kayak dolly's. They are all pretty much the same item and carry out the same function.

There is many different kayak carts to choose from on the market, with slightly different features which may or may not be beneficial to you. In this post we have reviewed our top picks for the best kayak carts and a small guide on how to choose the best one for you.
Jump to the best kayak cart:
Best Kayak Cart Reviews
Best Kayak Cart
ABN Universal Kayak Cart/Trolley
More most people a universal kayak cart is the best option as it can work with a wide range of kayak weights and sizes. It can also be used for other equipment like paddleboards, surfboards, and canoes.
This kayak cart has 9.5" knobby tires which are easy to inflate and allow for smooth travel across rough terrain including sand, gravel, and through wooded areas.
Take this kayak trolley anywhere - the tires can be easily removed and the frame folds down to fit inside a large backpack. It also allows the cart to be stored inside of your kayak whilst you are on the water.
Oversized foam bumper pads protect your kayak from any scratches and dents. A 12-foot heavy-duty tie-down strap can secure your kayak to the cart. With a 200lb load limit, this kayak cart can carry the majority of kayaks and vessels you will likely be using.
Next Best Kayak Cart
Nooew Kayak Cart With No-Flat Airless Wheels
The next best kayak cart on our list is similar to our first option but has a few differences which might make it better for your situation.
Rubber holders keep your kayak in place, which might be favoured over the thick foam pads as they prevent your kayak from slipping down the kayak trolley whilst loading.
The second notable difference is the air-less tires which require no inflation. These are great as it's one less thing you have to worry about, however, they will not offer a shock-absorbing ride over rough terrain. If you plan on taking your kayak along smoother roads or the beach then airless tires will be fine.
The frame has been produced from Aluminum and is, therefore, corrosion-resistant with an impressive load capacity of 165lbs which should be more than enough for most kayaks and their gear.
Budget Kayak Cart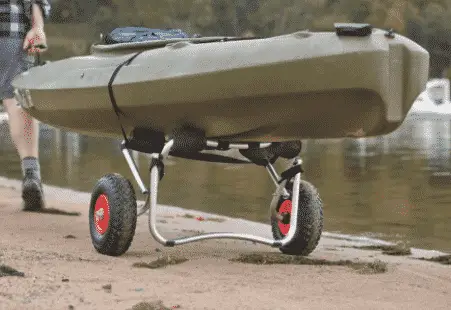 Guide Gear Kayak Canoe Carrier Cart
The Guide Gear® Canoe/Kayak Carrier Cart is the easiest way to get your canoe or kayak from the car to the water and back.
Large solid rubber tires give you clearance and confidence against developing a flat. The solid aluminum frame is lightweight yet holds up to 200 lbs. to let you pack your boat and supplies needed for a day of fishing or exploring.
Foam bumpers cradle your watercraft and prevent any dents and scrapes.
One-piece tube kickstand holds the cart in place during loading/unloading and the entire cart disassembles for easy moving and storage.
Kayak Trolley With Balloon Tires
Nooew Kayak Cart With 12" Balloon Wheels
One of the main worries that someone has when purchasing a kayak cart is how stable will the ride be? This particular option has 12" balloon tires which are thicker and wider than most tires you see on a kayak trolley.
This improves stability and traction over rough terrain and makes dragging your kayak over sand much easier. If you have an ocean kayak and will be launching from a beach this is a great option for you.
The frame is produced from Aluminum tubes with a load capacity of 165lbs. The gripping surface is rubber pads which are often preferred over foam as it prevents your kayak from slipping on and off the kayak cart whilst loading.
The bottom kickstand provides a stable base whilst loading your kayak and makes 'pushing' off the ground much easier when you are ready to go.
Kayak Cart For Scupper Holes
Onefeng Sports Kayak Cart With Adjustable Width And Scupper Holds
This particular kayak cart doesn't carry your kayak by resting it on foam pads but instead holds it securely by inserting the vertical plugs into the scupper holes of your kayak. This can provide a more stable carry, but it does require you to have a kayak with scupper holes in the right places.
Similar to the last kayak cart on the list, this kayak trolley doesn't use air to inflate the tires. Instead, they are made from solid plastic, which has its own pros & cons. You don't have to mess around with inflating the tires, but it provides a rougher and less steady ride over rough terrain.
Along with the scupper hole plugs, this kayak cart comes with a 10ft strap to further secure your watercraft to the cart.
The distance between the two poles is 9.4"-15.7" so make sure to double-check your scupper holes prior to ordering.
The frame is produced from high quality stainless steel and has a load capacity of 175lbs allowing ti to transport most kayaks.
Onefeng Sport Large Kayak Cart - Airless Kayak Trolley
One of the benefits of this kayak cart is that it has solid plastic tires that require no air to inflate. This saves you one step prior to getting your kayak in the water. Although these tires may not be as comfortable and shock absorbing over rougher rocky terrain.
The frame is produced from stainless steel to prevent corrosion. Thick soft padded foam bumpers provide a protective resting area for your kayak and prevent and scrapes and dings on your hull.
One drawback is that this kayak trolley is only compatible with kayaks that have a width of 15.7" or more. Although it is uncommon for most kayaks to have a smaller width.
The tie-down strap is a generous 10ft long and can accommodate most kayaks and larger canoes.
How to choose a kayak cart/kayak trolley
There is a few things that need to be considered before you purchase your kayak cart. The last thing we want is for you to order a trolley and it not be suitable for your kayak shape and weight. Below we will go over some things you may need to consider before purchasing a kayak trolley.
Different Kayak Cart Types
There is a few different kayak trolley types that will be better suited for different water-crafts. All of these types typically include a strap which secures your kayak to the cart around the hull of the craft.

Folding kayak cart: This type is usually a lightweight trolley which folds up compact allowing it to be stored inside or on the outside of your kayak whilst you are out on the water.

Airless Tire Cart: These kayak dolly's feature tires with no air inside. This gives you one less thing to worry about before loading your kayak. However no air in the tires can create a more bumpy ride over rougher terrain.

Balloon Wheel Carts: These kayak carts have much larger and wider wheels which gives better traction and stability over rough terrain. These are the kinds of tires that you will commonly see people using over sand on the beach. If you have an ocean kayak, this is a great option.
Any of the above kayak carts can be a great choice for most people. Some websites will class 'strap carts' as a class of its own. But from our own research we have found that almost all kayak carts will include a strap to hold your kayak down.

Your decision will largely come down to your own needs and where you will be heading. Ordinary tires with a foldable cart will suit most people the best as it caters for a wide range of terrain and you can pack the kayak cart away inside your craft whilst out on the water.
Kayak Trolley Wheels
We have already touched on wheels briefly, but it's worth mentioning in more depth, as the wheel type will be what dictate the cart's stability over different types of terrain.

Thicker and wider wheels such as balloon tires, will be better over slippy and soft terrain like mud and sand. They can also often support more load than thinner tires which is great if you are carrying lot's of gear, for example, using a fishing kayak.

Standard tires are inflated with air, and are usually skinnier in width and have deep treads to provide traction over slippy terrain. These are a great all-round option and if you plan on using your kayak in a variety of locations throughout the year, this will be the best pick. They can still be used across sand, you will just have to pull with a little more effort.

Airless tires are solid plastic with rubber tread on the exterior. They are a good option as you don't have to worry about having any air in your tires and they usually fold down very compact for storage. One downside is that they don't provide a very comfortable ride over rough terrain and are therefore only really suited for flat roads.
Adjustable Width Kayak Trolley
Some kayak carts will have an adjustable width. By this we mean that the frame slides across itself to widen or shorten the axle to accommodate a wider range of kayaks. Personally we think this is a great option as you can use the same kayak dolly over many years, even when you outgrow your current kayak.

An adjustable width can also allow you to carry other water-crafts such as canoes or paddle-boards.
Frame Material
Your kayak cart is going to get wet it's unavoidable. Therefore it's best to have a frame produced from corrosion-resistant materials. This shouldn't be too difficult as most manufacturers know that they kayak cart will be around salt and fresh water and therefore most kayak carts are made from Aluminum or Stainless Steel.

If the frame has been produced from carbon-steel then it will likely of been painted or powder coated to protect it from the elements.
Best Kayak Cart Storage/Compact-ability
Nothing will be more annoying that a large kayak cart which can't reduce in size and is 'clunky' to manoeuvre. In an ideal situation your trolley will fold down neatly which allows it to easily be stored inside your car/truck and inside your kayak whilst you are on the water.

Most kayaks will have a bungee rigging system on the deck which is great for clipping down your kayak cart.
Price
Once you've purchased an awesome kayak, you may not have many funds left over for a top of the line kayak cart. But the good news is that most a reasonable priced. Ranging from $50-$120, there is a budget friendly option for most people. Our top selection for the best budget kayak cart comes in at $55 and offers all of the features and benefits of a higher-end kayak trolley.
Conclusion
Choosing the best kayak cart for your next outdoor adventure shouldn't be a difficult task. We know that there is hundreds of options available on the market, but the team at WSA prides ourselves on making your buying decisions easier and less time-consuming so you can spend less time behind a screen, and more time on the water doing what you love most.

At the end of the day, there isn't a great deal separating each kayak cart from one another. The best advice we can give is to double check all of the specifications and make sure that the option you decide to go with can fit your particular kayak size and shape..

And, double check that the tire type is suitable for the terrain you are likely to be pulling your kayak across.