Best Fishing Kayak Under 300 [Top 8 Sit On Top Kayaks]
Everybody knows that fishing has been around for as long as civilization but what I can see getting more and more popular in recent years is kayak fishing.  Not only is kayak fishing getting more popular but it's also becoming more affordable, that's why we are going to review the best fishing kayaks under 300 dollars for you.
What better way to hunt down your favorite fish than getting on the water and casting your line in areas which you wouldn't be able to from the shore.
Best Fishing Kayak Under 300 at a Glance
Not only does kayak fishing provide the advantage of being on the water but it's also a great workout and tends to make fishing from the bank or shoreline look boring. 
Whilst some fishing kayaks can come with all of the bells and whistles such as fancy rod holders, fish finders and storage areas. With a budget of $300, you are slightly limited in certain areas. However we thoroughly believe that any of the kayaks on our list will serve you well whilst fishing. 
All of the kayaks on our list are sit on top kayaks as they are generally considered the better choice due to space and stability whilst fishing. So you'll also be getting the best sit on top kayak for under 300.
Top 7 Best Fishing Kayaks Under 300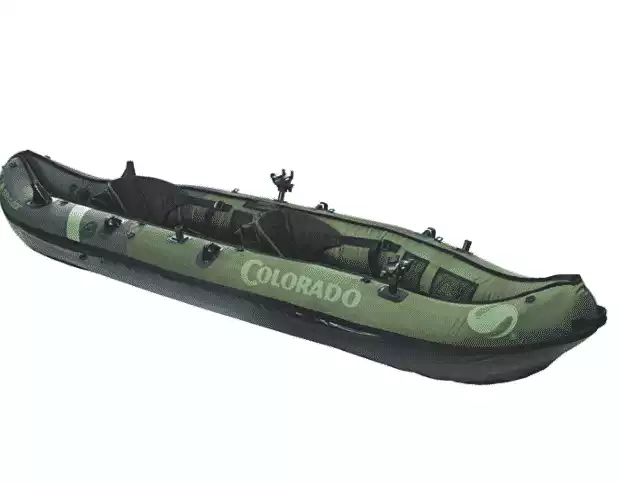 Sevylor Coleman Colorado 2-Person Fishing Kayak
This fishing kayak from Sevylor is highly suitable for fishing due to its stability and size. There are lots of open hull space and storage areas for all of your tackle and fishing gear. 
The 1000D tarpaulin bottom and 840D nylon cover provide durable protection from punctures and scrapes. Don't worry about the durability of an inflatable kayak with this one!
Another great feature of this fishing kayak is that it also has attachment points for a trolling motor, so if you don't want to paddle as much and relax you could also attach one of them.
This kayak also features rod holders which are handy to position your rod whilst waiting for a bite or maneuvering the kayak. 
Many customers report on how comfy the seats are. There are 2 seats and plenty of room, so you could easily fit 2 people and your fishing gear. 
Key Features:
Great stability
Lots of storage and room
Durable Materials
Inflatable so easy to travel with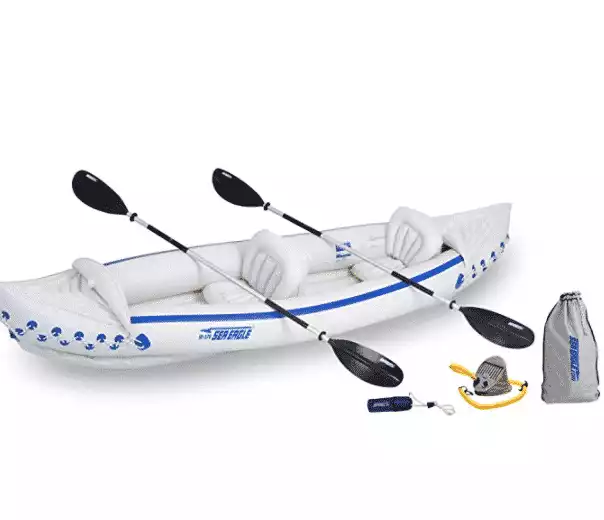 Sea Eagle 370 Deluxe 3 Person Inflatable Sport Kayak
A very spacious tandem kayak produced by Sea eagle. The 370 deluxe can fit two people very comfortably or push to 3 if you have a small child. 
If you are a solo kayaker you can remove the seats and have lots of spare room for housing all of your fishing gear. 
Made from durable materials, this inflatable kayak is built to last and should withstand any shorelines made from sharper rock and gravel. 
Splash guards in the front and rear of the fishing kayak will help to prevent you from getting as wet in rougher water conditions. 
A wide-body gives this kayak great stability in the water which is very important if you are using it to go fishing. You don't have to worry about too much sway and potentially capsizing the kayak whilst casting your line. 
This kayak also comes with two paddles, a pump, and a carry bag so you are all ready to get going as soon as you receive it in the mail. 
Key Features:
Removeable seats
Can fit up to 3 people
Comes with paddles, carry bad and pump
Good stability 

Sevylor C001 Tahiti Hunt Fish 2 Person Kayak
This kayak is produced with hunting and kayaking in mind, therefore it will definitely serve you well whilst you're out on the water looking for fish.
The tandem kayak has heaps of room for two people and plenty of fishing gear. The front and rear splash guards also help you to stay dry in rougher waters. 
The dark olive green color allows you to easily blend into the shoreline. The harry candles make carrying this kayak to the shoreline.
Key Features:
Adjustable Seats
Made for fishing and hunting
Splash Guards
Easy to inflate and deflate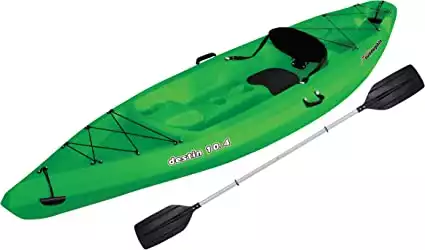 SUN Dolphin Destin 10.4 Fishing Kayak
The first solid kayak on the list is produced by Sun Dolphin. This is such a good choice for fishing that it's taken our next best position. 
This kayak will be easier and more efficient to use compared to the inflatable kayaks whilst paddling through the water. 
The bow design allows the kayak to easily cut through the water and track in a straight line, even in rougher water conditions. 
The front and rear storage areas are covered in bungee cords to ensure your fishing tackle doesn't fall out of the kayak.
Whilst it's not a dedicated fishing kayak, it is possible to attach your own rod holders to the deck. The rear storage area can also be used for a kayak fishing crate.
Key Features:
Comfortable Seat
Bungee's for customized rigging
Comes with a paddle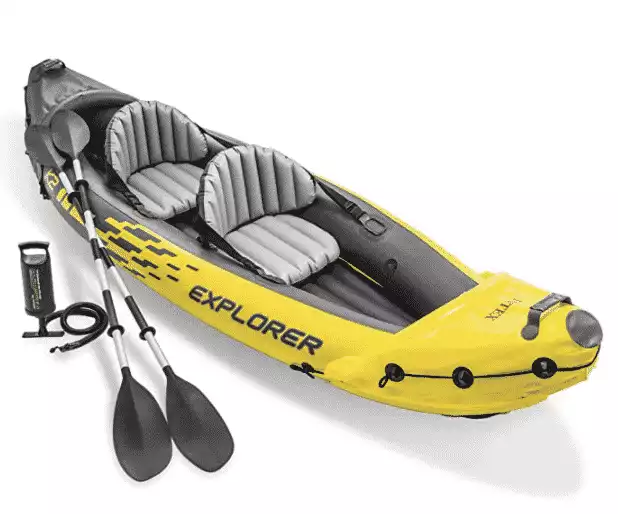 Intex Explorer K2 Kayak
Another Inflatable Intex kayak has made our list and for good reason. Thousands of customers have reviewed this product on Amazon and the great reviews keep pouring in. 
Loved for its great portability and small size it packs away too. Also for the ease of inflation and deflation. 
Very affordable this kayak is a great choice for beginners.
Not short on room this kayak can easily fit two people and a bunch of fishing gear. The comfy seats ensure you stay upright and paddle in the correct position making sure you avoid any back and arm pain. 
Key Features:
Very affordable 
Only made for smaller bodies of water such as lakes and mild rivers
Plenty of space for you and your tackle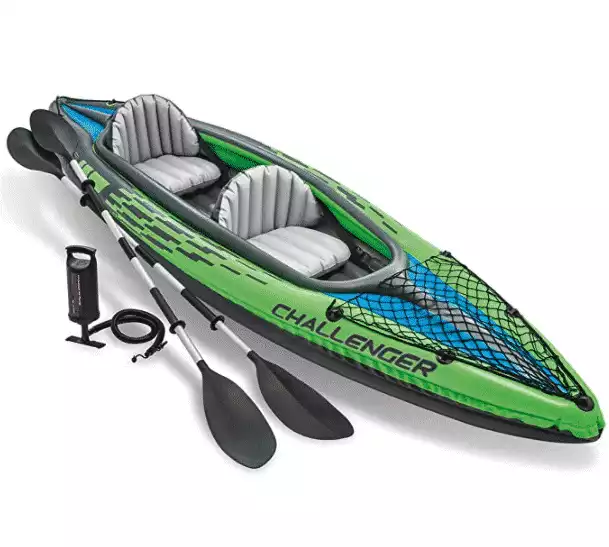 Intex Challenger K2 Kayak
Another portable and inflatable kayak will be great for fishing. The Intex challenger K2 is an extremely popular choice amongst recreational kayakers. 
Streamlined shape allows for easier paddling which is usually more difficult in inflatable kayaks. 
Produced from Super-Tough vinyl that's puncture and UV damage-resistant for long term durability - sometimes a worry with inflatable kayaks!
2 very comfy kayak seats ensure you won't be in discomfort even if you have some fishing gear with you.
A very impressive 400lb weight capacity means you may be able to get 2 people and your gear inside of the kayak
This purchase also comes with 2 86 inch aluminum oars. 
Key Features:
Great stability
400lb weight capacity
Comes with 2 oars, pump, and patch repair kit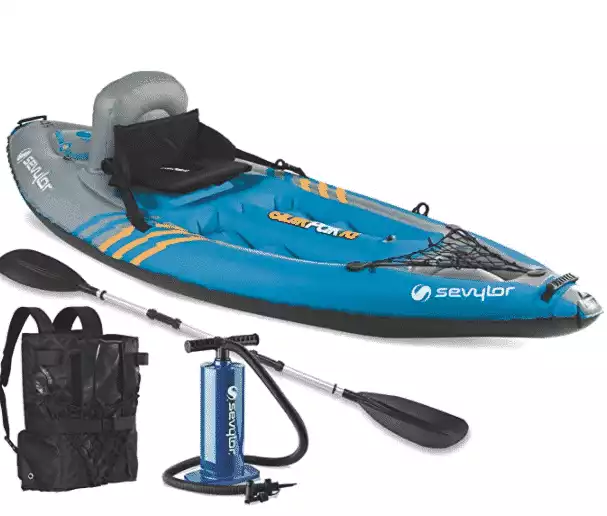 Sevylor Quikpak K1 1-Person Kayak
Another kayak from the brand that took our top choice. This kayak is a great affordable choice for a fishing trip. 
Many users report on how comfortable the seat and backrest are even on longer trips. This will put you in the perfect upright position to rig your lines and cast. 
Made from rugged PVC and a tarpaulin bottom ensures this kayak is safe from tears and punctures. 
Multiple air chambers make sure the kayak stays afloat if one chamber fails. 
Key Features:
Comfortable Seat
5 minute set up time
Inflatable for easy transport
Durable construction

​How To Choose The Best Fishing Kayak Under 300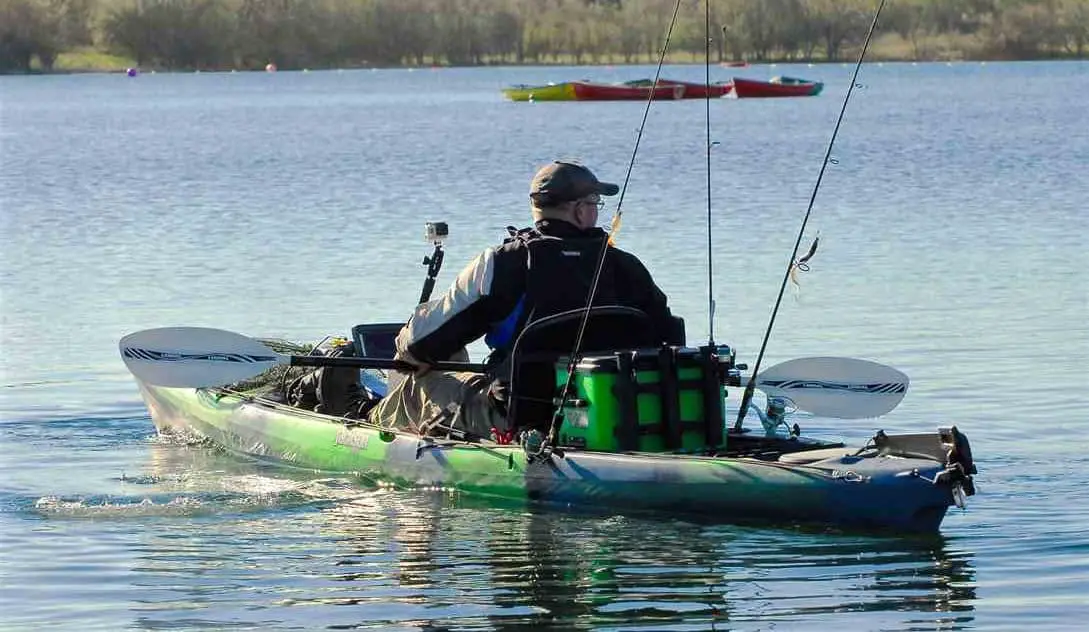 As you have already seen, just from our list of top 8 budget fishing kayaks that they can vary massively in size, weight, material, how many people it can hold and many other features. To make things easier for you whilst you're out shopping for the best fishing kayak, we'll tell you how to choose the right one for you. 
Fishing Kayak Features
Whilst you're out shopping for your fishing kayak under $300 there is a few main features you should be aware of. Let's go over them now:
Spray Skirt: A spray skirt can only be used on a sit inside kayak which fully covers your lower half. Their main purpose is to keep out any water, whether that be rain or rougher water. If you also capsize, the spray skirt will stop any water entering the kayak keeping you fully dry. Fishing kayaks tend not to be 'sit inside kayaks' therefore you wont typically find a spray skirt on any fishing kayaks. 
Peddles: It is common to find peddle on fishing kayaks. This allows you to propel the kayak forward whilst having your hands free for rigging your lines or casting. However peddles tend to be found on higher end fishing kayaks. It's unlikely to find one with peddles under 300. 
Rocker: The curvature of the kayak hull is referred to as the rocker. If the kayak is very curved (has a big rocker) it is easier to turn and manoeuvre in rough waters however it makes it harder to paddle in a straight line on calmer waters – for a fishing kayak I would recommend getting an average shaped rocker.  This will ensure the kayak is stable and easy to fish from. 
Skeg: A skeg is a solid fin which extend into the water from the kayaks stern (back of the kayak). The skeg is there to improve the kayaks tracking in a straight line in rougher/windier conditions. However having the skeg fully extended into the water makes the kayak harder to turn quickly. Whilst fishing it's a good idea to have the skeg placed into the water. It will help prevent you from being spun around whilst fishing by the wind. 
Rudder: A rudder also hangs of the back of the kayak. However it is different to a skeg, it can move side to side allowing the kayaker to turn the kayak without using a paddle. The rudder is often controlled using foot pedals. You often see kayak rudders on fishing kayaks when you need your hands free. They are not common on recreational kayaks or budget kayaks. 
Types of Kayak
At a very basic level, I would categorise all kayak types into two main groups sit inside kayaks and sit on top kayaks. The name essentially says it all. You may also come across Inflatable Kayaks which can be either sit inside or sit on top, but due to the fact they are made from a completely different material we will cover the pros and cons of them as well. 
Sit Inside Kayaks (Traditional Kayak):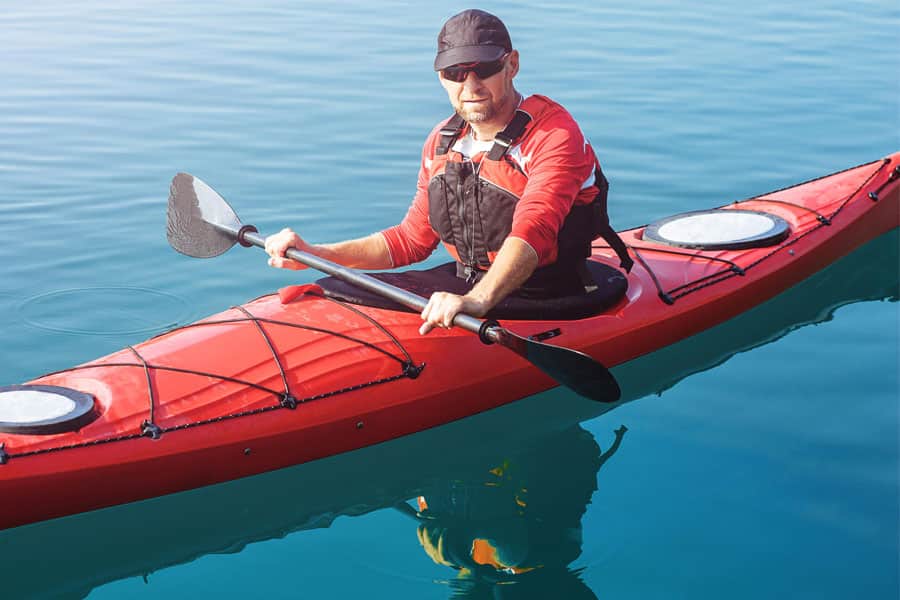 Sit inside kayaks are the traditional form of a kayak. They are what most people picture in their minds when they think about kayaking. With a sit inside you are only exposed from the waist up. Your legs and feet are enclosed inside the bow of the kayak, sheltered from all of the elements. 
Sit inside kayaks float lower in the water than sit on tops, this gives them a lower center of gravity and make the kayak more stability and makes it more efficient to paddle. 
However most anglers opt for a sit on top kayak for fishing as they offer more room, storage and are generally easier to move on whilst grabbing gear and casting your line. 
PROS & CONS​​​​
Better in colder environments 
Can use a spray deck to keep your lower half dry
Lower center of gravity increases your stability 
Harder to enter and exit the kayak
If you capsize, water can enter the kayak making it harder to re-enter and retrieve
Not the most practical choice for fishing in most circumstances
Sit On-Top Kayak (Fishing kayak):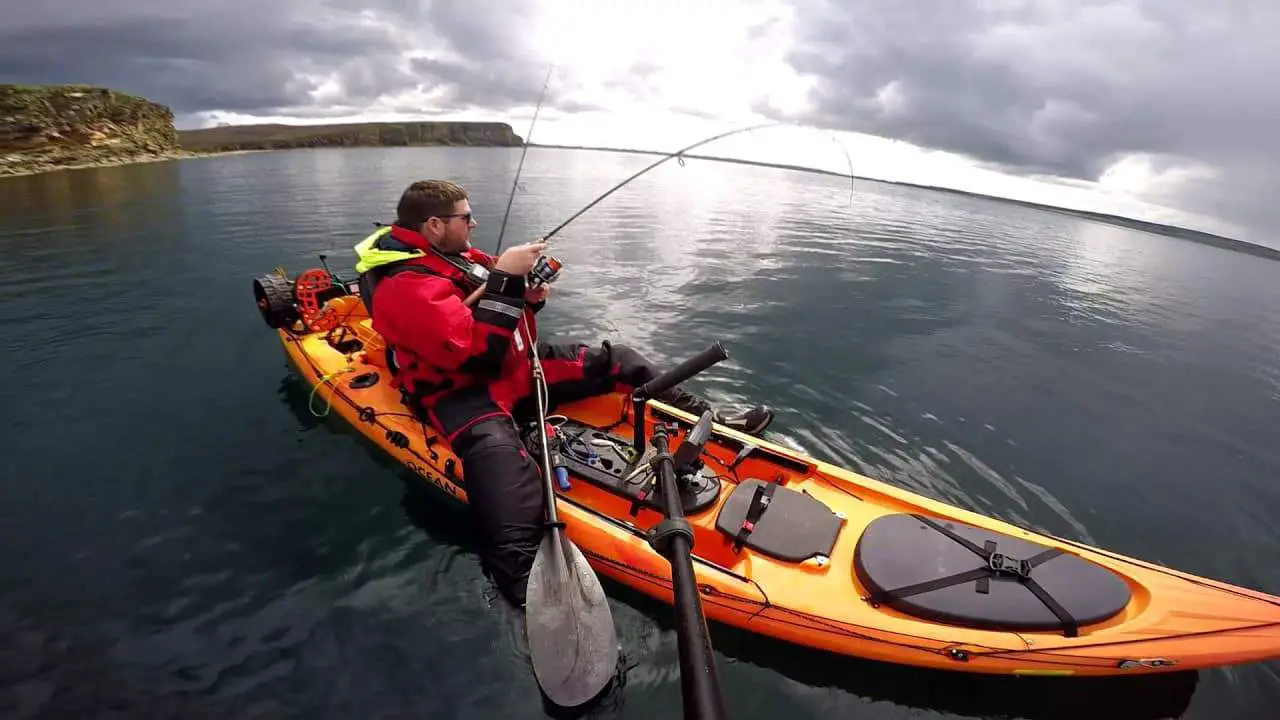 Sit on top kayaks are the most preferred choice amongst fishing kayakers. This is due to their ease of use, no spray deck, usually more storage and room to move. 
Sit on top kayaks are very stable due to their width and are very easy to get in and out of. If you are worried about tipping over a lot then a sit on top kayak might be the better choice. Some options are great for kayak fishing. Some come with peddles and plenty of storage areas for your fishing tackle and gear.
If you choose one specifically designed for fishing it can also come with rod holders and specific areas for attaching fish finders and trawling motors. 
PROS & CONS
Can be easily re-entered once flipped
Great in hot climates 
Don't feel restricted – You can easily grab all of your fishing gear
Higher center of gravity than a sit inside kayak
Colder in cold climates – you'll also get wet
Inflatable Kayaks: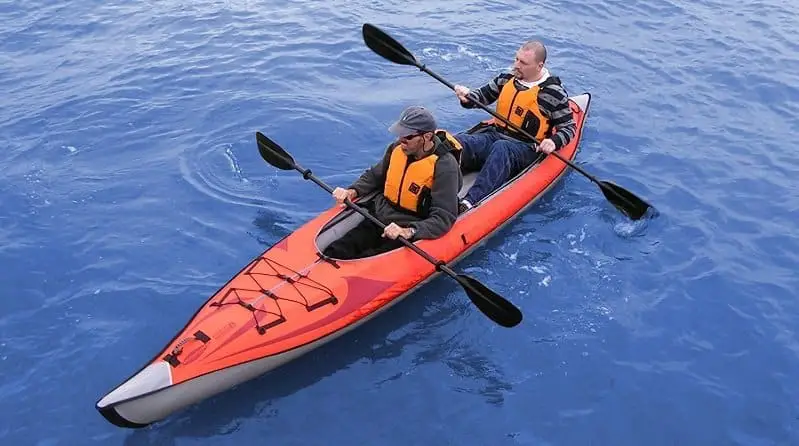 Inflatable kayaks have risen in popularity amongst anglers in recent years, this is largely due to the advancements in materials engineering which is making these kayaks extremely durable and tear resistant. As well as this, the demand for kayaking is increasing however not everyone owns vans or cars large enough to carry a solid kayak. 
Inflatable kayaks roll away after use into a small carry bag which can fit in the trunk of almost any vehicle. They are also great for camping and hiking trips where you cant carry a solid kayak with you. 
Inflatable kayaks can come in either sit on top or sit inside variations.​
PROS & CONS
Lightweight, easy to carry to shore
Usually easy to inflate and deflate
Made from durable materials
Harder to paddle and turn in the water
Need to inflate every time you want to use it
There is more aftercare required. You have to clean and dry the kayak to prevent mould growing
Common Kayak Materials 
Most solid kayaks that you will find on the market are produced out of polyethylene plastic. This is because it is hard and very durable. It will scratch but you wont ever have to worry about causing serious damage to your kayak even on sharp rocks. 
Whilst polyethylene kayaks are perfect for the beginner and recreational kayaker, once you get more advanced in the water, you will start to notice the drawbacks of them. 
Polyethylene is much heavier than alternatives such as fibreglass, it can also fade when left for too long in direct UV sunlight. I would always recommend storing your kayaks in a shaded area whilst not in use. 
Another common kayak material is ABS. It is slightly lighter than polyethylene and has much greater UV resistance. However ABS kayaks will tend to cost a little more, however you still may find a good one under $500. 
The most expensive and highest performing kayaks are produced from composite materials such as Fiberglass and Kevlar. The cost of these kayaks can easily run into the thousands of dollars and aren't the first choice for beginner kayakers. 
Because fiberglass and kevlar kayaks are more expensive they are often tailored to more experienced kayakers for use in touring kayaks or whitewater kayaks. It's unlikely you will find a best fishing kayak under 300 produced from these materials. 
Most inflatable kayaks are produced from durable PVC on the top of the kayak. This is made to be tear and puncture resistant so you wont have to worry about your fishing gear catching and snagging the kayak. 
The bottom of inflatable kayaks is typically made from tough tarpaulin. This allows them to be dragged in and out of the water along sharp and jagged rocks without any worry of tearing the kayak. However it's always best to be on the safe side and avoid sharp rocks and any violent dragging – plus, your kayak will last longer if looked after better!
Storage Space
Another important thing to consider whilst buying the best fishing kayak is the amount of storage space you need. After all you'll be taking along a rod, reel and perhaps a tackle box with you. 
If you are using a sit inside kayak with a spray deck, you can often store things in the space inside of the hull, although I would always recommend placing your valuables and goods inside of a dry bag in case water gets inside. 
Some kayaks will come with built in dry storage areas which seal very tightly and allow no water to enter. If you are taking along expensive gear such as a camera then you may want to consider getting a dry hatch. Even when i'm using my dry hatch, I still place my goods inside of a dry bag. Better to be safe than sorry!
If you opt for a sit on top kayak which hasn't got a lot of deck storage, you can purchase aftermarket kayak crates which strap down to the bow or stern of the kayak and act as a storage container. These are great if you are going kayak fishing and need to store your tackle gear.
Almost all kayaks you will come across will have some sort of bungee cord system on their hull. This can be used to strap down light items that you may need to access quickly such as your spare paddle, dry bag or map. I wouldn't tie down heavier items onto the top of the boat as you'll affect the center of gravity.
Conclusion
We really hope that this article has helped you decide which fishing kayak under 300 to purchase. We thoroughly believe that any kayak on our list will be a great choice for any angler looking for an affordable fishing kayak. 
To recap, our top 2 best fishing kayak choices are the Sevylor Coleman Colorado 2-Person Kayak and the SUN Dolphin Destin 10.4 Fishing Sit On Kayak. 
If after reading this article you realise you might need to stretch your budget for a fishing kayak a little further… We have also reviewed the best fishing kayaks for under $1000.