Gas augers have been the go-to option for most ice-fisherman for decades. They certainly do make quick work of any holes you need in the ice, but gas powered machinery does come with its drawbacks.
Just like in other areas of the power tool world, lithium-ion batteries are taking over. And now electric ice augers feature lithium-ion battery technology.
Unlike gas augers, whilst using an electric ice auger, there are no harsh fumes that can soon cause you to evacuate your ice shelter. There is no need to carry a jerry can on the ice with you, and they are ultra-quiet, which has its benefits for the fish and for the people around you.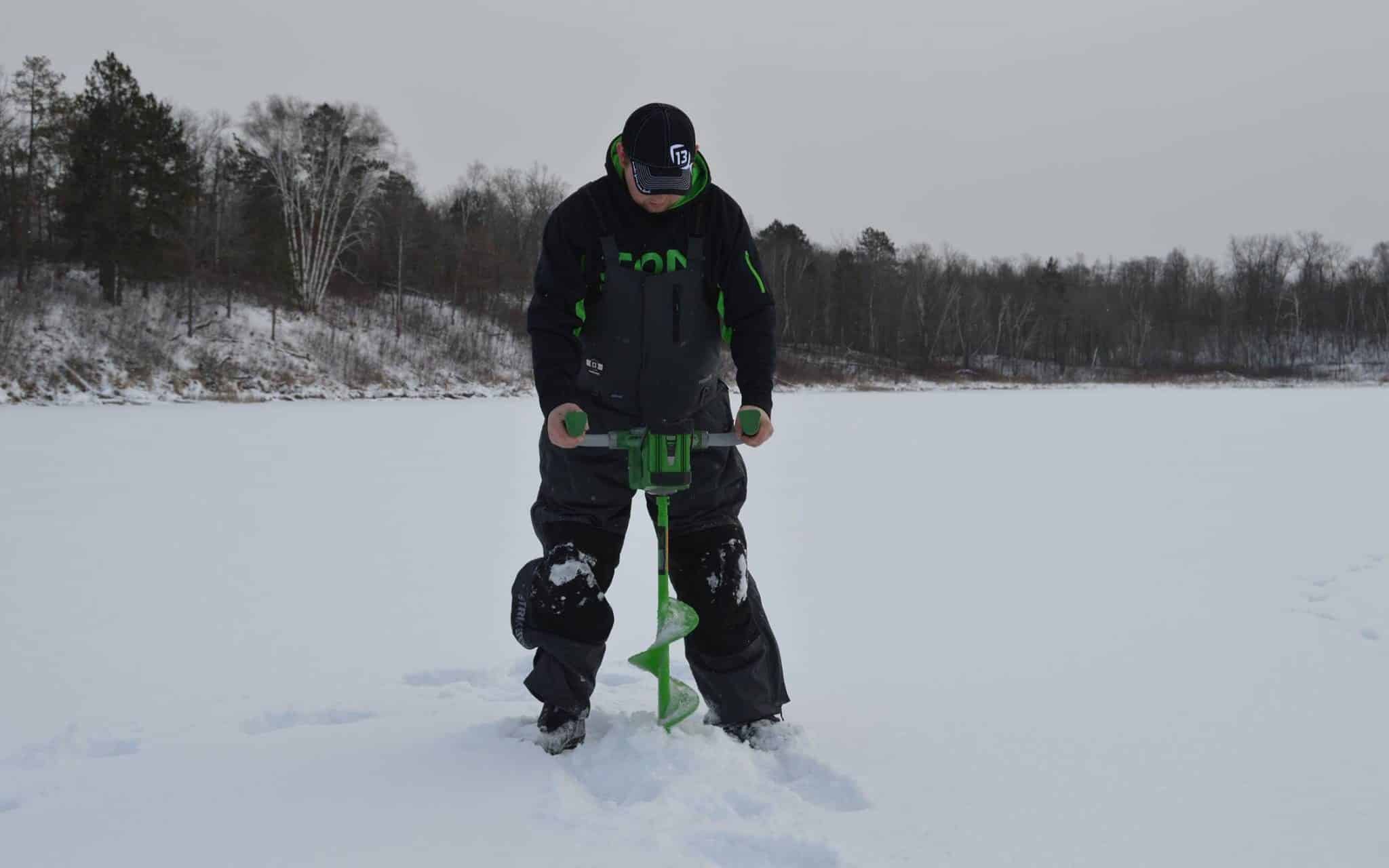 Before we begin, it's worth mentioning that electric ice augers do currently cost more than traditional gas augers. Throughout this guide, you might be swayed by the benefits of using an electric auger and that they outweigh the jump in price.
ION, Jiffy, and StrikeMaster are the leading brands when it comes to producing ice augers, and all have jumped straight into the electric game – because that's where the future is heading.
In this post, we have picked our top 5 picks for the best electric ice auger. Let's check them out. 
All of the electric ice augers linked below will send you to sportsmansguide.com. In our opinion, they offer the widest range of ice augers and all of their spare accessories. As well as this they offer discounts for club members (more info). 
Quick view the best electric ice auger:
Electric Ice Augers: Top 6 Picks
Why choose electric powered ice auger over traditional gas options?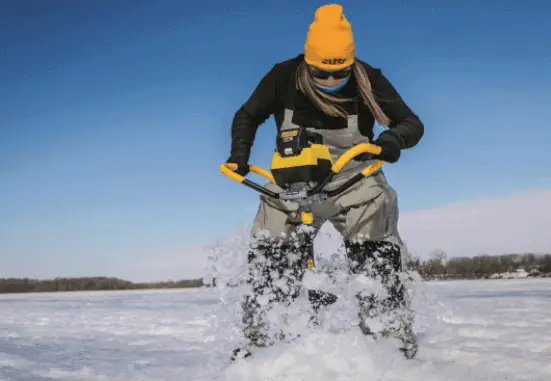 Fewer Complications
Electric augers have far fewer problems than gas augers. Firstly, you don't have to deal with any oil or gas which you can easily forget and spill over the ice, or your clothes.
Secondly, you don't have to maintain an electric auger anywhere near as much, yes, you might have to lubricate the bearings every now and then, but you don't have a 2-stroke engine to deal with.
Gas augers will have you pulling on the starter cord for minutes, causing severe frustration and fatigue. Whilst the guy next door has already cut a dozen holes in the ice, has his ice fishing chair set up, and cast the first line – all without you even noticing.
Smoke and fumes are another reason to turn electric. Not only are they bad for you and the environment, but they will prevent you from drilling any holes inside or near your ice shelter.
Electric ice augers pose none of these issues. In our opinion, the bump in price is worth just getting rid of all these complications.
After all, we head out on the ice to catch fish and have a good time, not become 2-stroke engine mechanics. 
Quiet Operation 
If you are fishing early on in the season or in shallow waters, the fish can be easily spooked from the noise and vibrations from using a gas auger.
An electric ice auger has practically no sound coming from the motor, the only thing you'll hear is the ice churning away.
If you want to go even quieter, then a brushless electric ice auger is the way to go. You'll be shocked how quiet they are, especially for the torque figures they are putting out. 
Constant Power 
No more waiting for your gas auger to warm up to reach peak power, or the need to leave it idling whilst you hop from one spot to the other.
With an electric auger, you can stop and start the motor at the push of a button. Older model batteries used to reduce the power of the motor as they progressively ran out of charge.
With Lithium-Ion batteries that does not happen. Peak power is transferred throughout the motor irrespective of battery level.
Once the battery is dead it will need to be recharged but that could be up to 100 drill holes later with some of the better 40V models. 
Lightweight
Another reason to choose an electric auger is the weight reduction you will experience compared to a traditional gas model. 
Some electrical models are up to 50% lighter than comparable gas models which is crazy-light. You won't just find pulling the auger across the ice on your sled much easier, but you'll also find that the lighter auger is easier to handle and operate whilst drilling. 
If you are someone who drills lots of holes on the ice, you'll be thankful you choose the lighter option. 
Other Features: 
Reverse Gears
Reversing the motor is a useful function you'll find on a high-quality ice auger. It allows you to reverse the blades to push and pull the slush out of the hole giving you a perfectly round and smooth hole to fish in.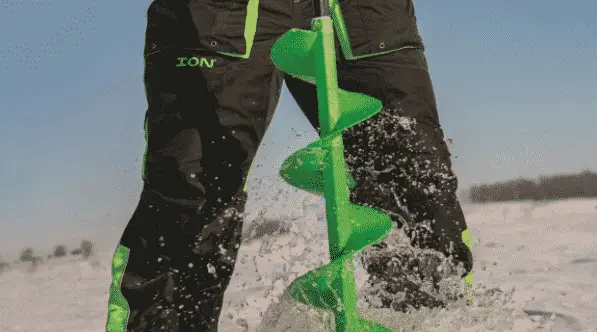 LED Night Lights
Another great feature that you can find on most electric ice augers is LED spotlights on the underside of the handles.
These lights illuminate the ice below you so you can drill holes late into the night without the need to mess around with car headlights and lanterns.
Ergonomic Handles
Augers are a chunky piece of kit that has a lot of vibrations running through them during use.
Having a comfortable set of handles will not only allow you to get a better grip on the auger to cut better-shaped holes, but also protect your hands and arms from fatigue.
Power tools commonly cause health issues stemming from Hand-arm vibrations. If you are frequently on the ice, you will want to avoid this at all costs.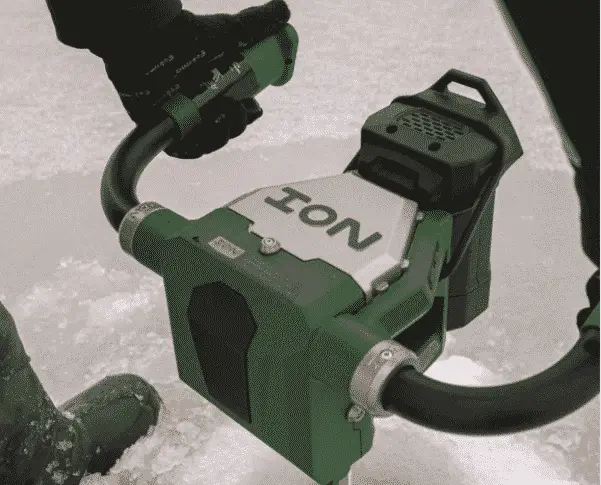 USB Charging Ports
Some electric ice augers even feature USB ports to charge devices from the auger's battery bank.
Whilst this may seem initially like a novelty, you'll be extremely thankful that you have the charging capability if you ever get stuck on the ice without any phone or torch battery. 
Ice Auger FAQs
How long will my electric ice auger battery last?
Lithium-Ion batteries are powerful and long-lasting. That's why they have exploded in popularity in the tools world.
Most auger manufacturers claim their batteries will last long enough to allow you to drill 60-100 holes through the ice.
In terms of battery longevity, an engineer from ION claimed that the battery can be charged 700 times before a reduction in performance. If you fish 100 days a year, that's still roughly 7 years' worth of charges. 
Can I just use a hand-operated ice auger?
You can… but your body won't thank you for it! All jokes aside hand augers do work well and they get the job done, but if you are planning on drilling many holes on any ice that's over 5-10″ thick, you are going to need more firepower. 
How big of a hole can an electric ice auger cut?
Most ice augers have blades that range from 6″ to 10″ in diameter. The smaller diameter drills will cut faster and use less battery, but then you are left with a smaller hole.
Make sure to check the product specs so you end up purchasing the right size hole for your needs. 
How heavy is an electric ice auger?
Electric augers for ice are usually much lighter than a traditional gas auger. Sometimes they are even 50% lighter, which is a massive reduction in weight. Most will range from 17lbs.-25lbs.
Auger For Ice Conclusion
We know how tough it can be to sift through the dozens of options that are available on the web and come to a buying decision.
The team at WSA prides ourselves on helping people like you make better purchasing decisions, faster.  So you can spend less time staring at a screen and more time out on the ice doing what you love most. 
We truly hope that this post has helped you choose the best electric ice auger for your next ice fishing trip, or helped you understand the key features that need to be considered before making a purchase. 
There is no doubt in our minds that the future is electric and that future is here, now.
Battery technology is rapidly advancing, they are getting more powerful, smaller, lighter, and cheaper by the day. It won't be long till all gas augers are off the ice and in the trash. 
Other Ice Fishing Posts: