What To Wear Kayaking – The Definitive Guide For All Weather
Are you wondering what to wear kayaking? Having the right kayaking clothing can be the key reason you either enjoy your time on the water or have an unpleasant trip.
You never want to be too cold, get windburned and soaking wet, or on the flip-side get overly hot, sunburned, and over-exhausted due to the heat. 
We are going to go over everything you require from headgear to footwear, cold weather jackets and tops and hot weather clothing.
After reading this article you should be prepared to venture out on your kayak in any weather. After all, we shouldn't let a little sun or rain get in the way of us getting our adventure fix! 
Here at watersportingadventure.com it's out job to do the hours of tedious research to bring you the latest gear, advice and reviews related to water sports. Why? Because we love what we do and we love the world of water sports and outdoor activities.
To us, there is no better pass time or way to spend a weekend with friends and family. And if we can just encourage one person to have a more enjoyable time or improve their knowledge regarding this topic, we deem our job a success.
What to wear kayaking in warm weather
Whilst warm weather is definitely the most attractive time to go kayaking throughout the year and you'll see more kayaks and canoes out on the water when it's spring or summer. It's worth noting that it can come with a few issues, especially if you are heading out on a longer adventure. 
The last thing you want to happen is to get exhaustion or sunburned and have to retire your trip early and return to shore. To help you out whilst kayaking in hot weather we'll go over the main items or clothing you should be wearing.
Short Sleeve Shirt
During warm weather we would recommend opting for a shorter sleeve shirt over a longer one. It will prevent you from getting overly hot whilst kayaking. However if you have fair skin and suffer badly from sun burn then a longer sleeve shirt will shield your arms from the sun. 
Breathable, synthetic materials like woven polyester are usually the best material choice as they don't get too hot and will dry much quicker unlike materials such as 100% cotton t-shirts. 
Our top recommendation would be a short sleeved shirt like the O'Neill Men's Hybrid UPF 50+ Short Sleeve Sun Shirt. It is produced from a hyper dry fabric which dries 3 times quicker than cotton and it has a UPF rating of 50+ to protect you from UV rays and the sun.
Bottoms
Regarding your bottom half you can pretty much wear whatever is the most comfortable for you. Whilst kayaking in warm weather you don't want to wear some pants which are too thick and take ages to dry for example jeans. 
Board shorts and quick drying pants are an excellent option as they will dry fast and pants will protect you from the sun. Try to avoid anything that is likely to chafe you especially whilst you'll be shifting around in the kayak seat. 
Mid-Layer
A Mid-layer is a great choice for kayaking in both hot and cold weather and you should probably always take one along with you in your dry bag or storage hatch. If the wind picks up then being on the water can cause a chill even in warm weather. Stick to a fleece like or synthetic mid layer.
Sun Hat/Cap
To avoid heat exhaustion and heat stroke it's always wise to take a hat along with you. It will help shield your face and head away from the sun and keep you cool. Remember to always remain hydrated whilst kayaking in warm weather as well, this will help reduce the chances of heat stroke. 
A sun had with a 360 degree brim will shield you the best, if that's not your style then a baseball cap will help.
What to wear kayaking in cold weather 
Choosing what to wear when kayaking in cold weather can be a harder decision than choosing what to wear in warm weather. This is because the weather conditions are usually a little more extreme and require extra layers and different clothing options depending on the temperature. For example if the water is really cold you may have to opt for wearing a wet-suit or dry suit and you'll definitely want to be packing a waterproof with you. 
Let's go over the main clothing options for kayaking in cold weather.
Wetsuits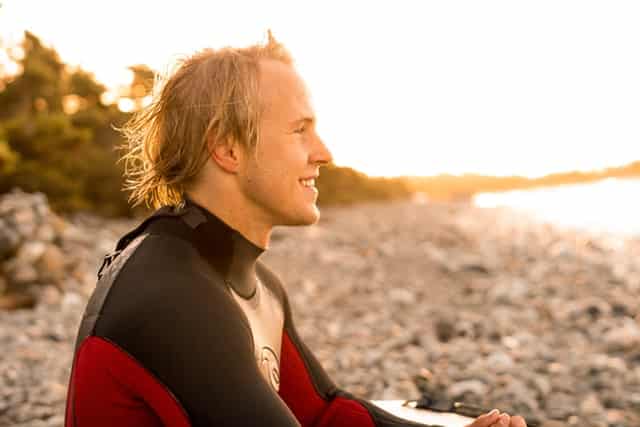 Wetsuits are specially designed clothing that is usually made from neoprene, which gives you insulation and needed warmth. There is usually a range of thicknesses that you can choose from, long sleeve and short sleeve options and full suit or just pants and upper body options. 
Wetsuits trap a layer of water between your skin and the wetsuit which heats up (from your body temperature) and acts as an insulating layer keeping you warm and blocking out any wind. If you are kayaking in the colder months, a wetsuit is usually the minimum clothing you will need. 
Kayaking in pants and warm upper clothing usually wont suffice as your body can still go into shock and be vulnerable to hypothermia if you fall into cold water or if it rains heavily.  
Layering up with a long sleeved wetsuit
Your Base Layer: The warm water within the wetsuit acts as your base layer and disregards the need for any additional clothing underneath the wetsuit. However you can use swimwear underneath the wetsuit as it avoids the need for a private changing area when you come to take the wetsuit off. 
Mid Layer: Like mentioned in the above point, the warm water inside the wetsuit is what keeps you warm, you wont need a mid layer. However if you think you'll be cold then opt for the thicker option of wetsuit as this will keep you warmer. 
Outer Layer: Wetsuits are both watertight and windproof. You shouldn't need an outer layer or waterproof jacket if you are wearing a wetsuit. 
Layering up with a short sleeved wetsuit
Whilst wearing a short sleeved wetsuit your arms will be exposed and this can cause them to get cold and numb in cooler weather. So it is always wise to layer up with a short sleeved wetsuit. 
You can wear a quick drying long sleeved top or rash guard underneath your wetsuit as a base layer. It will help with both warmth and sun protection. If the air is really cool and windy then go for something heavier and thicker. 
Take along a mid layer fleece jacket and a waterproof jacket with you so you can further cover up your arms if the weather gets cold. 
Remember whilst layering up over wetsuits you will also have your Personal Flotation Device (PFD) on, so take that into consideration when your layers get thicker and thicker. 
Drysuits
Drysuits are specialized clothing that is designed to keep water out. They are produced from waterproof materials, zippers that seal perfectly, and also thanks to the gaskets that fit tightly around your neck and arms.
Their main purpose is to keep you warm and dry but in cold conditions it's wise to still wear warm clothing underneath. 
Layering up with a dry suit
Base Layer: Simply put a drysuit is an item of waterproof clothing with watertight seals. So you'll still need base layers underneath. We would recommend wearing non-cotton long underwear or a thin non-cotton pair of pants or shirt.
Mid Layer: In really cold conditions you can add a thicker mid layer under your drysuit such as a fleeced layer. When purchasing a drysuit read about the internal layer – some come fleeced lined which will increase the warmth. 
Outer Layer: Drysuits are essentially waterproofs and they are windproof so you wont need an outer layer. 
Warm Hat/Balaclava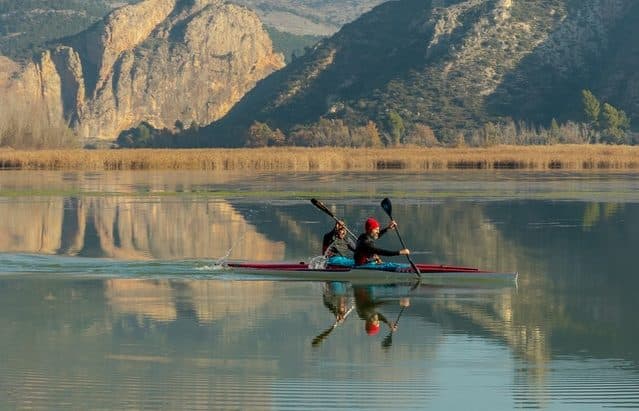 A warm hat is an essential item for kayaking in the colder months. Whilst a hat choice does come largely down to personal preference and opinions, we would recommend getting something that covers your ears fully as they are likely to get very cold! We usually opt for a warm beanie, our favourite for kayaking is this North Face Beanie.
If the weather is really getting into low temperatures and you need something warmer than a beanie then a balaclava-like piece of head gear is very popular amongst kayakers. They cover your entire head, ears and chin area. A great example is the North Face Balaclava.
Kayaking Gloves 
Something that is often overlooked when trying to decide what to wear when kayaking is gloves. Gloves can be worn in all weather conditions as they are great for reducing the wear done to your hands. In summer it would be wise to opt for fingerless kayaking gloves such as these Palmyth Stubby Gloves.
When kayaking in cold weather you'll want a warmer pair of kayaking gloves to avoid your fingers going numb. The best choice is a pair of neoprene gloves which act like a wetsuit – they are what you would wear for scuba diving in cold water. A good example is these Zipoute neoprene gloves. 
Kayaking Footwear
Footwear is an essential piece of kayaking gear you must consider especially when it comes to kayaking in the colder months.
In summer you can get away with wearing sandals, light trainers and light water shoes where protection from the cold isn't that important. However, in winter you'll want to look into wearing thicker and more protective footwear to avoid your toes going numb! Let's take a look. 
Water Shoes
Water shoes are great for the warmer months when you don't require any insulation around your feet. They also provide great grip on slippery rocks and avoid you catching yourself on something sharp in the water. Our favourite is the UBFEN Water Shoe, it comes in a range of sizes and colours and is suitable for both men and women. 
Neoprene Booties
Neoprene booties are great for cold weather. They are essentially an extension of your wetsuit and keep your feet warm by trapping a layer of warm water between your skin and the bootie. 
If you are wearing a wetsuit with attached booties you wont need additional one, if you want a sturdier sole you could wear some water shoes over the top of your wetsuit booties – just get the next size up.
Lots of dry suits include built in waterproof boots, however if your drysuit has a softer sock-like waterproof section for your feet then neoprene booties can be great for keeping your feet warmer than just the dry suit alone. 
Kayaking Personal Flotation Device (PFD)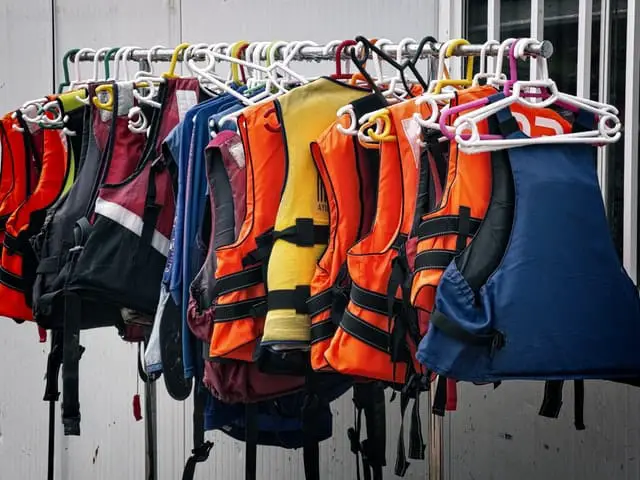 Whilst a lot of people wont consider this 'clothing'. You do wear it! And it's probably your most important item whilst kayaking so we had to mention it! Your safety whilst in the water is of the upmost importance and choosing a suitable PFD is a major decision. 
Choosing The Size
Never wear a PFD for kayaking which isn't the right size. The whole point of a PFD is to keep your head above the water if you fall in. Whether you have consciousness or not. If you pick a vest of the wrong size it wont support your back and neck properly and might not actually do what it is intended to do. Double check the size guide or get one which is very adjustable and can be tightened to suit. 
Also take into account whether you'll be kayaking more in the summer or winter. In the colder months your PFD will have to fit over your wetsuit or dry suit and under-layers. Personally the team at Water Sporting Adventure all have adjustable PFD's so we can wear them year round. 
Other Essentials You Shouldn't Forget
Whilst we hope to have answered your question of "what to wear kayaking". But there is some other essential items (non-clothing related) you shouldn't forget whilst out on the water. 
Microfiber Towel 
A small microfibre towel can be great to dry off your hands and paddle if they get overly wet. They dry off really quick! Our favourite is the Youphoria travel towel. 
Reef Safe Sunscreen
Some UV resistant sunscreen, this is very important in the hotter months when the sun is shining! It's super important that you use a sunscreen which does not cause damage to our coral reefs if you are kayaking in the sea! Our favourite reef safe sunscreen is from SunBum.
Dry Bag
Even if your kayak has dry storage hatches it's always wise to take along a dry bag with you. These will make sure your valuable items such as a camera and mobile phone stay bone dry. Our favourite is the Piscifun Dry Bag.
Food and Water
You should always take along some food and water with you. Water is important for hydration especially in the warmer months. We would also recommend taking some snack bars such as energy or granola bars along with you. They are usually packed with essential foods needed to provide you with enough energy whilst you are out paddling. 
If you are wanting to know about other essential items then we cover everything you need to know in our Beginners Guide To Kayaking. 
Conclusion
Well that's it! We really hope this guide has helped you decide what to wear whilst you are out kayaking in either cold or hot weather. There is no need to shy away from either as kayaking can be enjoyed year round as long as you have the correct gear!
Happy Kayaking!
Other Related Kayaking Posts: