10 Best Kayak Paddles For Beginners 2023: New To Kayaking
Intro Into The Best Kayak Paddles For Beginners 
In our opinion kayaking is one of the most enjoyable outdoor activities you can partake in. Whether it's to enjoy a solo expedition or have some fun with family and friends, you can always find somewhere to go and have a great time.
A lot of what makes your time on the water enjoyable is the gear you take with you and use. That's why we have reviewed the best kayak paddles for beginners. ​
As a beginner it can be tough to choose the best gear on the market especially when there is so much out there.
We have put together this review list and buyers guide to make that task easier for you so you can spend more time perfecting your kayaking technique and getting out there on the water!
We have spent hours researching, reading customer reviews and testing a few of these kayak paddles out for ourselves and came to the conclusion that any of the paddles on our list would be a great choice for any beginner however there is a few features that might catch your eye so be sure to read thoroughly. 
Let's get right into it!
Top 10 Best Kayak Paddles For Beginners
Buyers Guide – How to choose the best kayak paddles for beginners…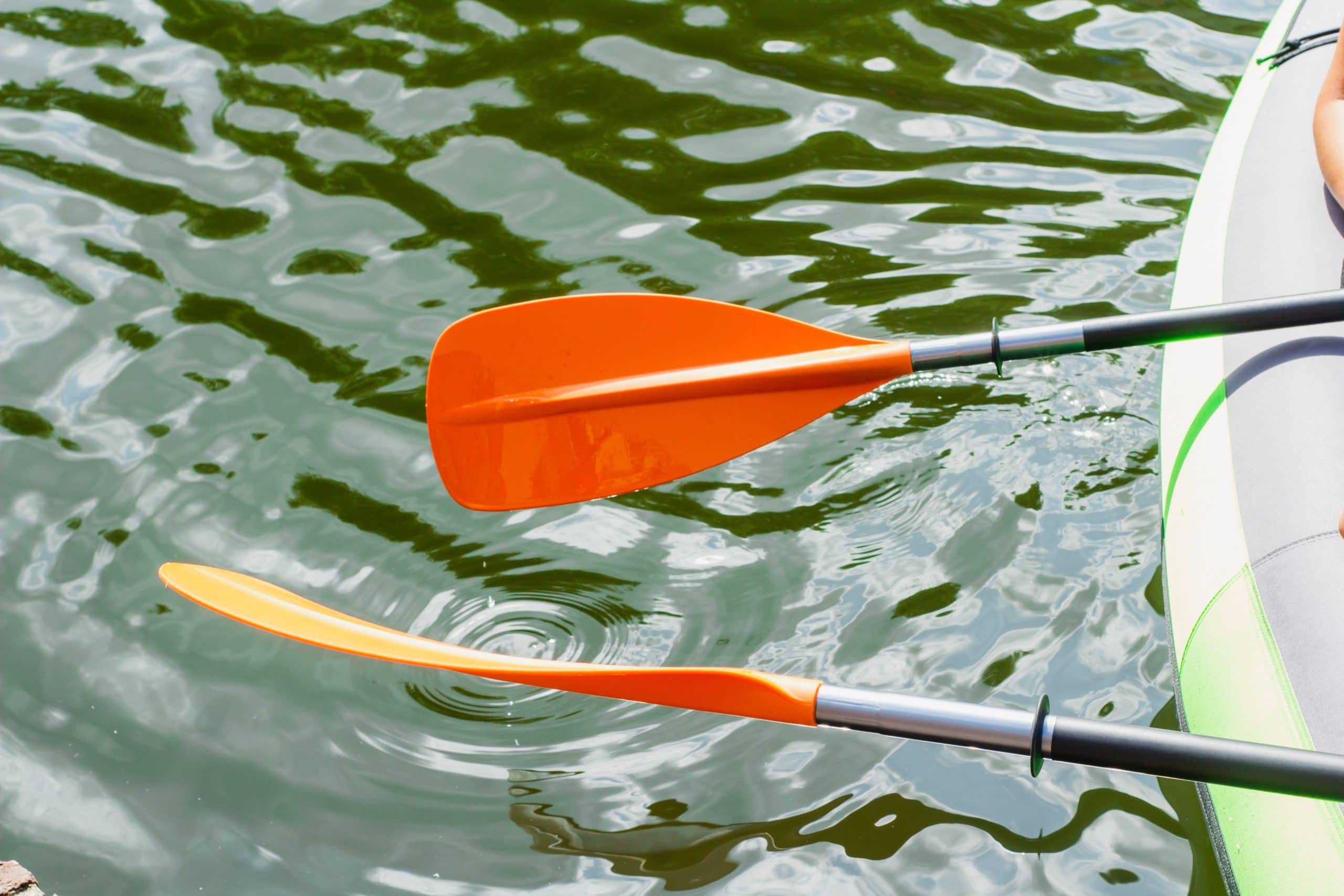 How To Choose A Paddle For Your Kayak?
While choosing paddles for your kayak you need to have a clear idea about what it is you are looking for in a paddle. This is especially important if you are a beginner as making the wrong choice here might cause frustration whilst out on the water and lead to you giving up on kayaking too early – when it could have been easily avoided. There are two most important things while choosing a paddle:
The blade size and shape
The paddle length
The Blade Size And Shape
Starting from the blade's shape, there are two types of blades long and narrow blades and shorter and wider blades. If you are on a trip at a lake in calm and cool waters then the ideal choice might be the long and narrow blades.
If you are more adventurous and want to go on an aggressive kayaking trip then you would need shorter and wider blades to remove friction from the contact surface area and cut through the water faster.
While choosing a blade size just keep in mind that smaller blades may suit smaller paddlers and larger blades for larger paddlers but this rule is not true always there may be anomalies.
As a beginner it's not likely that you'll be heading out on rapid flowing whitewater, if you are sticking to the calmer rivers and lakes then a longer blade choice would be ideal. 
The Paddle Length
For the shaft remember that the wider your kayak is the longer paddle is required. This is important because you need your paddle to be long enough to reach the water easily from both sides without you having to over-stretch yourself which will lead to fatigue and potentially injury. 
For recreational kayaks like "sit on top" and "sit inside kayaks" you might want longer paddles because they are wider and made for stability. But for touring sea kayaks you might need a shorter paddle because they are narrower as they are made for speed.
And similarly, for sit on top kayaks you are a bit further from the water surface than sit inside which means you may require a longer paddle.
For recreational kayaks which are 29 inches wide usually, you can use from 230 cm to 250 cm long paddle. Your paddle length also depends on your height the taller you are the longer the paddle you will require. If you have sea kayaks, then you will need a paddle from 210 cm to 230 cm.
But what to do if you want to travel in a recreational and a sea kayak? Should we buy 2 separate paddles? Absolutely not! Another important feature to look for is the telescoping ferrule. This can help you expand or contract the shaft according to your needs.
Once you have decided the features you want in your paddles the next step is to decide on a budget. Paddles can range from $20 to $400 but what differentiates their price is the construction of the paddles. The construction decides how light and durable the paddle is. They also determine the performance of the paddles as well as its aesthetics.
Lastly, the final element that decides if the paddle is worth it is the ferrule system. The ferrule is the linking joint between shafts to assemble and disassemble them. This helps in easy storage and transportation.
The Advantages Of Paddling For Kayak Fishing
One thing's for sure, even with the pedals you must have a paddle for emergency situations.
For one, paddles provide your stealth. If you are fishing on your kayak, the paddling will not let the fish know of your presence. You can creep on to it and catch it before it notices that something is amiss. During pedalling the fish instantly realize the commotion and vacate the area whereas in paddling the slow strokes may leave them unaware.
The pedal systems also require an extra clearance under the boat. In shallow waters, the pedalling anglers kick the fins of fish and in super shallow water anglers will need to completely flip their fins or remove the pedal drive which can be quite frustrating and require a lot of deck space.
Conclusion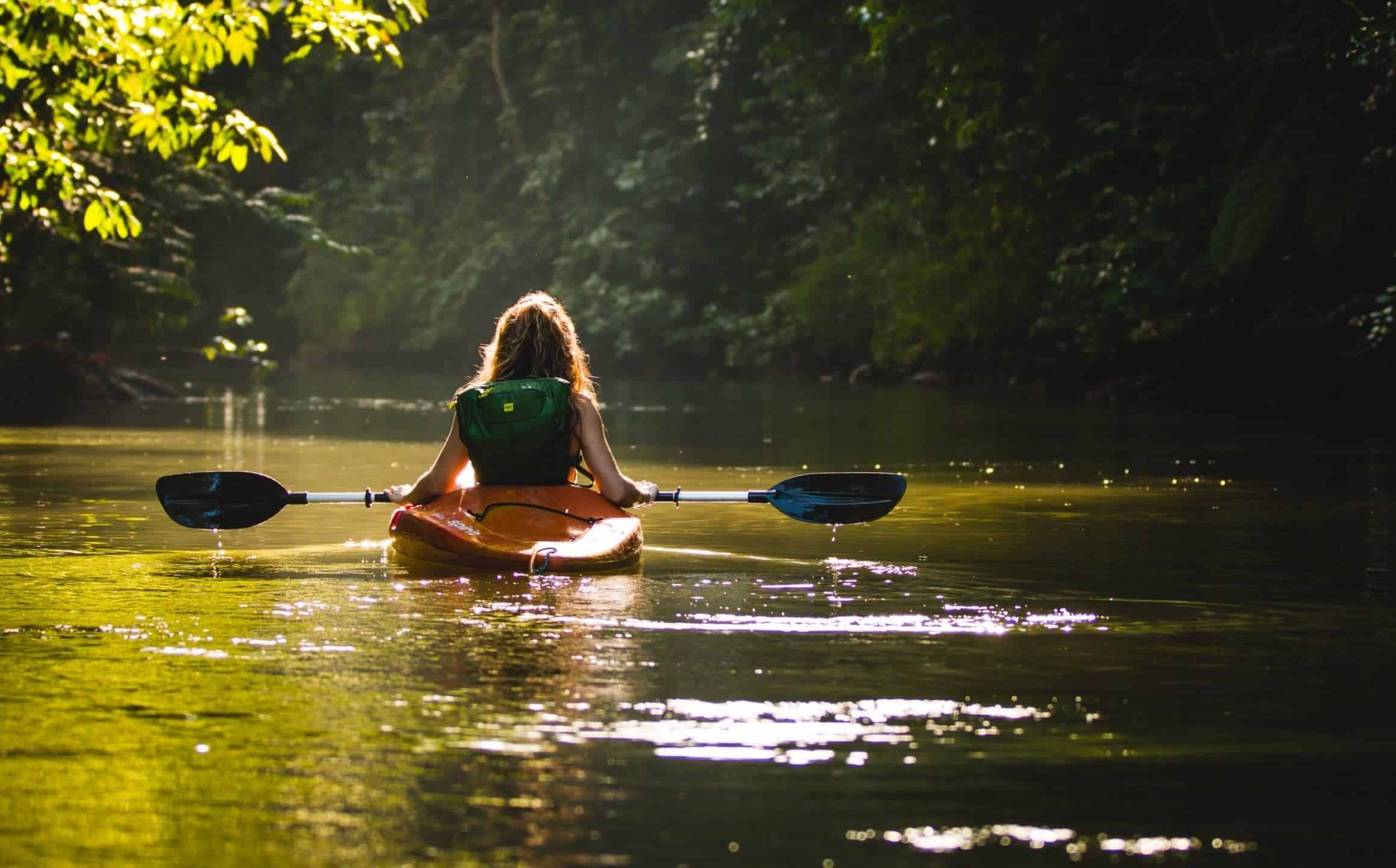 The best way to choose your kayak paddle is to make a list of all the features you want in the paddle, then search from the available options and shortlist the paddles and lastly make a budget and see which of these paddles fall into your budget.
If there are multiple of them take note of all the additional features they offer and decide on a paddle.
However as a beginner who is new to the sport we know that all the info and available paddle choices out there on the internet can be very overwhelming. We believe that any kayak on our list would serve you well on your kayaking trip – especially the editors choice and the next best! 
To recap our two favourite kayak paddles are the ADVANCED ELEMENTS Ultralite Pack Kayak Paddle and the Carlisle Day Tripper Aluminum Kayak Paddle.
We truly hope that this list of the best kayak paddles for beginners has helped you make an informed choice and get's you outdoors a little sooner. Happy Kayaking!
Related Kayaking Posts: