Intro Into The Best Kayak Paddles For Beginners 
In our opinion kayaking is one of the most enjoyable outdoor activities you can partake in. Whether it's to enjoy a solo expedition or have some fun with family and friends, you can always find somewhere to go and have a great time.
A lot of what makes your time on the water enjoyable is the gear you take with you and use. That's why we have reviewed the best kayak paddles for beginners. ​
As a beginner it can be tough to choose the best gear on the market especially when there is so much out there.
We have put together this review list and buyers guide to make that task easier for you so you can spend more time perfecting your kayaking technique and getting out there on the water!
We have spent hours researching, reading customer reviews and testing a few of these kayak paddles out for ourselves and came to the conclusion that any of the paddles on our list would be a great choice for any beginner however there is a few features that might catch your eye so be sure to read thoroughly. 
Let's get right into it!
Top 10 Best Kayak Paddles For Beginners
ADVANCED ELEMENTS Ultralite Pack Kayak Paddle
Here at Water Sporting Adventure, we've reviewed many kayaks produced by Advanced Elements and have even tested them out in the water ourselves. We have always been very impressed with the build and quality of all of their products and this kayak paddle for beginners is no exception. 
weighing only 23.6 ounces this paddle is lightweight and easy to extend and push through the water without over-tiring your arms, allowing you to kayak for much longer - great if you are still building up your stamina in the water. 
One of the best features of this paddle is that it is packable - meaning it breaks down simply into 4 pieces allowing you to easily transport it in your car. And if you have an inflatable kayak it should fit nicely into the carry bag. 
Once packed away the length of the paddle is only 60cm/24inch. 
Carlisle Day Tripper Aluminum Kayak Paddle
The Carlisle Daytripper kayak paddle is a great choice if you're a beginner kayaker and are looking for a paddle that is both easy and efficient to use whilst still coming as a 2 piece allowing it to be packed down and easily transported. 
Many customers report on how easy and smooth the paddle is to propel you through the water, overall choosing a paddle with a good blade design will be more efficient and help you conserve energy.
The blades are asymmetrical which gives a smoother stroke, which is why it will be so great for a beginner who hasn't mastered the perfect technique yet. The shaft of the paddle is produced from high-quality anodized aluminum giving the paddling strength, durability, and reduced weight. 
Weighing only 37 ounces the Carlisle Day Tripper is suitable for most body types and strength levels. 
The paddle also comes in a variety of lengths to suit a range of heights - just double-check what size will be best for your body type. 
Shoreline Marine 96-Inch Rounded Kayak Paddle
This is another kayak paddle that is a favorite among beginner paddlers, the shoreline paddle is 96inches long making it a manageable size for the majority of people. This kayak paddle has some great features which wouldn't look out of place on a high-end kayak paddle. 
There are foam grips for added comfort and double drip guards to help keep you dry whilst paddling through rough water. 
The Three-position pin system allows you to rotate the aluminum shaft to customize the paddle blade angle to fit your style and experience level maximizing comfort and the power of your paddle stroke - this feature is great and not something you always see on a paddle of this price. No matter what hand is your dominant hand you can adjust the blade to suit. 
The construction of the shaft is aluminum which makes the kayak paddle both corrosion resistant and lightweight. 
The blades are contour molded to maximize the blade efficiency in the water and to help propel you with ease. 
Another great feature of the Shoreline paddle is that it is two-piece - meaning it can be broken down to a reduced length. This makes transporting the Kayak paddle much easier.
Pelican Poseidon Kayak Paddle
Pelican has been putting great kayaking products to market for a number of years and this paddle is no exception.
Showing great value for money with reinforced fiberglass blades, not something that is always expected at a paddle of this price. 
Two sturdy pieces of aluminum construction this paddle is both lightweight and strong. The two-piece design makes it easily transportable inside any vehicle. The blades are made from Impact resistant fiberglass reinforced polypropylene for exceptional durability.
Including drip rings to help keep both your hands dry even in rough water - allowing you to keep a better grip on the shaft at all times. 
The enforced push-button connection allows you to adjust the angle of the blade from 0 to 65˚.
An added bonus with the Poseidon paddle is that the shaft goes from a rounded shape to a slightly oval shape (called indexing) which serves as a reference to where you should be placing your right hand. This will help beginner paddlers get a better technique. 
Leader Accessories Kayak Paddle
One of the great things about this kayak paddle is that there are 3 shaft materials you can choose from when buying - make sure to check the price as it will adjust depending on what you choose. 
You can opt for an aluminum shaft, carbon shaft & fiberglass shaft. As a beginner kayaker, I would most likely opt for the aluminum shaft as it is still relatively lightweight and strong.
However, if your budget allows then the other two options would be great and definitely provide you with a paddle that will last for years to come. 
Three locking positions allow the blades to be adjusted to three angles giving you the perfect paddling style depending on your technique and experience. 
There are 7 colors available to choose from so you're sure to be able to pick at least one you love!
Many customers report that the scooped blade design increases efficiency and makes it easier to propel yourself through the water. 
Cannon Paddles Escape E Kayak Paddle
This Cannon paddle has proven to be great for all entry-level kayakers and suitable for all types of kayaking. 
The shaft is produced from heat-treated and anodized aluminum with ovalized grips which create a paddle with good strength to weight ratio. 
The kayak comes as a two-piece construction which makes it super easy to transport in any sized vehicle. 
You can also adjust the blade angle to either 60 degrees right-handed, left-handed and unfeathered. Being able to do this allows you to maximize the efficiency of the paddle regardless of your paddling style or the water condition. 
Weighing only 39oz. this kayak paddle is lightweight and suitable for the majority of people. 
Heavy-duty drip rings are included to keep water from running down the paddle and ultimately keeping you dryer while paddling. 
BENDING BRANCHES Angler Classic 2-Piece Kayak Paddle
We thought it would be a good idea to include a kayak paddle which has been marketed specifically as a kayak paddle for kayak fishing - although we would always stand by the fact that any kayak paddle would likely do fine for you if you are a kayak angler. 
Just like many of the other best kayak paddles for beginners on this list, this kayak can be quickly broken down into two-pieces for easy transportation. 
There is a 3 hole snap-button ferrule that is adjustable for feathering angles 0° and 60°, left or right-hand control so you don't have to worry about making sure you find a kayak that is either right or left-handed. 
The rugged fiberglass-reinforced blades offer a perfect blend of weight and durability, resulting in smooth paddling with less fatigue, even with a heavy load. The grips are ovalized to sit better in your hand and the shaft is coated with your comfort in mind.
Fishing Feature: One blade has a convenient hook-retrieval notch so you can rescue your line and lure in case of a less-than-perfect cast. 
If you're someone who loves to buy products that are manufactured in the USA due to the exceptional build quality then you'll love this paddle.
Bending Branches is located in Northwestern Wisconsin and is staffed by paddling enthusiasts. Since 1982, Bending Branches has been producing paddles with a breakage rate of less than 0.03%!
Naviskin Aluminum 2 Piece Kayak Paddle
This kayak paddle from Naviskin is a great choice for any beginner kayaker. The shaft is produced from aluminum, giving it corrosion resistance and high strength. 
The duck palm arc blades help reduce the resistant of getting into the water, and help you stroke with more strength and efficiency - this is great for a beginner when your technique isn't 100% perfect. 
The three locking positions system allows you to customize the paddle to fit your needs and hand dominance. 
Coming in a range of colors and sizes we're sure that there will be at least one choice that is perfect for your needs. 
Sea Eagle 4 Part Easy Pack Kayak Paddle
One of the best features of this kayak paddle from sea eagle is that it can pack away into 4 parts which makes it super compact and portable. Even if you have an inflatable kayak with a carry bag - we're sure that the paddle will fit within the bag. 
The aluminum shaft makes this kayak paddle lightweight, strong, and corrosion-resistant in all conditions. 
Weighing just 2.7lbs this kayak paddle can be handled and easily used by anyone of any strength. 
Many customers report that the kayak paddle is super easy to fold away into its 4 parts and easy to use in the water for any experience level of paddler. 
Intex Dual Purpose Kayak Paddle/Boat Oars
And so we have arrived at the last best kayak paddles for beginners on our list but that doesn't mean it isn't perfect for you! This paddle is produced for Intex. We have reviewed many of their inflatable kayaks on this site before and are always impressed with the quality of their products. 
This kayak paddle is dual purpose and can be used as both a boat oar and kayak paddle. You can use either half of the paddle as a singular oar or connect them together to produce 1 longer paddle. 
The shaft is produced from aluminum which makes it lightweight, corrosion-resistant, and strong - we're sure this choice will last you for many years to come or until you're more experienced in the water and want to upgrade. 
Many customers mention that the coupling that connects the two separate oars is strong and works well, you just have to ensure that it is tight. 
Buyers Guide – How to choose the best kayak paddles for beginners…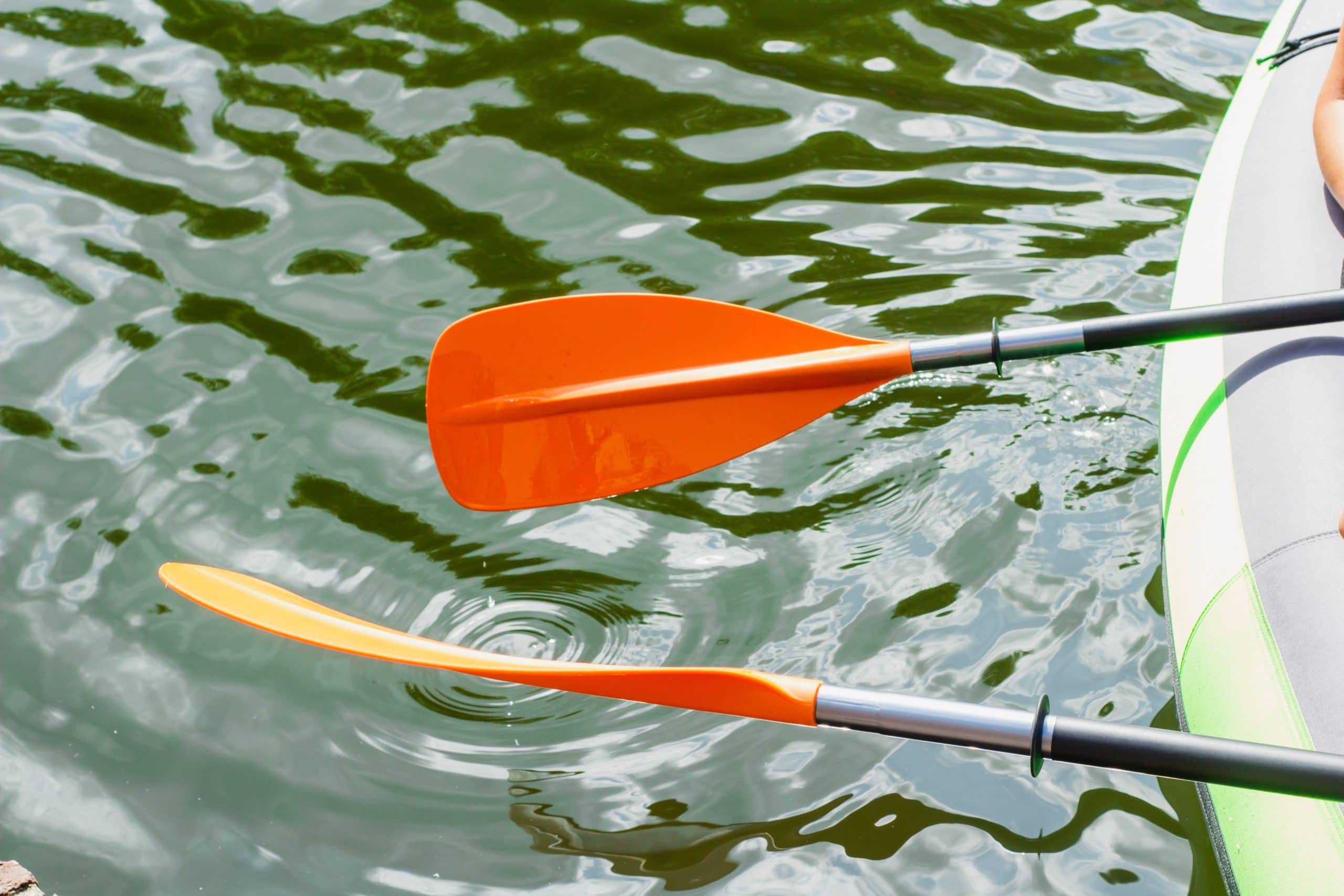 How To Choose A Paddle For Your Kayak?
While choosing paddles for your kayak you need to have a clear idea about what it is you are looking for in a paddle. This is especially important if you are a beginner as making the wrong choice here might cause frustration whilst out on the water and lead to you giving up on kayaking too early – when it could have been easily avoided. There are two most important things while choosing a paddle:
The blade size and shape
The paddle length
The Blade Size And Shape
Starting from the blade's shape, there are two types of blades long and narrow blades and shorter and wider blades. If you are on a trip at a lake in calm and cool waters then the ideal choice might be the long and narrow blades.
If you are more adventurous and want to go on an aggressive kayaking trip then you would need shorter and wider blades to remove friction from the contact surface area and cut through the water faster.
While choosing a blade size just keep in mind that smaller blades may suit smaller paddlers and larger blades for larger paddlers but this rule is not true always there may be anomalies.
As a beginner it's not likely that you'll be heading out on rapid flowing whitewater, if you are sticking to the calmer rivers and lakes then a longer blade choice would be ideal. 
The Paddle Length
For the shaft remember that the wider your kayak is the longer paddle is required. This is important because you need your paddle to be long enough to reach the water easily from both sides without you having to over-stretch yourself which will lead to fatigue and potentially injury. 
For recreational kayaks like "sit on top" and "sit inside kayaks" you might want longer paddles because they are wider and made for stability. But for touring sea kayaks you might need a shorter paddle because they are narrower as they are made for speed.
And similarly, for sit on top kayaks you are a bit further from the water surface than sit inside which means you may require a longer paddle.
For recreational kayaks which are 29 inches wide usually, you can use from 230 cm to 250 cm long paddle. Your paddle length also depends on your height the taller you are the longer the paddle you will require. If you have sea kayaks, then you will need a paddle from 210 cm to 230 cm.
But what to do if you want to travel in a recreational and a sea kayak? Should we buy 2 separate paddles? Absolutely not! Another important feature to look for is the telescoping ferrule. This can help you expand or contract the shaft according to your needs.
Once you have decided the features you want in your paddles the next step is to decide on a budget. Paddles can range from $20 to $400 but what differentiates their price is the construction of the paddles. The construction decides how light and durable the paddle is. They also determine the performance of the paddles as well as its aesthetics.
Lastly, the final element that decides if the paddle is worth it is the ferrule system. The ferrule is the linking joint between shafts to assemble and disassemble them. This helps in easy storage and transportation.
The Advantages Of Paddling For Kayak Fishing
One thing's for sure, even with the pedals you must have a paddle for emergency situations.
For one, paddles provide your stealth. If you are fishing on your kayak, the paddling will not let the fish know of your presence. You can creep on to it and catch it before it notices that something is amiss. During pedalling the fish instantly realize the commotion and vacate the area whereas in paddling the slow strokes may leave them unaware.
The pedal systems also require an extra clearance under the boat. In shallow waters, the pedalling anglers kick the fins of fish and in super shallow water anglers will need to completely flip their fins or remove the pedal drive which can be quite frustrating and require a lot of deck space.
Conclusion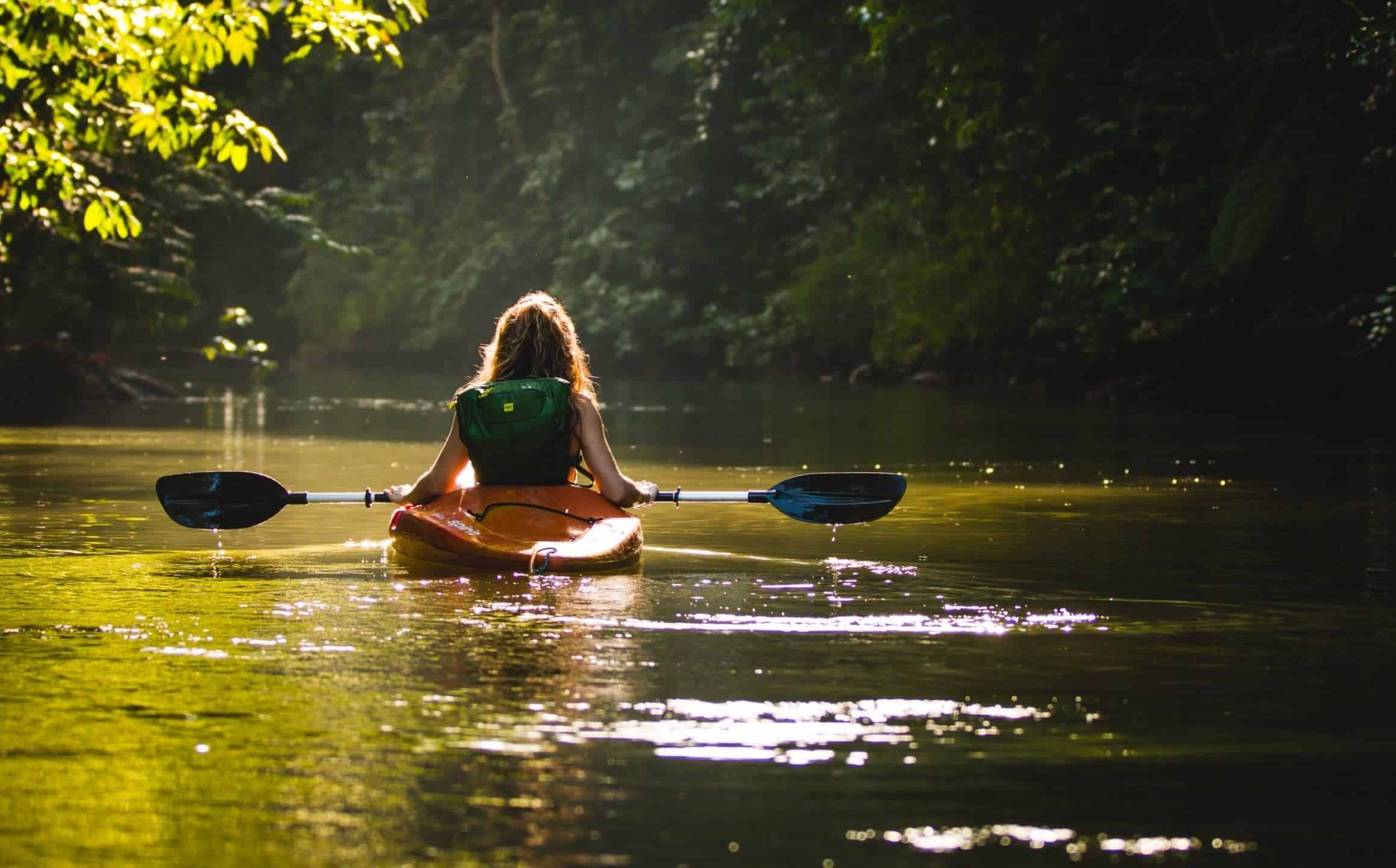 The best way to choose your kayak paddle is to make a list of all the features you want in the paddle, then search from the available options and shortlist the paddles and lastly make a budget and see which of these paddles fall into your budget.
If there are multiple of them take note of all the additional features they offer and decide on a paddle.
However as a beginner who is new to the sport we know that all the info and available paddle choices out there on the internet can be very overwhelming. We believe that any kayak on our list would serve you well on your kayaking trip – especially the editors choice and the next best! 
To recap our two favourite kayak paddles are the ADVANCED ELEMENTS Ultralite Pack Kayak Paddle and the Carlisle Day Tripper Aluminum Kayak Paddle.
We truly hope that this list of the best kayak paddles for beginners has helped you make an informed choice and get's you outdoors a little sooner. Happy Kayaking!
Related Kayaking Posts: