Best Saltwater Fishing Lures For Pier Fishing – Our Top 6 Picks In 2023
Beginner or pro, every fisherman's tackle box should have the best saltwater fishing lures. Anglers love collecting fishing lures, and mostly their tackle box is brimming with lures.
What if we tell you that you need only a few high-performing lures that you can rely on time and time again to catch your fish? 
Saltwater can be hard on fishing gear. From salt deposit to corrosion, there can be many problems. Therefore, when choosing a lure for catching fish in a salt water environment, you must look for lures that are more rugged, produced from high quality corrosion resistant materials and designed to catch you the saltwater fish you're going after.
The best saltwater fishing lures will ensure a great catch and a great fishing experience. The variety of fishing lures in the market is overwhelming. Today, we will share with you the best fishing lures that every angler needs.
We will also share a detailed guide that will help you pick the best lures every time.
Our Top Picks for the Best Saltwater Fishing Lures
Who doesn't love saltwater fishing? We know we do. And, here are our top picks for the best fishing lures for saltwater:
Best Saltwater Lure For Pier Fishing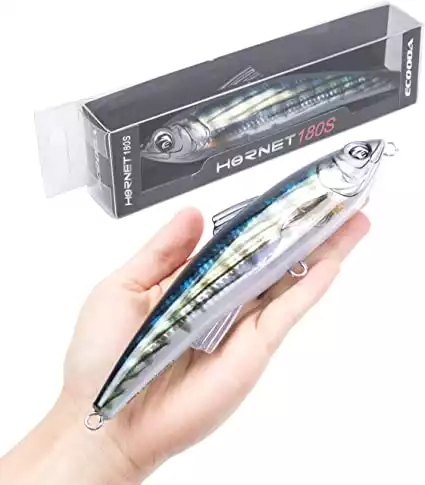 Ecooda Hornet Saltwater Fishing Lure
Beautiful, big, and sturdy the Ecooda Hornet lures are the best saltwater fishing lures. They are ideal for catching super fish in blue water. Its high-resolution designs with intricate 3D details make the lures look like real baits.
The lures are strong and have a great pull. The high-quality manufacturing, strong material, and welding wire give the lure its 100kg pull. They are easy to use. You don't need to pull the Ecooda lures much. They are easy to control and swings like a real bait. The natural swim action is great for trolling.
They are ideal for catching most species of fish including:
tuna; mackerel; wahoo; mahi-mahi; kingfish; marlin; barramundi
The fishing lures weigh 2.9 oz and are 7 inches long. The size and weight are ideal for saltwater fishing.
What we like:
High-quality material
Easy to see in saltwater
Available in a variety of colors
Work with most types of hooks
Swims like a real bait

Next Best Lure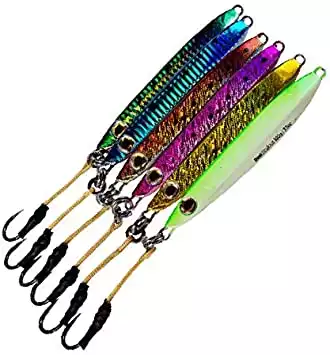 Flat Side Jigs Fast Ocean Lures With Mustad Hooks
If you are looking for a saltwater fishing lure with realistic action, then these Flat Side Ocean Jigs are exactly what you need.
The lures have an exquisite paint job and their vibrant colors will surely attract fish even in dark and murky water.
Moreover, forget about replacing your lures every few weeks. These best saltwater fishing lures are durable and long-lasting. The lures have strong construction and come with high-quality carbon steel hooks. Furthermore, the military-grade Kevlar assist cord provides excellent performance and durability.
The stainless steel lures are tested for a high level of endurance. No matter how big the fish you aim to catch, the Flat Side Jigs will be your go-to fishing lures.
The best thing that we have noticed is that these lures consistently continue to provide great performance. Therefore, they are cost-effective as well.
What we like:
Vibrant colors
The sealed finish of top-quality paint
Realistic action
Available in six different colors 
Available in 4 weights
Comes with strong hooks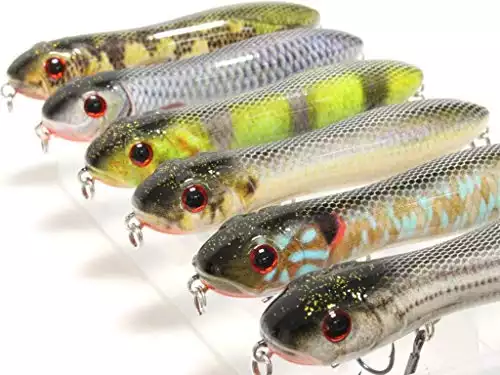 wLure Topwater Crankbait for Bass Fishing Bass Lure Fishing Lure (HW769KB, with Tackle Box)
The wLure Minnow lures are great for those looking for cheap lures that work well in deep waters. These deep divers are excellent for use in saltwater. The lures are available in a wide range of colors.
Their lifelike patterns make them a competitor for the best saltwater fishing lures in the market. wLure RealSkin Technology makes the lures a great choice for those looking for realistic baits to lure their target species of fish
The fishing lures have a standard treble hook in the shape of an eagle claw. They claim to be 125% sharper than regular hooks.
The corrosion-resistant coating on the lures ensures that they are durable and will last you years to come even throughout continued use in saltwater. 
Customers report that these lures rival the most expensive lures on the market - great value for money!
What we like:
Very realistic - Looks like real bait
Realistic action
Perfect for saltwater and freshwater
Comes with hooks
Cheaper than competitors - great value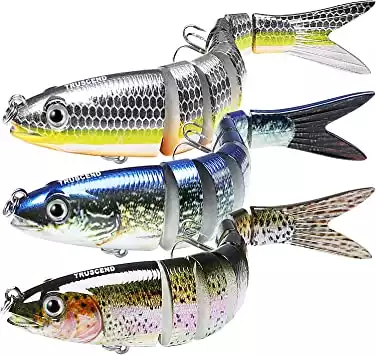 TRUSCEND Fishing Lures for Bass, Trout & Saltwater
If there is one feature that should be in the best saltwater fishing lures it is to look and work like real bait. Therefore, the Truscend fishing lures are in our top picks.
Fish will love chasing and biting these beautiful and high-quality fishing lures. Thanks to the 8 segmented body sections, the lures deliver a natural S-shaped action when swimming.
The tough ABS plastic body, together with ultra-strong mesh fabric makes them rugged and long-lasting. This makes them essential for a great saltwater fishing experience.
They are great for catching all kinds of fish ranging from sunfish to largemouth. The vivid colors will attract the target including predator fish like:
bass; yellow perch; walleye; pike; muskie; roach; trout
What we like:
Great 3-D design
S-shaped, natural swim action
Great for catching all fish species
Attract fish like a real bait


Yo-Zuri 3DS Minnow Suspending Shallow Diving Crankbait
For trolling, surfing, and fishing, the Yo-zuri Crankbaits are some of the best saltwater fishing lures on the market today, and even better it makes our best value choice. 
The best value choice isn't just about the cost, it also considers the best value for your money spent. 
These fishing lures provide the best strike for first casting. Their smooth action provides a great and smooth retrieve every time. The 3D designs of the fishing lures make them perfect for deep water fishing. Moreover, the 'patented Yo-Zuri Internal 3D Prism Finish' makes the lures perform well even when the water is murky.
The real fish like erratic movement makes them essential for a great ocean fishing experience. Also, they come with black nickel hooks. These features make the fishing lures ideal for both freshwater and saltwater. 
The Yo-Zuri fishing baits are available in a wide variety of colors. You can also choose from the two sizes.
What we like:
Great 3-D design
Real fish-like motion and action
Great for catching all types of fish
Works well in both freshwater and saltwater
Available in 2 sizes and 17 colors


Rapala X-Rap Saltwater Fishing Lure
When it comes to pier fishing, any of the lures on our list will be a fantastic choice for any angler. However, if we had to pick our most reliable and highly effective saltwater lures for pier fishing then this one would take the crown. 
Rapala X-Rap offers a great pier fishing experience with its high-quality fishing lures. They are great in design and exquisite in performance.
This saltwater lure is colorful and contains holographic inserts and therefore attracts saltwater giants even in the murkiest waters. Hand-tuned and tank-tested this fishing lure is constructed to last any battle in both salt-water and freshwater. 
Many customers report on how easy this lure glides through the air whilst casting - improving both your casting distance and accuracy. 
What we like:
Holographic design attracts fish
Great for catching all types of fish
Comes with stainless steel 3x hook
Lightweight
Perfect saltwater lures for pier fishing

The Ultimate Guide to Choosing the Best Saltwater Fishing Lures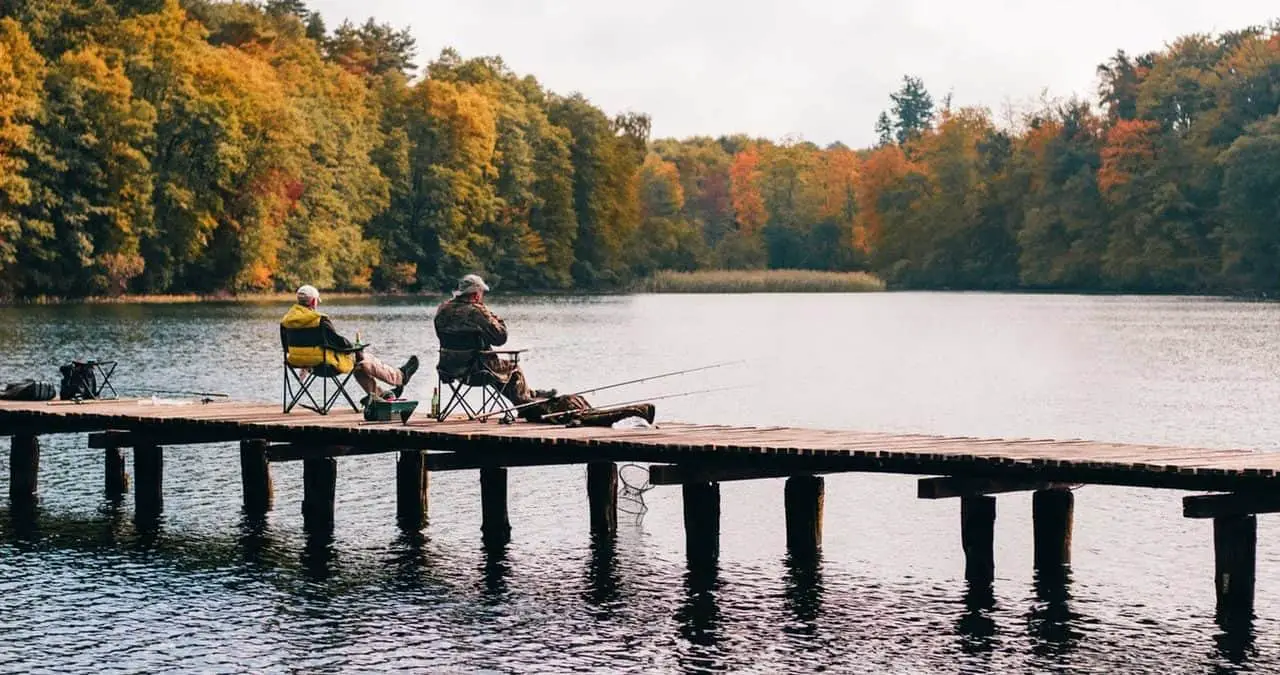 Choosing the best fishing lures requires research. You need to look at the features that work best in saltwater. We love ocean fishing and after buying and trying dozens of brands, we have shortlisted some that every angler will love.
In this guide, we will look at the characteristics essential in the best saltwater fishing lures.
Why do you need lures for saltwater fishing?
For saltwater fishing, it is important to use strong and durable equipment. Your gear should be able to withstand all water conditions. Seawater fishing lures are great for catching fish in ocean water and ocean tops. 
Moreover, when you add plastic to such a lure, it dives under the water in a 'swimming' movement. Especially on retrieval, the bails wobbles and appears like live bait. This is important as bigger game fish tend to feed on smaller fish. The closer you can make your lure act and behave like a real fish the better your chances of catching are. 
A lure essentially allows you to recreate the effect of using a live bait without all of the hassle that using a live bait comes with. 
What are the different types of saltwater lures?
Saltwater lures vary according to the water conditions where you want to fish.
Topwater Fishing Lures: These work great in warm weather conditions. When the fish are feeding close to the top of seawater, it is best to use topwater lures.
Deep-Sea Fishing Lures: For catching larger fish in cool and deep seawater, these types of lures are ideal.
Trolling Fishing Lures: To catch fish that swim faster, it is best to use trolling seawater lures.
Surf Fishing Lures: When fishing at the bank, a surf fishing lure can serve you well. They are also great for catching fish that swim close to the shore.
Pier Fishing Lures: For pier fishing, you can use fishing lures you can choose any type of saltwater fishing lures. The lures that you should choose depends on the size and species of the fish you wish to catch.
Features to look out for in the best saltwater fishing lures for pier fishing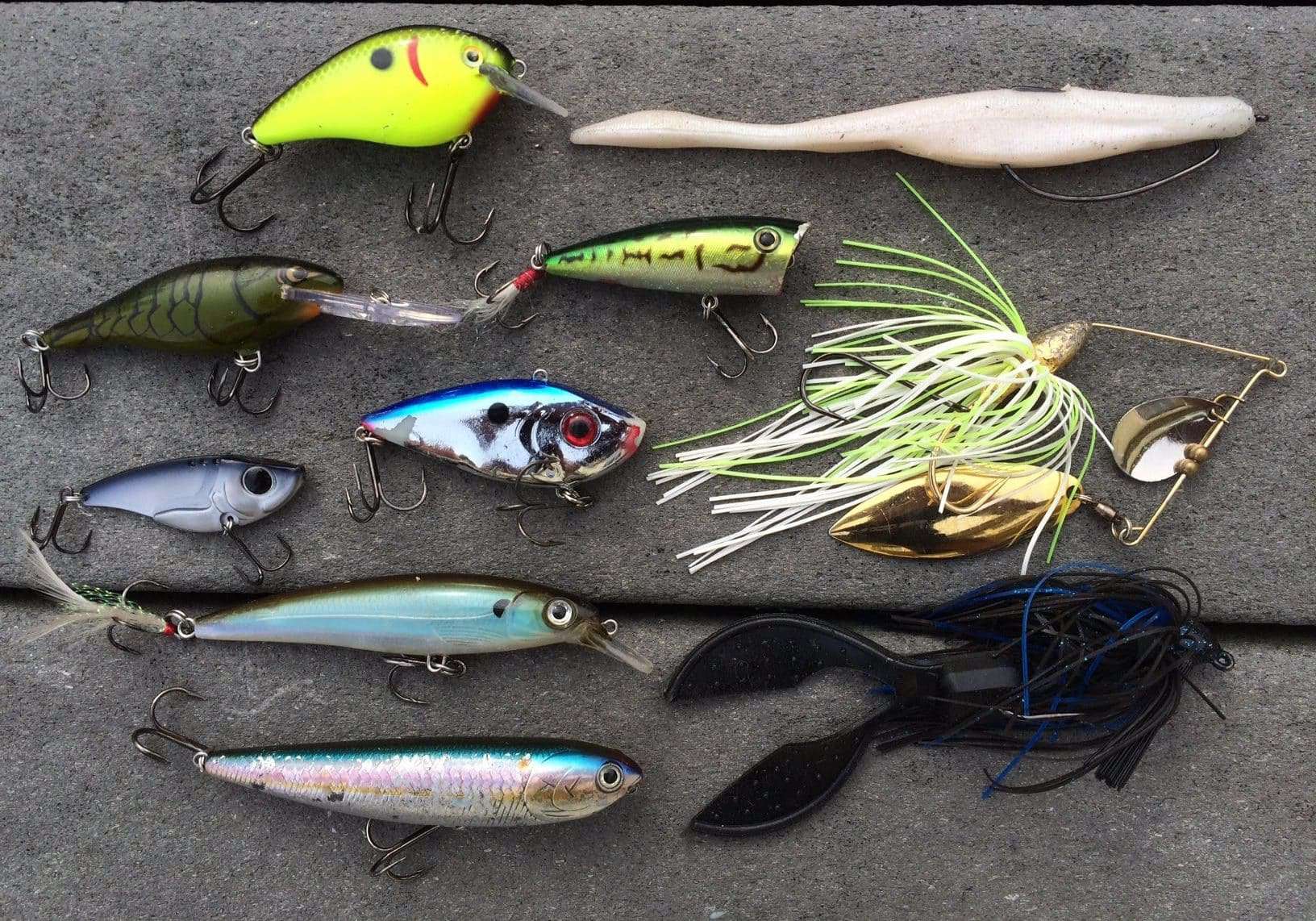 Design: Great design is very important when choosing the best saltwater fishing lures. In design, look for lures that appear like real baits. The lures with 3D designs look more realistic. Moreover, vivid colors also make sure that the fish will love chasing and biting your lure.
Real Swim Action: The next thing on our list of must-have is a great swim action. Fish will chase a lure that looks and acts like a real bait. Look for designs that offer a very natural swim action. some brands offer great quality lures with an S-shaped swim action.
Performance: Both design and swim action determine the performance of the best saltwater fishing lures. Therefore, this is the most important feature of a fishing lure. A good lure should be able to perform effectively. It should be great for casting and retrieving. Moreover, it should be consistent in performance in seawater.
Visibility: A visible fishing lure will attract more fish underwater. Vivid and bold colors make a lure more visible on or underwater. Another factor that influences visibility is the size of lures. A larger fishing lure will be more visible in the water.
Durability: Durability is very important for a high-quality saltwater fishing lure. To buy the most rugged and durable lures, consider their materials. For instance…
Stainless steel fishing lures are best for seawater fishing. Another affordable option is to use plastic lures.
Bite Resistance: Another feature that ensures the longevity of a fishing lure is its bite resistance. During fishing, when a fish bites, it can damage the lure or even swim away with a chunk. Therefore, look for lures that are bite-resistant.
Baits with Motion: It is obvious that live bait will attract more fish. Choose lures that not only look like real baits but also feel like them. A bait that moves and swims like a live bait will attract more fish.
Easy to Use: The goal of fishing gear should be to provide a great fishing experience. Therefore, the best saltwater fishing lures should be easy to use.
Weight of the Lures: When buying a fishing lure, look at the weight. Heavier lures are ideal for underwater fishing. The heavyweight helps you to aim at catching fish in deep seawater. Comparatively, lighter lures work well in shallow waters or when you are aiming the fish swimming close to the top of the water.
FAQ
How can I use Saltwater Fishing Lures?
The purpose of a fishing lure is to create the same effect as live prey. Especially when you retrieve a lure, the bait moves to look like a real bait.
Can we reuse these fishing lures?
Yes, you can reuse fishing lures. If you buy lures produced from durable materials, they will last even longer. You must also clean and dry your lures after use.
Can I use a freshwater lure for saltwater fishing?
Comparative to freshwater fishing, saltwater or ocean fishing is done in aggressive environments. Therefore, the lures should be made specifically for seawater conditions. It should be stronger, longer and more durable than freshwater fishing lures.
However if your freshwater fishing lure has all these features and is made from corrosion resistant materials then you can.
Conclusion
Saltwater fishing lures are essential for a great ocean fishing experience. Great quality fishing lures should be durable, strong and effective. 
Every angler should have the best lures in his tackle box. The ideal fishing lures are ones that have a realistic design and swim action.
To recap out favourite lures are: Ecooda Hornet Saltwater Fishing Lure, REELDICULOUS Flat Side Vertical Speed Ocean Jigs and Rapala X-Rap Saltwater Fishing Lure.
We hope our guide will help you in choosing the best saltwater fishing lure for pier fishing or any form of saltwater fishing for that matter! Or you can skip the drill and choose one from our top picks for the best saltwater fishing lures in the market.
If you are looking to explore alternative ways to catch fish then you should check out how to construct a primitive funnel basket trap. 
Related Posts: