Best Kayak For Big Guys (& Gals) – What If I'm A Tall And Heavy Person?
No matter what your size, whether you're tall, fat or thin you should be able to get outdoors and enjoy everything that kayaking has to offer.
To do this you need to be able to find the correct equipment which matches your body type. That's why we're reviewing the best kayak for big guys.
Even if you are on the larger size then there is plenty of kayaks to accommodate your size. We have put together our top recommendations for the best kayak for a heavy and tall person in this article. 
Often kayaks can be seen as a slimline device which can easily cut through the water but is only suitable to a person with a smaller frame.
Well this just isn't true, many kayaks have a larger cockpit, longer leg reach and a higher loading capacity making them perfect for all shapes and sizes.
The Best Kayak For Big Guys at a Glance
Whether you are using your kayak recreationally, looking for an inflatable kayak or like to take your kayak on your fishing adventure, we're sure there will be one on our list that is perfect for you. 
We'll talk about the best kayak for a large person, the best kayak for a heavy person and the best kayak for a tall person. 
Let's dive straight in!
Best kayak for big guys
Best Overall Pick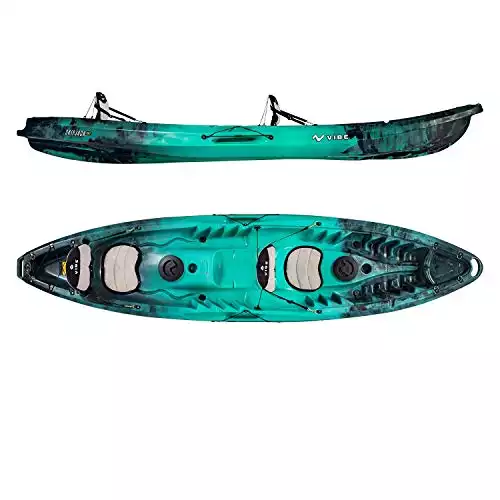 Vibe Kayaks Skipjack 120T 12 Foot Tandem Kayak
We've reviewed many kayaks from Vibe on this site and we are always impressed by the quality of their products when it comes to kayaking. 
The Skipjack 120T is a 12 foot tandem kayak produced to be used for fishing and recreationally. It's also a sit on top kayak which means you won't feel constrained by the kayak whilst out paddling – something great for bigger people. 
The kayak has a very impressive 500lbs weight limit which means it should have no issues carrying you and your fishing/camping gear around. 
A great feature of this kayak is that the adjustable padded seats are removable, which allows you to use the tandem kayak as a solo kayak – great if you're on the larger side. 
With this purchase you also get two paddles and two paddles – so this is a great option if you just want to make one purchase which allows you to get out on the water right away.
There is also a bungee storage section at the stern of the kayak which can be great for holding items you want to take along with you. As well as the deck storage there are two built-in storage hatches which both additionally have a cup holder built into them.
Dimensions
Length: 12ft 2inch
Width: 33inch
Weight: 72lbs
Weight capacity: 500lbs

Next Best

Wilderness Systems RIDE 115 Kayak
The Ride 115 is an 11 foot 6-inch sit-on-top yak with bungee racking systems in the rear and two storage hatches upfront. It has an impressive 500lbs weight capacity which makes it great for larger paddlers whilst still being able to carry a lot of gear for your trip.
The beauty of a sit on top kayak is that you feel more free and spacious whilst in the kayak. The seating is ergonomically molded to make you feel comfortable in the craft. The padded seat is fully adjustable. 
The foot braces are also fully adjustable so you can get the perfect fit for your body size and length allowing you to have better stability whilst paddling on the water. The storage hatches are both dry hatches that are fully sealable to keep your belongings protected – great if you want to take along a camera or your phone with you. 
Dimensions
Length: 11ft 6inch
Weight: 76lbs
Weight capacity: 500lbs

Best Fishing Kayak For A Big Guy
Best Fishing Kayak For a Big Guy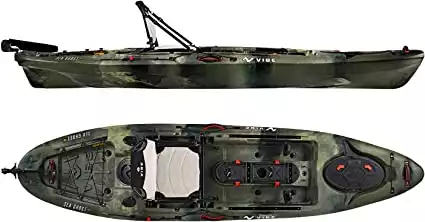 Vibe Kayaks Sea Ghost 110 Sit On Top Fishing Kayak
The Vibes Sea Ghost 110 is a sit on a top fishing kayak which is perfect for larger people. Even if you aren't into fishing this kayak will make a great piece of equipment for your everyday kayaking trips. 
There is plenty of room to mount and hold your accessories such as a fish finder, via the 2 flush-mount rod holders and 4 integrated gear tracks.
This kayak also includes a pre-installed toe rudder system to help you conserve energy during longer paddles, strong winds, and currents. 
There is a 20″ dry hatch storage area to store all of your personal belongings as well as a smaller hatch in the rear for smaller items. 
The wide spacious deck makes this kayak perfect for larger people who don't like to feel cramped whilst kayaking. The shape and width also make it very stable for any experience of paddler.
Dimensions
Length: 11ft 
Weight: 62lbs
Load capacity: 425lbs

Best kayak for a heavy person 
Whilst looking for a kayak for a heavier person, you mainly want to take note of the weight/loading capacity and stability of the kayak. 
Best Kayak For a Heavy Person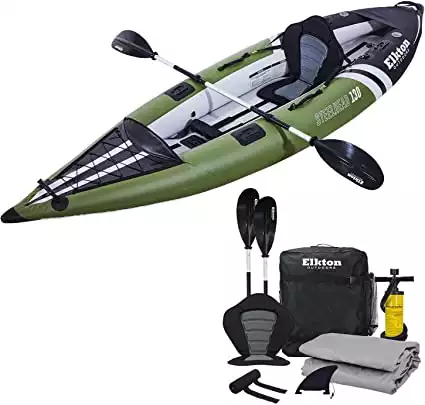 Elkton Outdoors Steelhead Inflatable Kayak
One of the great things about inflatable kayaks is that due to their design – which is essentially two tubes full of air to form a kayak shape, they usually have great loading capacities and can store a lot of gear making them perfect for heavier people. 
This kayak from Elkton is a sit on a top inflatable kayak. Sit on top kayaks are spacious and don't make you feel cramped whilst paddling, this can be great for heavier and larger people. 
Whilst being a great recreational kayak, this one also has mounting points for fishing rods and a solid floor which allows you to cast standing up if you can see yourself using this as a fishing kayak. 
The kayak is produced from 1000D reinforced layered PVC making it very durable and tear-resistant so you don't have to worry too much about deflating the kayak. 
Not only do you get the kayak with this purchase, but you also get the paddle, pump, comfortable padded seat, and convenient carry bag. 
Specs
Length: 10ft 10inch 
Width: 39.5inch 
Weight: 40lbs
Load capacity: 400lbs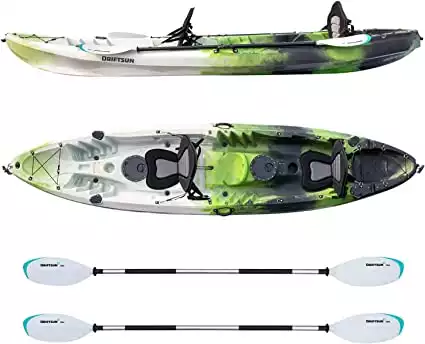 Driftsun Teton 120 Hard Shell Recreational Tandem Kayak
This kayak from Driftsun could be a great choice for heavier people due to its impressive 500lbs weight limit, making it perfect for you and all of your gear. 
A tandem kayak is great if you want to take someone along with you on your adventure, however, if you are likely to go over the load limit with two people then many customers report that this kayak is great to use as a solo paddler and can still easily be maneuvered in the water. 
The hull is produced from UV resistant high-density Polyethylene making this kayak extremely durable and strong. 
There are dual watertight storage hatches to hold your valued possessions, this is fantastic if you want to take along your camera or phone along with you without worrying about it getting wet. 
You also get 4 fixed carry handles which make for easier transportation, two paddle holders for when they are not in use, and a comfortable molded center cockpit seat which is great if you want to take your kid along with you.
Not only do you get the kayak but this bundle also comes with 2 adjustable EVA seats and 2 aluminum performance paddles. 
Specs
Length: 12ft 2inch 
Width: 32inch 
Weight: 72lbs
Load capacity: 500lbs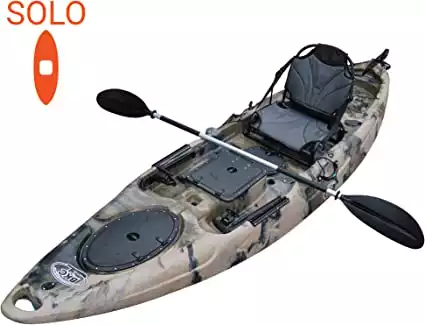 BKC RA220 11' 6" Solo Sit-On-Top Kayak w/Upright Back Support
Brooklyn Kayak Company has been featured a few times on this site already due to the excellent kayaking products they consistently put out into the market.
The load capacity of this kayak is 450lbs which makes it ideal for heavier people. The RA220 can also be used to cast standing up which tells you that it is a very stable kayak, something you should definitely be looking for in the best kayak for a big guy (and gal). 
The BKC RA220 sit on top fishing kayak for a heavy person features ample watertight storage space and a large cargo area so you have enough room to take your belongings and gear along with you. 
Many customers report on the fact that this kayak is very stable and tracks straight through the water, even in choppier conditions. 
Specs
Length: 11ft 6inch 
Width: 34inch 
Weight: 68lbs
Load capacity: 450lbs

Best kayak for tall people
Whilst looking for the best kayak for a tall person you want to focus on the length of the kayak which you can comfortably sit inside I.e. the length from the seat to the foot rests. This will ensure you don't feel over cramped whilst sitting within the kayak. 
Best Kayak For Tall People

Sun Dolphin Aruba SS 12-Foot Sit-in Kayak
Kayaks for tall people should primarily be easy to get in and out of. This kayak from Sun Dolphin has a large cockpit area that is both spacious and long making this kayak easy to get in and out of. 
The long cockpit area also ensures you can sit comfortably due to the plenty of room for your knees and legs. 
Adjustable foot braces allow you to pick the correct length down the kayak for your feet, this will make sure you are comfy at all times and are adopting the correct seating position in your kayak. Ultimately preventing early fatigue and back pain. 
Many users report on the stability of the kayak which is great for taller people. You won't have to worry about capsizing whilst paddling along in the Aruba SS.
Specs
Length: 12ft 
Width: 34inch 
Weight: 47lbs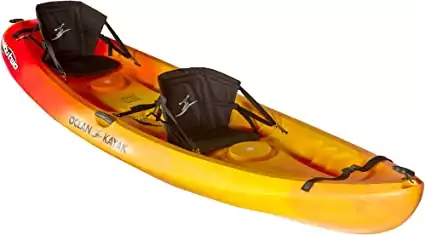 Ocean Kayak Malibu Two Tandem Sit-On-Top Recreational Kayak
One of the stand out features of this tandem kayak is the removable seats and 3 different seating positions allowing you to use this kayak as solo, tandem, or tandem paddling with a child or pet – perfect for anyone who is tall. 
The seats are four-way adjustable to allow you to get the best seating position possible, which will ensure your posture is correct for kayaking and reducing any potential back pain. 
As it's a tandem kayak the stability is great, even in rougher waters. You also get an impressive maximum load capacity of 425lbs so you will be able to take along gear for your adventure.
Many customers love the versatility of the kayak, reporting on it performing excellently in oceans, lakes, and rivers as well as seating 1,2, or 3 people at a time whilst remaining stable and manoeuvrable. 
Specs
Length: 12ft 
Width: 34inch 
Weight: 57lbs
Load Capacity: 425lbs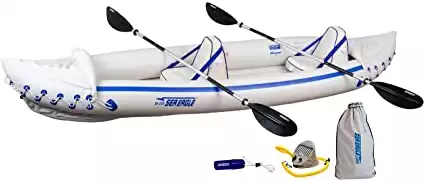 Sea Eagle 370 Pro 3 Person Inflatable Portable Sport Kayak
The last kayak on our list is the best inflatable kayak for a tall person. Which comes with many benefits just from being an inflatable kayak. You can transport it super easily by packing it away in its carry bag and throwing it into the back of your trunk. 
Produced as a 3 person kayak with removable and moveable seats you can be certain it's long enough for any height person. Especially if you decide to ride this kayak as a solo. 
With an incredible 650lbs capacity, you can load this kayak up with plenty of gear for your adventure and comfortably take other people and pets along with you. 
Many customers report on how well the kayak tracks through the water this is likely due to the two skegs (included) which are connected to the bottom of the kayak. 
Not only do you get the kayak but you also get deluxe kayak sears with improved back support, 2 paddles, a foot pump, and a carry bag. 
Specs
Length: 12ft 6inch 
Width: 34inch 
Weight: 32lbs
Load Capacity: 650lbs 

What features to look out for if you're a big guy (or Gal)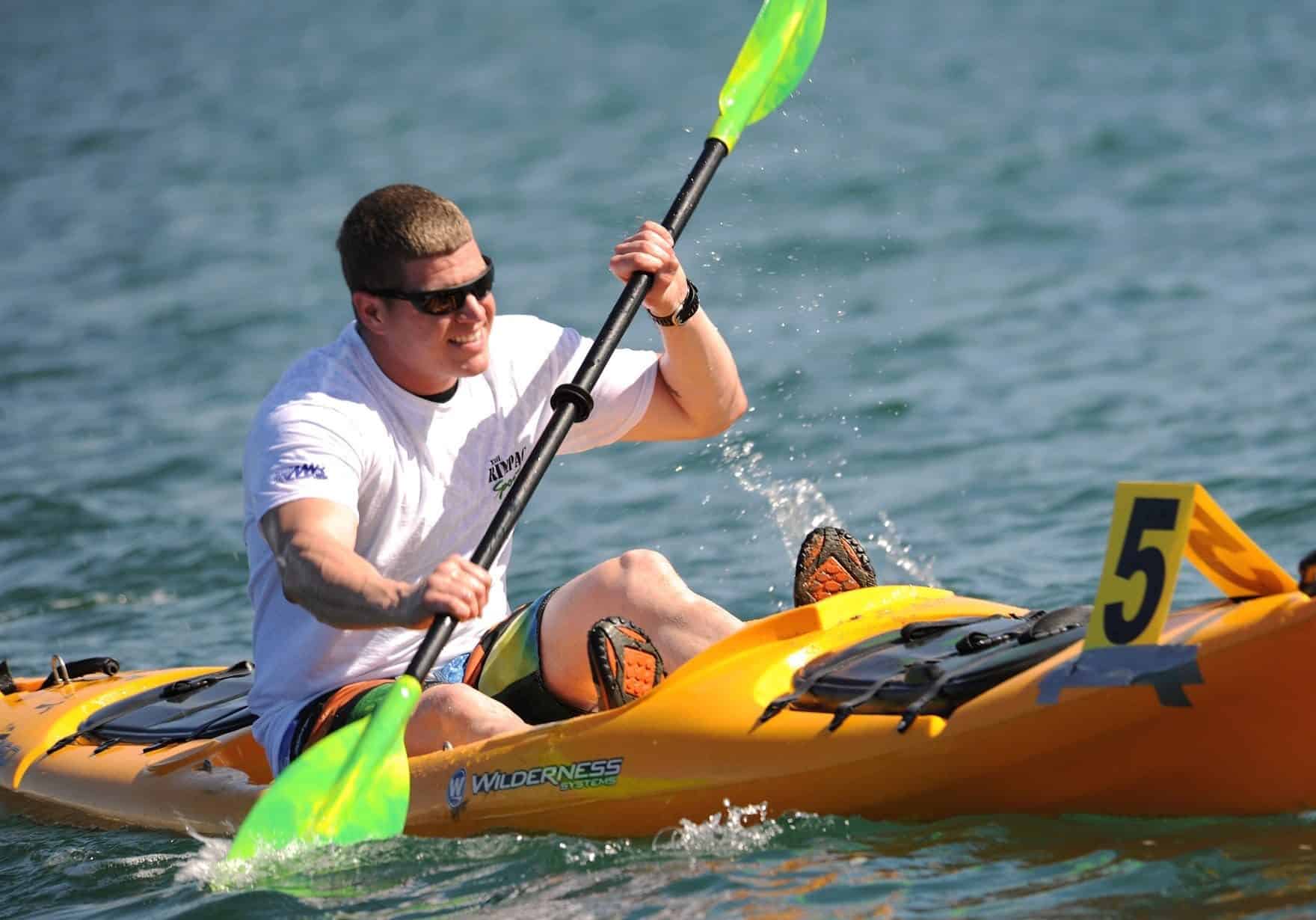 Weight / Loading Capacity
One of the first and most obvious considerations to look at when buying the best kayak for big guys is the loading and weight capacity. This is usually really easy to find on the product listing or the manufacturers website.
Remember that if you are using the kayak for anything other than just kayaking itself, for example fishing or touring then you'll also need to take into consideration things you will be taking along with you like your fishing tackle and rods or your camping and hiking gear. 
After adding up your weight, the weight off all your gear, paddles, lifejackets and anything else on your kayak you have a ball park figure of what to look out for. I would always choose a kayak with a loading capacity a good amount greater than the load. This gives you a bit of leeway and ensures you'll never go over the limit. 
Depth of the kayak
Typically the deeper that the kayak is from the bottom of the boat to the top, the more room you will have. 
A deeper kayak will make the hull more roomy and easier for a bigger guy to get in and out whilst remaining comfortable whilst kayaking. It's often said that a kayak which has higher raised sides is typically more stable in the water that one with a lower profile, this makes it great for a heavier person. 
Seating
Purchasing good kayak seating is important no matter what size and shape you are, it can often be paramount to ensuring that your time out on the water is enjoyable. 
However I would say that if you are on the larger side, whether that be a heavier weight or a taller height then seating is even more important. Ensuring that you are well supported and upright will maintain the kayaking position and keep you free from back pain which would definitely ruin the trip!
Conclusion
So that's it! We hope this article helped you find the best kayak for big guys or gals!
It's clear to see that no matter what your size and shape is there should be nothing stopping you from getting out on the water and enjoying some time in the outdoors. There is so many options nowadays when it comes to choosing the perfect kayak whether that be the right kayak for your body shape or where what kind of water you'll be taking it on.
Remember that when choosing the best kayak for a bug guy the most important things that are likely to make the biggest difference for you is the loading capacity of the kayak (if you go over this the kayak will become unstable and harder to use or sink!) and the size of the kayak, whether that be length, width and cockpit volume etc. Make sure you will be comfortable in a spacious kayak.
It may also be worth paying attention to the comfort of the kayak, read some reviews on the shape and feel of the seats or make sure the foot rests are adjustable. The smaller things such as seat material and foot rest adjustability can actually make or break your kayak choice. To re-cap on our article the best kayaks we recommend are:
Best Kayak For Big Guys (or gals): Vibe Kayaks Skipjack 120T 12 Foot Tandem Angler and Recreational Kayak 
Best Kayak For Heavy People: Elkton Outdoors Steelhead Inflatable Kayak
Best Kayak For tall people: Sun Dolphin Aruba SS 12-Foot Sit-in Kayak
Related Kayaking Posts: