Best Kayak For Big Guys (& Gals) – What If I'm A Tall And Heavy Person?
No matter what your size, whether you're tall, fat or thin you should be able to get outdoors and enjoy everything that kayaking has to offer.
To do this you need to be able to find the correct equipment which matches your body type. That's why we're reviewing the best kayak for big guys.
Even if you are on the larger size then there is plenty of kayaks to accommodate your size. We have put together our top recommendations for the best kayak for a heavy and tall person in this article. 
Often kayaks can be seen as a slimline device which can easily cut through the water but is only suitable to a person with a smaller frame.
Well this just isn't true, many kayaks have a larger cockpit, longer leg reach and a higher loading capacity making them perfect for all shapes and sizes.
The Best Kayak For Big Guys at a Glance
Whether you are using your kayak recreationally, looking for an inflatable kayak or like to take your kayak on your fishing adventure, we're sure there will be one on our list that is perfect for you. 
We'll talk about the best kayak for a large person, the best kayak for a heavy person and the best kayak for a tall person. 
Let's dive straight in!
Best kayak for big guys
Best Fishing Kayak For A Big Guy
Best Fishing Kayak For a Big Guy
Best kayak for a heavy person 
Whilst looking for a kayak for a heavier person, you mainly want to take note of the weight/loading capacity and stability of the kayak. 
Best Kayak For a Heavy Person
Best kayak for tall people
Whilst looking for the best kayak for a tall person you want to focus on the length of the kayak which you can comfortably sit inside I.e. the length from the seat to the foot rests. This will ensure you don't feel over cramped whilst sitting within the kayak. 
What features to look out for if you're a big guy (or Gal)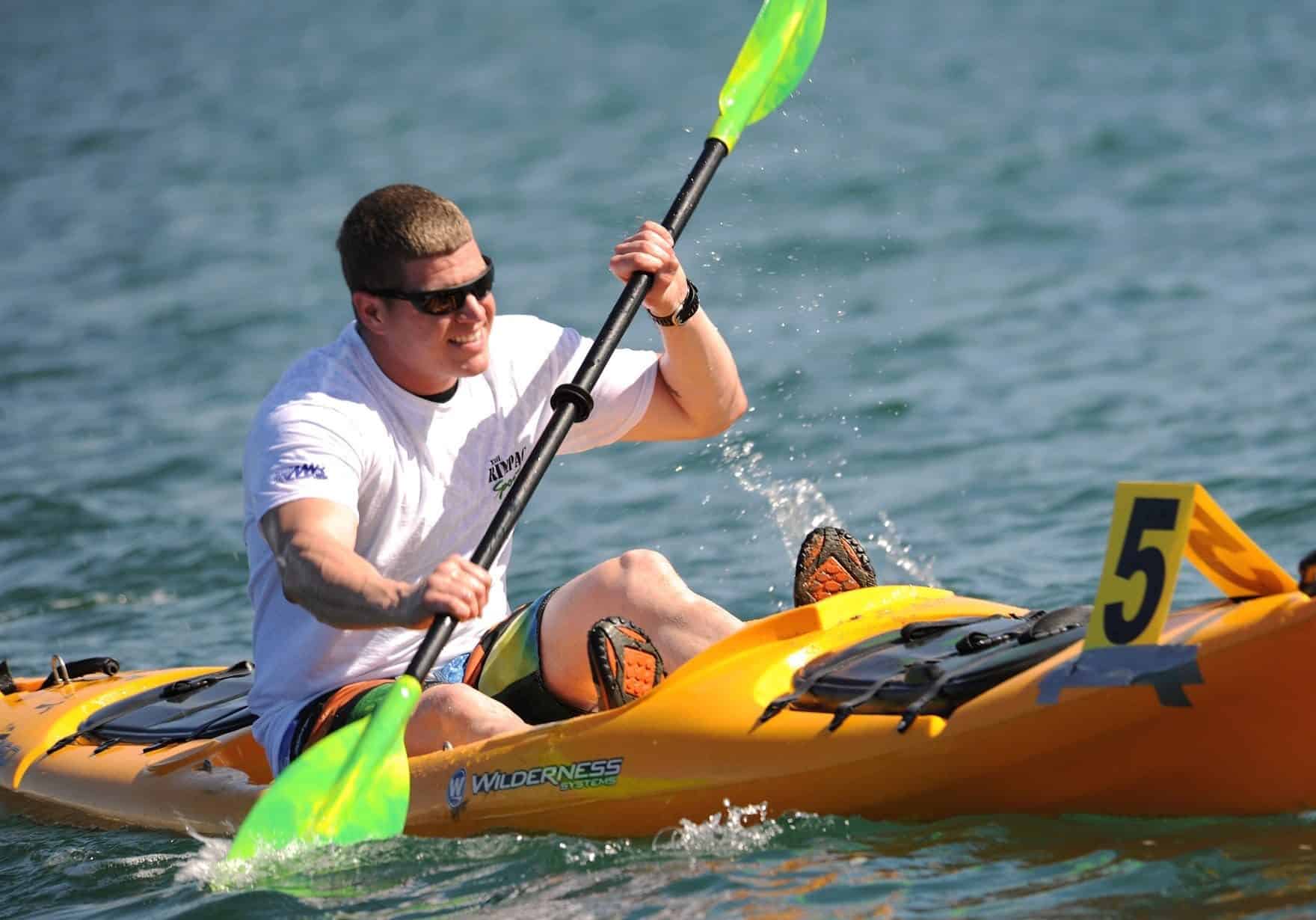 Weight / Loading Capacity
One of the first and most obvious considerations to look at when buying the best kayak for big guys is the loading and weight capacity. This is usually really easy to find on the product listing or the manufacturers website.
Remember that if you are using the kayak for anything other than just kayaking itself, for example fishing or touring then you'll also need to take into consideration things you will be taking along with you like your fishing tackle and rods or your camping and hiking gear. 
After adding up your weight, the weight off all your gear, paddles, lifejackets and anything else on your kayak you have a ball park figure of what to look out for. I would always choose a kayak with a loading capacity a good amount greater than the load. This gives you a bit of leeway and ensures you'll never go over the limit. 
Depth of the kayak
Typically the deeper that the kayak is from the bottom of the boat to the top, the more room you will have. 
A deeper kayak will make the hull more roomy and easier for a bigger guy to get in and out whilst remaining comfortable whilst kayaking. It's often said that a kayak which has higher raised sides is typically more stable in the water that one with a lower profile, this makes it great for a heavier person. 
Seating
Purchasing good kayak seating is important no matter what size and shape you are, it can often be paramount to ensuring that your time out on the water is enjoyable. 
However I would say that if you are on the larger side, whether that be a heavier weight or a taller height then seating is even more important. Ensuring that you are well supported and upright will maintain the kayaking position and keep you free from back pain which would definitely ruin the trip!
Conclusion
So that's it! We hope this article helped you find the best kayak for big guys or gals!
It's clear to see that no matter what your size and shape is there should be nothing stopping you from getting out on the water and enjoying some time in the outdoors. There is so many options nowadays when it comes to choosing the perfect kayak whether that be the right kayak for your body shape or where what kind of water you'll be taking it on.
Remember that when choosing the best kayak for a bug guy the most important things that are likely to make the biggest difference for you is the loading capacity of the kayak (if you go over this the kayak will become unstable and harder to use or sink!) and the size of the kayak, whether that be length, width and cockpit volume etc. Make sure you will be comfortable in a spacious kayak.
It may also be worth paying attention to the comfort of the kayak, read some reviews on the shape and feel of the seats or make sure the foot rests are adjustable. The smaller things such as seat material and foot rest adjustability can actually make or break your kayak choice. To re-cap on our article the best kayaks we recommend are:
Best Kayak For Big Guys (or gals): Vibe Kayaks Skipjack 120T 12 Foot Tandem Angler and Recreational Kayak 
Best Kayak For Heavy People: Elkton Outdoors Steelhead Inflatable Kayak
Best Kayak For tall people: Sun Dolphin Aruba SS 12-Foot Sit-in Kayak
Related Kayaking Posts: