Best Kayak Cooler For Ice Cold Storage In 2023
There are only a few things that could make heading out in your kayak on a sunny day that much better… some ice-cold refreshments! Using the best kayak cooler is the perfect way to keep all of your drinks and food fresh and cold whilst on the water.
I can speak from personal experience when it comes to kayaking over 6 miles from my car, with nothing but a warm bottle of water on a hot day.
To only realize I had to kayak another 6 miles to just get back.
If only I had a kayak cooler on board to keep me topped up with icy cold refreshments throughout my trip I would have performed much better and stayed out for longer.
We know how hard it can be to choose the best kayak cooler, there are literally hundreds of options on the market. The team at WSA prides itself on helping people like you spend less time in front of your screen scrolling and more time outdoors doing what you love.
Below we have listed our top picks for coolers for kayaks, followed by a buyers guide and a handy FAQs section.
Quick view: Best kayak cooler: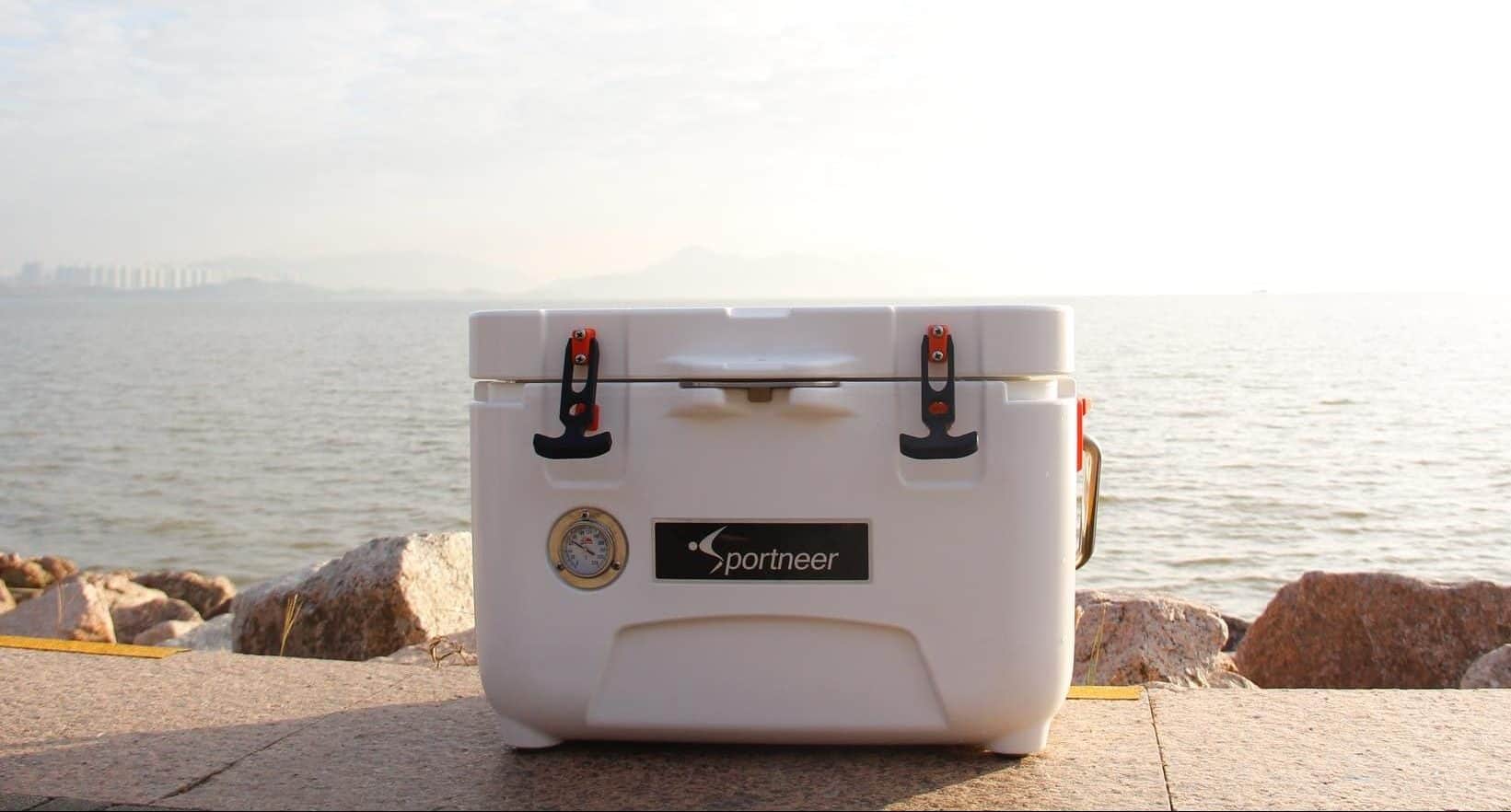 Kayak Cooler Reviews:
Best Overall Kayak Cooler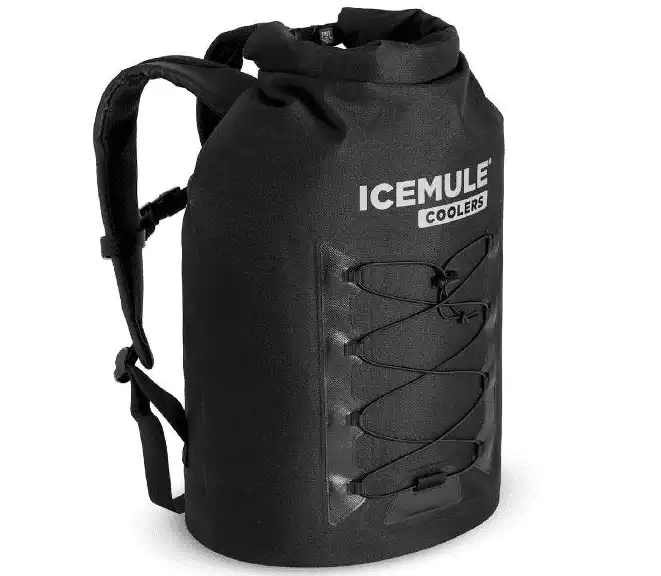 IceMule Pro Cooler - 33 Liters
Key Features:
TriFold DriTop allows you seal in cold air and seal out heat
Thick PolarLayer™ foam insulation keeps ice-cold for up to 24 hrs.
Adjustable shoulder straps and padded back panel and shoulder straps make the cooler easy to carry.
IM air valve lets you compress the cooler and roll it up and store it behind your kayak seat when not in use.
Large opening allows hassle-free cleaning and insertion of larger items.
Quick-access outer elastic cargo pocket
IceMule Pro Cooler even floats, so no worry about losing your cooler and items if you capsize.
Weight: 3lbs. 8oz.
Dimensions:

20 x 14 x 11 inches.

Capacity: 33 liters.

Best Kayak Cooler For Short Trips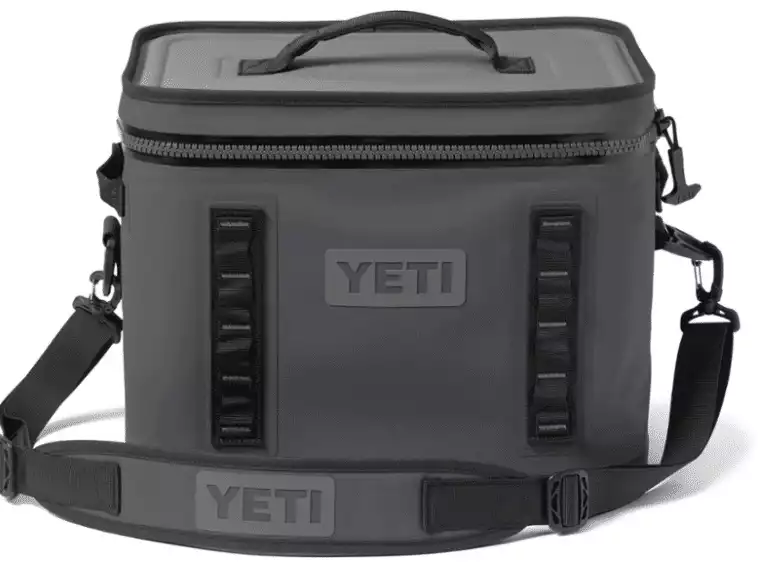 YETI Hopper Flip 18 Soft Kayak Cooler
Key Features:
Waterproof, tough-as-nails DryHide™ shell stands up to rough use in the wild with resistance to punctures, mildew, and UV rays.
ColdCell™ closed-cell rubber foam offers superior insulation and keeps your food and drinks colder for longer,
The interior liner is made of FDA-approved food-grade material.
Wide, flip-top opening with leakproof HydroLok™ zipper allows easy loading and access of your items.
Wide, ergonomic shoulder strap lets you carry your refreshments in comfort when not inside your kayak.
Side hitch points make the cooler easy to tie down on the deck of your kayak.
The cubed shape makes the cooler easy to load, haul, and store.
Interior dimensions: 14.25 x 10.25 x 8.5 in. (L x H x W)
Lightweight: weighs only 5.1lbs.

Best Hardshell Kayak Cooler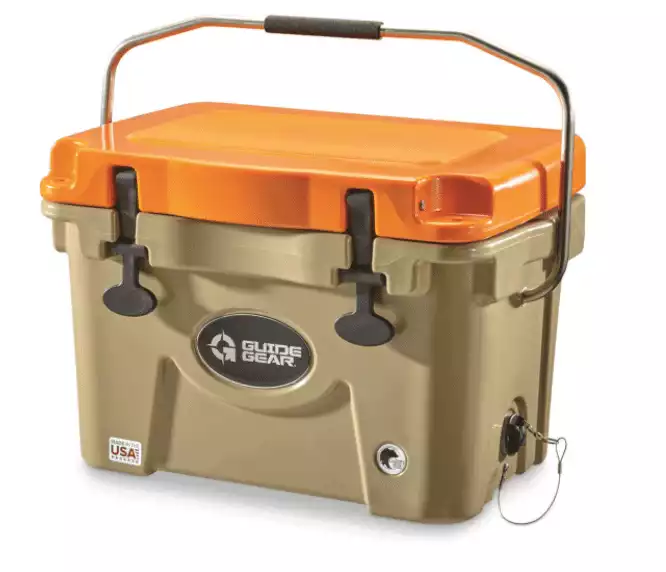 Guide Gear 20 Quart Cooler
Key Features:
Tough, rotomolded plastic with a UV stabilizer for added resistance to sun damage.
Extra-thick walls hold up to 2" of insulation for incredible ice retention for up to 3 days - perfect for longer kayaking trips.
Certified bear-resistant for when you are camping in bear country.
Silicone freezer-grade gasket provides an airtight seal that maximizes temp control all day.
Durable rubberized oval latches keep it closed air and watertight.
Features stainless steel carrying handle with non-slip grip.
Dry-ice compatible.
Made in the USA.
Interior Dimensions: 14"x 8.75"x 9.5" (WxDxH).

Best Budget Soft Sided Kayak Cooler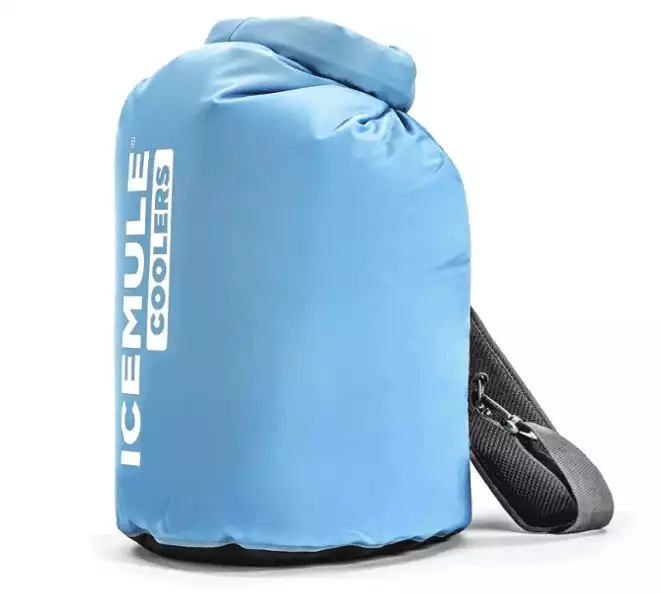 IceMule Large Classic Cooler - 20 Liters
Key Features:
It's completely waterproof with welded seams and no zippers, which also allows the kayak cooler to float - great if you are expecting rough water or capsize!
Easily rolls away and can be stored in your kayak compartment or behind the kayak seat.
20-liter capacity is enough to hold a few drinks and snacks for a day in your kayak (but not large enough for longer trips).
20-liter capacity claims to be able to hold up to 18 cans plus ice.
This kayak cooler is durable with tough inner and outer layers being twice as thick as most soft-sided coolers.
IM AirValve also allows extra air to be added to the insulation layer, increasing the insulating capability; also allows you to let the air out and roll up the cooler for storage.
Cooler straps comfortably to your back, leaving both arms free to grab your paddle, fishing pole, and kayak whilst transporting to the water's edge.

Best Budget Hardshell Kayak Cooler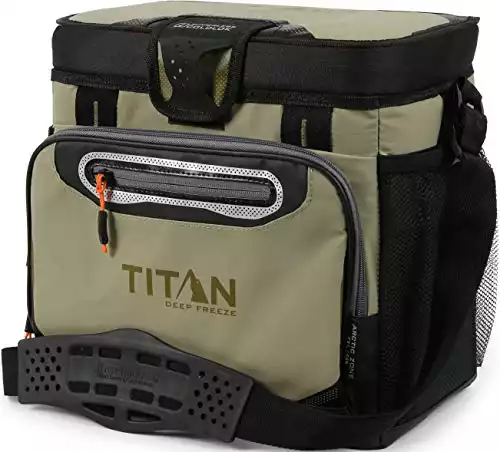 Arctic Zone Titan Deep Freeze Zipperless Hardbody Cooler
Key Features:
Deep Freeze high-performance insulation with radiant heat barrier reflects heat rather than absorbing it - perfect for sunny days on the lake.
Patented, "flip-open" Zipperless lid allows for quick access to food and drinks; Features FDA compliant HardBody liner with removable SmartShelf.
Ultra Safe leak-proof, easy-clean interior lining.
Includes an insulated front pocket for belongings you need easy access to.
Rhino-Tech water and stain resistant, the exterior is abrasion and puncture resistant and will not crack over time.
Adjustable Backsaver shoulder strap with shoulder pad for convenience and usability.
Interior liner dimensions: (L x W x H) 9.8" x 4.75" x 10.25".

Best Deck Mounted Kayak Cooler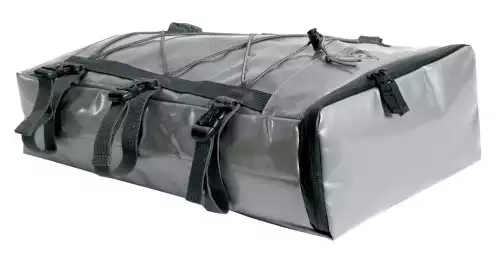 Seattle Sports Kayak Insulated Catch Cooler For Fishing and Food Items
Key Features:
Deck top cooler is designed to fit snugly on the deck of most kayaks and be strapped down securely.

Can be used as a catch cooler whilst fishing or as a food and drinks cooler.

The removable inner lining allows for easy cleaning and handling of caught fish.

Dimensions: 19" H x 12" W x 5" D.

Keep your items cold all day with thick closed-cell foam insulation and heat reflective outer body.

Capacity: 1140ci/18L.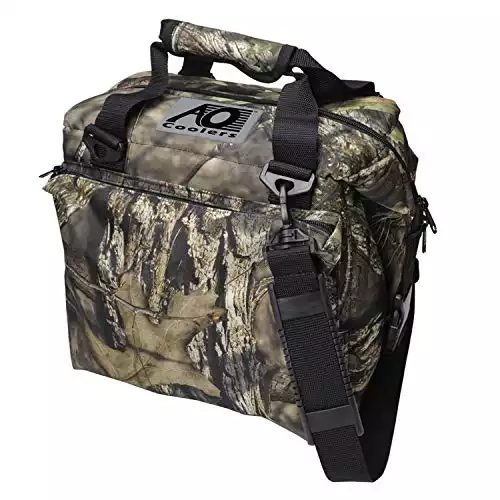 AO Coolers Traveler Original Soft Kayak Cooler
Key Features:
High-quality TPU liner is the same material used to make waterbeds and above ground pools, and it's resilient to impacts, abrasions, tears, and more.

The inner insulation is 3/4" thick, high density, closed-cell foam which can keep your drinks cool for 24 hours in 120-degree weather.

The Deluxe model includes two extended dry pockets on the outside which are large enough for storing

reels

, supplies, and other items you need for a day of kayaking or fishing.

The removable shoulder strap makes carrying the kayak cooler to and from the water easy, especially when your hands are full with other items like

paddles

.

Dimensions: 14 x 7 x 12 inches.

Cooler weight: 2 pounds.

Cooler For Kayak – Buyers Guide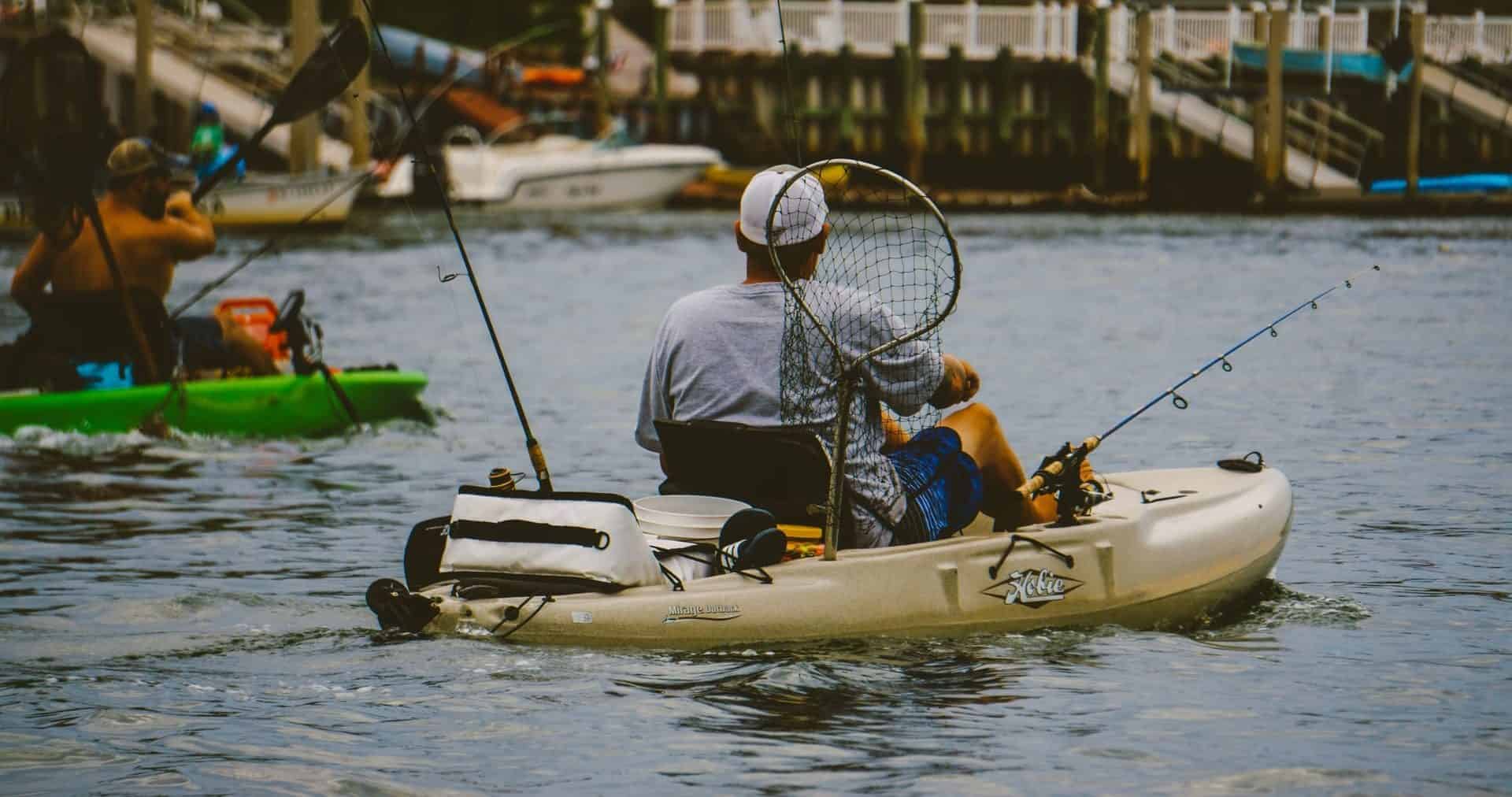 Purchasing the best kayak cooler isn't always as straightforward as it may seem. You can understand this when you start looking on the web.
There are dozens if not hundreds of options to choose from!
Below we will go over some of the key features that you should know a little about before making your purchase. 
Size
You should have a rough idea of what you will be storing inside of your cooler. If it is just a couple of refreshments and a small snack then you will be able to get away with a smaller kayak cooler (this also makes attaching the cooler to your kayak much easier).
If you are wanting to take more items with you, then look for a slightly larger cooler. Many manufacturers will quote how many cans or other well-known items can fit inside their cooler to give you a rough idea of what it can hold.
Material
Coolers are soft shell or hard shell. Softshell coolers can be compressed and molded more easily to the storage areas of your kayak which makes transporting them much easier.
They still perform well as an insulator, but not as good as a hardshell cooler.
Hardshell coolers are better insulators and can store more gear in them, however, the trade-off is that they are bulkier and harder to store.
Color
If you can cast your mind back to elementary school you might be able to remember that science lesson where we all learned that dark colors absorb more light and therefore more heat? It's true!
Whilst kayaking on open water it's rare to find any shade and therefore it's best to opt for a kayak cooler that is lighter in color to keep your beverages and food colder for longer.
Closure
Here we are referring to the way in which your kayak cooler or bag closes and seals the interior from the outside world.
Zippers are common and are great when purchasing from a reputable brand that you know will be using high-quality zippers.
Latches are the strongest option and often allow your cooler lid to form an air-tight seal with the base. Latches are usually only found on hard shell kayak coolers.
Some kayak coolers which are designed like a dry bag roll up the top to form an air-tight seal. These are great for quickly accessing your items and because its air and watertight, they float. 
Kayak Cooler Bags FAQs
What size cooler fits a kayak?
It's difficult to give a precise answer without knowing exactly which kayak (and the kayak dimensions) you have.
It's always best practice to check the exterior size of the cooler prior to buying and then measure your kayak storage areas to see if it will fit. 
You don't have to be as strict with the sizing when purchasing a softshell kayak cooler as they can be compressed and 'molded' to better fit your kayak shape. 
Where do you put a cooler on a kayak?
There are a few options when it comes to choosing where to place your kayak cooler and it largely depends on what kind of kayak you have.
If you have a sit-on-top kayak, there may be open deck storage areas in the front or rear of your kayak. These areas may be flat enough to place a hard shell or soft shell cooler in and then strap it down using custom straps or the bungee rigging system that's present on most kayaks.
For sit-inside kayaks, it can be a little trickier to find a good spot for your cooler. Most people will opt for a softshell or cylindrical cooler (like our best overall pick) in this instance.
If possible you might be able to fit the cooler between your legs if it is comfy enough or place it behind your kayak seat if there is room.
Alternatively, and an option that should work for all kayaks is a deck-mounted kayak cooler which is often tapered to match the shape of a kayak.
These bags are specifically designed to be mounted on your kayak deck and often include straps to help with the attachment. 
How do you secure a kayak cooler?
Many coolers and kayaks have attachment points that allow you to thread bungee cords or velcro straps through them and tie them down.
Alternatively, kayaks often have bungee rigging systems on the deg which are great for sliding smaller soft-shell coolers in.
What size kayak cooler bag do I need?
This depends on why you are purchasing a kayak cooler in the first place.
Are you just wanting to keep your refreshments and snacks cool whilst using your kayak for a day trip? Or, are you heading out on a longer overnight trip that requires you to pack more gear that you might be taking to camp.
For most day trips anything up to 20L should be sufficient for carrying a handful of drinks and snacks for a few people.
20-40L kayak coolers are used for longer day trips and can be potentially stretched to carry items for multi-day trips (the larger capacity allows you to carry more ice and keep things cooler for longer).
Anything over 40L is considered large for a kayak cooler, if you can fit it inside your kayak storage areas that is awesome. But always be cautious of your kayak's carrying capacity as you will need to account for the weight of the cooler and everything inside of it. 
Conclusion
We truly hope that this article has helped you decide on the best kayak cooler for you and your kayak.
Nothing beats being able to crack open a cold one after a stint of kayaking on a warm day. 
There is a lot of options to choose from on the web, so hopefully, our list has helped you narrow your choices.
If we had to give you one piece of pivotal advice it would be to measure your kayak to make sure the cooler fits and then… measure again to be sure!
If you are short on storage space then a soft shell roll-up cooler like the IceMule Pro Cooler might be the best option, it's most definitely our favorite. Happy kayaking!
Other kayaking reviews: