The 8 Best Fish Finders for Kayaks Reviewed
Kayak fishing is rapidly becoming one of the most popular forms of angling around the world. Not only does it pose different challenges, but it can also improve your chances of catching fish, as you can seek out different spots that you couldn't get to from the shoreline.
One way to turn the odds further in your favor is to utilize the help of a kayak fish finder.
The best fish finders for kayaks can help you locate the direction, depth, and size of the fish below the surface. Giving you an edge when it comes to casting your lures/bait.
Best Fish Finders For Kayaks at a Glance
Unless you have fished a spot dozens of times, or understand the underwater topography, and hiding spots, then you are essentially fishing blind.
A kayak fish finder, is essentially your eyes under the water, although they give you much more information than an underwater camera would.
Below we have reviewed our top picks for the best fish finders for kayaks. There is a range of products to suit every type of angler, whether you are a beginner on a budget, or a more advanced angler looking for precise measurements, there will be a kayak fish finder for you.
Best Kayak Fish Finder Reviews
Best Kayak Fish Finder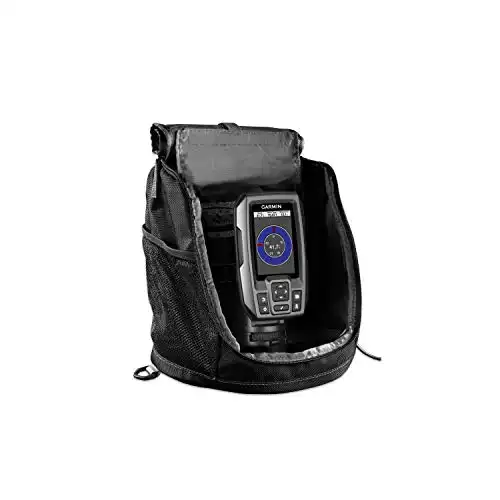 Garmin Striker 4 with Portable Kit
Garmin Striker 4 is a very powerful yet affordable fish finder that uses a 4 pin connector and has 2 cone-shaped beams. While searching great depths, you can adjust the beams.
This fish finder will help you scan the depth of 228 meters or 750 feet in saltwater. While in freshwater, it can scan 487 meters and 1600 feet. 
However, this is only possible if you use a transducer of 50 kHz.
A CHIRP sonar allows the Garmin Striker 4 to build quality images. Better images will enable one to get a clearer picture of the targets and locate them accurately. CHIRP also separates the targets incredibly that further aids in precision.
The 2D sonar in this device offers Fish Symbol ID, which differentiates the fish using icons and also mentions the depth each target fish is at. Flasher Mode allows one to get information on the nearby targets like depth and the strength of the sonar return. 
This is particularly useful while fishing from a single position or ice fishing. Auto Gain function filters any unwanted noise. 
A-scope is another function much similar to Flasher Mode. It just provides information from the most recent sonars in a vertical layout. The device also has an Ultra-scroll feature, which enables one to scan at a faster speed. However, it compromises the image quality to a certain degree.
All of the above makes it the ideal choice for our top-best fish finders for kayaks.
What we like:
Offers Fish Symbol ID for locating fish in different depths.
Produced from high-quality materials
3.5, 5, and 7-inch display

Best Value For Money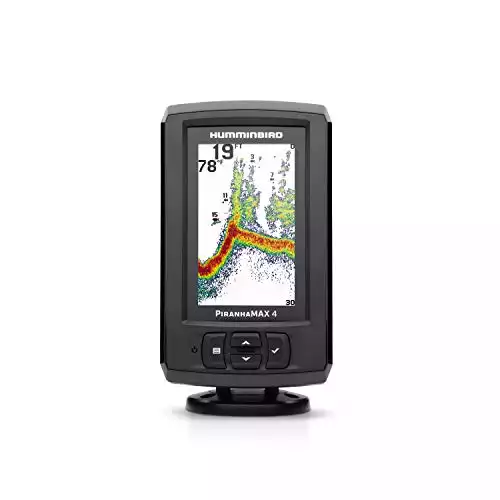 Humminbird PIRANHAMAX 4 Fish Finder
Fishing blind is a thing of the past when you have a Humminbird PiranhaMAXTM 4 Sonar Fish Finder.
Compact yet powerful, it incorporates many of the stylish features, functionality, and quality of other Humminbird models but is priced for the budget-conscious fisherman.
The easy operation and readouts make getting started with a fishfinder a less daunting task.
The Humminbird PiranhaMAX 4 offers you a better display than the previous series. It has a 4.3" display that is 20% bigger than previous models.
It also has 70% more pixels, and all this combines to help distinguish fish from objects more easily.
This also has a dual beam sonar to cover a wider area and more fish. The Fishfinder comes with an XNT 9 28 T, which provides sonar in frequencies 200 kHz and 455kHz.
The device is small, light, and portable. This is affordable and works great as well. The maximum depth it can detect is 600 ft.
What we like:
Dual Beam Sonar or 2D sonar
4.3" LED screen for display
600ft detection depth

Castable Fish Finder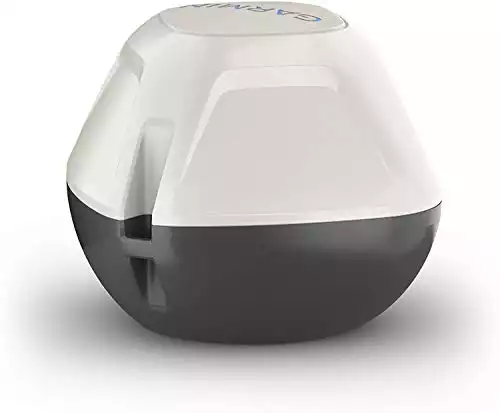 Garmin Striker Cast Fish Finder
With the Garmin castable fish finder, you can turn your phone into a fish finder in just minutes. Simply cast it out and reel it back in, to view sonar with a 200' range via your smartphone or tablet.
Plus, it even has a built-in GPS that allows you to create your own personalized quickdraw maps with 1' contours so you can easily return to your favorite fishing hot spots.
It is suitable for use in both fresh and saltwater, and even whilst ice fishing.
It features a very impressive 10+ hours of battery life and includes a rechargeable battery. It turns on once it is floating in the water, and off once you take it out.
You can easily switch between traditional 2D sonar and ice fishing flasher modes, and adjust for gain, range, and more. The fish icons are easy to view on your smartphone and give readings of the depth.
What we like:
Built-in GPS
Castable and connects to a phone via a free app
10+ hours of battery life
Easily identify the fish depth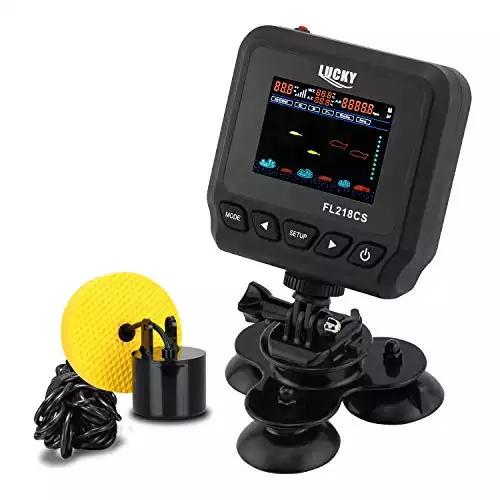 LUCKY Fish Finder For Kayak
Apart from handheld fish finders, there are ones you can attach to the deck of the kayak.
There are multiple modes in this Lucky Fishfinder that enable you to find fish as you wish. Few of these include Slope Mode, General Mode, Shallow Mode, Ice fishing mode, and Raft Mode.
The device gives you a readout from under 100m or 328 feet. It provides a reading of the rocks and bottom, short and tall weeds, and the fish location. One of the best things about this kayak fish finder is that it not only detects fish but distinguishes large fish from small fish. 
Moreover, it also gives a reading of the air and water temperature as well as air pressure. With this information, anglers will be able to catch more fish as they make a relation. The 2.2 inches LED screen gives you a comprehensive and clear display even when the sun is out.
The fish finder can be fixed to any smooth surface by the mount. Using 0.25-inch screws, anglers can convert the triple suction cup mount to any other mount.
What we like:
2.2 LED display that is sun visible
Triple suction cup mount - Which can also be converted to a screw mount
Distinguishes between small and large fish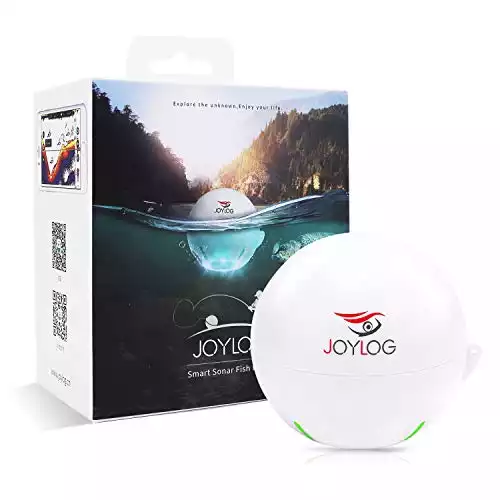 JOYLOG Portable Wireless Bluetooth Fish Finder
For anglers who like to fish in style, this sleek and modern Fish Finder is the best job. White-colored and shaped like a sphere, anglers can hold it comfortably.
Joylog fish finder works amazingly well in cold winters, dark nights, and murky waters.
The device is light and can be carried easily anywhere, anytime. The diameter is 2.56 in. And the height is 2.38 in. The fish finder only weighs 0.19 lbs.
Joylog portable fish finder has an automatic start/stop system. As soon as the device is immersed in water, it starts, and 30 seconds after leaving the water, it switches off automatically. The sonar system is quite powerful as it explores fish at a depth of 0.6 to 40m.
This gadget offers more than 26 kinds of languages and is one of the best sellers worldwide. The connection is speedy and wireless. There is no more difficulty of tangling up in wires in your boat, kayak, and fishing rods. The connection is a high speed and stable within 50 meters of the range.
What we like:
Weighs only 0.19lbs
Sleek and modern design
Connects to your mobile device via Bluetooth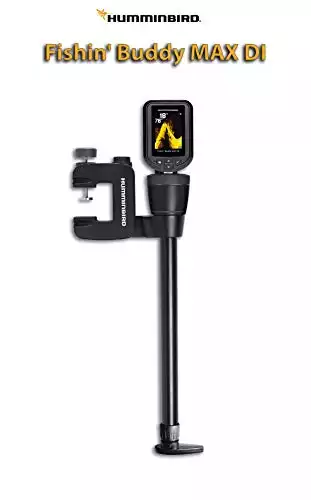 Humminbird Fishin' Buddy MAX DI Fishfinder
Fishin' Buddy MAX DI fish finder will definitely disappoint anyone. One can take it with them while kayaking or boating. It can easily spot fish 600 feet below.
With this fish finder, one can take the temperature of the water with 99% accuracy. This will help in determining whether there will be fish or not. Moreover, you have the option to switch between the Fahrenheit and Celsius scale. The sonar depth is about 600 ft. And, it covers 28°, 16°, & 74°.
Dual-frequency sonars are available in 200 kHz and 455kHz. The 3.5-inch display allows clear imagery.
This fish finder is known for its down imaging or DI. DI helps to spot the difference between fish and objects clearly. Fishin', Buddy is very easy to use, and it great for beginners.
What we like:
Down Imaging for easy distinguishing
Checks temperature with 99% accuracy
The depth of sonar is 600 ft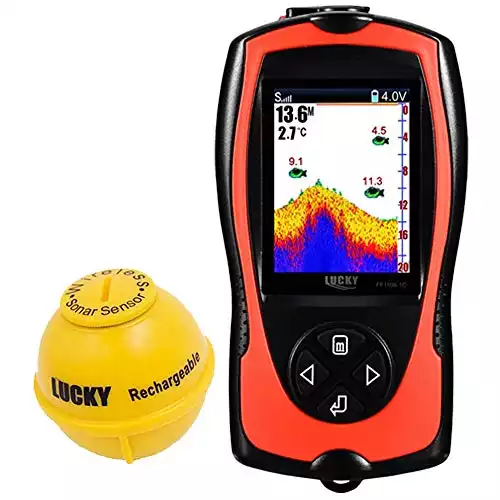 LUCKY Portable Handheld Fish Finder
Lucky Portable Fish Finder is ideal for fishing or kayaking because it can be easily mounted upon a boat. It is excellent for ice fishing, off-shore fishing, river fishing, etc. 
The lithium batteries are long-lasting, which ensures that you can easily stay in the water for a long time.
One of the most exciting features of these best fish finders for kayaks is the display. The device provides a display in three different colors. This ensures that even in bad visibility, you can read your device. 
The sensitivity control allows one to manage details and customize the level of visibility one wants. Moreover, the sensitivity can be adjusted from 1 to 10, and it is additional to the zoom-in.
The temperature of this device ranges from 14°F to 122°F (-10°C to 50°C). The angler can set alarms to alert them when they have fish near them. The device helps detect fish of a specific size and then informs you. 
Another great thing is that the sonar stores the manual settings, and one does not have to set it up again and again manually. The device is also sprayproof, and the transducer is waterproof.
What we like:
Stores manual Settings
Three color display
10 Sensitivity Levels
Long-Lasting Lithium Batteries

Cheap Kayak Fish Finder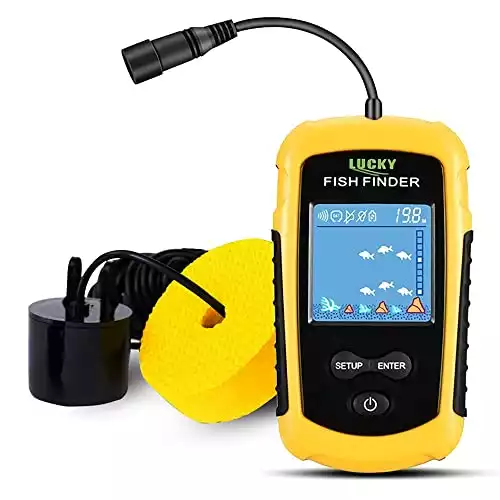 LUCKY Kayak Portable Fish Depth Finder Water Handheld Fish Finder Sonar Castable Kayak Boat Fishfinder Transducer Fishing LCD Display FFC1108
If you are looking for a perfect and affordable fishfinder, Lucky Handheld Fish Finder can be a fantastic option. It comes with a 1-year warranty and is used for many different types of fishing, including ice fishing, lake fishing, sea fishing, off-shore fishing.
This device is quite user-friendly and is suitable for beginners. But, it is equally appealing to anglers due to its accuracy and user-friendliness. You can hang this in your neck while not in use. One thing to note is that this gadget is not waterproof.
Lucky Handheld fish finder has a casting depth that is between 3 to 328 feet. All the readings are given in feet and meters. The device shows symbols and readouts that help the angler determine the depth, data about water bed, sand, fish, and rocks.
4 AAA batteries power the device, and there is an LED backlighting on the screen. Moreover, various functions are available in the device menu, including battery save, backlight mode, fish school alarm, and options for sensitivity. 
If you're on a budget but still want one of our recommended best fish finders for kayaks then check this one out.
What we like:
Works 4 to 5 hours with new batteries (Uses 4 AAA batteries)
Detects water depth, fish location, weeds, rocks, etc
Cheap & Beginner-friendly

Why Do You Need Kayak Fish Finders?
While on a fishing expedition, it is important for one to be fully equipped. Sure you can go without the aid of technology and leave it all to luck or chance, or embrace the change and use technology to your advantage – we are sure you'll catch more fish!
For catching the biggest and best fish, it is important to have a fish finder to locate the nearest and largest fish and go fish with more precision. But one also needs to know this, that Kayaks and boats have different fish finders. What might work well on a boat might not work on a Kayak.
Buying Guide for Kayak Fish Finders
For buying the best fish finders for kayaks, you need to consider several aspects of the gadget. We have listed some common questions that might help you find the right gadget for yourself.
Traveling
For people traveling far into the sea for fish, choosing a single unit fish-finder with a built-in GPS will probably best. It will ensure that one does not get lost in the sea. As the space in Kayak is scarce, this will serve as a GPS as well. This might cost a little extra, but for long trips, especially in the sea, we think it's worth it.
Transducer
You can connect the transducer to the Kayak in multiple ways:
Some can be attached to the bottom of the transom.

Some of them can be stuck to the trolling motor.

Modern Kayaks have scupper holes to drain water. They allow the transducer to pass through. However, if you own an old kayak, make sure you get the right depth finder.
Depth of the Fishing
For people who are more used to fishing in ponds and streams where the water isn't as deep, a side imaging unit is a good option. This will help in exploring all the available fish on the surface. However, if someone goes deep into the water, then a down imaging sonar is better as this will help portray a clearer image of fish deep underwater.
Power Source
Most of the fish finders require a large battery. But, on a kayak, it can be a problem where space is limited. Make sure that you get a portable battery fish finder that can also transmit data to your phone, so it doesn't hinder your fishing. On larger kayaks, a waterproof battery bank is a great option. 
The Room
Next, an angler must have an idea about the space in the kayak. You must know if there is enough space for a fish finder of that size? If space is limited, you can always opt for a portable. mobile one. 
These are small, easy to carry, and lightweight. You just have to download an application, and the fish finder will connect to your smartphone. You can simply toss the sensor in the water using the fishing line, and you start seeing everything.
Conclusion
Other, more important facts to consider are your fishing style and your kayak type. If you don't have a kayak yet check out our favorite fishing kayaks for under $1000.
If you need to purchase another spinning reel, check out our post about our favorite ultralight spinning reels. 
All the best fish finders for kayaks that have been listed are great and will definitely help you in your fishing game.
But the editor's choice goes to the Garmin Striker 4. We think its simple interface, quality of materials, and performance make it the best choice for any avid kayak fisherman.