10 Best Tandem Fishing Kayaks: In-Depth Reviews
There are a couple of things that could make fishing more enjoyable for you; 1) fishing with a buddy and 2) fishing from a kayak. But why not combine both? Using a tandem fishing kayak will allow you to do exactly that.
Using a tandem fishing kayak also allows you to head out to popular or un-tapped fishing spots that aren't accessible by land.
This could easily allow you to smash your fishing personal best and bring a whole new level of enjoyment to the sport. Instead of just casting your line and waiting on the riverbank, you are now the one tracking down the fish and seeking them out – trust me, it's fun.
So, if you are looking for the best tandem fishing kayak, we have you covered.
Below are product reviews of our top picks for the 10 best tandem fishing kayaks, followed by a buyer's guide and common FAQs.
We have tried to select a range of tandem fishing kayaks that will be suitable for a range of people. Some are beginner-friendly, some are for your more hardcore anglers and some are budget-friendly. 
Let's dive right in!  
10 Best Tandem Fishing Kayaks
How to choose a 2 person fishing kayak – Buyers Guide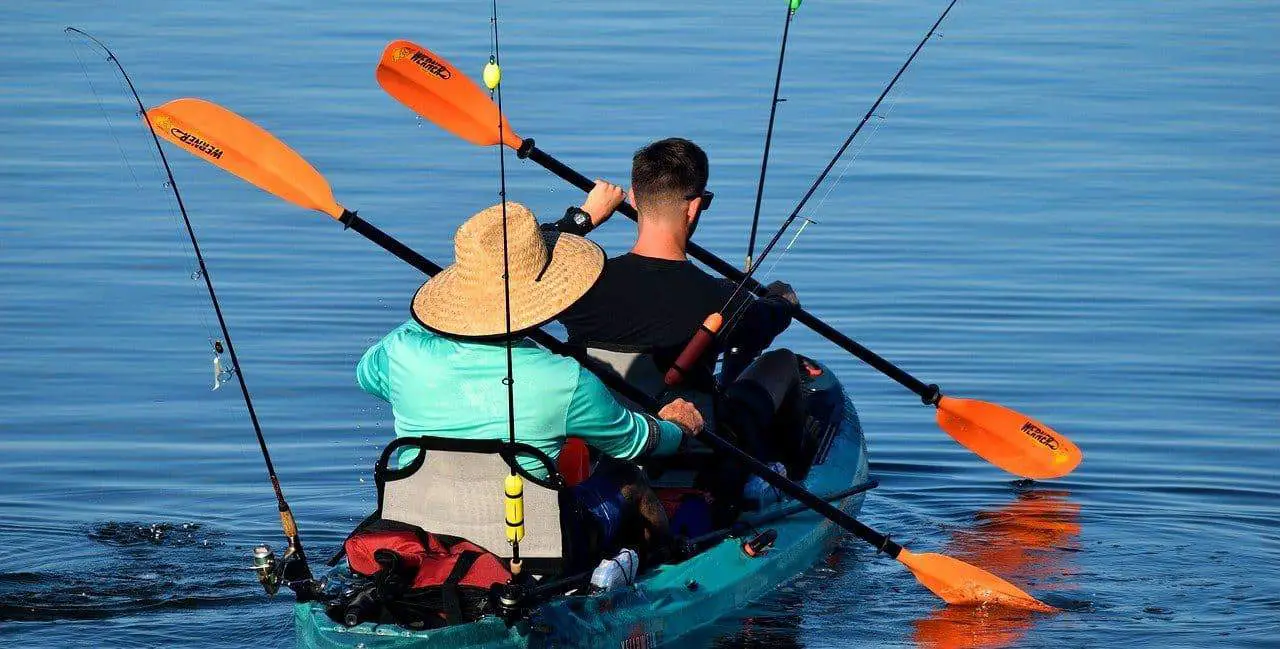 Finding the best tandem fishing kayak isn't always as straight forward as you may seem.
There are literally hundreds of options on the market to sift through and at times it can become overwhelming, and the lack of physical kayak stores often forces buyers to go online and order one for delivery.
Below we are going to cover the main features of the best tandem fishing kayak so you can make a more informed purchase online.
Sit on top vs Sit inside kayak
One of the first decisions you will have to make is whether you opt for a sit on top or sit inside fishing kayak.
90% of the time, fishing kayaks are going to sit on top, this is largely down to the amount of extra room you get, which makes storing gear, carrying your fishing, and just overall general mobility for casting and rigging up your tackle a lot easier.
The only downside to a sit on top kayak is that they can be cold, as you are essentially opening yourself up to the elements. If you only plan on kayak fishing through spring and summer, this won't be much of an issue. 
Sit inside kayaks allow you to keep your lower half protected from the wind and rain, as well as the ability to add a spray deck or splash cover which keeps your lower half completely dry and prevents any water from entering the kayak. 
As mentioned above, the biggest downside with a sit-inside kayak is that there is a lack of storage room for all of your fishing gear. Whatever you decide to choose, you will still need to understand the basics of what to wear kayaking.
Kayak Dimensions
The kayaks dimensions will be responsible for the speed, manoeuvrability, and stability in the water.
Generally speaking, a wider, kayak will be more stable. Whereas a thin, longer kayak will be much quicker through the water.
If you plan on solely using your kayak for fishing, then a dedicated fishing kayak that is wide will be the best choice as it will offer the most stability whilst you are casting.
They will also be able to carry more gear which is great with a tandem fishing kayak as there will be extra fishing gear on board.
Rod holder vs No rod holer
It goes without saying that having a rod holder is a useful addition to a 2 person fishing kayak. It allows you to free up your hands for other activities, whether being paddling whilst your line is in the water, baiting up the next hook, or changing the settings on your kayak fish finder.
However, if there is a kayak that you love but no rod holder is putting you off, don't let it be the deciding factor, you can always buy a rod holder separately and with a little bit of DIY, attach it to the kayak yourself.
Kayak seat
We would always recommend paying particular  attention to the seat that comes with your kayak. After all, your comfort will play a big part in how long you can stay out on the water and fish for.
You will be mainly sat in an upright position so it is important that your seat has good lower back support to prevent any injury. Foam padding is also a bonus and will drastically improve the comfort of the seat.
However, most kayak seats are removable and replaceable. If you don't like the way yours feels or is described, you can always purchase a better kayak seat separately and add it yourself.
Storage space
Storage on a kayak comes in many forms, it can be as simple as a groove in the kayak which will hold a tackle box or bag, a bungee chord rigging system on the deck which is great for pinning objects down or a completely dry deck hatch which will protect your valuables from getting wet.
Whilst fishing, storage is a key factor in how well your kayak performs. Remember you are going to have a whole bunch of fishing equipment with you, from reels and fishing line to rods and lures. So you will need enough storage space to accommodate, at least your fishing basics. 
Fish finder attachment point
Fish finders aren't a fishing necessity, however, they can help you catch more fish and save the time it takes to hunt the fish down.
Some of the best tandem fishing kayaks will come with a built-in attachment point that is designed to hold a fish finder. However, similar to the rod holders, you can always add your own in when you need it.  
Trolling Motor
It's rare to find a kayak that comes with a trolling motor included in the price, however many do have attachments points for one.
Usually, if a manufacturer is selling a kayak with a trolling motor mounting point, they also sell the motor separately, if not, a standard-sized motor will most likely fit.
Tandem Fishing Kayak –

FAQs
Who is likely to use a tandem fishing kayak?
The answer to this one is fairly straightforward… Anyone who wants to go kayak fishing, and sometimes take a buddy along with them.
A tandem kayak can just as easily be used solo as well, the benefit of purchasing a tandem fishing kayak for solo use is that the weight capacity will be drastically increased so you can take a lot more gear – perfect if you are doing overnight trips and taking camping gear with you.
Are tandem kayaks safe?
Yes! Almost all kayaks from reputable manufacturers are safe and your safety mainly comes down to the way you act on the water. Make sure always wear a personal flotation device!
There are certain life jackets that are specifically produced to be a fishing life jacket.If you are worried about the kayak tipping over, take comfort in knowing that tandem fishing kayaks are more stable than your average recreational kayak.  
​​​Do you need a specific kind of kayak paddle for fishing? ​​​
Any standard kayak paddle will serve you well, even if you are fishing. You can however, buy kayak paddles which have a built in groove in the end which allow you to easily grab and lift your fishing line out the water without you getting wet. 
Conclusion
Kayak fishing is an extremely fun way to go after trophy fish. Being able to cast your line from the middle of the water adds a completely new dynamic to fishing whether you are in a river, lake, pond or the sea.
The best tandem fishing kayak will allow you to take along someone else with you, which can make the experience more enjoyable for everyone involved. 
We truly hope that this guide has helped you choose the best 2 person fishing kayak, and helped you understand the requirements and key features you should consider before buying a tandem fishing kayak. 
Related Fishing Posts: