How To Transport A Kayak Without A Roof Rack – Step By Step
When you buy a kayak one of the most important things to do is make sure that you're able to transport it, and most people are stuck wondering how to transport a kayak without a roof rack?
If you're extremely lucky you'll have a garden with a water source at the end, but for most people, they'll need a car to get to the nearest place to paddle. 
Most kayakers have roof racks to strap theirs to, but these can be expensive and difficult to install. If you are wanting to avoid purchasing a roof rack, we are going to go over how to transport a kayak without a roof rack. 
First Option:
Things you'll need:
Two pool noodles or a really big towel
Ratchet straps or rope
Tie down straps or more rope
Another person
A kayak!
Method:
Put the pool noodles or towel on the roof of the car. This is to protect both your canoe and your car from getting scratched.
Pool noodles will work better. If you're using them, put one near the front of the roof, running parallel to the driver and passenger seats, and put the other about two feet behind it, running parallel to the back seats.
Alternatively, take your towel and spread it over the roof of your car. It should be big enough to cover the entire thing and stretch all the way to the top of each window without impairing visibility. .
Then, hoist up the kayak. Make sure it's sitting evenly on the pool noodles, or that the towel has stayed in place.
Next, unwind all the windows in the car. Throw the ratchet straps or rope over the top of the kayak, so that it runs in the same direction as the pool noodles. Then thread it through the windows and tie/secure underneath. Make sure you've packed everything else beforehand, as you'll need to climb in and out of your windows and can't open the doors.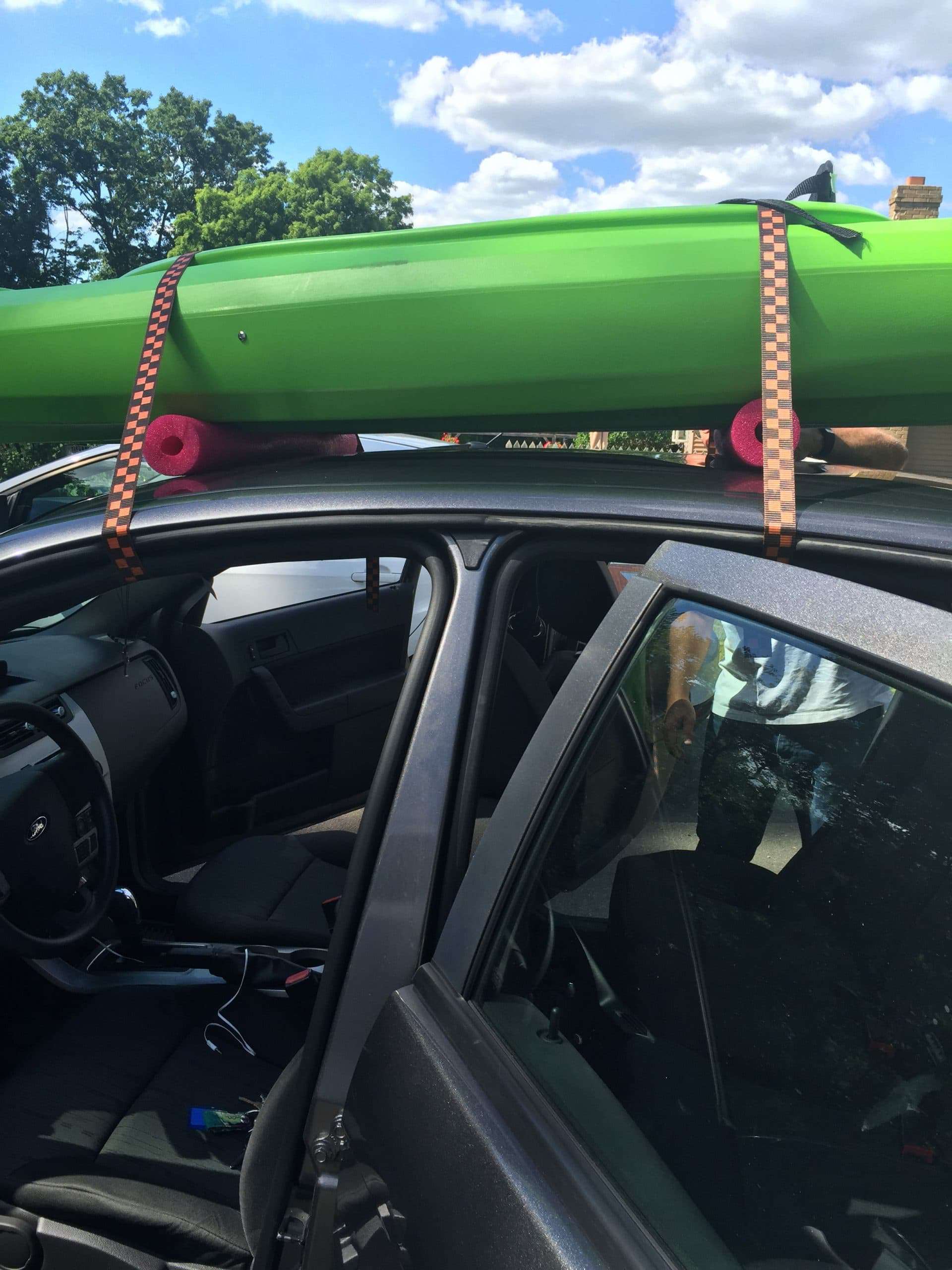 There should be handles at the bow and stern (front and back) of your kayak. Take a new piece of rope or tie down strap and thread it through the handle and tie it to the towing eyes, just under the bonnet.
You're ready to go! Remember to drive extra carefully and if you think the kayak is coming loose, stop and check it. Ideally you'll only do this for short distances, and if you're likely to transport your kayak often you should invest in a roof rack.
Second Option:
Purchase an inflatable kayak.
There are loads of reasons to consider investing in an inflatable kayak: they're cheaper, just as good as hard shell kayaks and they're much, much easier to transport. All you'll need is the box to carry them in and a pump. 
You could even take them on the bus! You'll also save money on ropes, straps, roof racks, trailers… it's much easier to arrive a few minutes earlier (think of all the loading time you'll save) and then inflate the kayak when you're next to the water. Just make sure you remember your pump!
Also, if you're using a hard shelled kayak you'll need another person to help you lift it onto a car roof. This can be an issue for people who live alone and don't have an able-bodied person around to help. Being able to box up your kayak reduces its size and gives it an easier shape to carry.
You should also be aware that inflatable kayaks are heavy. If you're looking to use one try to avoid carrying its box for long periods as you may hurt your back.
Third Option:
Use a trailer.  Trailers can be great for taking kayaks around, and they'll often have room for paddles, another kayak, a bike, and any other equipment you'll need. There's also less heavy lifting and you can load your kayak by yourself.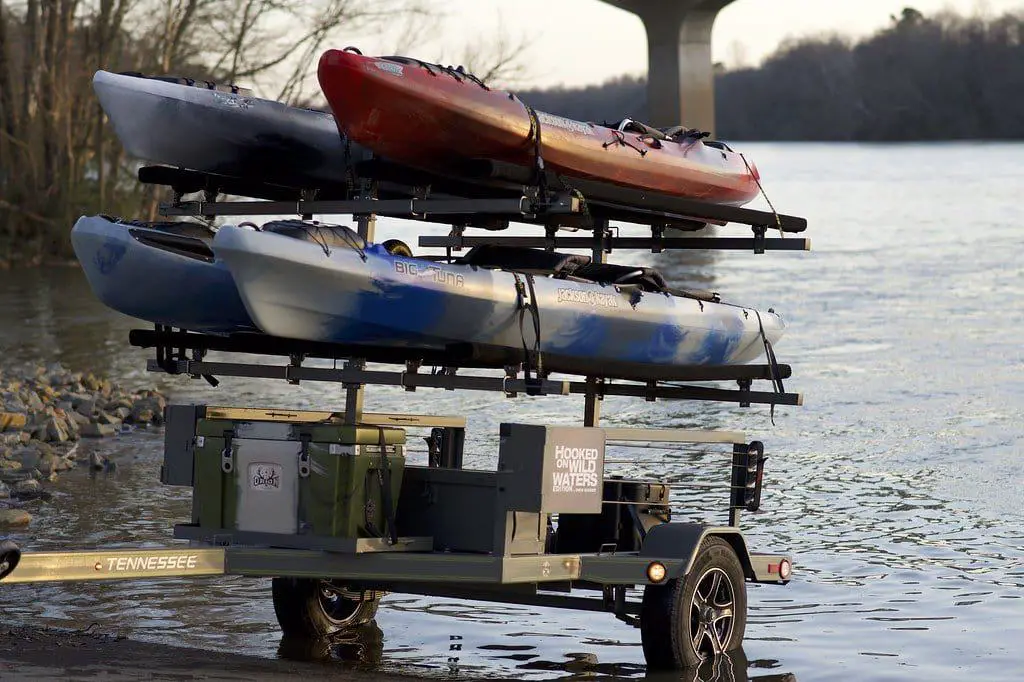 The other advantage of trailers is that you don't necessarily have to take the kayak off the trailer. It can be stored there, then taken back to the water whenever you want.
If you have a large garden or garage, simply unhitch the trailer, cover it with a tarpaulin and leave it. Make sure you check the straps before you try to transport it again, though!
Trailers can be expensive and you will need a hitch attached to your vehicle. The good thing is that they're pretty versatile and you can then tow all kinds of different wagons, horseboxes, and even other cars, depending on your engine's capacity.
Take some time to consider trailers, and research thoroughly what kind you would like before committing. You may be able to hire one to transport your kayak if you don't want to own and store one permanently.
Conclusion
We hope this helps! Taking your kayak and exploring new areas is so much fun, and finding a hassle-free way of transporting everything means you avoid any stress. As every, take care (especially with kayaks on roofs and in trailers) and double-check all ties. Enjoy!
If you have read through this post and decided you do want a roof rack. We have broken down our top picks for the best kayak truck racks in a separate post.
Related Kayaking Posts: