Best Lightweight Kayak in 2023: Review & Buyers Guide
Kayaking is an amazing way to get out on the water more. It's great exercise, a new way to explore and good fun! If you love kayaking, or if you're just getting into it, you might like to buy your own lightweight kayak.
Lightweight kayaks have loads of advantages, including that they're much easier to transport and some even pack down into boxes. They're usually more affordable, and you'll save money on trailers and roof racks.
We're going to be reviewing a few different models here, including some inflatable options and kayaks suitable for all abilities, so read on!
Quick Buy: 
Best Lightweight Kayak: Advanced Elements Advanced Frame Expedition Lightweight Kayak
Best Solid Kayak: Perception Pescador Sit on Top Kayak
Most Innovative Kayak: Oru Kayak Folding Portable Kayak
Best Budget Kayak: Intex Challenger K1
Top 10 Best Lightweight Kayaks
Pros
Very easy to store and straight forward to inflate.
Sleek and streamlined design help this kayak cut through the water, helping you reach higher speeds and reduce your overall fatigue.
A reinforced aluminum frame allows this inflatable kayak to perform like a hard shell kayak.
Cons
Pros
Easy to carry and really lightweight.
The handles are also useful for strapping it to a car roof without a roof rack.
Suitable for beginners as it has a wide base, so is very stable. It is also easy to get in and out of.
Has a carrying capacity of 375lbs, so you can also take lots of extra gear with you.
Cons
There are some issues with how high it can sit on the water if you don't weigh very much or you are taking no gear with you. This only really causes an issue if you are trying to stay still whilst kayak fishing. If you are fishing, you could invest in a kayak anchor.
Pros
Really easy to store and transport once it is folded down.
It only weighs 36lbs, so it is easy to carry to and from the water.
There are 3 models for different abilities and activities.
Cons
It takes a little getting used to. There are instruction manuals and several videos showing exactly how to set it up on their website. But it's still worth setting it up a few times at home before you take it out on the water.
Pros
The material is durable and won't scratch or deflate easily.
The kayak also comes with collapsible paddles for easy transportation.
Weighs only 26lbs.
Cons
One problem users report is the bag it comes in: it's pretty flimsy and some people struggle to get it back in. It might be worth just using a specific kayak rucksack instead.
Pros
Inflates in about 10-15 minutes.
Cuts through the water due to a streamlined design which will increase your speed and reduce fatigue.
Excellent stability – great if you also want to fish from a kayak.
Cons
It packs down into a bag, but the bag can get heavy, especially when the kayak is still wet after paddling.
Pros
Sun Dolphin kayaks are lightweight and therefore perfect for anyone who's less able to carry a heavy kayak on their own.
It is produced from durable and wear-resistant plastic, so regular use and scratches won't damage the kayak and prevent it from being used.
Cons
As it is a sit-inside kayak, it will take in water in very choppy conditions. If you prefer to stay completely dry on the lower half, you will need a spray skirt.
Pros
This kayak is extremely durable. It can survive being pushed into barnacle-covered rocks and beaches with no issue.
It's also very comfortable, so you can sit in it for longer periods of time and not get a sore back.
Cons
Because it's inflatable it sits on top of the water instead of in it, so you can't cut through the water in the same way as you would in a hard kayak.
The paddle itself isn't particularly good, but you can always order another kayak paddle if you prefer.
Pros
Suitable for people of all heights due to moveable footrests, which allows it to be shared amongst family and friends.
The seat is comfortable, even on longer trips as it has good back support.
Cons
Some users report that the kayak may be too light, especially in windy conditions.
The paddle is fairly flimsy and not ideal for a serious paddler. It is possible to purchase a better one yourself. We have also reviewed the best kayak paddles.
Pros
The skeg is excellent and helps keep the kayak straight when necessary and is retractable if you're doing some weaving.
There's also a lot of room for storage, which coupled with the comfortable seat means that it's perfect for longer trips.
Cons
Some customers report that the kayak is narrow, but that may be due to their paddling technique. Aside from that, no cons!
Pros
It's extremely durable. Users have pulled it over submerged rocks and branches without damaging it.
It works well over both flat water and rapids.
It can carry three people but also works well for a solo paddler.
Cons
It still has the usual problems that affect some inflatables; specifically, that it floats on top of the water rather than in it, which makes it slower and less maneuverable than a hard shell.
The seats are also not particularly comfortable, which can be an issue if you're making a longer trip.
What to look for before buying a lightweight kayak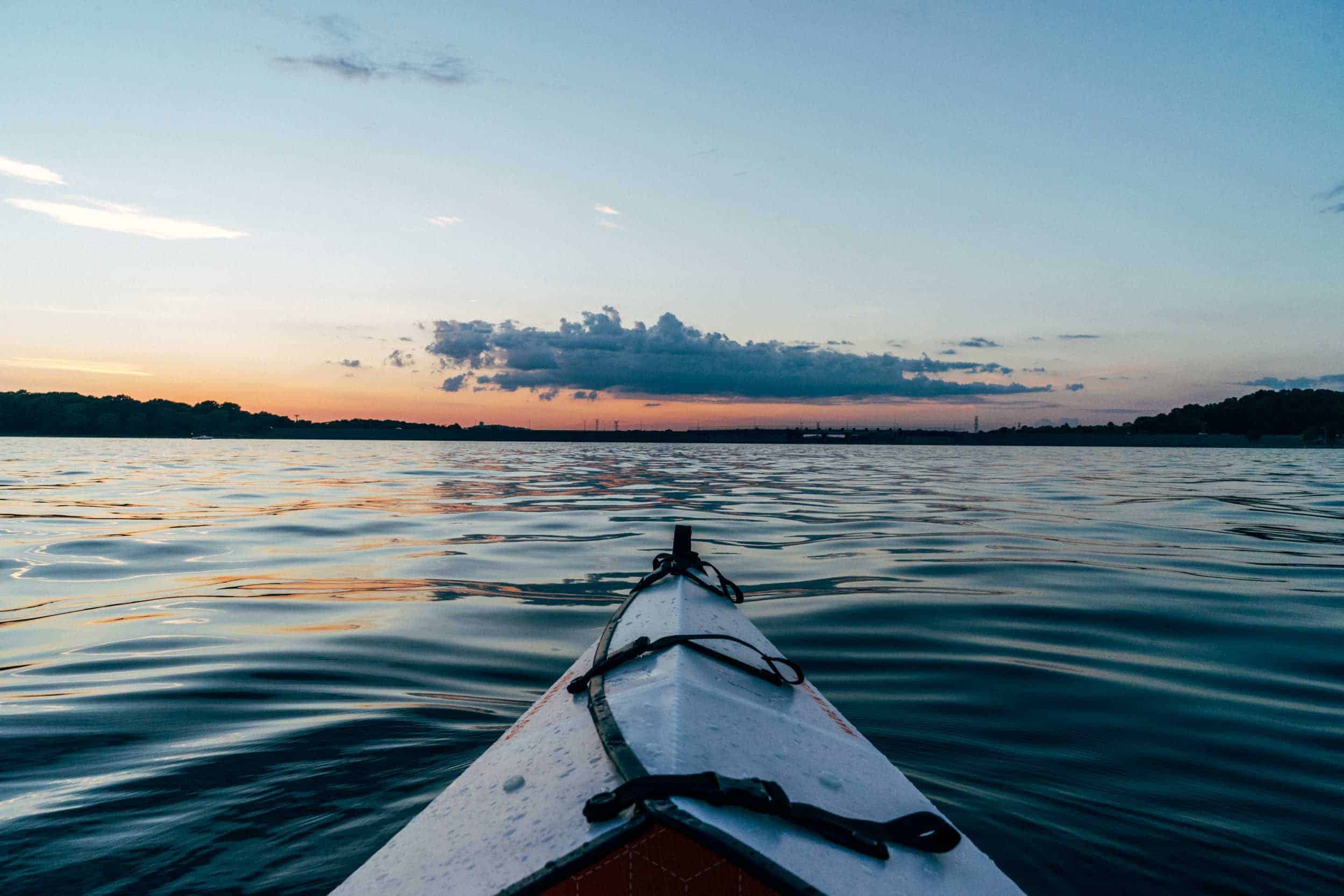 Kayak Types
Sit on top vs Sit inside kayaks:
The difference between these is fairly straightforward: a sit on top kayak doesn't cover your legs and looks more like a surfboard with a seat; a sit-inside kayak will cover your legs and is much more traditional.
Sit on top kayaks are easier to get into and out of, there's no real concern over water getting into them and they're often cooler.
They're popular on gentle water and great for hot days, as you can dip your legs in the water to cool off.
Sit inside kayaks are better for white water rafting, they're compatible with splash decks and they're usually seen as more 'serious'.
If you're planning on going for a longer trip, a sit-inside kayak will probably be a better option as they've got storage space and some people find them more comfortable.
Touring vs Recreational vs Fishing Kayaks
The difference between touring and recreational kayaks is, at first glance, length. Recreational kayaks are usually cheaper and seen as an option for 'beginners'.
Fishing kayaks are, predictably, designed for fishing and therefore usually have room for different things for fishing such as room to store rods, nets and fish finders, etc.
Non-fishing kayaks are notorious for their lack of space and the fact that it's very difficult to bring anything along with you.
Touring kayaks are usually used by experienced paddlers who are looking for longer, more challenging trips. They're less likely to get covered by waves and work with currents for added momentum.
Touring kayaks go fast in straight lines, but lack the maneuverability of a recreational kayak.
Recreational kayaks are usually used by beginners on 'easy' water, like slow-moving rivers or lakes. They're wider than touring kayaks, which makes them slower and more stable, as well as easier to turn.
Recreational kayaks tend to be more affordable than touring kayaks, as they're made of cheaper materials, namely polyethylene.
Fishing kayaks are designed for anglers, and therefore have room for different devices anglers need such as fishing rods, fish coolers, and tackle boxes.
Fishing kayaks are usually quite stable so the user can move around more easily and not accidentally capsize. They tend to be more expensive than recreational kayaks.
Hardshell vs Inflatable 
Don't worry, you won't be paddling around in a turtle! Hardshell kayaks are usually made from plastics.
They'll retain their shape from when you get them until they break. Inflatable kayaks are basically just kayak-shaped balloons that you blow up, paddle around on, and then deflate and pack back into boxes.
Both can be great, so you'll need to think about which is the right choice for you. Hardshell kayaks are usually easier to steer because they sit a little lower in the water.
They're also heavier and more difficult to transport out of the water as you'll usually need a roof rack or a trailer.
Hardshell kayaks are more popular, although inflatable kayaks are being developed and getting much more attention.
Inflatable kayaks are cheaper and more portable. They're great for beginners on a budget who aren't yet willing or able to invest in a hardshell and everything required to lug it around.
Users will need to be cautious: inflatable kayaks can pop, so avoid anywhere with sharp rocks and if possible, launch directly into the water.
Size (Length & Width)
The size of the kayak will depend on a few different things. Firstly, the size of the paddler. As a general rule, try to get a longer and wider kayak if you're larger, and if you're smaller you can get a little one.
It's better to err towards a bigger kayak, as kayaks that are too small are much less comfortable, especially if you sit inside them as you can run out of legroom. You'll also need to take into account your experience.
If you're new to kayaking a shorter kayak will be better, as it's easy to maneuver and you won't go too fast. On the other hand, if you've paddled a lot before and you'd like to speed up, a longer kayak will be the right choice.
If you've only used smaller boats, remember to take the extra length into consideration as it can be more cumbersome for turning in the water and loading and carrying when you're getting in.
Onboard Storage
There are different ways to store and transport items when you're kayaking.
The best kayak with onboard storage is the Perception Pescador. This has room for items in the back, which will inevitably get splashed, and a waterproof hatch with a latching lid in the front.
This is built into the body of the kayak and will go along with your legs in the nose of the boat. It's a fairly common feature and you're likely to find kayaks with these in the front or the back.
Be aware that trying to store too many items will make your kayak heavier and harder to paddle fast, so be conscious of what you're packing.
What you decide to pack is entirely up to you: for longer trips, kayakers will often stop and camp; or if you're a fishing enthusiast you might want to utilize the space for fishing rods, bait, and other equipment.
It's also highly recommended that you have a sealed bottle of clean water with you, in case of emergencies.
Alternatively, you could wear a backpack over your PFD, although this can be bulky and uncomfortable for long periods of time.
Some PFDs have larger pockets that allow you to keep small items close to your hand and some are waterproof. Be cautious when taking your phone, though, as accidents do happen!
Finally, if you're trying to grab something from behind you and your paddle keeps getting in the way, it will float so you can put it in the water for a moment. However, make sure it doesn't float out of arms' reach as it's very difficult to then get it back.
Transporation & Storing the kayak
The easiest kayaks to transport and store will always be inflatable. They're lighter, pack down smaller, and can be kept in a box in the cupboard without any issue.
However, if you prefer using hard shell kayaks and have one of these, there are several things you can do to make transporting and storing your kayak easier. Firstly, you could get a trailer. They're expensive and you'll need to modify your car, but you can load your kayak(s) onto them with bikes or other bulky objects easily.
You can also unhitch the trailer and keep the kayak on it easily to save time whenever you next want to go out. If this doesn't sound right you could try a roof rack instead.
Some will require modifications to your car, like trailers, but they're usually much cheaper and less cumbersome. They also take up less room to store. You can transport hard shell kayaks on top of your car without a roof rack, but make sure you've strapped them correctly to prevent any accidents.
Cost
High cost doesn't necessarily mean high quality, although be suspicious of extremely cheap kayaks. Make sure you do your research and find a kayak that does what you want for a price you can afford.
If you're looking to save money but still want a good kayak, see if it's available second hand. Many people buy kayaks and then aren't able to use them due to time limits or lack of suitable water. See if you can get a good deal and reduce waste by buying a pre-loved kayak. Bonus- you may be able to take it for a practice paddle first!
FAQs
What is better – a longer or shorter kayak?
It depends on what you want to do with it! Generally, shorter kayaks are easier to maneuver but slower.
They're better for beginners and for white water kayaking, and usually more fun for casual splashing about.
Therefore, longer kayaks are better for experienced kayakers who want to go faster and don't worry too much about the sharpness of their turns.
What is the best kayak for a beginner?
Recreational kayaks are best for beginners. You should look at some different models, as some will be designed for people with less experience.
Traditionally, you'd be taught to paddle in a sit-inside kayak but it's often better to use a sit on top kayak to start.
Ideally, you won't purchase a kayak as a complete beginner but instead learn how to kayak at your local watersports center.
They may well be able to offer you some advice and you can try some different models to see what you'd prefer.
Which is better: a sit-in or sit on top kayak?
Again, it's really all about personal choice. Sit-in kayaks are much more splashproof, they usually have more waterproof storage space and they're better for white water, but sit on top kayaks are easier to get into and out of, they're better for beginners and they dry faster.
Do Kayaks tip easily?
They shouldn't! Like most boats, if you throw your weight from side to side you'll get a bit of sway, but to deliberately capsize takes effort.
It's worth having a feel of how easily you tip when you first get in so you have some idea of the boat's limits and don't get into trouble when you're further from the bank.
It's also worth being aware that wider kayaks are harder to tip, and are therefore more stable. If you're keen to avoid capsizing it's worth looking for wider kayaks.
Which kayak is the most stable?
Recreational kayaks are the most stable. As above, they tend to be shorter and wider, and because their surface area is more condensed they don't tip as easily.
They're also better in the wind and less likely to be blown off course. If you're transporting anything make sure it's strapped in place as anything rolling around will unsettle the boat.
Hardshell sit-in kayaks are especially stable as your weight is lower down.
Conclusion
Kayaking is an amazing way to get outside and explore more, and it can be fun for the whole family or a great solo activity.
A lightweight kayak is great for transporting and often reducing the amount of hassle involved in getting the kayak to and from the water, so they're often the best option for any paddlers.
Choosing the best lightweight kayak isn't a perfectly straightforward task but with our useful buyer's guide and FAQ section, it will be much easier to make a well-informed choice.
Other Kayaking Posts: