Kayaking is an amazing way to get out on the water more. It's great exercise, a new way to explore and good fun! If you love kayaking, or if you're just getting into it, you might like to buy your own lightweight kayak. Lightweight kayaks have loads of advantages, including that they're much easier to transport and some even pack down into boxes. They're usually more affordable, and you'll save money on trailers and roof racks.
We're going to be reviewing a few different models here, including some inflatable options and kayaks suitable for all abilities, so read on!
Quick Buy:
Top 10 Best Lightweight Kayaks
Best Lightweight Kayak
ADVANCED ELEMENTS AdvancedFrame Expedition Elite Inflatable Lightweight Kayak
Key Features:
There's a high back lumbar seat to support your back

It folds into a duffle bag with removable shoulder straps

There's room behind the seat for some storage

A repair kit is included in case of a puncture

There's a drop-stitch floor to keep the bottom of the kayak taught and efficient in the water
Summary:
This kayak is pretty unusual for two reasons: it's a hybrid of folding frame kayaks and inflatable kayaks and it's a sit-inside inflatable kayak. It works by unfolding and inflating with aluminum ribs and then the usual inflatable parts. Because of its reinforcement, it's much more like a hard shell kayak to paddle. It's also quite rare to have an inflatable kayak that you can sit inside, so it's a good option for those who prefer to stay drier but also don't want the hassle of a hard shell kayak.
We earn a commission if you click this link and make a purchase at no additional cost to you.
12/05/2020 09:46 pm GMT
Best Solid Kayak
Perception Kayak Pescador Sit On Top Lightweight Kayak
Key Features:
There's a hatch at the front and a rear tank for plenty of storage

It's designed to be as easy as possible to carry and relatively light for the amount of weight it carries

There's an easy to reach drink holder

The seat is comfortable and padded, perfect for sitting still for long periods of time whilst fishing

It has two fishing rod holders
Summary:
This kayak is a sit on top designed specifically for fishing but versatile enough for recreational paddling. It has plenty of storage space for fishing equipment and can carry up to 375lbs, to include both the paddler and the gear. It's also very stable and easy to get into and out of and is suitable for lakes, ponds, slow-moving rivers, and flat seas.
We earn a commission if you click this link and make a purchase at no additional cost to you.
Most Innovative Kayak
Oru Kayak BayST Folding Portable Lightweight Kayak
Key features:
Made from rust-resistant material and a specially created polypropylene for optimum durability

Suitable for any kayaker, regardless of their ability

The body is UV protected, which lasts for 10 years
Summary:
This kayak is genuinely unique. It's inspired by origami and folds up in a way that makes it neither hard shell nor inflatable, so when it's not in use it becomes a kind of briefcase. It takes around five minutes to set up. It's also extremely durable: the warranty lasts for a year, and it can be folded 20,000 times and still work perfectly. Finally, there's lots of room inside to store all of your equipment, so you can take this on overnight trips too!
We earn a commission if you click this link and make a purchase at no additional cost to you.
12/05/2020 09:46 pm GMT
Best Budget Kayak
Intex Challenger K1 Kayak, 1-Person Inflatable Kayak
Key Features
Inflatable kayak with one and two-person options available

It has a skeg to help keep the kayak straight in the water

The cockpit is designed to be extra comfortable and has an inflatable seat

Made of durable, puncture-resistant vinyl and comes with a patch repair kit
Summary
This inflatable kayak is available for one or two people. It's quick and easy to inflate and good for people of any ability, but it's specifically designed for use on lakes and slow-moving rivers. There's a skeg, which is relatively unusual for a kayak, that'll keep it straight in the water, which can sometimes be an issue for inflatables as they're light enough to blow around and veer off course.
We earn a commission if you click this link and make a purchase at no additional cost to you.
12/05/2020 11:49 am GMT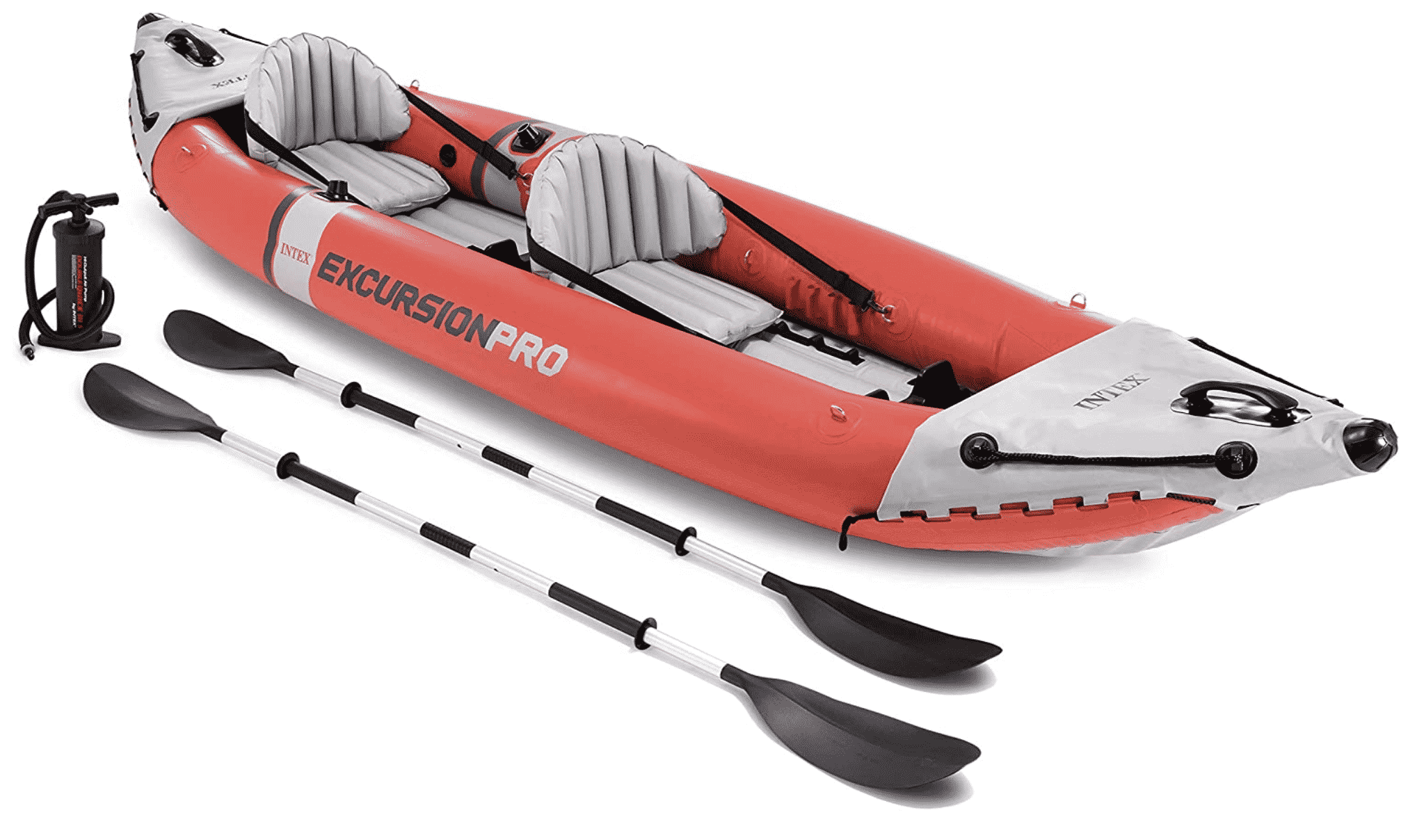 Intex Excursion Pro Kayak, Professional Series Inflatable Lightweight Kayak
Key Features:
Super tough laminate PVC with a polyester core
High pressure inflation provides extra rigidity and stability
Includes 2 removable skews for deep and shallow water
Removable and adjustable mounting bracket for additional accessories
Storage space in bow and Stern
3-ply super tough construction
Includes 86in Aluminum Oars and a High-output pump
Summary:
This lightweight kayak is specifically designed for two people and has the capability for them to take plenty of extra gear due to impressive weight capacity. It's a sit-on-top kayak, so it's much easier to get in and out of and gives you extra room if you want to carry out other activities like photography or fishing. You can remove a seat and paddle the kayak solo, this also gives you a lot more room for extra outdoor gear.
We earn a commission if you click this link and make a purchase at no additional cost to you.
Sun Dolphin Aruba Sit-in Kayak
Key Features:
There's a large cockpit where you can adjust the seat. The collar is designed to deflect spray and should be usable with a spray deck if you prefer

There's room for storage if required behind the seat

It has adjustable foot braces to keep your legs more comfortable

The shell is made of UV stabilized fortiflex high-density polyethylene
Summary:
This kayak is nice and straightforward: it's a hard shell kayak that you sit inside. You can use it in rivers and lakes or the ocean, but you might get splashed! The seat is (for a sit-inside) fairly easy to get into and out of, and it's suitable for people of most heights and weights.
We earn a commission if you click this link and make a purchase at no additional cost to you.
Sevylor Quikpak K5 1-Person Inflatable Lightweight Kayak
Key Features:
It takes literally five minutes to set up, so you can get onto the water really quickly

It folds up into its own backpack, so you don't need to lug an extra bag around

It's tough and suitable for use on lakes where it may occasionally brush against rocks or branches under the surface

There are separate air chambers so if one deflates you won't sink
Summary:
This inflatable one-person kayak is quick and easy to unfold and when you're done paddling folds back into its own backpack. There are spray covers to try and keep you dry, and a thick tarpaulin bottom with a polyester cover to protect the boat from punctures. There's also an airtight system to avoid leaks and keep you buoyant.
We earn a commission if you click this link and make a purchase at no additional cost to you.
12/05/2020 11:49 am GMT
Sevylor Quikpak K1 1-Person Lightweight Kayak
Key features:
It turns into a backpack to be easily carried

There's tarpaulin on the bottom to prevent punctures

There are multiple air chambers to prevent deflation in the event of a puncture, and an airtight system guaranteed not to leak. The double lock valves make inflation and deflation easy

The seas have a comfortable backrest and adjustable footrest so you can find the best position
Summary
This one-person inflatable sit on top kayak is designed to be ready to go onto the water in five minutes. It packs easily into itself and can be carried as a backpack. There's a bungee area at the stern to store any (waterproof) bags or equipment you need, and the seat is built up to be extra comfortable.
We earn a commission if you click this link and make a purchase at no additional cost to you.
12/05/2020 11:49 am GMT
Wilderness Systems Aspire 105 Sit Inside Lightweight Kayak
Key Features:
There's a retractable skeg. This helps the boat stay on course despite wind and currents and is retractable for launching and shallow water

There's a sealed hatch for storage. This kayak can be used for longer trips, and this hatch can help transport any essentials like food and tents

It has a molded-in dashboard so you can store drinks, snacks, and suncream within easy reach
Summary
This kayak is a fairly straightforward design, perfect for a beginner or intermediate paddler. It's suitable for flat water and moving into rougher, white water if the paddler wants. There's also the option for longer trips, especially as the seat is designed to be comfortable for prolonged periods of time. It's easy to maneuver, especially because of its retractable skeg and relative shortness.
We earn a commission if you click this link and make a purchase at no additional cost to you.
12/05/2020 09:46 pm GMT
Sea Eagle 370 Deluxe 3 Person Inflatable Lightweight Kayak
Key Features:
It inflates in only six minutes using a foot pump that's included with the kayak

The floor inflates into five tubes, which makes the kayak move faster and easier

It's light and easy to carry as it packs down into one small bag
Summary:
This inflatable kayak has two seats but room for three people. Perfect for a solo paddler who'd like to take their kids with them, or two people and a dog. It's got two skegs to keep in on the course and the capability to be used on up to category three white water. It can be used for fishing.
We earn a commission if you click this link and make a purchase at no additional cost to you.
12/05/2020 09:46 pm GMT
What to look for before buying a lightweight kayak
Kayak Types
Sit on top vs Sit inside kayaks:
The difference between these is fairly straightforward: a sit on top kayak doesn't cover your legs and looks more like a surfboard with a seat; a sit inside kayak will cover your legs and is much more traditional.

Sit on top kayaks are easier to get into and out of, there's no real concern over water getting into them and they're often cooler. They're popular on gentle water and great for hot days, as you can dip your legs in the water to cool off.

Sit inside kayaks are better for white water rafting, they're compatible with splash decks and they're usually seen as more 'serious'. If you're planning on going for a longer trip, a sit inside kayak will probably be a better option as they've got storage space and some people find them more comfortable.
Touring vs Recreational vs Fishing Kayaks
The difference between touring and recreational kayaks is, at first glance, length. Recreational kayaks are usually cheaper and seen as an option for 'beginners'. Fishing kayaks are, predictably, designed for fishing and therefore usually have room for different things for fishing such as room to store rods, nets and fish finders etc. Non-fishing kayaks are notorious for their lack of space and the fact that it's very difficult to bring anything along with you.

Touring kayaks are usually used by experienced paddlers who are looking for longer, more challenging trips. They're less likely to get covered by waves and work with currents for added momentum. Touring kayaks go fast in straight lines, but lack the maneuverability of a recreational kayak.

Recreational kayaks are usually used by beginners on 'easy' water, like slow moving rivers or lakes. They're wider than touring kayaks, which makes them slower and more stable, as well as easier to turn. Recreational kayaks tend to be more affordable than touring kayaks, as they're made of cheaper materials, namely polyethylene.

Fishing kayaks are designed for anglers, and therefore have room for different devices anglers need such fishing rods, fish coolers and tackle boxes. Fishing kayaks are usually quite stable so the user can move around more easily and not accidentally capsize. They tend to be more expensive than recreational kayaks.
Hard shell vs Inflatable
Don't worry, you won't be paddling around in a turtle! Hard shell kayaks are usually made from plastics. They'll retain their shape from when you get them until they break. Inflatable kayaks are basically just kayak-shaped balloons that you blow up, paddle around on and then deflate and pack back into boxes. Both can be great, so you'll need to think about which is the right choice for you.

Hard shell kayaks are usually easier to steer because they sit a little lower in the water. They're also heavier and more difficult to transport out of water as you'll usually need a roof rack or a trailer. Hard shell kayaks are more popular, although inflatable kayaks are being developed and getting much more attention.

Inflatable kayaks are cheaper and more portable. They're great for beginners on a budget who aren't yet willing or able to invest in a hardshell and everything required to lug it around. Users will need to be cautious: inflatable kayaks can pop, so avoid anywhere with sharp rocks and if possible, launch directly into water.
Size (Length & Width)
The size of the kayak will depend on a few different things. Firstly, the size of the paddler. As a general rule, try to get a longer and wider kayak if you're larger, and if you're smaller you can get a littler one. It's better to err towards a bigger kayak, as kayaks that are too small are much less comfortable, especially if you sit inside them as you can run out of leg room.

You'll also need to take into account your experience. If you're new to kayaking a shorter kayak will be better, as it's easy to maneuver and you won't go too fast. On the other hand, if you've paddled a lot before and you'd like to speed up, a longer kayak will be the right choice.

If you've only used smaller boats, remember to take the extra length into consideration as it can be more cumbersome for turning in the water and loading and carrying when you're getting in.
Onboard Storage
There are different ways to store and transport items when you're kayaking. The best kayak with onboard storage is the Perception Pescador. This has room for items in the back, which will inevitably get splashed, and a waterproof hatch with a latching lid in the front.

This is built into the body of the kayak and will go along with your legs in the nose of the boat. It's a fairly common feature and you're likely to find kayaks with these in the front or the back. Be aware that trying to store too many items will make your kayak heavier and harder to paddle fast, so be conscious of what you're packing.

What you decide to pack is entirely up to you: for longer trips, kayakers will often stop and camp; or if you're a fishing enthusiast you might want to utilise the space for fishing rods, bait and other equipment. It's also highly recommended that you have a sealed bottle of clean water with you, in case of emergencies.

Alternatively, you could wear a backpack over your PFD, although this can be bulky and uncomfortable for long periods of time. Some PFDs have larger pockets which allow you to keep small items close to hand and some are waterproof. Be cautious when taking your phone, though, as accidents do happen!

Finally, if you're trying to grab something from behind you and your paddle keeps getting in the way, it will float so you can put it in the water for a moment. However, make sure it doesn't float out of arms' reach as it's very difficult to then get it back.
Transporation & Storing the kayak
The easiest kayaks to transport and store will always be inflatable. They're lighter, pack down smaller and can be kept in a box in the cupboard without any issue. However, if you prefer using hard shell kayaks and have one of these, there are several things you can do to make transporting and storing your kayak easier.

Firstly, you could get a trailer. They're expensive and you'll need to modify your car, but you can load your kayak(s) onto them with bikes or other bulky objects easily. You can also unhitch the trailer and keep the kayak on it easily to save time whenever you next want to go out.

If this doesn't sound right you could try a roof rack instead. Some will require modifications to your car, like trailers, but they're usually much cheaper and less cumbersome. They also take up less room to store. You can transport hard shell kayaks on top of your car without a roof rack, but make sure you've strapped them correctly to prevent any accidents.
Cost
High cost doesn't necessarily mean high quality, although be suspicious of extremely cheap kayaks. Make sure you do your research and find a kayak that does what you want for a price you can afford.

If you're looking to save money but still want a good kayak, see if it's available second hand. Many people buy kayaks and then aren't able to use them due to time limits or lack of suitable water. See if you can get a good deal and reduce waste by buying a pre-loved kayak. Bonus- you may be able to take it for a practice paddle first!
FAQs
What is better - a longer or shorter kayak?

It depends on what you want to do with it! Generally, shorter kayaks are easier to maneuver, but slower. They're better for beginners and for white water kayaking, and usually more fun for casual splashing about. Therefore, longer kayaks are better for experienced kayakers who want to go faster and don't worry too much about the sharpness of their turns.

What is the best kayak for a beginner?

Recreational kayaks are best for beginners. You should look at some different models, as some will be designed for people with less experience. Traditionally, you'd be taught to paddle in a sit inside kayak but it's often better to use a sit on top kayak to start. Ideally, you won't purchase a kayak as a complete beginner but instead learn how to kayak at your local watersports centre. They may well be able to offer you some advice and you can try some different models to see what you'd prefer.

Which is better: a sit in or sit on top kayak?

Again, it's really all about personal choice. Sit in kayaks are much more splashproof, they usually have more waterproof storage space and they're better for white water, but sit on top kayaks are easier to get into and out of, they're better for beginners and they dry faster.

Do Kayaks tip easily?

They shouldn't! Like most boats, if you throw your weight from side to side you'll get a bit of sway, but to deliberately capsize takes effort. It's worth having a feel of how easily you tip when you first get in so you have some idea of the boat's limits and don't get into trouble when you're further from the bank.

It's also worth being aware that wider kayaks are harder to tip, and are therefore more stable. If you're keen to avoid capsizing it's worth looking for wider kayaks.

Which kayak is the most stable?

Recreational kayaks are the most stable. As above, they tend to be shorter and wider, and because their surface area is more condensed they don't tip as easily. They're also better in the wind and less likely to be blown off course. If you're transporting anything make sure it's strapped in place as anything rolling around will unsettle the boat. Hard shell sit in kayaks are especially stable as your weight is lower down.
Conclusion
Kayaking is an amazing way to get outside and explore more, and it can be fun for the whole family or a great solo activity. A lightweight kayak is great for transporting and often reducing the amount of hassle involved in getting the kayak to and from the water, so they're often the best option for any paddlers.

Choosing the best lightweight kayak isn't a perfectly straightforward task but with our useful buyers guide and FAQ section, it will be much easier to make a well informed choice.
Other Kayaking Posts: