Best Kayak Fishing Crates For Easy Kayak Storage
Kayak crates are a very useful piece of kit. Whether you are an angler that needs to store more tackle and some rods or a paddler that needs some extra kayak storage, using one of the best kayak fishing crates can be a great way to increase your storage capacity.
Finding the right kayak crate isn't easy, there are hundreds of options to choose from. To avoid making any mistakes, and to give you better-informed buying decisions, we have put together this guide of the best kayak fishing crates along with their key features and benefits.
The Best Kayak Fishing Crates at a Glance:
Kayak Crate Reviews
Best Kayak Fishing Crate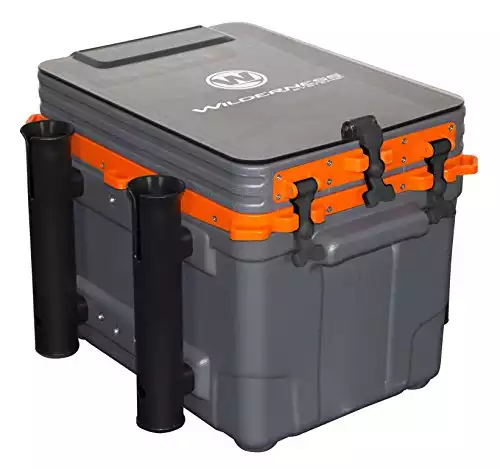 Wilderness Systems Kayak Fishing Crate With 4 Rod Holders
Our top overall pick goes to the Wilderness Systems fishing kayak crate. This crate is easy to use and install, whilst offering the best protection and storage for all of your fishing gear.
It has a large main compartment that can accommodate larger items, such as tackle boxes and lures, while smaller items can be stowed in the secondary lid compartment.
This crate is made from blow-molded Polyethylene which is both durable and waterproof. The lid firmly locks into place, creating a water-resistant seal.
There are 4-rod holders as standard, and one feature we love, it that it also comes with brackets to raise the position of the rod holders to accommodate narrow kayak tank wells.
It will fit, Wilderness System fishing kayaks, and the lash down points are universal, so you can add it to your own fishing kayak, no matter the brand.
Technical Specs:
Materials: Polyethylene
Dimensions: Exterior; 18x12.25x13.25 inches, Interior; 15x11x10.5 inches
Capacity: 29 liters
Weight: 10 lbs. 14.4 oz.

Most Customizable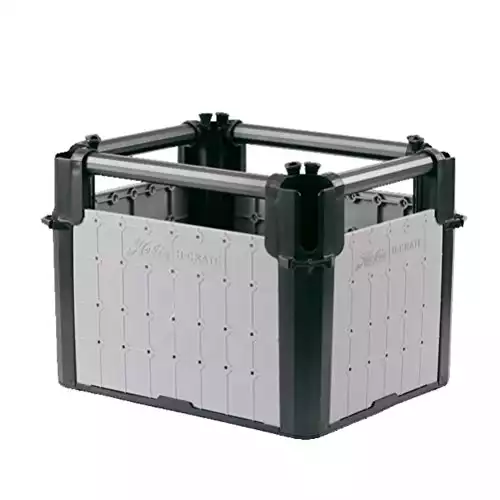 Hobie H-Crate
The next kayak fishing crate on our list is the Hobby H-crate, which has been one of the most popular kayak crates for many years. Largely due to the simple design, which makes it easily customizable for your needs.
The H-crate has a lightweight and durable design, that will fit most kayaks. It comes with heavy-duty straps that allow for quick and easy installation/removal in the kayak.
Every corner has a built-in fishing rod holder, along with shock cords to create more secure storage for your rods.
The H-rail carry handles provide extra structural strength and allow you to mount any additional accessories you have with an H-rail mount. Perhaps your fish finder?
One of our favorite features of the H-crate is the molded hole pattern you can see on each side. These holes are great for attaching any accessories you need easy access to.
Technical Specs:
Material: Molded plastic
Dimensions: 17.4 x 14.1 inches
Weight: 5 lbs. 13 oz.

Perception Kayak Crate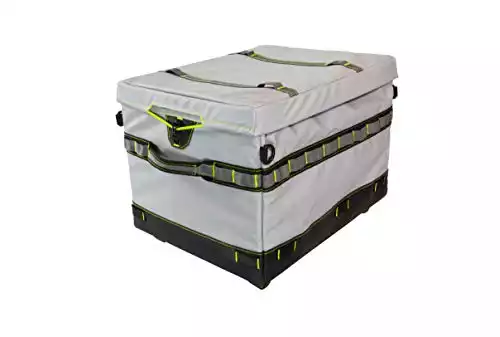 Perception Splash Kayak Crate
The next best fishing kayak crate we have chosen is the Perception Splash, which fits perception sit-on-top kayaks as well as most other kayaks with an open-top storage area on the deck.
The side loops allow you to easily customize your attachments on the side of the crate, including the addition of rod holders and side pockets from the perception which is sold separately.
This crate has an impressive internal capacity that can fit up to seven 3700 or thirteen 3600 Plano boxes, which should be more than enough storage for your tackle and fishing gear that you'll be using whilst kayaking.
The ultra-durable, slick, waterproof materials and canopy-style lid protects your tackle from splashes and rain and keeps the interior dry.
One thoughtful feature we liked, is the simple addition of plastic feet to raise the bottom of the kayak crate off your deck, keeping it completely dry.
Technical Specs:
Material: Polyurethane
Dimensions: 17 x 13 x 12.5 inches
Weight: 5 lbs. 4 oz. ounces

Best Value Kayak Crate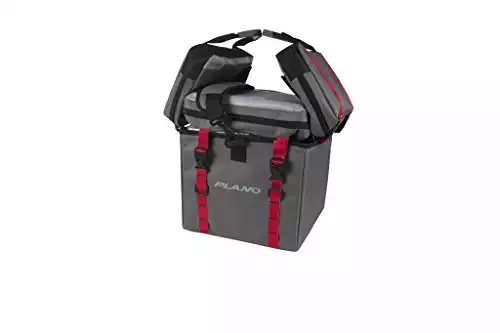 Plano Weekend Series Kayak Crate Soft Bags
The next product is the Plano Weekend series soft milk crate bags. Plano is arguably the most popular tackle box brand in the world, so you can be sure that this soft bag has been designed specifically to hold the most tackle, and make accessing it as easy as possible.
The soft bag isn't a 'kayak fishing crate' so to speak, it is placed inside a standard milk cart, or can be used on its own as a tackle bag for your kayak. This makes it an extremely affordable option as milk crates can be picked up fairly cheap.
It has plenty of storage with its four-panel design, you can carry as much as you need or remove the panels and utilize the attachment points for custom storage.
Technical Specs:
Dimensions: 13 x 12.5 x 11.5 inches
Weight: 1.7lbs

Best Kayak Milk Crate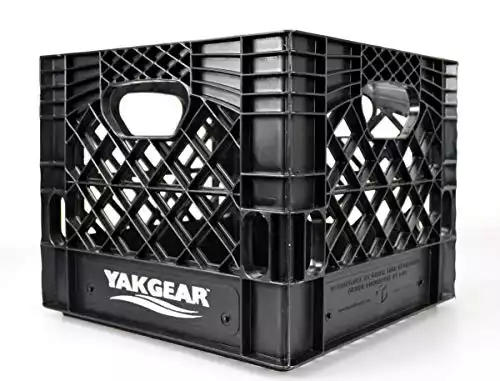 YakGear Milk Crate
YakGear has produced these milk crates to provide extra storage on the deck of your kayak, canoe, or paddleboard.
It's a very simple solution to the storage problem and can be achieved at an affordable price compared to more expensive kayak fishing crates.
The YakGear Black Angler Crate comes with the YakGear logo in standard 13″ x 13″ milk crate size fitting most kayak tank wells or decks.
The crates are honeycomb design to allow customization with all YakGear crate rigging accessories.
Paired with a soft bag solution, like the Plano Weekender, a standard milk crate can quickly become as useful as a dedicated kayak fishing crate.
Technical Specs:
Dimensions: Exterior;13 x 13 x 11 inches, Interior; 12 x 12 x 10 inches
Material: Plastic
Weight: 2.55 lbs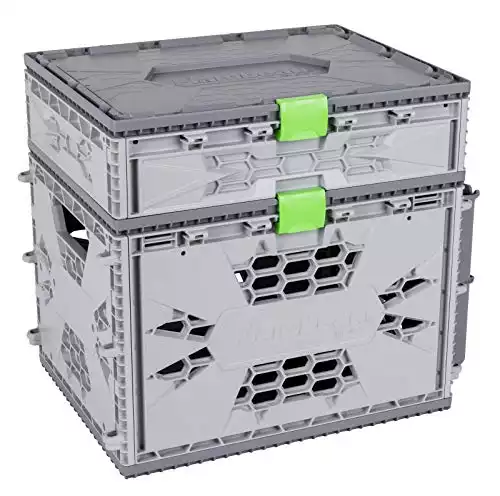 Flambeau Outdoors Tuff Krate
The final fishing kayak crate on our list is the Flambeau Outdoors Tuff Krate. It is a great all-around kayak crate with a tonne of storage and customization options, including two separate compartments, which is great for keeping your most important items easily accessible.
The top compartment features a useful recessed work surface and the double OTC snap latches create a very secure closure.
One feature we really like is the included two Flambeau rod holders and ten stainless steel screws that allow the user to select the rod holder placement; additional rod holders can also be applied to any side panel.
The universal tie-down points allow the kayak crate to be fitted to most sit on top kayaks with an open deck storage space.
Technical Specs:
Material: Durable HDPE Plastic
Dimensions: 16.75 x 12.8 x 15.26 inches
Weight: 8.25 pounds

Why do you need a kayak fishing crate?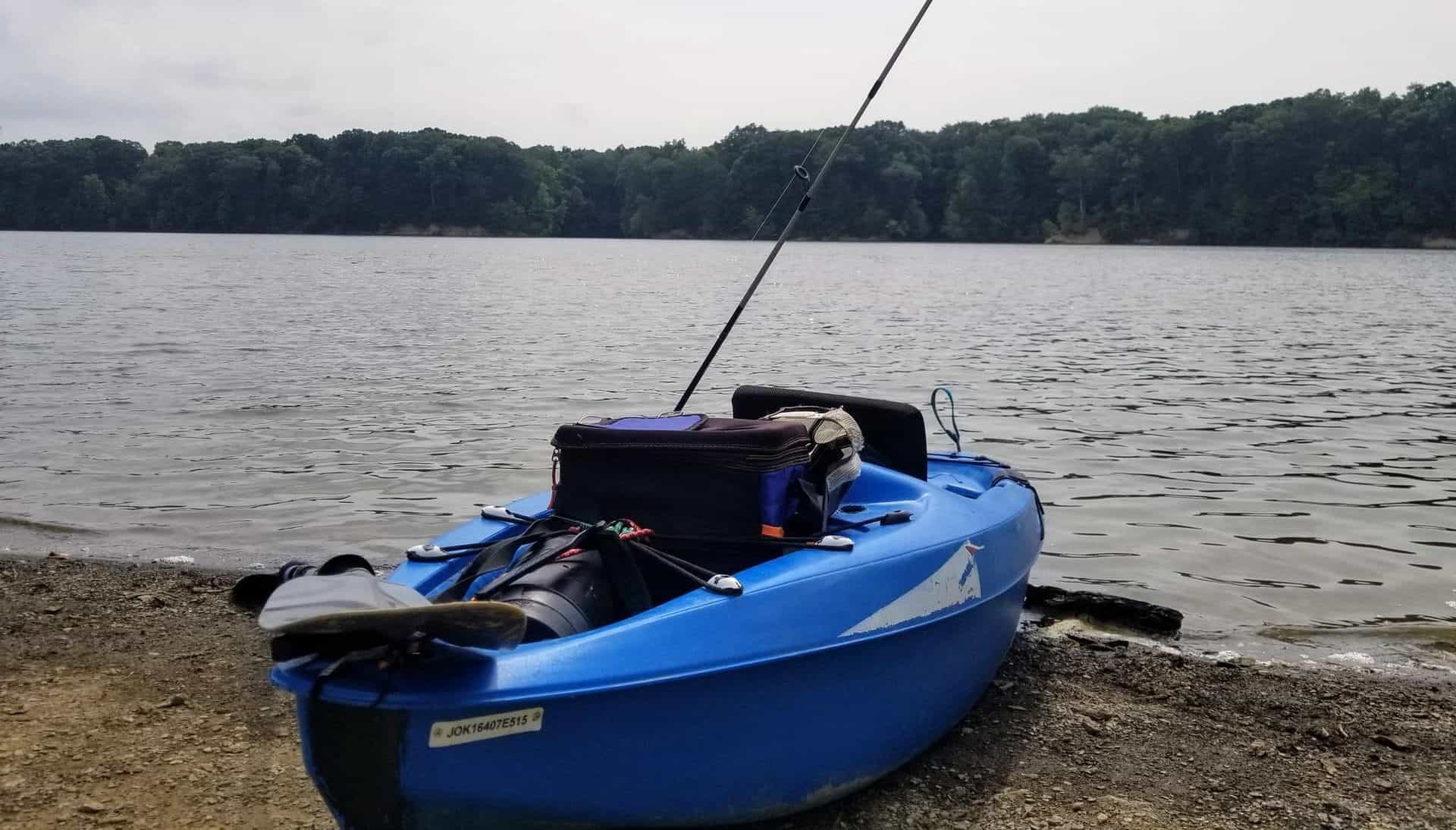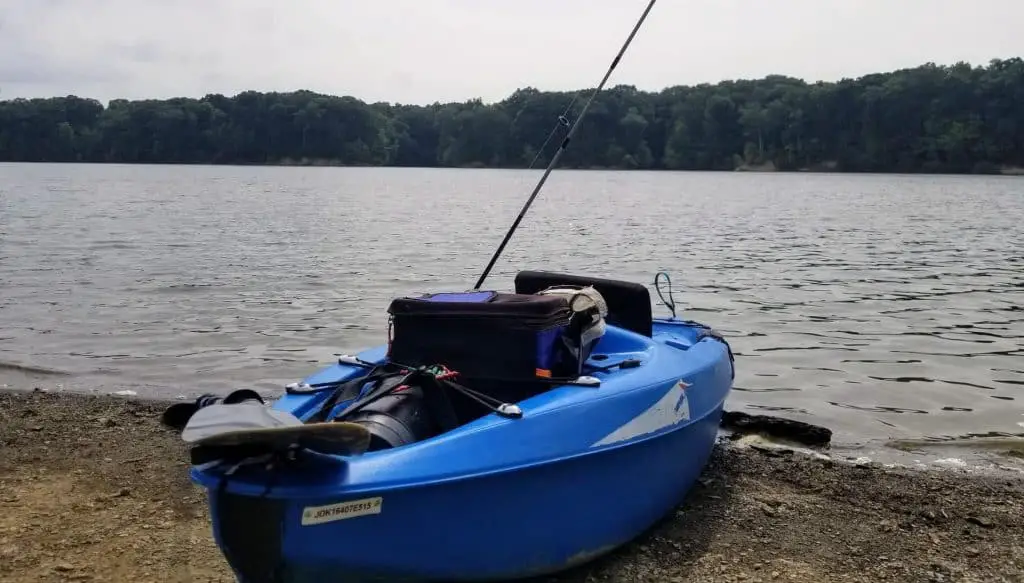 Kayaks aren't notorious for having a lot of space. When you look at most kayaks, it's hard to imagine anything other than the paddler fitting on the deck. And that's exactly why a kayaking crate can be a useful piece kit.
Kayak crates become especially useful if you are using your kayak for fishing. You'll need storage for all of your tackle, spare reels, baits, etc.
As well as improving your overall storage space, a crate can help you stay organized. The middle of a lake is the last place you want to spend time rummaging around for that spare spool of braided line you need.
Kayak fishing crates also can help you store your rods whilst you paddle, some dedicated fishing kayaks will include rod holders, but they are often to be used once you have cast your line and you are waiting for a bite.
Instead, you can attach your rods to your crate, have them sat behind you, and paddle around unobstructed.
Another reason why we like using kayak crates is for travel convenience. You don't really want to be sorting all of your fishing gear on the water's edge, or in your car. You can organize all of your tackle prior to leaving home, and store It away neatly at the end of the day.
DIY kayak fishing crate using milk crates
The kayak crates we have listed are all a great choice, and they come packed with features that make storing, organizing, and handling your fishing gear easier. But, at the end of the day, a kayak fishing crate… is a crate.
If you are more budget-conscious or don't have the need for several compartments and rod holders. Building your own DIY fishing crate is a great idea and it's fairly easy.
What you will need:
Milk Crate
PVC Pipe
Zip Ties
Foam board or a pool noodle (optional)
Bungee Straps
Step 1: Attach your PVC pipe rod holders to your crate
Cut your PVC pipe to the desired length, it should not be longer than the height of your crate, or so long it creates a problem when mounting inside the kayak.
Attach your newly cut rod holders to the outside of the milk crate using zip ties. If you can't make the total size of the crate any bigger, you can secure the pipe on the inside walls of the crate.
Step 2: Adding foam to the base (optional)
This isn't a necessary step but if you want to minimize noise, protect your kayak and raise your crate off the deck away from pooling water it's a good idea.
Using glue, or zip ties, secure your foam board or pool noodles to the base of the milk crate. That's it!
Step 3: Securing your crate inside your kayak
Most fishing and sit on top kayaks will have bungee rigging systems or tie-down points on the deck. Using the bungee straps, securely tie down your kayak crate. Give it a quick test pull, and ensure it is secure.
When you make your own DIY kayak fishing crate, the opportunities for customization are endless. You could easily add your own lid, tackle box holders, compartments, and a solid surface for preparing bait.
Key features of crates for kayak fishing
Rod holders
It goes without saying that any kayak fishermen will need to use rod holders at one point or another. Unless you are only taking one telescopic rod with you, there isn't anywhere on a regular kayak to store a rod and paddle.
Rod holders will free up your hands and space, giving you a full range of motion to paddle effectively. Crate rod holders also allow you to keep your rod stood upright, so it can be pre-prepared with your line, weights, lures, etc., and ready to cast at all times.
Materials
There isn't any need for super-fancy materials when it comes to the best kayak crates. Most are made from tough and durable plastic – usually Polyethylene (the same material most kayaks are made from).
This is so they can withstand years of use on the water, being put in the back of a truck, and prevent any deterioration from UV light.
Some crates will have a soft-shell exterior instead of a hard shell. This is mainly cosmetic and doesn't offer any major benefits, it's a personal preference.
Storage Compartments
Storage compartments are a great way to keep your fishing tackle organized and easily accessible.
You will need to understand what tackle you are likely to be taking and check that the kayak fishing crate has enough storage compartments, and more importantly the size of compartments to hold your gear.
Most tackle boxes are similar sizes and, the best kayak crates have been designed with this in mind.
Customizability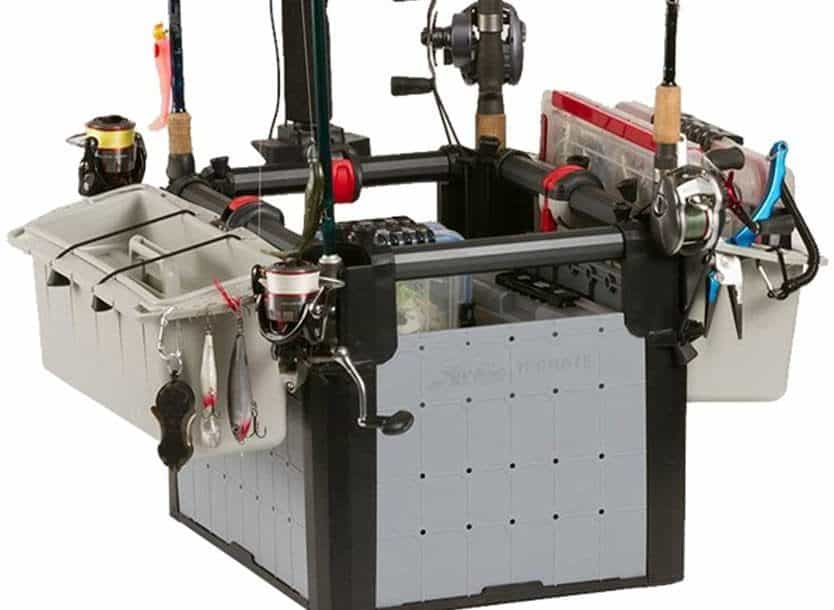 One thing we love about kayak crates is that there is no perfect crate for everyone, instead, most fishermen end up creating the perfect crate for themselves.
And, this doesn't mean building your own crate from scratch. All of the options on our list have some level of customizability built into them.

Whether it's the ability to add more rod holders, attach exterior storage pockets, use the H-rails to attach items like a fish finder or bait bucket, the list is endless.
Most manufacturers that design kayak crates, also sell the additional accessories to go along with them. It's always worth checking them out for inspiration.
Water Resistance
Some crates that include a lid and secure latches can be water-resistant. Whilst it's unlikely that it will keep your gear dry if you capsize, they can offer some protection against splashes and rain.
Choosing a crate with a lid or high water-resistance ultimately comes down to personal preference and where you will be kayaking.

Fishing gear is designed to get wet, but if you are salt-water kayaking, then you might want to protect your reels and hooks more than if you are kayaking on freshwater due to the corrosive nature of salt-water.
Size
We can't stress this point enough! Always double-check the size of your kayak's open deck storage, and then check again. You don't want to receive your crate to find out it doesn't fit.
Luckily some fishing kayak manufacturers know that it's likely their customers will be using the rear tank well for a fishing crate and therefore make it big enough for a crate, or sell their own specific crates to fit.
If you have a narrow kayak or limited storage space, you could look into buying a soft kayak crate/storage solution as these can be 'molded' to fit into smaller areas.
Extra Accessories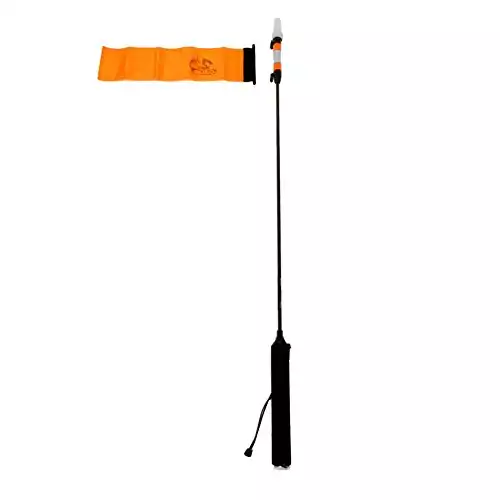 YakAttack VISIpole II
Remain visible from 360 degrees. The flag can be slid over the light, creating a soft glow that is less likely to attract bugs or spook fish, while maintaining some level of visibility to others around you.
View on Amazon

Kayak Crate FAQs
How do you secure a milk crate to kayak?
The best way to secure your milk crate to your kayak is by using bungee straps. Make sure that the straps are passed through the milk crate holes and securely fastened to the tie-down points, or the bungee rigging system of your kayak.
We would always recommend tying down each side of the milk crate and giving it a pull afterward to ensure it is secure.
Can you drill into a kayak?
Yes, it is possible to drill holes into a kayak, and it is useful for attaching after-market parts like gear tracks, rod holders, and fish finders. If you do drill a hole, make sure you use waterproof Silicone to make the hole watertight. If you do not have access to the inside of the kayak, then you can use pop up or tri-fold rivets for a secure hold against a plastic hull.
Can I use my kayak crate as a seat?
Kayak crates are designed for storage. They are not designed to hold the weight of a person. They are also usually mounted at the rear of a kayak, which would throw the kayak's balance out if you sat on it. We would not recommend using your kayak crate as a seat.
Final Words
We truly hope that this article has helped you find a kayaking crate that is suitable for your needs or at least given you an insight into the key features that you should look for.
Whilst most are used by anglers to store fishing gear, a crate can be used by anyone looking for some extra onboard storage.
Whether you are buying a crate or heading down the DIY kayak milk crate route, there are always endless possibilities for customization to make your crate truly yours and easy for you to use.
Latest Kayaking & Fishing Posts: