Nothing quite beats a day of fishing when the sun is up, and the drinks are kept cold in the cooler. But for some anglers, the reality of that happening more than a few times in a year is a slim chance.
Some people have to fish in the cold and rain, as daunting as that sounds, it can be made bearable and even fun if you have the right gear. That's why we have reviewed the best rain gear for fishing. 
Best Rain Gear For Fishing at a Glance
So you can enjoy your next fishing trip no matter what the weather is like. Staying warm and dry is vital to ensuring you have a good time, perform at your peak and catch a load of fish!
Below we have reviewed the best rain gear for fishing, the post is split up into 3 parts: Waterproof jackets, Waterproof Pants and Rain suits.
Best Fishing Rain Gear – Waterproof Jackets
Best Rain Gear For Fishing – Waterproof Pants
Fishing Rain Gear – Rain Suits (Jacket & Pants)
How To Choose The Best Rain Gear For Fishing – Buying Guide & FAQs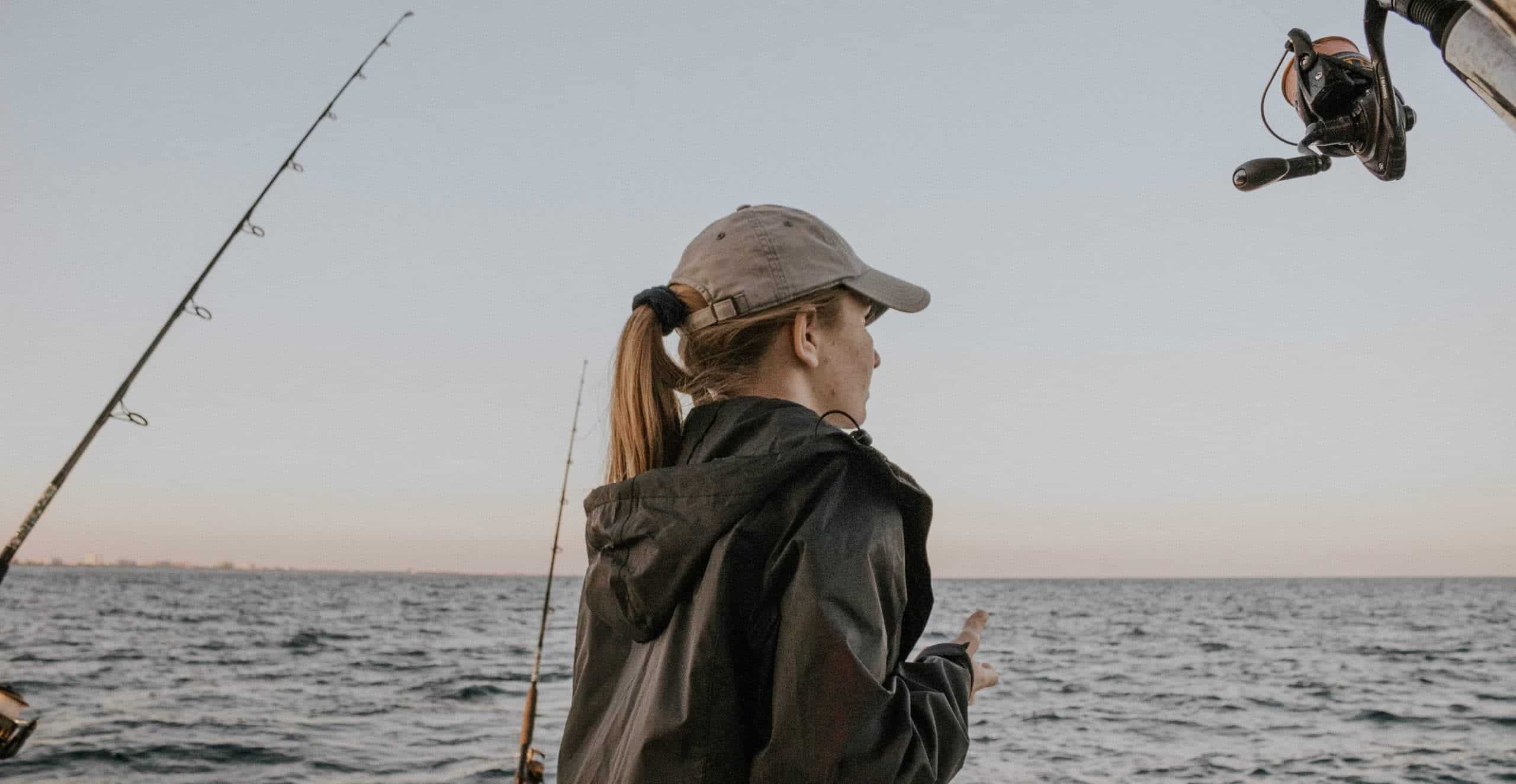 Waterproof
The first and most important consideration you will make when buying fishing rain gear, is how waterproof is it?
Secondy, you must ask yourself where are you likely to be fishing? If you are only fishing around small ponds and lakes, then you're less likely to get as wet as you would if you are fishing from a boat in the choppy ocean.
Thirdly, ask yourself what is the typical climate where I live? If you live in a warm part of the country will little rainfall per year, then your jacket won't need to be as waterproof as if you lived in a cold part of the country with common heavy downpours.
There is a range of materials that offer waterproof protection, and each jacket is usually given a waterproof rating which correlates to how effective is it in wet weather.
Also, look for other features that will keep water out and keep you and your valuables protected. It's common for zips to fail and your pockets get soaked.
A high-quality waterproof jacket and pants will have storm proof zips which are fully waterproof.
As well as this, they will have taped seams, which makes sure no water can enter your jacket through the areas of stitching. 
Durability
Whilst fishing might seem like a calm and peaceful sport initially. Over the course of your angling career, you're likely to be exposed to some treacherous conditions which will really test the quality of your fishing rain gear.
You want your clothing to last you a long time, so making sure it's durable and wear-resistant is key.
Whilst you're fighting and trying to reel in a monster catch, you'll be bending and moving everywhere. It's important that your rain gear can withstand being pulled and stretched at the seams without tearing under strain.
No matter where you fish, you are also likely to catch the jacket on something sharp at some point, whether it's rocks, trees, fishing hooks, or an item in your fishing kayak. The last thing you want is to tear a big hole in your waterproofs and ruin the purpose for which they were designed.
Top-quality brands use top quality materials that shouldn't rip easily. I would always recommend reading through any product reviews and ensuring that tearing easily isn't a common problem. 
Lightweight
When you are wearing waterproofs, unless the temperature is high, you're likely to be wearing items of other clothing underneath.
Having numerous layers of thick clothing will weigh you down, restrict your mobility, and ultimately affect your fishing ability. 
Having lightweight outer layers will ensure that you can wear clothing underneath and still maintain your full range of motion and mobility. 
Lightweight fishing rain gear is also easy to roll up and pack away in your fishing backpack. This is important as you want to save as much room in your backpack as possible for items such as your spinning reels, hooks, baits, and other tackle. 
If you are conscious about the weight of your fishing jacket, then make sure to read the product specifications before buying and double-check the weight. 
Fishing Rain Gear FAQs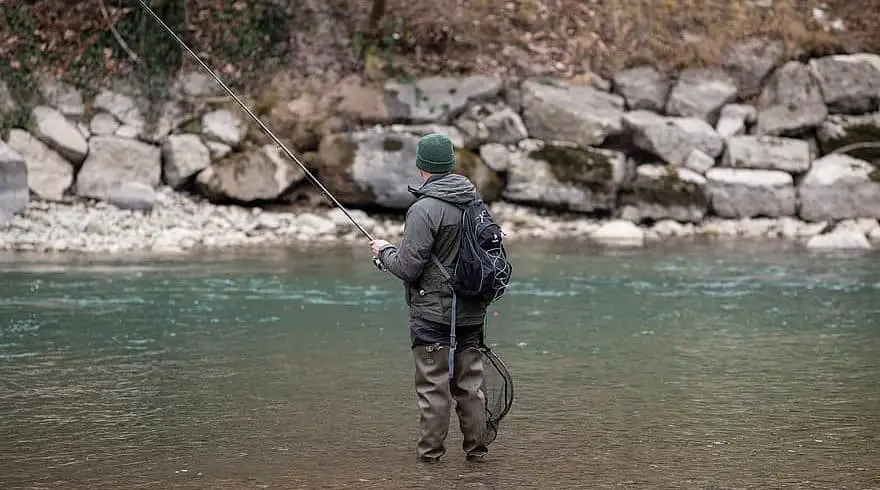 What do you wear to go fishing in the rain
To successfully go fishing in the rain, you need a few items of clothing to keep you warm and dry and to ensure that you are fishing for as long as possible. The main items that you will need are; Waterproof jacket, waterproof pants, waterproof boots, fishing backpack (for tackle and storing waterproofs), a spare pair of socks and a fishing shelter if required.
What rain gear do they use on Deadliest Catch?
The Deadliest Catch is a TV show about commercial fishing. The fisherman are exposed to treacherous conditions. To battle the wind and rain they use Grundéns Rain Gear. Grundéns is well known for its rugged and outstanding performance in the marine and commercial fishing industry.
Is it better to fish before or after rain?
Whilst a lot of this has to do with where and how you fish – something that can only come with experience and practice. A lot of anglers like to fish after heavy rain.
This is because bugs and other small insects will wash into the water, downstream into lakes and ponds meaning that the fish are more active, feeding next to the surface – this is particularly effective if you like fly fishing.
Can I fly fish in the rain?
You can most definitely fly fish in the rain! Just make sure you are well protected from the elements by using some of the best rain gear for fishing we have listed above. 
The ripples on the surface caused by the rain, act as a 'camouflage' for the fish. So if you are fishing for example, for trout.
The trout will be much more active whilst it's raining because they are under the impression that predators can't see them because of the rain. If they are active and out of their hides… you are much more likely to get a bite.
How do I care for my fishing rain gear?
It's difficult to give advice on how to clean your fishing rain gear, when there is so many different material variations that are used. What might work for one material could damage or be useless on another.
If you are fishing frequently it's likely that your clothes will be dirty and in need of a regular wash. 
Some materials would be rendered useless if you put them inside of a washing machine. Therefore you must read the label carefully for the best cleaning guidance. It's common for clothing labels to tell you if they are machine washable or not.
If you are fishing in saltwater frequently it's important that you clean your clothes often. If they aren't overly dirty, just give your fishing rain gear a spray down with some water so that no salt water or chemicals remain sitting on the surface.
Conclusion – Best Rain Gear For Fishing
Fishing in the rain comes down to personal preference, some people find it even more relaxing than fishing in the sun!
And the added bonus of higher chances of being able to land more fish is an exciting prospect that can make fishing in the rain worthwhile. 
Even if you like fishing in fair weather, it's still worth carrying some fishing rain gear in your backpack. The last thing you want to happen is to hike half an hour, set up your rods and reels, and camp, for the heavens to immediately open and you get stuck with no rain gear. 
Finding the best rain gear for fishing shouldn't be a difficult task, as long as you follow our guidance in the buyer's guide, you should be able to find some rain gear that is perfect for you.
Alternatively, any of the choices on our list will serve you very well! 
Finding the best waterproof fishing clothes does involve a little research and effort to read through all of the specifications, sizing, and customer reviews.
But it's better to spend more time looking to find the perfect rain gear which might last you years to come.
Once you have made up your mind and chosen the best fishing rain gear, you can throw it in your bag and head out to cast your line knowing that you are going to be fully protected from the elements and any bad weather that comes your way.
Happy Fishing!
Other common fishing items you will need:
Other Fishing posts: