10 Best Ice Fishing Chairs – Stay Comfy On The Ice
Ice fishing is a really fun outdoor activity; it is one of the fastest growing areas of fishing.
You drill a hole through the ice, cast your line and start fishing while sitting and waiting for a bite on your line.
If you're out fishing for an extended time, you may consider buying a very necessary piece of equipment when it comes to comfort; an ice fishing chair.
Top 5 Ice Fishing Chairs at a Glance
Fishing chairs provide you with that highly needed comfort and stability while fishing.
The reason many anglers look for the best ice fishing chair is that they get uncomfortable after hours of fishing.
With the best ice fishing chair, you will be able to relax and avoid any pain in your feet and back while standing for too long, it also allows you to enjoy your fishing trip for much longer.
Below is a review of the 10 Best Ice Fishing Chairs that we have put together for you, this list will help you decide the right chair that meets your needs.
10 Best Ice Fishing Chairs – Product Reviews
How to choose the best Ice fishing chair – Buyers Guide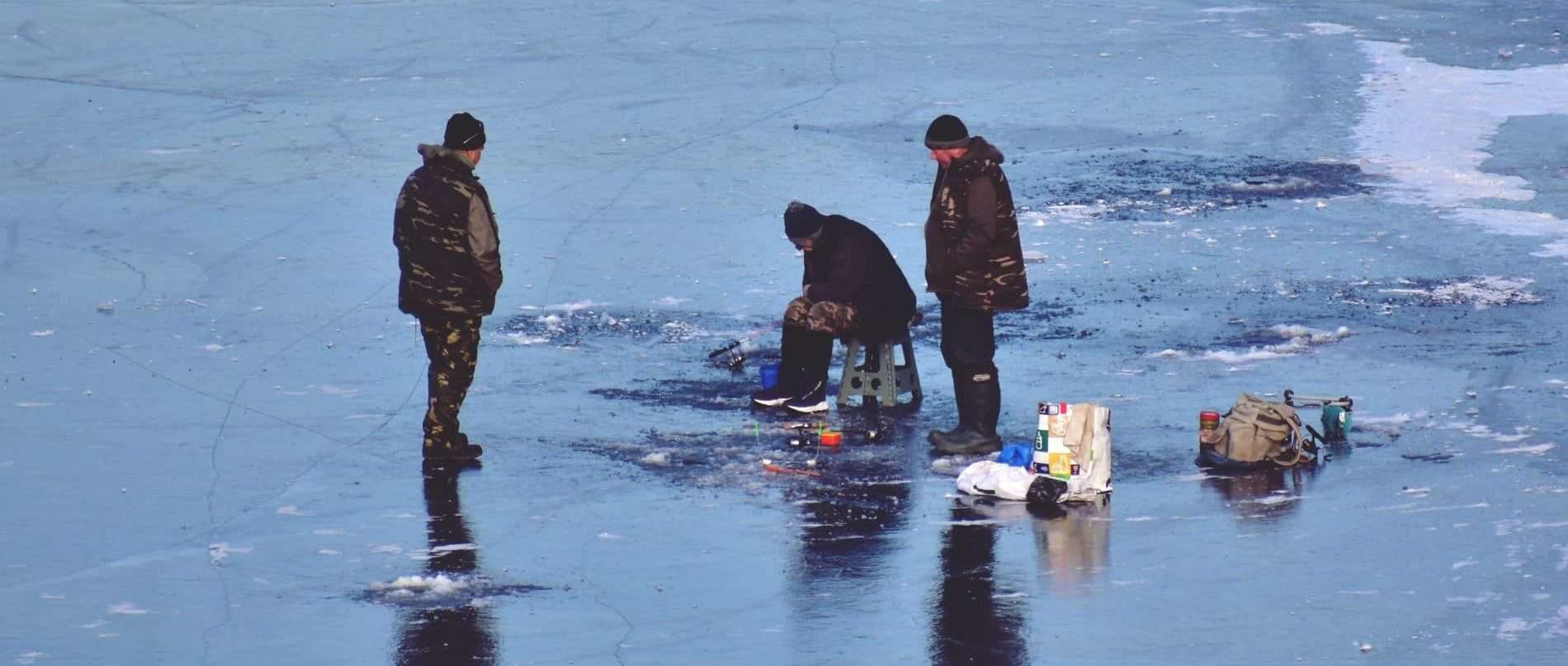 When you're looking for the best ice fishing chair, it is important to know a few key features before making a purchase decision so that the ice fishing chair meets your requirements.
There are literally hundreds of options on the market and trying to sift through them all can make anyone's head spin. That's why we have listed our top 10 picks and included the handy buyer's guide below.
Size and weight
The ideal size of the ice fishing chair is small (but still big enough to fit your comfortably) and its ideal weight is light, especially when you have to carry it on the ice all the way to the fishing hole and you already have all your fishing gear to carry with you.
If you buy an ice chair that is a bit heavy, it won't be easy to carry with all the heavy fishing equipment. You can consider buying an ice chair that is lightweight, easy to fold, and has padded straps for easy transport.
Storage
The ice fishing chair should be easy to fold and easy to open, it must not take too much space in your storage whether it's in your car or at home, as you will be taking other heavy fishing gear as well.
The ice fishing chair should be made of durable material as folding and opening the chair puts stress on it over time.
The chairs with a tri-pod style have a slim frame that includes a bag that you can transport them in. It is ideal to have an ice chair that offers reliability and comfort and fulfills your portability and storage requirements at the same time.
Comfort
The most important feature of an ice fishing chair is comfort and that is also the main reason you buy a fishing chair.
As you will be fishing for long periods of time you have to make sure the seat adjust well to your size offering you maximum comfort, you can choose according to your personal preferences like having a tall backrest for your back support or extra padding in the seat and armrest that keeps you from getting tired and uncomfortable while you patiently wait for the fish to grab your line.
Materials
The material of the chair should be durable, waterproof and corrosion resistant as the chair will be exposed to some harsh elements.
The chair should be easy to clean and strong enough to hold plenty of weight and pressure, make sure the hinges of the chair are easy to open and close even after hours of being wet. Consider checking the material of the fabric to ensure its durability. 
Unique Features
The best ice fishing chair is quite often more than just a chair. It may also be equipped with storage spaces in the form of a backpack or a bucket, you can easily store extra items while on the go.
Some chairs come with insulated cooler sections which are great for keeping your food, drinks, and even fresh fishing bait cold. 
There is a couple of chairs on our list which also double up as a backpack, they have straps that allow the chair to be carried on your back and the storage pockets act as a backpack would.
Frame Material
The frame of the material should be durable and strong as it's what supports your weight. The best frames are usually made of Aluminium and stainless steel as they are both durable and corrosion resistant materials and Aluminium is lightweight. 
Portability 
You want to look for an ice fishing chair that is portable yet comfortable. Lightweight fishing chairs and the ones that do not take too much space in your trunk are highly recommended, it should be easy to transport as you have your other fishing accessories with you and you will be moving from place to place along the ice.
The chairs with a slim structure can be carried with ease while offering functionality at the same time. They also come with adjustable extra padded shoulder straps that provide comfort.
Best Ice Fishing Chairs – Conclusion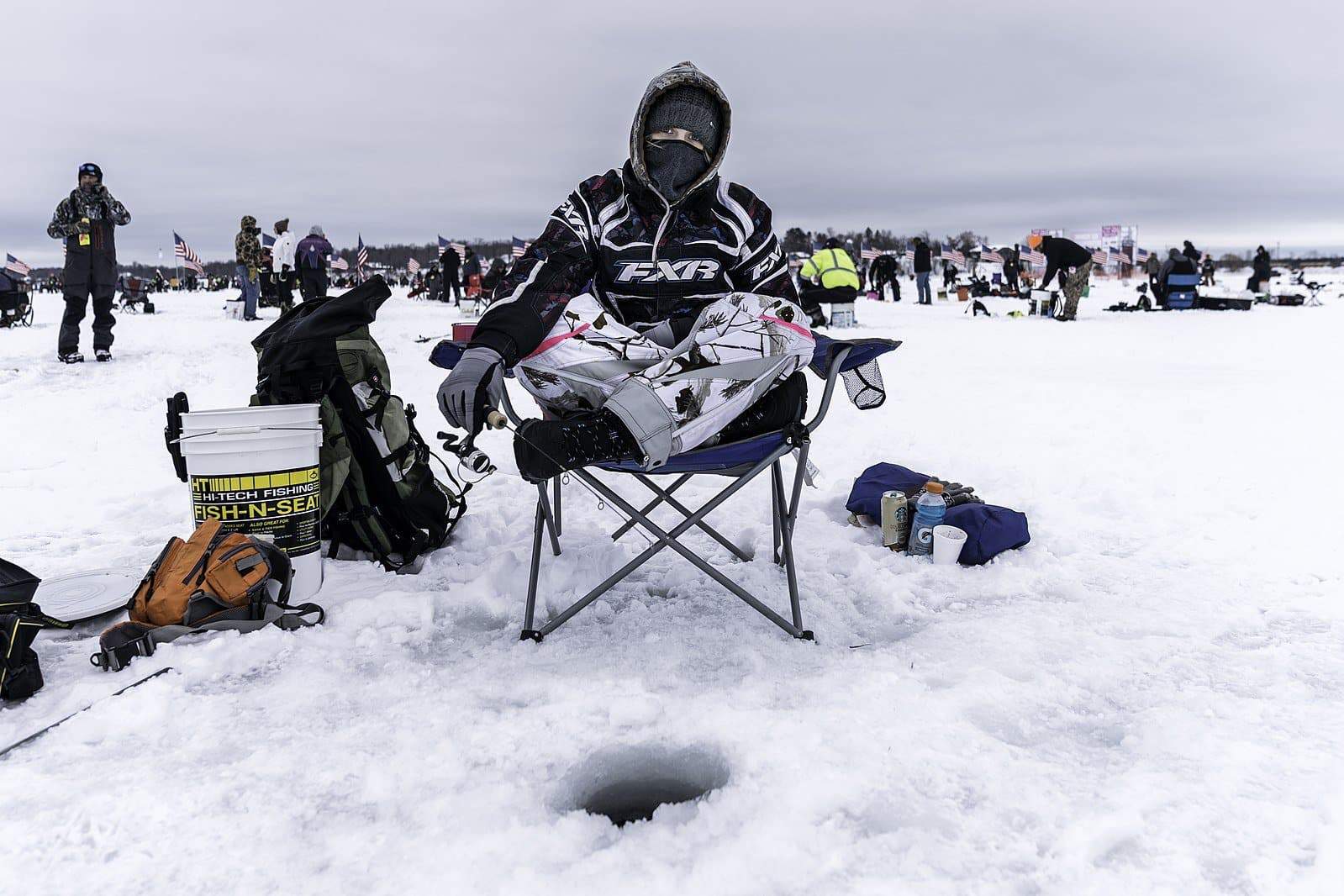 Ice fishing is a sport that takes place in extreme weather conditions, with all the important fishing gear you carry, you must also have the Best Ice Fishing Chair which is one of the essentials for your ice fishing trip.
We truly hope that our reviews and buying guide above helps you in deciding the best ice fishing chair for your next ice fishing trip.
Fishing takes patience and perseverance to catch fish so you definitely need to invest in an ice fishing chair, so you can spend hours on the ice without getting uncomfortable.
You now have enough knowledge about its features that you will be able to select the best chair according to your needs and preferences. Happy Fishing!
Other Ice Fishing Equipment You Will Need:
Related Fishing Posts: