Kayak Truck Racks – Best Options & Buyers Guide
When you begin searching for kayak truck racks, you quickly realize how many options and different variations there are on the market.
Kayak racks for trucks can differ in material, size, weight capacity and the actual make and model of the truck they are compatible with. Trying to sift through all of the options can take a long time, and ultimately confuse most people.
Below, we have outlined our top picks for the best kayak truck racks and compiled a buyer's guide to help you make better-informed buying decisions.
Kayak Truck Racks at a Glance:
Solid kayaks that require a truck rack, aren't the cheapest piece of gear in the world. Making sure your investment is transported properly and safely is crucial, not only the kayak but also protecting your truck is important as well!
Using a high-quality kayak truck rack will ensure transporting your kayak is simple, quick, and worry-free. Getting your craft to and from your favorite kayaking spot will never be easier. No more strapping it down to your roof!
Below we will dive into different kayak racks for truck options that are suitable for different situations. Let's dive right in!
Best Kayak Racks For Trucks
Extra Accessories
Kayak Racks For Trucks – Buyers Guide
There is a ton of ways to transport your kayak in/on your truck, whether it's in the bed, across the back, or on the roof. You can even get creative and not use a kayak rack at all.
Your choice of kayak truck rack is largely dependant on how comfortable you are with modifying your truck, some solutions are semi-permanent and can be left on year-round. Some solutions aren't bolted to your truck and can be attached/detached as needed.
Types of Kayak Truck Racks
Truck Bed Racks
Truck bed racks are one of the most common and secure options for kayakers looking to fit a permanent transportation system into their truck. Most of these racks will bolt into the bed rails and can be left on permanently.
You can also use your bed racks for carrying other long and heavy loads, such as timber, furniture and building materials.
Truck Bed Extender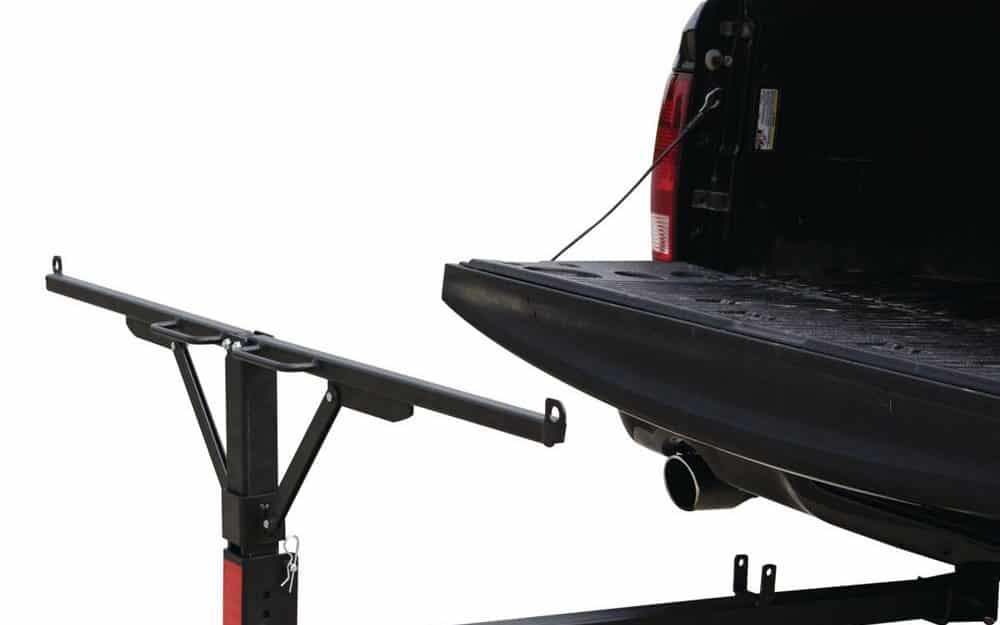 Truck bed extenders are a great choice for anyone who doesn't want to semi-permanently alter the look of their truck.
Plus, you also minimize your injury risk as you will never have to lift your kayak above your head. Simply, lift the kayak onto your truck bed, and slide the rack into place.
Truck bed extenders might also be referred to as hitch racks, this is because they easily install onto a standard two-inch receiver hitch. They usually also pack away fairly small and can be stored in your truck.
Roof Mounted Racks/Truck Topper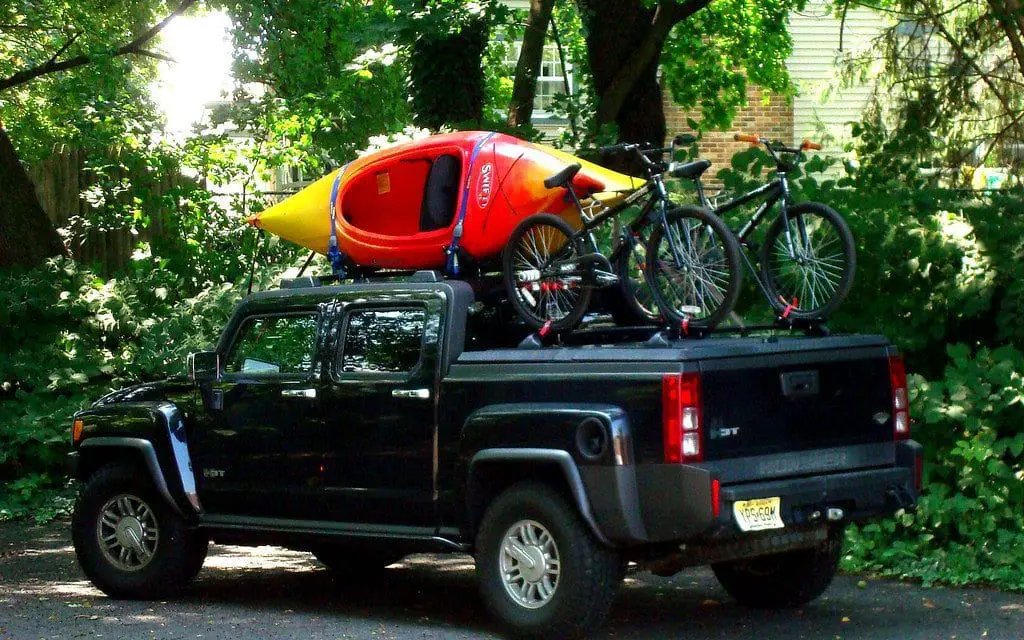 Kayak roof-mounted racks are probably the easiest option to install. They are usually horizontal bars that lay across existing truck roof racks. It's a good option for a recreational kayaker that only goes out a few times a month or year.
The only downside to roof racks is that they often require pre-installed roof rails on the truck.
Weight Capacity
The weight capacity of your kayak roof rack is one of the most import considerations you have to make. It's important that you know the exact weight of your kayak(s) before purchasing a roof rack. You can either weigh them yourself, or get the information from the manufacturers website/brochure.
Kayak racks are usually built to support a lot of weight, so as a good rule, try to get a rack that can at least support 50-100lbs more than your maximum carrying capacity, it's better to be safe than sorry!
Aerodynamics
Until you have driven either a large flat-sided vehicle or your truck with a kayak on, it's difficult to understand how much of an impact it can be whilst driving.
You'll be slower, have worse fuel economy, and feel a pull when you are driving in strong winds. Therefore, it is best to choose a rack that is as aerodynamic as possible.
If you can see this being a big issue, sometimes it's best to opt for a truck bed extender for your kayak, as it won't increase the surface area of your truck from head-on (the kayak will lie in the truck bed).
Tying the kayak down
Regardless of what kind of kayak rack you opt for, you wil still need to securely fasten the kayak to the rack/cross bars.
The last thing you want to happen, is that your kayak becomes loose mid-journey and finds itself tumbling down the highway. Not only is this likely to destroy your kayak, but it also causes risk to other drivers and yourself.
The best way to tie a kayak down is by using ratchet straps that have a high break strength. Make sure to use the designated strapping loops (common on most kayak carriers) and wrap them around your kayak to secure it tightly.
You should always strap the kayak down at more than one point, usually using straps over the bow, stern and center is the best choice.
Before setting off on your journey, double-check that there is little to no movement in your kayak. It should feel solid once in position.
Kayak Truck Rack FAQs
What kind of roof rack do I need for a kayak?
The kind of roof rack you need for a kayak can vary depending on your truck or car. You can opt for any of the truck racks we have listed above, alternatively you can use soft foam pads, rollers, or J racks for your kayak. Most options will need pre-existing vertical or horizontal roof bars fitted.
Alternatively, you can transport a kayak without a roof-rack.
Should kayak be transported upside down?
Kayaks can be transported upside down, or upright. But the type of kayak you own is the deciding factor on which you go for. If you have a solid polyethylene or rotomolded kayak (most recreational kayaks), then it can be transported upside down.
However, if you have a composite kayaks should always be transported upright, mounted on the hull using cradles or rollers to prevent damage.
Can I put two kayaks on top of my car?
Yes, you can put two kayaks on top of your car, but you have to make sure they are tied-down correctly and that your kayak truck racks can support their weight. You also have to abide by the laws in regards to how far out the front, back, and sides of your vehicle your kayak can hang.
How far can stuff hang over my truck?
Under the Federal Size Regulations law, the DOT allows trucks to overhang a cargo by:
3 feet over the front, this is common sense, ideally, you don't want it even overhanging by this much.
4 feet over the rear of the truck. If you have to hang your kayak more than 4 feet over the rear you have to attach a red flag to the kayak to make it more visible. If you are driving at night, a red light is also a good option.
You can overhang your kayak and other items 4 inches over the sides. Any more than this and your handling is affected and you might endanger other drivers passing you.
This can change from state-to-state, you can find more info here.
Is a kayak rack better than a kayak trailer?
In our opinion, we believe that a kayak rack is better than a kayak trailer for a few reasons.
Firstly, a kayak rack usually costs less. This is simply because they aren't as big, they are produced from fewer materials and don't require any lights or indicators on the rear. And, for the difference in price, they basically perform the same function.
Secondly, they take up less space. The rack is on top or inside of your vehicle – it's out of the way. A kayak trailer needs to be stored somewhere when not in use, and that'll take up space on your driveway or in your garage.
Thirdly, kayak truck racks are utilitarian, especially if you get a truck bed rack. You can use it for hauling other gear which might include building supplies, ladders, mattresses, and more.
Whilst some trailers will allow you to do this, dedicated kayak trailers with kayak brackets are usually only good for kayaks, paddleboards, and canoes.
The only time a kayak trailer might come in useful is if you are transporting many kayaks, canoes, or paddle-boards at once. With a truck rack, you might be able to squeeze 2 or 3 kayaks on the roof or in the bed at a push.
Final Words
Choosing the best kayak truck racks isn't that easy, we know all too well how many variations, options, shapes, and sizes there are on the market. All this info can soon send your head in a spin and you never end up buying anything.
But, that's exactly why we have created this guide, to break it down for you in simple terms, and give you our picks for the best kayak truck rack.
Remember, to always double-check the sizing of your truck bed, and that you have sufficient room to utilize either bolts or mounting brackets to attach your truck rack. Alternatively, you could get creative and use soft pads/pool noodles or build your own rack!
Latest Posts: