7 Best SUP Paddles For Your Next Adventure
Whether you want to go paddle on a calm lake or catch waves at the beach, whatever you want to do, having the best SUP paddle is important for your making your time on the water easier, and more enjoyable.
Stand up paddleboarding (SUP) is a water sport where the boarder stands on a paddle board that floats on the water and uses a paddle to propel themselves forward.
SUP lets you enjoy the outdoors whilst getting in a full-body workout. Unlike kayaking where you are sat down, paddle-boarding requires the activation of your leg and more of your core muscles.
The best SUP paddle is made of fibre-glass, carbon-fibre, and aluminium material and it should have a wide paddle as it gives more stability and power through the water.
Below we have come up with a list of the best SUP paddles that are lightweight, durable and affordable, and made up of the best quality construction.
Let's dive right in!
Best SUP Paddles at a Glance:
Best SUP Paddle – Product Reviews
How to choose the best SUP paddle – Buyers Guide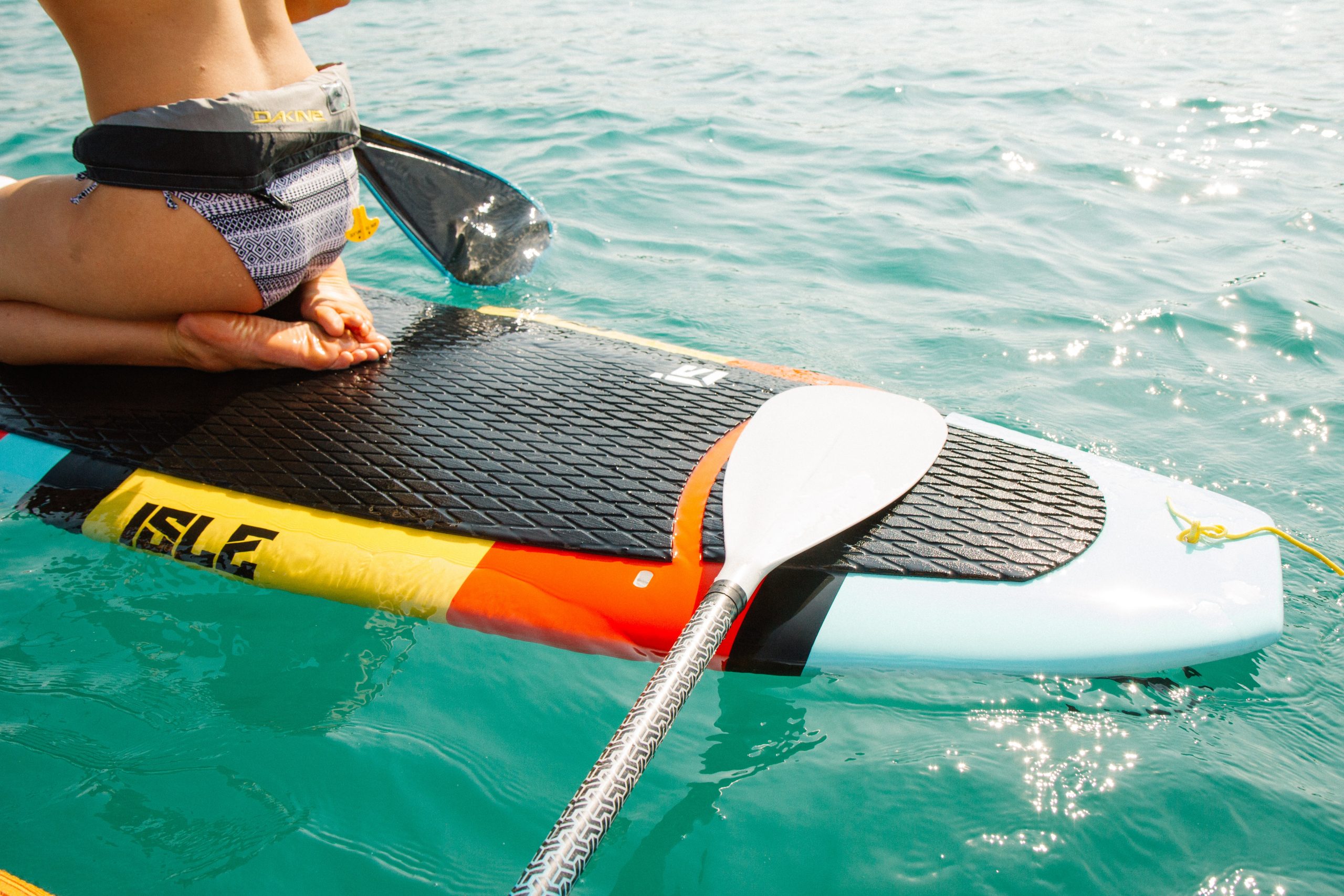 When you want to buy the best SUP Paddle but aren't sure which is the best choice for you, don't worry we're here to help you out. Let's discuss a few features that'll help you make the best decision.
Material 
Material is the most important thing to consider as it directly has an impact on the weight and price of the SUP paddle.
You need to opt for a material that is light in weight as lifting a heavy paddle will tire you out.
The material of the paddle should also be stiff as it is more efficient. Carbon fibre is the lightest and stiffest material but the most expensive option.
The stiffness of the carbon fibre results in powerful strokes to the blade of the paddle. Fibreglass is lightweight too, but it is less stiff than carbon fibre, it transfers fair power to your strokes and it is more affordable.
Aluminium is affordable and lightweight as well, but it is not as light as carbon or fibreglass. It's an ideal choice for beginners.
Length
Length plays the key in role when it comes to proper form and efficiency in paddling.
It is important to select a paddle that is of the right length for you, if the paddle is too long it will be hard to use and if it's too short you will have to bend.
If you want to go surfing, you may need a paddle that is a bit shorter and if you go for racing then you may opt for a long paddle for powerful strokes.
There are 2 types of paddles: Adjustable-Length – These paddles are best and you can easily adjust the length of your paddle according to your needs; you can also share it with any of your family members or friends.
Non-Adjustable Length – These paddles are lighter and stiff as they cannot be adjusted which is sometimes a good thing if you are after the best durability and power however it can be difficult to find the right length for your height and body shape.
Blade
The blade of the SUP paddle is the part that you dip into the water when you're taking strokes.
The shape and length of the blade affect how the paddle performs through the water. The blade comes in two shapes: tear-drop and rectangular.
The tear-drop shape is wide at the bottom so you end up pushing water immediately which is preferred by the surfers who enjoy powerful strokes.
The rectangular shape is narrow at the bottom, so you end up with less surface area of the blade. It promotes gentle strokes with a high cadence.
When it comes to length, large blades are more powerful as it allows you to move more water to speed quickly, and mall blades are more efficient as it allows to pull the blade easier but it moves less water in each stroke.
Ultimately it comes down to your personal choice. All of the blades on our list are ideal for almost any scenario and will all perform well. 
Storage
Storing your SUP (stand up paddle board) paddle in a proper way is very important for the life and good performance of the best SUP paddle.
Some of the best ways we found are storing it on a SUP rack off the ground, the rack can be installed either inside your house or even outside, but indoors is recommended as it keeps your SUP paddle protected from the UV rays, heat, cold and moisture.
You can also store them in your garage or shed on a wall rack. Steel frame racks are also ideal for storing your SUP paddle as they can hold a lot of weight and prevent damage.
If you have a 3-piece paddle, you can store it disassembled if it's not in use.
Weight
If the paddle is heavy, it will be hard for you to make strokes.
And the lighter the paddle, the easier it will be to make strokes through the water and it also requires less energy to lift the paddle whenever you make a stroke.
You can easily save your energy by using a lighter paddle and cover longer distances without tiring out your muscles.
Heavyweight paddles are not as efficient to paddle and they ride low in the water. Ultimately, the lighter the better in our eyes.
Different SUP Paddle features explained: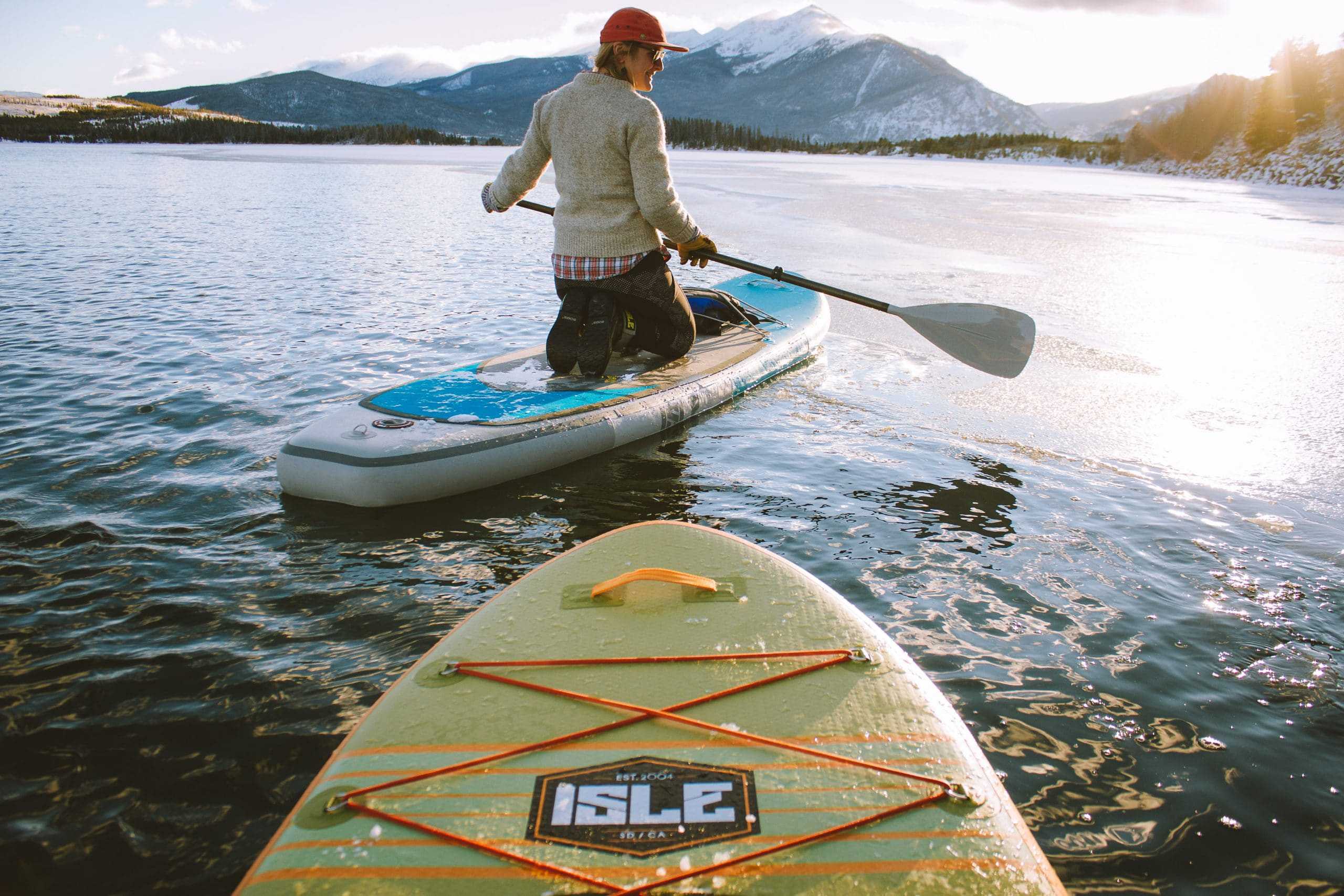 Shaft
The shaft is the long and narrow part of the paddle where the hand is placed. The material of the shaft can be textured or even smooth, however, a smooth shaft can be a bit slippery so a textured shaft is a better option that provides good grip.
Shafts are made of aluminium, carbon fibre or fibre-glass. Aluminium is the cheapest and heaviest shaft material whereas carbon fibre is the lightest and a material that provides rigidity to the shaft.
Many of the paddles have a blend of carbon fiber and fiberglass which gives enough strength, moderate weight, and affordability.
Blade
The blade is the wide and bottom part of the paddle that you put it the water while taking strokes. The blade comes in different sizes and shapes.
The novice paddlers usually prefer a large blade as it allows you to glide through the water easily and quickly. A small blade moves less water but it's easier to pull through because of less effort and you are also able to preserve your energy for long tours.
Blade Offset 
The blade offset is the degree to which the blade angles forward from the shaft. The power you get out of each stroke depends on the size of the angle as it affects how vertical the blade is as it moves through the water.
There are some offset recommendations of different styles of paddling. If you go surfing it's about 7 degrees, for all-around paddling, it's almost 10 degrees, and for SUP racing, about 12 degrees.
Grip
With a good grip of your best SUP paddle you can make the most of your strokes and paddle faster while having more fun.
Just relax just your grip and curl your fingers just enough so that the paddle does not slip out of your hands, in this way your wrist and forearm stay relaxed and get extended reach which makes paddling easy for you.
Ergonomics 
The ergonomics are important to consider when it comes to choosing the best SUP paddle; some of the paddles are designed with ergonomic handles that improve the efficiency of the strokes by maximising the comfort level and also the control. The handles may also be equipped with rubber in-lays for increased grip.
Best SUP Paddle – Conclusion 
Choosing the best SUP paddle is not always a straightforward task, there is many different features and requirements that make up, what initially looks like a simple piece of kit.
Not only can they be complicated, but there are literally hundreds of options to choose from on the market which can only make the decision that much harder for anyone. 
But, that's exactly why we have put together this guide to provide insight into how we choose the best sup paddle and also to give our top recommendations which are suitable for all experience levels.
We truly hope that this guide has helped you choose the best sup paddle for you to use on your next outdoor adventure. Happy SUP boarding!
Related Boarding Posts: