If you are not using the best kayaking gloves then your hands can take a real beating when out on the water. From the cold, icy water, to the paddle – there are various factors that could lead to injuries to your hands and make for a much less enjoyable experience.
The last thing you want is blisters between your thumb and forefinger when you are out on your kayaking adventure as it can be very painful and may ruin your experience.
There is a solution to prevent these injuries from happening and make a much more enjoyable and comfortable experience – Kayaking gloves.
Although it may seem easy to choose a pair of gloves, it isn't quite as simple as just choosing a pair that fit. We are going to make it much easier to find the best kayaking gloves that are right for you and your needs.
Best Kayaking Gloves at a Glance:
Best kayaking gloves for warm weather
Top Pick
1. KastKing Sol Armis Sun Gloves UPF50+ Kayaking Gloves
Key Features:
UPF 50 PROTECTION – These gloves are specifically designed to provide you with a rating of UPF 50 which will protect you from harmful UV rays. 

COMFORT – The KastKing Sol Armis Fingerless gloves for men and women are designed to provide a comfortable, snug fit perfect for kayaking. These fingerless gloves provide you with full dexterity and grip.

BREATHABLE – Made from a breathable poly-spandex fabric, these gloves will keep you cool and comfortable all day long. The 4-way stretch fabric offers a snug fit that won't affect your dexterity.
MICROFIBER PALM & PULL TABS– Microfiber reinforced primary wear points on the palms help extend the life of your gloves as well as extra padding. Integrated pull tabs on the cuff and middle finger make it easy to pull on or take off your gloves.
PRYM1 CAMO & MACHINE WASHABLE– "BE THE PREDATOR" with American born Prym1 Camo, KastKing is proud to partner with Stacie Walker a wildlife artist and founder of Prym1 Camo. The Sol Armis gloves are also easy to clean, simply machine wash in warm water.
Next Best
2. Palmyth Stubby UV Kayaking & Fishing Gloves
Key Features:
COMFORT- The Palmyth stubby gloves are half finger gloves with shortened fingers and shortened wrist to increase flexibility meaning you can keep these gloves on all day long and retain maneuverability and dexterity. These gloves are great for those who want the protection but not the bulk. 
UPF 50 Protection- Certified UPF 50+ Protection is woven into the fabric, keeping your hands protected all day.
GRIP & PROTECTION- Full synthetic leather palm and non-slip silicone fishes pattern reinforced palm for a better grip and durability: better grip on paddles as well as protecting your hands from blisters, calluses and insect bites.
BREATHABLE- These gloves feature a stretchy, lightweight, breathable, and quick-drying fabric that actually keeps your hands cool and dry. 
FINGER-TIP PULL TABS- Pull tabs are featured on these gloves to make it easier to wear or remove, even when the gloves are wet. 
MACHINE WASHABLE- These gloves are machine washable meaning you can keep the feeling and looking new even after strenuous activity.
3. Riverruns Fingerless Kayaking Gloves
Key Features:
UPF 50 PROTECTION: The River Runs ¾ length fingerless gloves provide UPF 50 protection meaning over 98% of UV are blocked to protect your hands from sun damage.
COMFORT- These gloves boast to have ultra-comfortable Ice Elastic breathable fabric as well as 3/4 finger length to promote manoeuvrability and dexterity when paddling.
GRIP & PROTECTION- Specifically designed to promote grip and boost protection, the leather adds increased friction when holding the paddle whilst also increasing the durability of the glove. 
FINGERTIP & WRIST PULL TABS- The finger-tip pull makes it easy to wear or remove the gloves, even when wet.  
BREATHABLE- With moisture-wicking, cooling and quick-drying properties- these gloves will keep you dry and comfortable all day.
Best Winter Kayaking Gloves
Top Pick
1. BPS 3mm Neoprene Full Finger, Kayaking, Paddle Sports & Scuba Gloves with Anti Slip Palm
Key Features:
WARMTH- The BPS Double-Lined Neoprene gloves are made from 3mm Neoprene, perfect to keep your hands warm in the colder months. With glued and stitched seams, a rubberized palm grip pattern, and an adjustable wrist strap you are guaranteed comfort, warmth, and protection. 
MOVEMENT- Due to the easily adjustable wrist closure, various sizes, and design- these gloves allow your hands to move more freely and lessen hand fatigue. 
 GRIP & PROTECTION- The grip textured palm will protect your hands and help you handle the paddle when Kayaking. As well as improving grip, this texturized palm also doubles as protection to prevent injuries to the hands. 
WATERPROOF- The double-lined 3mm Neoprene material means these gloves will keep your hands dry and warm all day long- alongside the adjustable wrist closure to minimize water coming in.
FIT- These gloves are available in extra small to double extra-large so there is a size for everyone. Also, you will receive e-guide providing instructions to help you wear your Neoprene Wetsuit Gloves.
GUARANTEE- Buy with complete confidence, all BPS products are stored and shipped quickly and reliably to you. All BPS products come with a 'next-level guarantee' for 12 months. So if you encounter any quality issues, the gloves can be replaced.
Next Best
2. WOOWAVE Gloves 3mm Premium Double-Lined Neoprene, Suitable For All Diving & Paddle Sports
Key Features:
WARMTH- The Woowave premium double-lined neoprene gloves are designed to keep you dry and warm- with 3mm of double-lined neoprene, this is exactly what these gloves do. The high-quality design includes glued blind stitching which improves seam quality.
DURABLE- Glued blind stitching also improves the durability of the gloves, as well as the rubberized anti-slip grip, textured palm. The rubberized palm takes the brunt of any wear or tears meaning the gloves will last longer.
COMFORT- The pre-formed shape ergonomic designed to mimic the natural position of the hands provides a flexible feeling and the easily adjustable velcro wrist closure means you can get a watertight fit every time.   Gloves are available in X-small to XX-large so there is a size for everyone. Please check the size chart to ensure a great fit.
GRIP & PROTECTION- The rubberized anti-slip grip textured palm will protect your hands while kayaking.
FIT-  Available in X-small to XX-large, these gloves are available to everyone. The informative sizing chart allows users to choose a size that would make the best fit. 
GUARANTEE- Buy with confidence with WooWave- all products come with a 1-year quality warranty and a money-back guarantee.
Budget Pick
3. Soulern Neoprene Gloves, Kayaking, Diving, Paddle Sports
COMFORT- The Solern kayaking gloves are constructed with 3mm premium double lined Neoprene which is healthy, elastic, and durable. The rubberized design will protect your hands from blisters, cuts, or scrapes and ensure you have a more comfortable kayaking experience. 
WARMTH: Neoprene is a thermal material which promotes warmth, this alongside the glued and sewn seams prevent water from getting in- in turn keeping your hands warm.  
GRIP & PROTECTION: The hi-grip textured palm helps provide secure handling of the paddle at all times as well as protecting your hands from injuries
FIT: There is a size for everyone as these gloves can be adjusted to ensure you get the perfect fit. A size guide is also available to help you choose the best kayaking gloves which will fit you perfectly.
GUARANTEE: There is a full purchase price refund within 30 days if you are not satisfied for any reason. After 30 days, there is a 1yr full replacement warranty for any manufacturing defect.
4. ZCCO Neoprene Gloves 3mm, Double-Layer Thermal Gloves, with Elastic Wrist and Skid Resistance Particles For All Water-sports
Key Features:
COMFORT- The ZCCO High-quality 3mm Neoprene Kayaking gloves are designed to promote comfort when handling the paddle, as well as keeping hands dry at all times.
FIT- The unique design adds flexibility, making the gloves easier to put on and take off, and the adjustable velcro wristband improves the tightness of the wrist cuffs.
GRIP & PROTECTION- These gloves are made with non-slip particles which promote grip and protect your hands from blisters. 
WARMTH- All seams on these kayaking gloves are glued and blind stitched for superior strength and durability- by minimizing cold water inflow, you can keep your hands warm and comfortable. 
How to choose the best kayaking gloves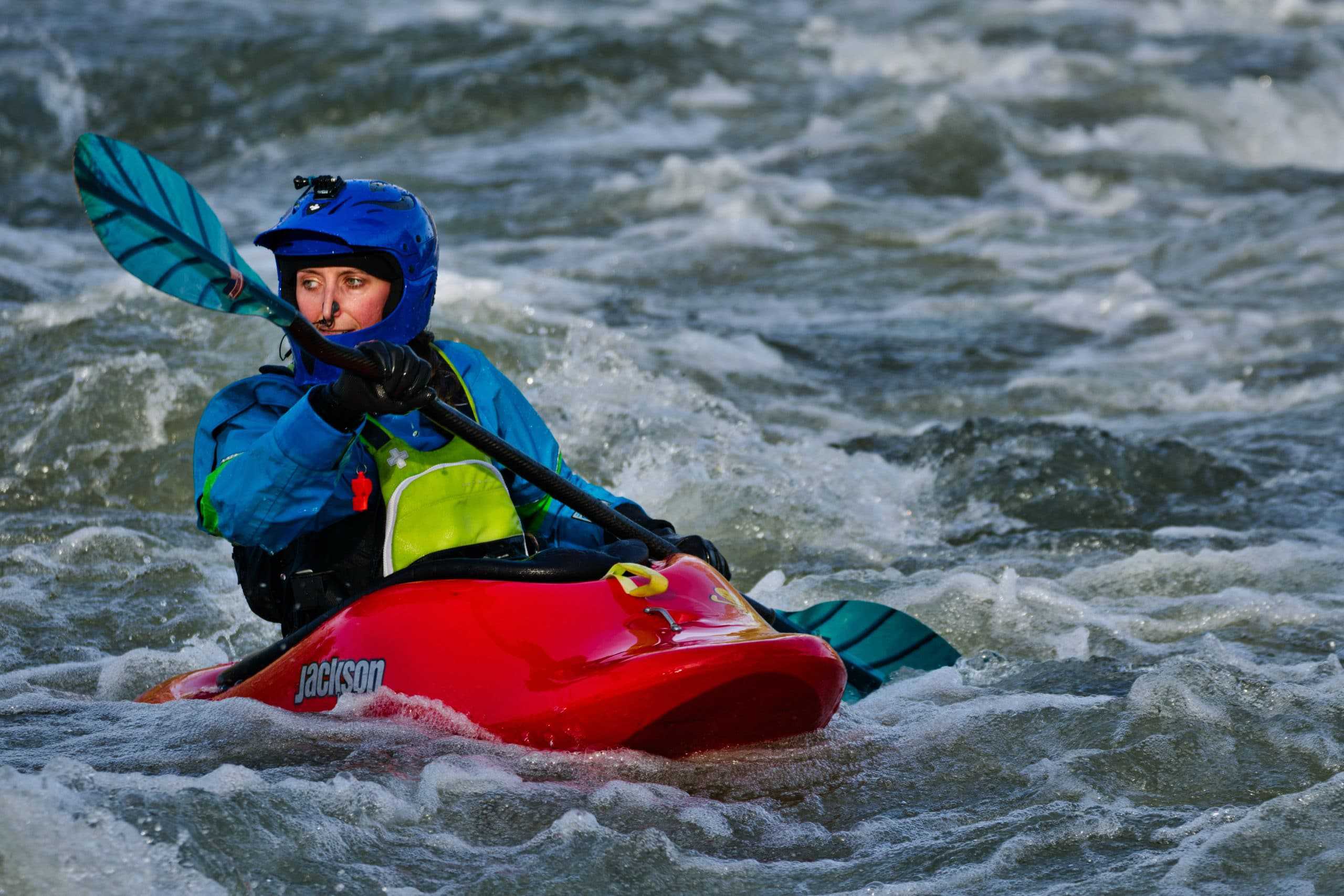 Material
When choosing a pair of kayaking gloves, you should always choose the correct material for you and your needs.
The best kayaking gloves for warmer weather are made from spandex and lycra as they have a lightweight protection against the sun and with added padding, can stand up to the abrasion of paddling. Due to their lightweight properties they do not offer protection from cold weather or water.
Neoprene is the best material for cold weather kayaking gloves. This is the same material wetsuits are made of so it provides you with warmth as well as physical protection.
You should take into account the thickness of the neoprene, the thicker gloves don't always mean the best.
Cold weather – Gloves thicker than 3mm can restrict movement in your hand due to them being stiff but they will keep you warm in colder waters/weather, gloves which are pre-formed to the relaxed position of your hand to ensure better movement in the hands, essential when kayaking. The best kayaking gloves for cold weather should be 3mm or under, any thicker and they will be too thick to be practical.
Warm weather – The best kayaking gloves for warmer weather usually have a thickness of 1-2mm and ideally go for a fingerless option when the temperatures are higher. This will enable you to remain cool as well as protecting your hands and allowing you to move your hands more freely.
For some people, the added extra of synthetic leather or similar tough materials on the palm to protect from blisters by providing cushioning but some experts feel this may compromise your grip.
Why is fit so important?
A glove should, of course, 'fit like a glove'- if this is not the case then you will not be able to fully reap all the benefits the glove provides. Having a glove that is too loose can increase your likelihood of getting blisters due to the added friction. You also should not wear gloves that are too tight, this can reduce circulation and actually prevent your hands from staying warm.
Always ensure your gloves are a good fit before heading out on the water-
Gloves are usually sized at the palm but other areas are just important. Ensure you check your gloves fit nicely at the knuckles, wrist and fingers- this will allow you to get the most out of your gloves.
Getting the most out of your kayaking gloves
To get the most out of your gloves, you must look after them. Although it sounds contradictory, good quality gloves can wear out quickly.
This is because your gloves are taking a beating instead of your hands, a good glove which allows movement should be supple. But this also means a good glove cannot be made from really tough materials- your gloves will wear quickly, but there are ways to make them last longer.
To extend their life you can apply a thin layer of Aquaseal repair between the thumb and forefinger as this can provide more protection and durability at this high-abrasion point.
Rise after use –  After use in saltwater, you should always rinse your gloves in fresh water and hang them to dry- this will prolong the life of the gloves and help keep them in good condition. If you are using waterproof neoprene then a quick rinse of the outside of the gloves should keep them in good shape.
Conclusion: Best Kayaking Gloves 
Having the best kayaking gloves will make your time on the water much more enjoyable. You will be able to maintain a tight hold on the kayak paddle, even if you get soaked. Kayak gloves also allow you to venture out on the water in winter – one of the main things that prevents this, is cold hands. Just make sure you know what to wear kayaking.
To recap, our top pick for the best kayaking gloves for warm weather was the KastKing Sol Armis Sun Gloves UPF50+ Kayaking Gloves.
The top pick of the best kayaking gloves for cold weather was the BPS 3mm Neoprene Full Finger, Kayaking, Paddle Sports & Scuba Gloves with Anti Slip Palm.
Other related kayaking posts: