If you're an angler, you'll know that getting an extra edge on the fish can really improve the quality of your fishing trip. Whether it's the latest and greatest rods, reels and lines, we always have you covered. But what about the best underwater fishing camera?

Nowadays, with the advent of so many digital products, underwater fishing cameras has been added to the list as well, which helps the anglers see what is below in the depths and have maximum opportunities to make a big catch.

The Fishing Cameras give you a visual representation of the underwater world; you can easily monitor the visuals on your smartphone or on the camera itself.

Whether you're looking for the best underwater fishing camera to improve your fishing skills or determine the type of fish is close by, make sure that the device promises visibility in lowlight and many other features we are going to get into.

Let's dive right in!
Best Underwater Fishing Cameras - Product Reviews
Best Underwater Fishing Camera
1. Aqua Vu Micro Stealth 4.3 Underwater Fishing Camera
The Aqua-Vu Stealth 4.3 Underwater Camera takes our top spot as it is an affordable choice that still offers high performance with upgrades.
The view screen of the 4.3 Stealth screen is really bright and sharp allowing it to be seen in sunlight. The LCD screen is 4.3 inches with high-resolution camera optics, showing fine details and high-quality pictures of the underwater environment, which makes it easy for you to identify the fish species.
The Aqua-Vu micro camera features integrated autoactivated infrared lighting that makes it possible for you to identify water terrain even in penetrating dark and dirty water. This fishing camera is waterproof and also features waterproof magnetic charging ports.
As expected with a fishing camera it is rated to IP67 and therefore is protected against accidental drops in the water and dust/sand.
Main Features
Micro camera with full colors and super-wide 153° view
Colorful High-resolution LCD of 4.3 inches
Built-in rechargeable battery
50' of cable marked with depth indicators
IP67 waterproof rated
Next Best Underwater Fishing Camera
2. MOOCOR Underwater Fishing Camera with 5" LCD Monitor
The MOOCOR Underwater Fishing Camera is one of the best in its class for some of the amazing features it has to offer.
This fishing camera has a 5-inch screen with 800x480 super high resolutions that deliver high-quality live video with crisp and clear images. It allows you to record videos and take photos of the incredible landscapes that you find underwater.
The MOOCOR fishing camera is equipped with a 1000 TVL HD display and a view angle of 130° that delivers a panoramic view underwater. It has a large and durable monitor with built-in 8GB memory for your videos. It also includes 4 pcs infrared lenses that have night vision and also LED lights that allow you to view the monitor even if it dark.
It gives you the convenience of adjusting the brightness of the light as it supports 3 levels. It comes with a rechargeable battery that runs for 8 hours after a full charge.
Main Features
It has a 5 inch HD display
Adjustable wide-angle lens 130°
4 pcs Infrared night vision technology
IP68 waterproof rated
High-resolution (800x480)
Works 98 feet underwater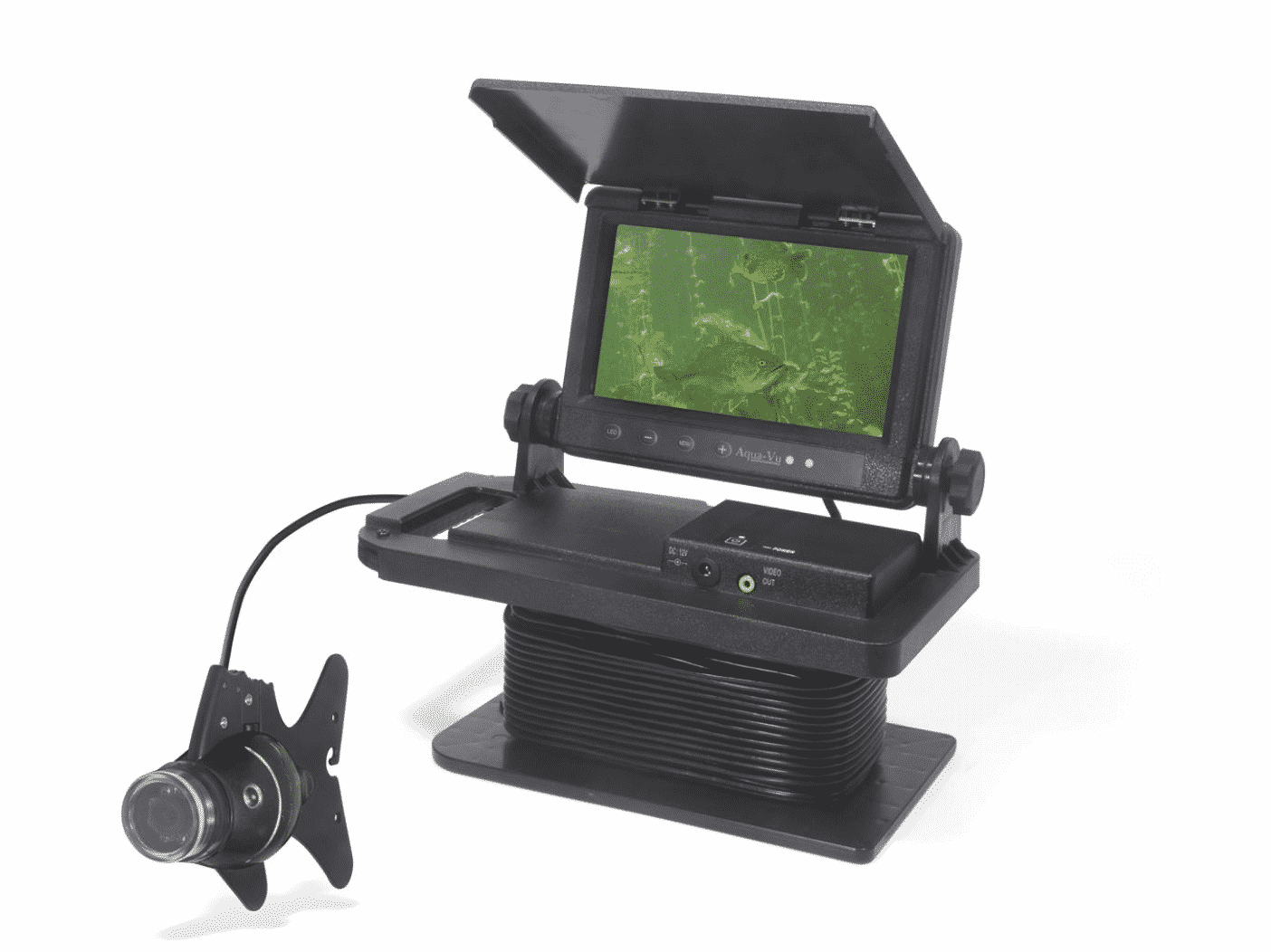 3. Aqua-Vu AV715c Underwater Camera System Sonar Fish Finder
The Aqua-Vu AV715c is a great affordable option when it comes to underwater fishing cameras. It is an advanced viewing system that is easy to use. It offers many amazing features that will not only give you an enjoyable experience but it will also be extremely handy and functional.
The AV715c features a color and high resolution 7 inch LCD display that includes video out and an integrated screen protector. The color CMOS camera is fit in the new XD camera housing that includes an adjustable LED Lighting system. T
his fishing camera is equipped with 50 foot long cables that are waterproof and weatherproof and able to withstand the extreme pressure of fishing, with the long length of the cable you can be sure that you are able to fish deep into the water.
It comes with a 12V 7-amp rechargeable battery and a charger. You can also get a custom bag for the camera.
Main Features
Colorful high-resolution camera
Includes an IR lighting system and attachment system
Made of waterproof material
The monitor is IP67 rated for excellent waterproof performance
Includes a custom storage bag
Best Budget Underwater Fishing Camera
4. Eyoyo Portable 7 inch LCD Monitor Fish Finder
The Eyoyo Underwater Fishing Camera is a portable and versatile device. It is simple to control and is lightweight. The Eyoyo fishing camera has a 7 inch LCD that displays full colors with 800x480 pixels.
An 8GB SD card is included with it, which allows you to do a live recording of your fishing. It includes a sun-visor that is ideal for use in bright environments, it can also be removed. This fishing camera is equipped with 1000TVL HD which gives a really crisp and clear picture of the underwater world.
It comes with 12 pcs of infrared LED lights that increase visibility during the dark and murky waters. It includes a carrying case, the suitcase is made of a waterproof material which is portable and you easily carry it anywhere offering convenience. The lithium battery life of the camera is up to 8 hours when it's fully charged.
Main Features
7 inch LCD display
Includes 12 pcs infrared LED lights
High-resolutions (800x480)
Waterproof and weatherproof
Lithium battery runs up to 8 hours
5. LUCKY Underwater Fishing Camera
The LUCKY Underwater Fishing Camera is recommended to be used in clearer waters for optimal performance. It can be used for various underwater sports like fishing, diving, and swimming giving you great underwater live views and footage.
This fishing camera has a 4.3 inch LCD that displays full colors with high resolution and 300,000 pixels to video. It includes buttons that allow you to record and take pictures while playing back video and viewing pictures at the same time.
It also features 4 infrared LED lights that allow you to do live recording even in the dark with low visibility underwater environment. It comes with a 66 feet cable which is durable and strong that allows you to record in deep seawater for up to 4 hours on a single charge.
Main Features
Full color 4.3 inch LCD display
Underwater views up to 66 feet deep
300,000 pixels to video
The monitor can be fixed on your fishing kayak or boat
Colorful camera with IR lighting
6. MarCum Mission SD Underwater Viewing System
The MarCums Mission SD Underwater Camera combines the information of depth, temperature, battery status, and its relative camera direction readings with Sony Super HAD II advanced optic system, which is an incredible device that produce super clear images with a low-light capable image sensor.
The Mission SD has a 7 inch full LCD display with 800x480 pixel resolutions that display really fine on-screen details. The on-screen display has information on the monitor about battery life, depth, and temperature of the water.
It also features Solar Intelligent Technology that offers you a 100% daylight view no matter how dark it is underwater. With Color Kill Technology, you have the option to decide to switch between colors or black and white mode. It also has a video-out jack that you can easily attach to monitors or your recording devices.
Main Features
7 inch colorful widescreen LCD display
High-resolution (800x480) pixels
Color Kill Technology allows you to switch colors
Solar Intelligent Technology gives you an amazing viewing experience
75m of underwater cable
1-Year Manufactures Warranty Guaranteed
How to choose the best underwater fishing camera
To find the Best Underwater Fishing Camera you must know what important features to look for so you can choose which product is the best for you. The fishing camera helps you identify the best spots for fishing as you are able to see under the water surface and even get a glimpse at the species of fish you are likely to catch.

Let's dive into how to choose the best fishing camera:
Camera weight, size & ease of use
When you're choosing the best underwater fishing camera, the weight and size of the camera should be one of your top priorities. As you're already carrying heavy fishing gear with you, make sure that the underwater camera is lightweight as carrying a camera with a heavy weight might not be suitable with other fishing equipment.

Nowadays, it's easy to find cameras that have compact sizes and easily fit into a pocket or a small fishing backpack; you should definitely opt for a compact camera that provides you with ease of use and convenience in terms of portability.

Try to find a fishing camera that comes with a storage bag that you can carry easily adding to your comfort. You must make sure that the underwater fishing camera that you choose should be easy to use with a simple user interface. If you are regularly using your camera whilst ice fishing or on choppy seas - the simpler it is to use, the better.
Durability
When you're purchasing an underwater fishing camera, you must make sure that its weather proof and able to withstand extreme weather conditions.
Try to opt for a fishing camera that is resistant to cold temperatures and pressures of ice fishing as well.

The durability of the device is reflected through the material, whether it's waterproof or able to withstand accidental drops and hitting surroundings like rocks in the underwater surface or if you accidentally drop it, or carry it with other fishing equipment in the same bag. For these reasons, you must make sure that the construction of the camera is sturdy and durable.

Whether you have a fishing backpack or not, it's a bonus if the camera comes in a soft or hardshell carry case to help offer the protection it needs.
Waterproof rating
The most important feature to look for in an underwater fishing camera is its waterproof rating, the camera must be able to withstand the pressure of the water and it's temperature as well.
Before making a purchase make sure it has a solid construction offering durability and protects the internal parts of the camera from the water.

It's unlikely that you are going to have any issues with the cable and actual camera lens section of the device, however the waterproof rating - usually IP67 or IP68 mainly applies to the body of the camera where the LCD screen is housed.
Screen resolution & screen visibility
When it comes to screen resolution, you can make the decision of purchasing an underwater camera depending on the kinds of waters you will be fishing in. as well as the brightness level of the underwater environment.

If you're fishing in dark waters, you must make sure that the camera is equipped with LED lights and if you're fishing in bright environment you can go for sun visors, which make it easy for you to view the screen.

Usually higher resolutions are better as they will offer more clarity and detail in your underwater pictures and videos. This is ideal for making sure you can detect and identify the species of fish which you have spotted.
Battery Life
Battery life is one of the most important features to consider when buying a fishing camera. Many of the fishing cameras have a battery life of 6 and 8 hours that gives you the confidence that you can survey the waters for long durations without any problem.

It's difficult to find any fishing cameras that go beyond 8 hours, but if you are using the camera on a boat with a power supply, the camera can always be plugged in or charging during use.

And remember, that you won't always have the camera in the water for the entire trip. Once you have identified the best fishing spots, you might bring the camera lens back up to the surface and turn the camera off. So in reality, it will last much longer than 6-8 hours.
Cable Length
The cable length makes sure that you reach deeper into the waters, with a cable that has a long length you are able to survey greater depths of the underwater world.
But you must keep in mind that the deeper you go into the water the more pressure will be present, so ensure the camera lens can handle it.

Chances are, if the camera comes with a 75m cable for example, the camera will also be able to handle depths of up to 75m.
Best underwater fishing camera - Conclusion
The technological advances these days allow you to see the underwater fishing environment with a handheld device.

The underwater fishing camera is a really handy device not just for professional fishermen but amateur and fishing enthusiasts too. It lets you discover the underwater world and even allows you take high quality images and record videos of your fishing experience.

Most anglers use fishing cameras to locate the best fishing spots and most importantly the species of fish dwelling there. This can save a lot of time in the long run and lead to more catches throughout the day.

I hope you make the most of your fishing trip with this device and also hope that our above mentioned reviews help you decide which is the best underwater fishing camera for you according to your needs and requirements.

Happy fishing!
Other fishing gear you may need: