Best Kayak Trolling Motors: 5 Reviews & Buyers Guide (2023)
Not only does kayak fishing take a lot of skill, but it also requires high-quality equipment. You might already have a fishing kayak, rod and reel, PFD, and fishfinder. All that's missing to take your fishing game to the next level is the best kayak trolling motor.
Sometimes anglers will need to cover a lot of distance. For these circumstances, a trolling motor mounted on the back, front, or side of your kayak is ideal. It will not only help you cover more water, but you will be less fatigued at the end of the day.
Selecting the right kayak trolling motors takes some expertise, there is a handful of specifications and features that you need to be aware of. That's why we have put together this buyers' guide with our top picks and product reviews.
Best Kayak Trolling Motors at a Glance
What is a kayak trolling motor?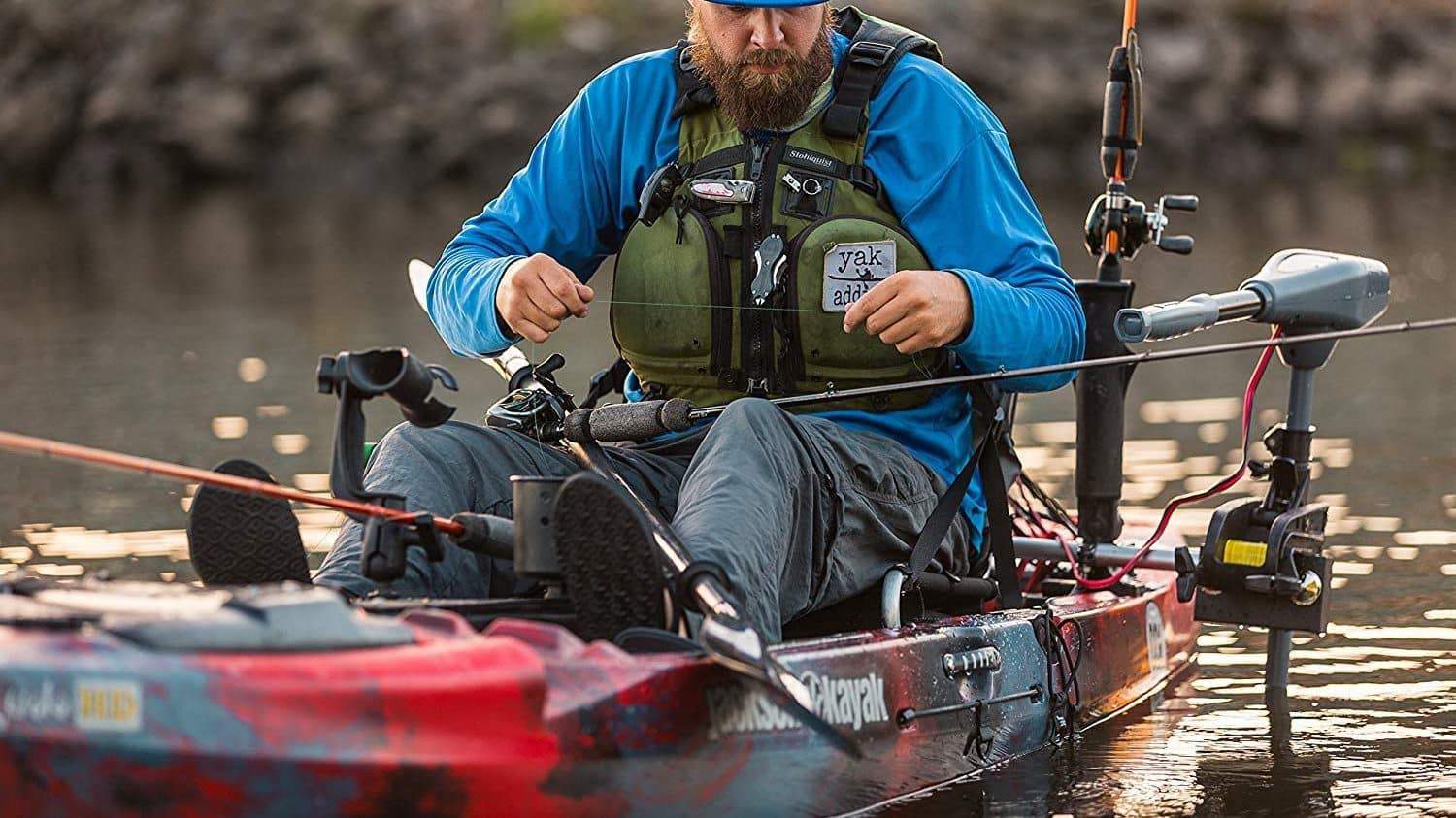 Trolling motors are small, quiet, and efficient electric motors that are mounted either at the stern, or bow of the kayak. Stern (rear) mounted trolling motors are usually hand-controlled, whereas motors mounted at the bow (front) are typically controlled using your feet.
Foot-controlled motors are great for keeping your hands free whilst fishing allowing you to focus on handling your tackle and gear whilst still propelling the kayak forward. It is worth noting that bow-mounted trolling motors tend to be the more expensive option.
Whilst foot-controlled motors sound like a great option, they are more expensive, require more set-up (extra wires need to run to the front of the kayak), and are harder to control compared to a tiller handle.
We like to keep things simple when it comes to kayak fishing, therefore we have only recommended tiller handle operated kayak trolling motors, as they are the best option for most people.
Product Reviews – Trolling Motors For Kayaks
Best Kayak Trolling Motor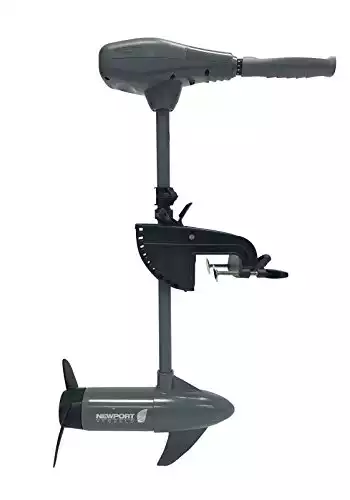 Newport Vessels Kayak Series 55lb Electric Trolling Motor
The best option on our list is the Newport Vessels trolling motor. This particular motor has been designed specifically to be attached to a kayak and has an ideal shaft length of 24" to suit most kayak transom mount kits.
The shaft has a height adjusting collar, so you can lower the shaft for the ideal trolling depth.
There are 8-speed options to choose from, with 5 forward and 3 reverse settings.
The NV series 55lb thrust Kayak Series trolling motor is powered by one 12-volt Deep Cycle or marine battery, with 5'6" battery cables that provide enough length for various battery positions.
The bright blue, 5 LED battery indicator ensures you know how much run time is left on your current battery charge. And the telescopic tiller handle allows for easy operation and maneuvering (we like to keep things simple!)
All Newport Vessels trolling motors are produced from the highest quality materials to ensure a long lifespan. Built with saltwater corrosion-resistant materials including stainless steel, a sacrificial zinc anode, fiberglass composite shaft, and a fiberglass reinforced nylon propeller.
Key Specifications:
Thrust: 50lb
Shaft Length: 24"
Power: 12V
Speed: 5/3
Transom to Waterline: Adjustable with 24" shaft
Total Weight: 23lbs

Next Best Trolling Motor For Kayak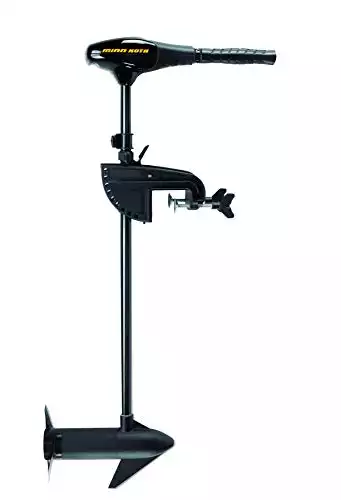 Minn Kota Endura C2 50lb Freshwater Transom Mounted Trolling Motor
Our pick for the next best kayak trolling motor goes to the Minn Kota Endura C2. Minn Kota has been producing a variation of this trolling motor for years, and it's one of the best in the game. They have innovated and re-designed all of their best sellers to produce the Endura C2.
It is tiller handle operated, which in our eyes keeps things nice and simple. You can rotate the lower unit 180° by only moving the tiller 45°, this allows for a greater range of steering response with less effort.
The speed input is 5/3 (5 FWD, 3 REV), the variable speed motor allows you to dial in your exact speed, and only deliver what power is needed, helping you conserve battery and allows for a full day of fishing.
The Endura C2 features Minn Kota's quiet power, which is a unique bearing system that produces low rpm with high torque. This cuts down on fish-spooking noise.
The shaft length comes in 36" or 42", so you can pre-measure where your mounting point is and gauge the correct length for your kayak. The shaft is produced from composite material which is stronger than steel, flexes on impact, and won't corrode.
Key Specifications:
Thrust: 50lb
Shaft Length: 36" or 42"
Power: 12V
Speed: 5/3
Recommended Max Boat Length: 20'
10-16" Transom to Waterline: 36" Shaft Length 

Best Value For Money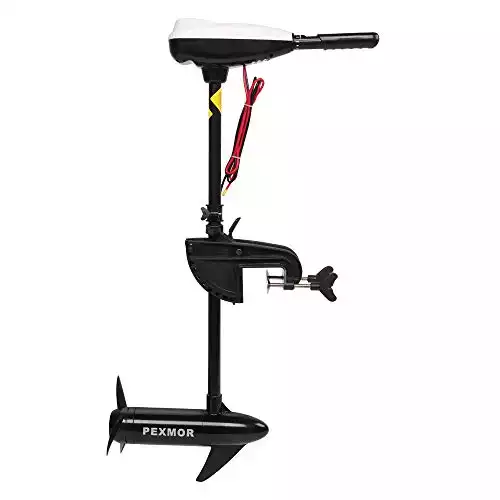 Pexmor 36lb Transom Mounted Kayak Trolling Motor
This Pexmor trolling motor is a great value pick. It has similar features and build-quality of much higher priced motors, whilst still delivering 36lb of thrust which is enough for most kayak anglers.
The total shaft length is around 34", which initially seems long, but the transom mount is fully adjustable, so you could have the propellers at pretty much any depth you need dependant on the conditions.
1-10 LED light indicators to let you keep track of the battery's capacity, so you'll never end up stuck in the center of a lake with no power!
Tiller handles are the simplest option for power operation, we like to keep things simple whilst kayak fishing, and this handle is telescopic and adjustable by 6", which gives you plenty of options when it comes to the mounting position.
Another feature we really like is that you can adjust the shaft angle with the press of a button, which gives you lots of freedom to adapt to different water conditions.
With a fiberglass composite shaft and durable Aluminum head, this trolling motor is durable and most importantly corrosion-resistant (both salt and freshwater compatible).
Key Specifications:
Thrust: 36lb
Shaft Length: 34"
Power: 12V
Speed: 5/3
Transom to Waterline: Adjustable with shaft
Total Weight: 25lbs

Trolling Motor With Kayak Bracket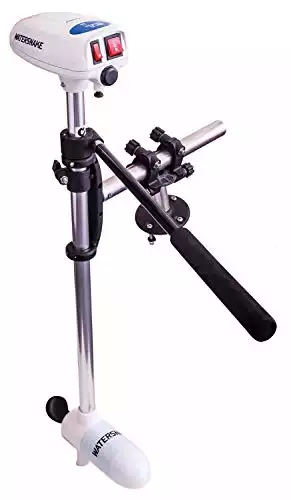 Watersnake T24 12v Electric Trolling Motor with Kayak Bracket
This particular model makes our list, as it gets rid of all worry about how you are going to mount your trolling motor to your kayak as it comes with its own kayak bracket that is easily mounted onto any hard shell kayak.
The Watersnake T24 is an extremely portable and lightweight electric kayak trolling motor, it weighs a very impressive 4.85lbs! It's roughly 20% of the weight of other brands. Therefore, if you are using a lightweight kayak then this might be a great choice for you.
It features 24lbs of thrust, which is less than most other models, but still more than enough for a lightweight set-up.
The shaft is 24" long and features an adjustable mount fitting, that allows you to further adjust the depth of the propellers in the water.
We really like the simple design of this kayak motor, with an adjustable tiller handle and button controls on the head which allows you to adjust speeds and forward/reverse motion.
Key Specifications:
Thrust: 24lb
Shaft Length: 24"
Power: 12V
Speed: Variable with Fwd/Rev Options
Transom to Waterline: Adjustable with 24" shaft
Total Weight: 4.85lbs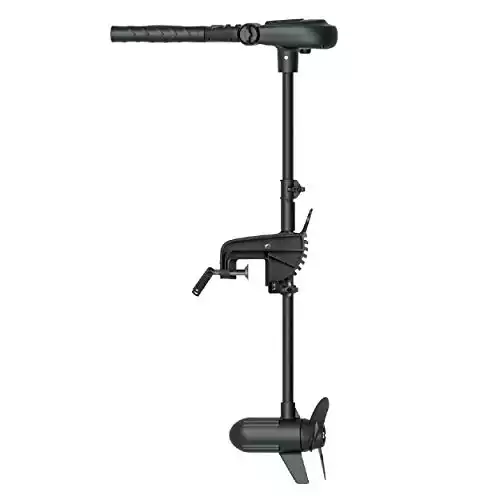 AQUOS Black Haswing 12V 65lb Electric Trolling Motor for Kayaks
This motor can deliver an impressive amount of power, delivering 65lb of thrust. This makes it ideal for bass boats, pontoons, and larger/heavier fishing kayaks.
You can easily use this trolling motor to find the right control and easily dial into your desired trolling speed whilst fishing - adjustable speed motors allow you to conserve battery energy (you can also view the LED power reader for checking battery life).
The available shaft length is 24.6" and is fully adjustable using a quick lock, so you can alter the propeller depth depending on your water depth and condition.
The motor is brushless, which not only gives the motor a longer lifespan but also reduces the noise, which reduces your chances of spooking the fish whilst approaching your fishing spot.
It can be set up both in fresh water and saltwater, it is designed to have excellent corrosion resistance, using a sacrificial anode that protects important metal components.
Key Specifications:
Thrust: 65lb
Shaft Length: 24.6"
Power: 12V
Speed: Adjustable
Transom to Waterline: Adjustable with 24.6" shaft
Total Weight: 14.55lbs

Kayak Trolling Motor Buyer's Guide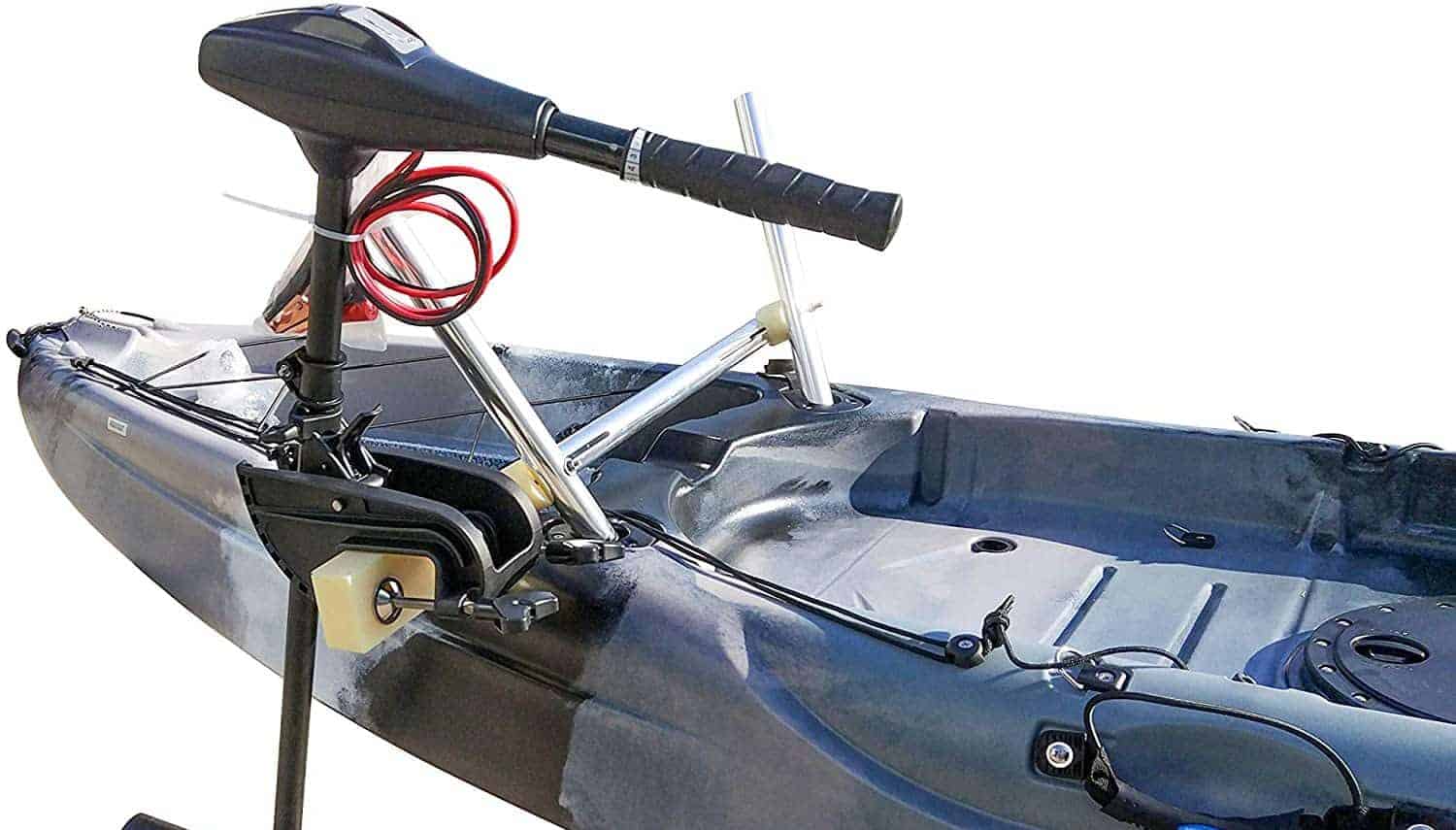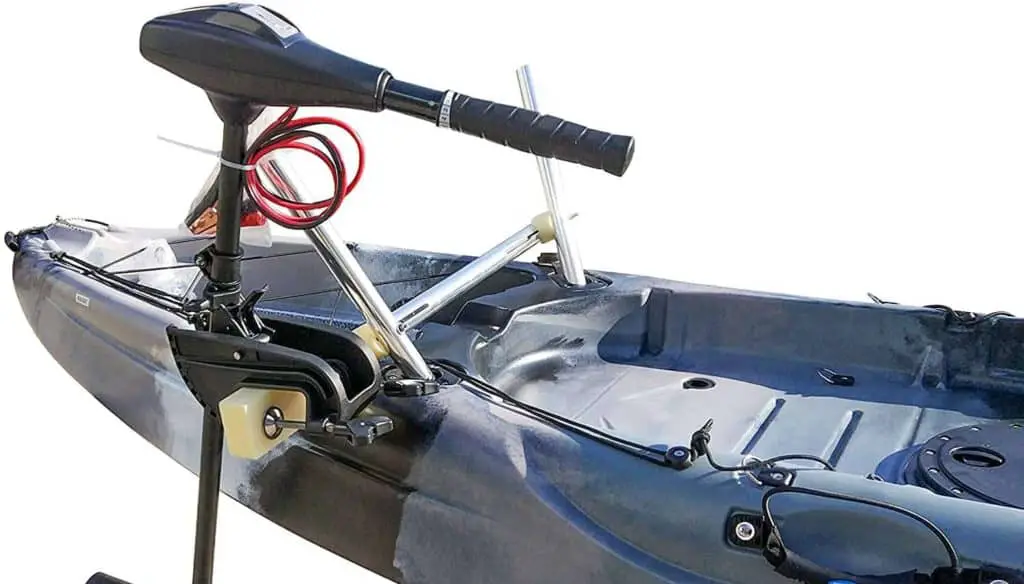 Why should you use a trolling motor?
Speed and water coverage: There is no doubt that if you can fish more spots, and fish more frequently, you are going to increase your chances of landing a catch. Some lakes are miles long, and would take all your energy and time to paddle from one side to the other.
Investing in a kayak trolling motor will allow you to cover more water quickly.
They're quiet: Unlike a gas outboard motor, trolling motors are electrically powered, and therefore almost silent. This will allow you to stalk closer to fish without spooking them.
It also allows you to slowly drag your baited line behind you without scaring the fish.
How much power does your trolling motor need?
You shouldn't come up against any issues when it comes to the power of your motor. Most trolling motors are designed to be used on small boats and pontoons which are much heavier than your kayak.
You need 2 lbs. of thrust of every 100 lbs. of loaded weight on your boat (people and gear included).
Most trolling motors for kayaks will have a max thrust ranging from 40lbs-100lbs, meaning that you could have a boat that weighs anywhere from 2000lbs-5000lbs and still be able to use your motor. Your kayak won't come anywhere close to this weight.
Batteries
Trolling motors are powered electrically and use power systems that are in multiples of 12 Volts. You will come across 12V, 12/24V, 24V, and 36V. The more powerful your motor is, the more electricity (and bigger battery bank) is required to power it.
A 12V system will take just one 12V battery, whereas a 24V system requires two, a 36V needs three batteries.
Kayaks aren't that heavy compared to a pontoon or bass boat, and therefore a single 12V battery-powered motor will keep things lightweight and still powerful enough to gain some decent speed in your kayak.
Mounting your kayak motor
Mounting your trolling motor onto your kayak can be difficult. This is because trolling motors are primarily designed to be attached to the bow or stern or bass boats and pontoons which have pre-installed mounting points.
You have a few options for your kayak. The easiest is to use a kayak that has a dedicated mounting point or comes with a trolling motor mount built specifically for that model of kayak.
The next option is to purchase a universal transom mounting system that can fit most kayaks. They usually fit into the scupper holes and provide a solid horizontal bar on which you can mount the trolling motor.
Another option is to DIY a motor mount. This is fairly straight forward and there is plenty of guides on YouTube detailing the different methods you can take advantage of. Below is an example.
Kayak motor speed settings
Most trolling motors will come with more than a one-speed setting. This allows you to turn down the speed and approach your fishing spot, slowly and quietly to avoid spooking the fish.
Using the motor at slower speeds will also help to conserve your battery levels and allow you to use the trolling motor for much longer.
Control system
The 3 main control systems for kayak trolling motors are foot-controlled, tiller-controlled (handle), or remote-controlled.
Foot-controlled systems are good if you want to keep your hands free for fishing whilst moving. However, they aren't the easiest control method to use, and we wouldn't recommend using them whilst you are stood on the kayak.
Tiller handles are the most common way of controlling the motor, they are very simple and reliable to use. You will need to use one-hand to operate the tiller, but it's likely you won't be casting whilst the boat is moving. If you plan to drag your live bait behind you, you can stop the motor and pick up your rod once you get a bite.
Some trolling motors will feature a control remote that is used to alter the speed of the motor. They are typically more expensive, and for the extra money, we prefer motors that don't need one extra item we can forget.
Shaft length
The shaft length of your motor can affect the performance and noise. One of the main considerations you will have to make when deciding on shaft length is how high is the motor mounted on your DIY set up or transom mount.
At the minimum, your propellers/shaft should be 12 inches below the surface of the water and up to 16 inches if you are planning on using the kayak in rougher waters e.g. the sea.
If your shaft is too small, you run the risk of creating too much noise or reducing your efficiency and thrust if the propellers are not fully submerged.
If your shaft is too long then you might struggle using the kayak trolling motor in shallower waters or near the shore.
How to select the correct kayak motor shaft length:
Attach your mount, or have a rough idea of how high your DIY mount will be.
Measure from the center of the horizontal bar to the water's surface. If you aren't in any water, estimate where the water line would be on your kayak.
Take that measurement and add 12 inches.
If you plan to be in rough waters, then add up to 4 more inches.
And that's it! This should give you a good idea of the shaft length that you need.
We have done this process numerous times on many kayaks, and therefore all of the kayak trolling motors we recommend have a shaft length that will be ideal for most people and most fishing kayaks.
Weight
The weight of all of your gear, motor, battery, you, and anything else you have in your kayak needs to be taken into consideration. Double-check the load capacity of your kayak and ensure that even with a 12V or 24V battery set-up and the weight of the motor that your kayak is still under the load limit.
For this reason, lighter motors tend to be the better choice for kayaks.
Legality of trolling motors on kayaks
Many states in the US require that any boat (includes kayaks) that is fitted with an engine, trolling motor, or is "motorized" has to be licensed/registered and in some circumstances include decals on the kayak.
Without knowing your state, it's tough to give a generalized answer of whether the rule applies to you or not. It's always best to double-check your state laws and comply with them before heading out on the water.
Electric Trolling Motor FAQs
Is it legal to put a trolling motor on a kayak?
Yes! It is legal to put a trolling motor on a kayak. However, in some states, once you rig the motor, the kayak becomes a "motorized vehicle" that requires you to license and register your watercraft.
What size trolling motor do I need for a kayak?
Most trolling motors are powerful enough to power a kayak. They are typically made for small boats and pontoons which are heavier than a kayak. As a general rule of thumb, you need 2lbs of thrust for every 100lbs in load (include kayak weight, people, and all loaded gear).
Do trolling motors scare fish?
Yes, trolling motors have the ability to scare fish. Anything that vibrates or makes a sound in the water can scare fish. However, electric trolling motors are designed to be as quiet as possible, to avoid spooking the fish and increase your chances of landing a catch – that's why electric motors, are preferred over gas outboard motors.
What kind of battery do I need for my trolling motor?
The battery is a critical element in your kayak trolling motor setup. We would select a 12V high-quality deep cycle marine battery with a minimum of 110 amp-hours ratings. The higher the amp-hour rating, the more battery life and run time you will receive.
Deep cycle batteries are designed to be run-down to low power and then recharged without reducing the effectiveness of the battery – this is not true for car batteries etc.
If you have a more powerful trolling motor that has a power rating of 24V, you will need two 12V deep cycle marine batteries wired in series to create a battery bank with 24V.
Final Words
Finding the best kayak trolling motor isn't always a straightforward task. There are literally hundreds of options on the market with different sizes, weights, power ratings, and control systems to choose from.
Utilizing trolling motors for kayaks is a great way to improve your overall fishing experience. You can cover much more water to try out multiple fishing spots in one day – all whilst conserving your energy without paddling!
If you are serious about kayak fishing, then purchasing a trolling motor can take your fishing game to the next level.