Intex Challenger K1 Review – Inflatable Kayak Guides
Intex Challenger K1 Review
We think kayaking is amazing. Imagine paddling down the river with your friends. The sun is shining, the water is clear and you've all secretly made plans to gang up on someone and splash them.
Or, if you prefer, you can paddle alone and see all the wildlife along the rivers and lakes, and even get to explore further out on longer trips and holidays.
With the Intex Challenger K1, kayaking has never been more convenient: it's inflatable, so it's easy to carry and store, and it's much more affordable than hard shell choices. So what makes this kayak stand out? Read on for a breakdown of the advantages, features, and everything else.
Overall Rating: 
Quality: 4.5/5
Speed: 3.5/5
Cost: 5/5
Ease of use: 5/5
View On Amazon
View Customer Reviews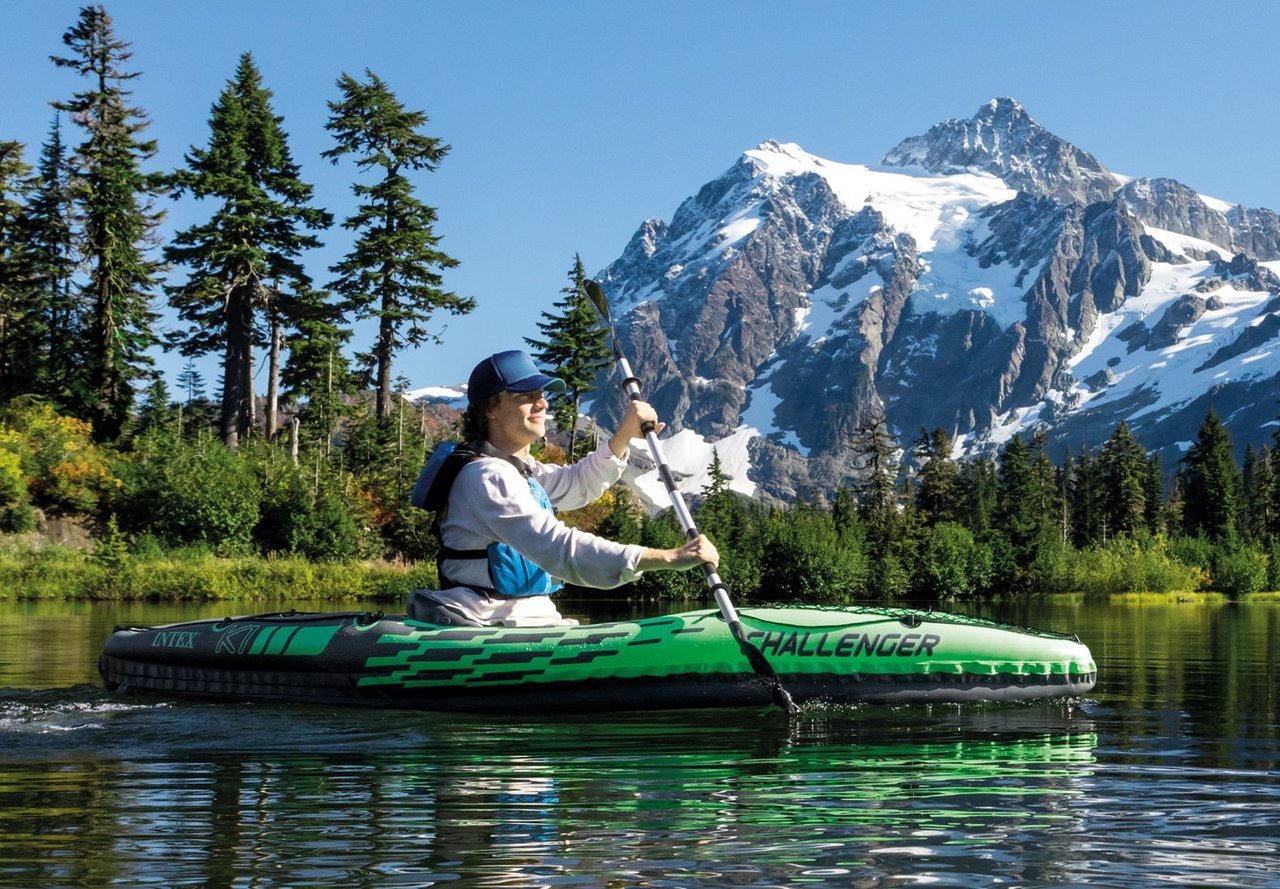 Intex Challenger K1 Key Features
Material/Construction
As you can see from the pictures, this kayak is suitable for one person, and is a sit-inside, which protects your legs from splashes and can help you feel more stable.
It also has an i-beam floor which makes the boat rigid in the water, and you can adjust the seat to make it hard or soft as you like.
The kayak is made from vinyl and built to be stable and efficient. Finally, there is a bungee net at the front of the cockpit so you can store any bags, picnics, or equipment and have it close to hand, and it has a dragline so if you capsize you'll be able to grab the boat more easily.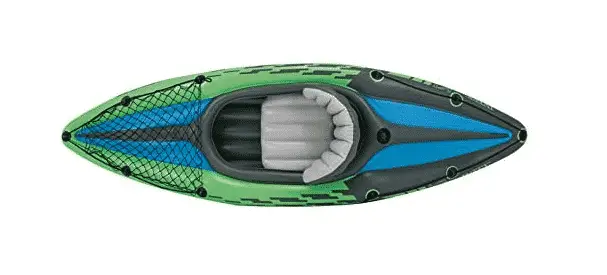 View On Amazon
View Customer Reviews
Durability
One question that a lot of paddlers have when they're looking into getting an inflatable kayak is 'will it pop?'.
Fortunately, this is rarely the case any more: the Intex Challenger K1 is made of a rugged laminated vinyl to prevent punctures, and it's been welded so the kayak can still hold its shape when you're on the water.
There can be issues, so it's always a good idea to check the kayak when you first get it and try to avoid anywhere with sharp rocks or thorns.
To protect the kayak when it's being stored and transported, you'll get a large black carry bag shaped like a briefcase that is made from tough material to avoid any damage and make everything more convenient.
Ease of Use
When looking at inflatable kayaks, you'll need to think about how you're going to actually inflate them.
The Intex Challenger K1 comes with a hand pump that is fast and easy to use, so you can be out and on the water as quickly as possible.
With practice, you'll be ready within 10 minutes. You can also deflate it fast, too, so you can be packed up and on your way home without too many problems.
The Intex Challenger K1 has Boston valves to make everything as easy as possible for you, and you can look into getting an electric pump if you want to save even more time.
Performance
We really like the Intex Challenger K1 and think that it's good value for money. However, we do need to acknowledge that this is an inflatable kayak and that does affect performance: it won't go as fast as a hard shell kayak, and will float on top of the water instead of cutting through it.
The Intex Challenger K1 does have a skeg to offset this, but it still won't be quite as efficient as a hard shell.
The other thing to think about is where you would like to use this boat. The Intex Challenger K1 is good for a calm lake, and can be used by children (under supervision) but won't work well on the sea or anywhere with rapids.
If you're a beginner, an ,amateur and just like a quiet paddle, this will be great for you, but it won't hold up for long journeys or under testing weather conditions.
Specs
Weight: 23.9lbsLength: 9ftWidth: 2ft 6inWeight capacity: 220lbs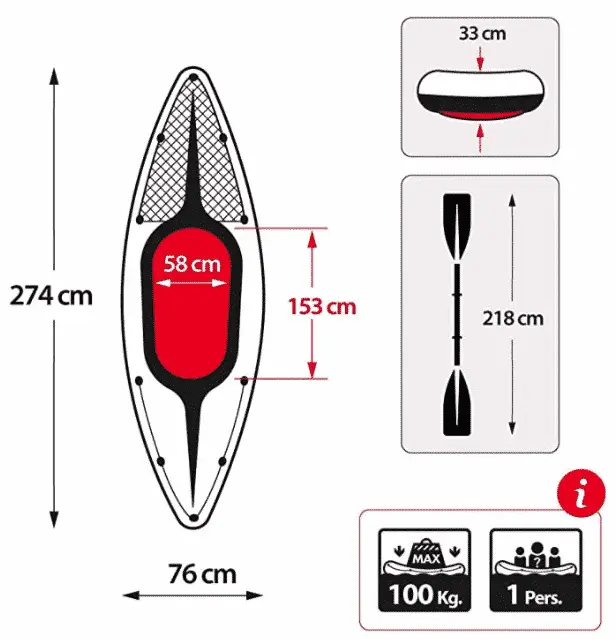 What's included with the Challenger K1?
1 inflatable kayak; 1 skeg; 1 pump with hose attachment; 1 measuring tape; 1 set of collapsible oars; 1 inflatable seat; 1 bungee net for storage when the kayak is being used; 1 instruction manual; 1 repair kit1 carry bag.
Intex Challenger K1 Review Pros & Cons
Pros
There are lots of good things about this kayak. Firstly, it comes with a pump, paddle, patch kit, and a bag to carry it in. It's a reasonable price but it'll still work well and, if cared for correctly, last for a long time.

Customers like the fact that it's lightweight because it's much easier to transport, especially if you're alone. Also, if you get the tandem kayak you can take another person (or better still, your dog) with you.
Cons
As we've said, this is an inflatable kayak so there are some issues with the kayak's performance.

You won't be able to take this for big adventures, and if you're serious about kayaking you'll probably outgrow it, fast.

There are also risks of punctures and leaks, and you should always check the kayak before you take it out on the water.
Intex Challenger K1 Review – Conclusion
The Intex Challenger K1 is a nice boat for a casual paddler. It's an affordable choice that won't last forever but will brighten up some sunny days and be fun.
There are a couple of good features that will help you paddle more efficiently, but essentially this is only a great choice for a recreational kayaker. 
We truly hope that this Intex Challenger K1 review has helped you make a well-informed choice as to whether the K1 is the perfect kayak for you. 
Happy kayaking!
View On Amazon
View Customer Reviews
Related Kayaking Posts: