Best Surf Fishing Rods: Top 5 Rods [Reviews & Buyers Guide]
In today's post, we are going to cover the best rods that can be used for one of our favorite forms of angling – surf fishing.
But, before you run to your local Bass Pro Shops and cast a line in the ocean, there are probably some things you should know before purchasing the best surf fishing rod, so keep reading in order to go prepared and no doubt shows off your surf fishing skills to anyone nearby.
Quick view the best surf fishing rod : 
Fishing is a pastime enjoyed by many with a passion passed down for generations upon generations. Something about just throwing out a line and seemingly outsmarting the little swimmer feels so connective to our roots.
Whether you decide to grill up the grub or kiss it and throw it back, fishing can be loved by anyone.
Within fishing, like any other hobby, pastime, or passion, there are many variants of the activity. Variants are there for those who may not like the regularity of one form and want something to be changed.
Whether it be pace, difficulty, or a switch of scenery to do it in a better place, there are many variants of fishing.
One of the versions seeming to grow in popularity is surf fishing, and it comes as no surprise considering how exciting and intense this variant can be.
Best Surf Fishing Rods – Recommended Products 
How to choose the best surf fishing rods – Buyers Guide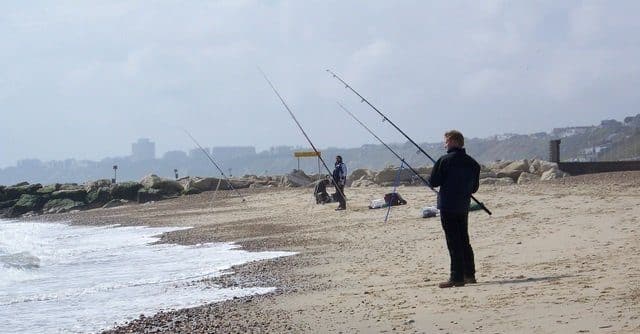 What is Surf Fishing?
Before we dive right into how to choose the rod, let's look at what surf fishing actually is. Surf fishing, contrary to most people's implication of the name, is not fishing from a surfboard (yes, yes, it would be cool, just not exactly feasible).
Instead, surf fishing is fishing from the surf (shocker, we know). The shoreline, docks, and even wading into the first few rows of waves are all forms of surf fishing and are great for ocean lovers who just cannot handle being on a boat for some deep-sea excursion.
A lot of people actually do not realize how lively the surf is. Even commercialized beaches are swarming with life beginning just a few feet out into the water.
Where in most places one cannot see beneath the first few inches, there are fish and creatures racing by our legs and under our feet that are just not visible to us.
Surf fish that can be caught include striped bass, spotted sea trout, bluefish, flounder, and even a shark if you are lucky (or unlucky, whichever you feel fits).
One of the thrills for even beginners in surf fishing is catching these fish that most would not have a chance to. Being exclusive to the sea, the vast majority of anglers will never see these fish or have the chance to reel in a monster thirty-pound striped bass out of the waves.
What is a Surf Fishing Rod
A surf fishing rod is a fishing rod that is, as the name implies, a fishing rod designed to fish from the surf. It comes with different features from an ordinary rod that support the unique fish that are caught and the unusual and harsh environment it is used in.
Surf fishing, although still fishing, is a different beast from most anglers' typical adventures on the water. As mentioned before, the fish is unique, and they offer unique challenges to go along with them.
Different brands of rod manufacturing companies combat these challenges with different designs in an attempt to bring surf fishing down to a more obtainable level: one that does not require the entire deep-sea crew waiting in their beach chairs waiting to hear "Fish On!"
Why is a special rod needed for surf fishing?
The special rod for surf fishing is needed for the unique type of fishing that the surf presents. Challenges ranging from the size of the fish to the distance the fish are cannot be overcome with a standard rod, but also cannot be overcome with the large mounts one might use for deep sea fishing (there is no boat to mount them on, not to mention it would just be overkill).
Unique features on the best surf fishing rods include things like materials, length, reels, and even tackle (not included with the rod, of course, but still a part of the fishing experience).
Firstly, the rods have to be able to handle the harsh environment of sea fishing. Salty or even brackish waters can rust or rot out an uncared for or low-quality reel and rod fast, so surf rods have to be high quality to keep this from happening in their standard environment.
The rods also have to be longer to provide more support and rod contact against the larger fish that will be pulled in and allow the angler to cast their bait further into the surf.
Also, because the fish are so large, bigger tackle will be needed. Not only does the rod have to be strong enough to fling out the tackle, but there must be a good reel on to do so smoothly and, for the more experienced surf fishermen, precisely.
Factors to consider when buying the best surf fishing rods: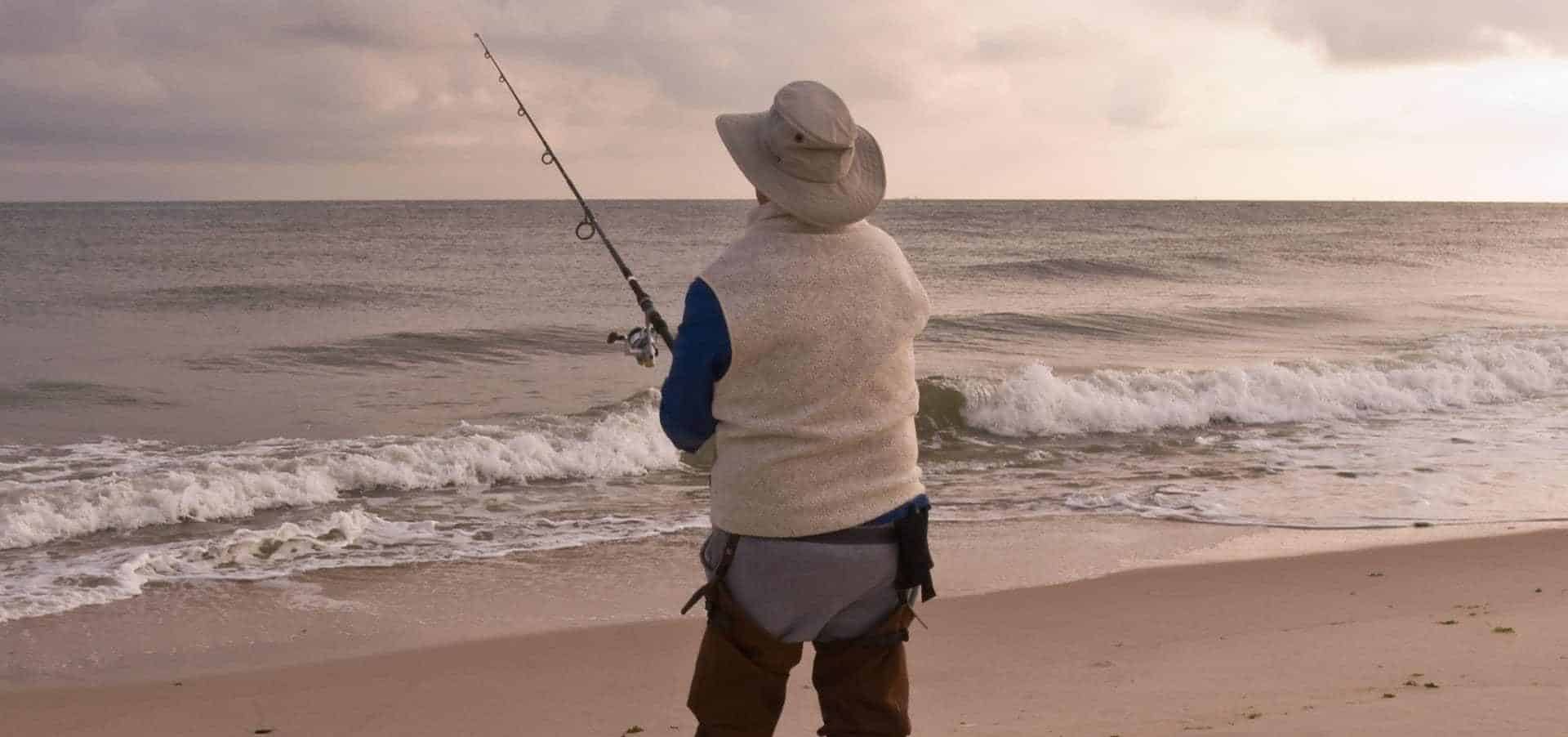 Durability 
Durability is important whilst choosing the best surf fishing rods for more than one reason.
The water type and environment created on the surf because of it are extremes to experience compared to fresh water fishing anywhere.
Salt floods the air and the water along with sand and can land anywhere and everywhere on you and your gear alike.
With necessary moving, connected, and interchangeable parts, the rod has a lot of crevices that these particles could set up in and cause some damage.
The higher quality rods have preventatives for this like constructing the rod out of a certain material or applying a coating of some sort to help seal the crevices and moving parts that would normally rub against the harsh particles.
Not only is the environment tough, but so are the fish. Hooking a monster is no good if your rod is not strong enough to bring it in. The durability is also adjusted to fit the needs of larger and more aggressive fish than freshwater rods.
This design even goes down to the type of reel on the rod so it can properly support the drag needed and force it takes to reel in. The constant tug of war involved in fishing can wear down a rod quickly if it is not built for the task, which makes surf fishing rods special in their own way since they have to perform at a high level.
Construction Materials
Surf rods do not differ from most rods in their construction as the same basic features are needed even on surf rods.
The rod itself is typically made either out of a fiberglass or carbon fiber. Carbon fiber is the superior of these two if you plan on looking at even the small differences.
As just a fiber, it slightly outperforms fiberglass, but if any manufacturer puts additives with carbon fiber, it can even outperform metal and maintain its flexibility needed for fishing.
Using a spinning reel on the surf rod also poses questions about its own construction as many rods allow you to switch out the reel if you have a preferred one instead of the reel that comes with your rod.
While the reel itself is not part of the rod construction, the reel seat is something that is often looked over that could definitely use some more attention.
The reel seat should be made of an anti-corrosive material such as graphite or stainless steel to prevent the harsh environment from wearing down the construction.
Blanks, Tips & Guides
If you are looking for the absolute best surf fishing rods you can find and you do not have a budget, then you have the option to choose a rod with the best quality features possible.
To do this you will need to take a look at the three basic parts of the rod first: the blank, the tip, and the guides.
The blank is the rod but without all of the extra stuff. Strip a fishing rod naked and there is your blank: the center of the fight against the fish and the tug of war that occurs. The blank needs a balance between power, durability, and flexibility.
If it were not able to bend, then rod would break before the fish ever made it to shore, but if it bends too much, it could never hold its own weight and guide the fish in.
The most common solution for this is a carbon fiber (graphite) blank that holds its own but stays sensitive enough to move where and when it is needed.
The rod tip is the end guide on the pole. The very end itself does not necessarily add any strength requirements to the rod, but it can play a big part in knowing when you have got a bite on your line.
Usually the tip is the first section of the rod to flex, letting you know you have a fish on the line. Guides are attached to the blank to hold the line feeding into the reel. It keeps the line straight and pulls it in toward the rod instead of it flying about randomly.
Good quality guides are usually made from rust-resistant materials and often ceramic guide coatings to allow the line to slide through the guides easily, giving the angler a further and more consistent cast. 
Ferrules
The ferrules are the connecting pieces between two pieces of the rod blank. Most commonly used with fly rods and travel rods, not all fishing rods require them, but they can still have other uses.
Used for repair, if the rod breaks, a ferrule can be used to mend it until the owner finally snaps over and buys a new rod in whole.
Ferrules tend to blend in pretty well unless you feel that you want a big flair with some color contrast, but they are so small they do not make much of a difference. They also do not differ much in construction, so picking a trusted brand is the best bet when needing a ferrule.
Rod Handle Material
While most freshwater fisherman go with a cork or standard foam grip, a little something extra is going to be required of the sea faring friends.
Surf fishing, like it has been said many times before this, is done in a harsh environment, and that affects everything even down to the grip. A durable grip will be needed, but also one that actually provides grip, especially when wet or dealing with larger, live-bait as one would surf fishing.
Cork tape, shrink wrap, and cord are the most popular among surf fishing as they all provide good qualities for the conditions. They all have a grip that is meant to work while wet, and the cord wrap even meant to when slimy, making it the best grip for actually gripping your hands.
For a more comfortable feel, cork tape has good feedback. This grip is inexpensive, easy to apply, and is not hard on the hands. Its downside is that it wears down easily and will need to be replaced every now and again for it to actually do the job.
Shrinkwrap is the most aesthetically pleasing wrap out of them all and still does its job decently well. Shrinkwrap grips come in an array of colors and designs but most go with black. The material is sleek and can be very minimalistic while still adding a nice visual touch. The grip is also good for wet hands and has been said to be fairly comfortable.
How long is a surf fishing rod?
A surf fishing rod will typically range from being nine to fourteen feet long with the average around ten feet. The length should be considered according to a few factors, but the basics are the longer the rod, the further you can cast your bait into the surf.
If an individual is on the shorter side, they may want to consider a smaller rod, as a large rod would do even worse than a small one due to the inability to be used properly.
If one is able to use a long rod, it comes with advantages. When going with the long rod, individuals will find that they have more leverage against larger fish, and can even cast further.
The best surf fishing rods are mainly designed long for casting purposes, with leverage coming in at second. The goal in surf fishing is to cast past the breaking waves, where most of the fish will be, and where your tackle will not be tossed about ridiculously.
So, whatever length you can cast the best, is going to be the best rod for you.
Rod Action 
The action of the rod is the bending point of the blank, and how much it bends. If a rod is labeled as fast action, then it bends more at the tip, if it is slow action, then it will bend closer to the center.
Fast action typically provides a greater casting distance, which is ideal for surf fishing, but the action deals with the hook set as well.
Fast action provides a hard hook set, ideal for single hooks. A slow action provides a softer set, better for treble hooks as they tend to not need a hard set as much.
What lure you use, how far you are casting, and what your setting preference is, will help you determine what type of action you will want.
Rod Power
Rod power is the lifting power of the rod and the resistance to the fish. While it ranges from light to heavy, the vast majority will find themselves happy in the middle with a medium-heavy power.
The medium-heavy power is the most versatile option and will do just fine for surf fishing. When choosing power, it is also just as important to choose the line to go along with it.
A light line will break frequently on a heavy power rod, and a heavy line will not perform well on a light power rod.
How to clean a fishing rod (and why you should)
Cleaning a fishing rod greatly extends the life-span of your rod and helps it to give maximum performance up until its last days. Cleaning a rod is something often looked over, but should really be done frequently to get the most out of it.
With surf fishing especially, because of the saltwater environment, cleaning is a vital key to the fishing experience.
The cleaning can begin easily with the rod itself. It should be run under warm water, with the line and reel removed, and cleaned with all-purpose cleaner while a brush is taken to the guides.
The reel is where extra attention is needed. Special reel cleaners are made and should be bought from a trusted and reputable brand. With the cleaner, it should be lightly applied and then scrubbed in an attempt to get any residue or particles off.
It should be in-depth as the reel is crucial and is more likely to corrode. It should then be lightly rinsed (the key to cleaning the reel is doing it lightly since even leftovers from cleaning will cause it to corrode too).
After it is rinsed, dry it, and reassemble it if you took that extra step in care (it is recommended). Now that your rod and reel are both clean and good to go, get ready for your next trip, and good luck!
Best Surf Rods – Conclusion 
Surf fishing brings a few new elements into what is typically a peaceful sport. The harsher environment, rumbling waves and winds make it much tougher and all the more important to choose the right gear which is up to the test.
Making sure you have the best surf fishing rods will allow you to land more fish and keep your gear for much longer. 
Any freshwater rod won't do the job, after a few trips, it will be rusty and unusable. The same goes for your freshwater reels. 
Surf fishing also requires a rod that can cast long distances. All of the rods on our list are lengthy enough to give you that long casting ability so you can send your lures and bait beyond the crashing waves and into the depths where the fish hang out. 
We truly hope that this article has helped you choose the best surf rod and the buyers' guide has given you an insight into what factors and features of the rods should guide your decisions. 
Other fishing equipment you may need:
Other related fishing posts: