Best Telescopic Fishing Rod – Our Top Picks Of 2023
Intro Into The Best Telescopic Fishing Rods ​
In this article, we are going to go over the best telescopic fishing rods. Whilst most people tend to think of a 2-piece of 3-piece fishing rod first, a telescopic fishing rod holds many benefits of its own.
Which can include reduced weight, reduced size when packed away, and easier to travel with. 
If you are looking for a new rod for your fishing bag then a telescopic rod might be a perfect choice.
They offer lots of flexibility on where you can fish – Sometimes carrying a 12 foot 2-piece rod just isn't feasible in some areas you might want to fish.
A telescopic fishing rod can also pack away into a minimal size, this means they are easier to carry and take up a lot less room in your fishing bag/storage areas – This can make them perfect to take along with you if you are kayak fishing. 
Telescopic fishing rods also tend to come in at a much more affordable price than a 2-piece or 3-piece rod, this makes them perfect to take with you as a backup fishing rod or ideal for the beginner angler. 
Below we will list our best telescopic fishing rods. We create these review articles so people just like yourself who are interested in water sports don't have to spend hours pouring over technical specifications and reviews to find the best products.
Rest assured that we have done hours of extensive research and testing to come to the conclusion of the best telescopic fishing rods. We hope you enjoy what you read and we hope you find a great rod for you!
Telescopic Rods – Quick View:
7 Best Telescopic Fishing Rods
Why Should I Choose a Telescopic Fishing Rod?
Whilst telescopic fishing rods hold the stigma that they are never going to perform better than a traditional 1, 2, or 3-piece fishing rod. They most definitely have their place in the world of fishing and telescopic fishing rods are favored by many anglers across the world. 
If you are fishing in areas that are difficult to reach by foot, it may not be practical to carry a larger rod with you. If you can only get there with a backpack, then a telescopic fishing rod is a perfect choice as most can easily fit inside of a backpack along with your reel and other fishing gear. 
Many kayak fisherman also opts for a telescopic rod as they are easier to travel with, don't get in the way of paddling, and can also easily fit in most kayak storage areas. 
It is also common for the beginner fisherman to start with a telescopic rod, they are very affordable and an easy way to get started in the world of fishing – My first ever fishing rod was telescopic. 
Advancements in technology and production techniques have really improved the strength, durability, and weight of fishing rods. This means that due to composite materials, telescopic rods are now just as strong and lightweight as a 1, 2, or 3-piece rod. 
Whilst arguably they might not have the casting distance, accuracy, or sensitivity of a traditional fishing rod. They are just as good in many aspects and definitely shouldn't be overlooked whilst shopping for a new fishing rod. 
How Does a Telescopic Fishing Rod Work?​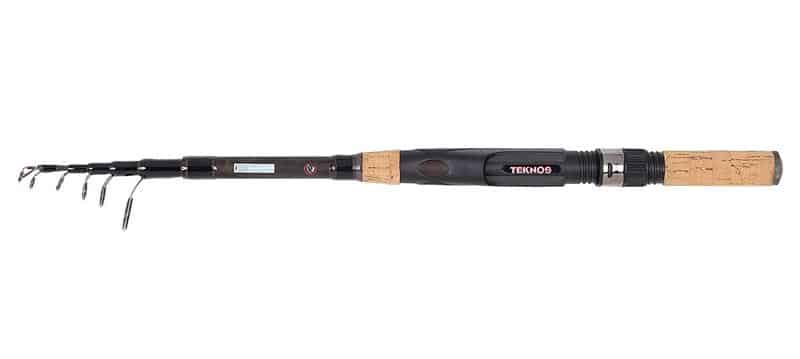 There are many items that you have probably come across that work the same way as a telescopic fishing rod. Some umbrellas do, some poles do and it's the same for the fishing rod. It starts off as a smaller pole that fit snugly inside of each other, which when extended form one long pole. 
Remember to refer back to our list of fishing rods before you make your final decision to buy one. We understand that the decision can be daunting due to the thousands of different fishing rods on the market. We hope we have made that decision much easier!
Important Features to Consider
We are going to go over the main features you should consider whilst purchase your telescopic fishing rod. These points should help you distinguish between the higher and lower quality products. 
Your Experience Level – It's fair to say that although there are many pros and experienced anglers who have the perfect time and place to use a telescopic fishing rod.
It's also easy to observe that many of these rods are tailored more towards the beginner angler and people who want to start in the world of fishing. Make sure to keep this in the back of your mind when shopping around, if you think you are experienced you might make the mistake of buying a poorer quality rod. 
Size of The Telescopic Fishing Rod – Many telescopic rods boasts their ability to fold down and fit into the smallest of fishing kayak compartments or backpacks. But remember to hunt for the small print the length of the rod when it's extended and make sure it is right for your style and fishing location. It can deceive you by looking at a compressed telescopic rod, so make sure you ask the right questions. 
Just The Rod or Combo Kit – You'll notice in the above list of best telescopic fishing rods that a few come with reels, line, and lures. Ask yourself the question do I need this gear? If you already have a spinning reel you like or lures you have mastered using you probably don't need another set. 
And also remember to consider your experience level, usually, the reels and lures aren't tailored towards the more experienced angler. However, if you are e beginner and want an 'all in one' combo then they are perfect and provide you with everything you need to start fishing right away. 
Quality Material Construction – We recognize none of the telescopic fishing rods on the above list even come close to what you would be getting if you decided to pay upwards of $500 on a fishing rod. However, it's still vital to pay close attention to what they are made from. 
As a general rule of thumb, I would always opt for a carbon fiber construction, it's also good if this is mixed in with another composite such as glass fiber for added strength and flexibility. You may also come across a rod with a glass tip. This isn't as scary as it sounds, fully glass tipped rods are still very strong and can actually outperform the alternatives. 
I would also make sure the guidelines and seats are made from a corrosion-resistant material such as aluminum or stainless steel. This will allow you to use the rod in saltwater conditions without worrying about it rusting. 
​We hope these points will help you in your purchase of the best telescopic fishing rod. Remember to refer back to them. Also to save you some time, these are the same points we considered when we put together our top 7 list.
Conclusion
No matter what your experience in fishing is, we are certain that even you could benefit from the addition of a telescopic fishing rod into your kit. Even if it was simply as a backup rod in case your main one fails. If we were to purchase another telescopic fishing rod ourselves, we would take one of our top 2 choices: KastKing Blackhawk II Telescopic Fishing Rod or the Sougayilang Telescopic Fishing Rod Combo. 
Either one could of took the top spot for the best telescopic fishing rod and both will definitely serve you well whilst out on the water hunting fish.