The Best Inflatable Life Vests For Fishing – Top 5 Vests in 2023
It goes without saying that anytime you are around the water it's of the utmost importance to remain safe, that's why we've reviewed the best inflatable life vest for fishing.
Whether you are fly fishing in waders, casting from a bank, or fishing from your kayak it's always important to make sure you're safe by wearing a fishing life vest.
After angling for many years and speaking to many people who fish in kayaks and alongside river banks, it's the general consensus that most life vests are bulky and aren't worn because they impede your range of motion and ability to cast.
But what if this wasn't true? We've spent hours researching and testing life vests that are purpose-built for fishing and situations in which a bulky life vest isn't appropriate.
Many of these life vests are personal flotation devices (PFDs) that automatically inflate when immersed in water, these are a great choice as whilst not inflated they remain very small and don't hinder your casting ability.
After we have summarised our 5 best inflatable life vest for bass fishing products, there is a buyer's guide down the bottom which will go over all of the key features you need to understand and look out for whilst buying a fishing life vest.
​Quick View The Best Inflatable Life Vest For Fishing
4 Best Inflatable Fishing Life Vests
Alternative Fishing Life Vest Options
How To Choose The Best Inflatable Life Vest For Fishing Bass Etc.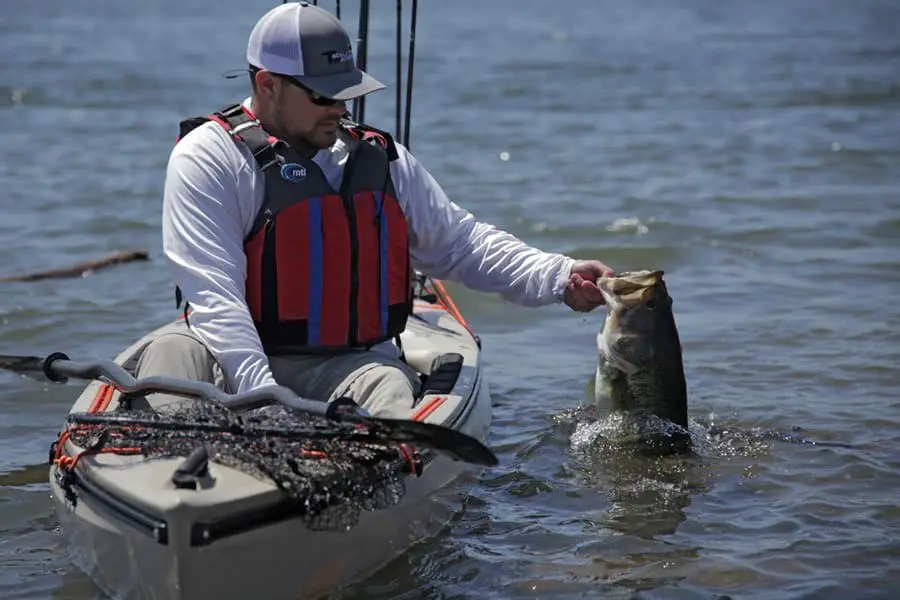 One of the most important things to consider when you go fishing is your own safety. You never know what might happen and the power of water shouldn't be underestimated.
Any boating collision or slip on some wet rocks could end up with you in the water. In certain water currents, wearing a life jacket might be your only method of staying safe and afloat no matter how good of a swimmer you might be.
In certain accidents you may also end up unconscious due to injury, if you have a life vest it's certainly going to help keep your head above the water and greater increase your chance of survival. We know this sounds daunting and unpleasant but it has to be said, there is no joking around here.
Before you purchase your inflatable life vest for fishing we would like to go over certain features to look out for to ensure you're getting the best of the best on the market. We truly believe that all of the life jackets we have listed will serve you very well for both safety and their ability to fish in. Here we have listed some points to consider before making your purchase:
How Does It Keep You Afloat?
Check how the life vest actually operates… many people don't understand that you can actually get different types such as manual and automatic vests that are inflated with a CO2 cartridge or a foam vest that doesn't require inflation.
Automatic inflating life vests are great as they submerge when you hit the water, even if you are unconscious you will be afloat. However many people don't want to put all of their trust in an automatic one incase it fails – which is understandable.
Therefore they would most likely opt for a life vest that is both manual and automatic. If the automatic function for whatever reason fails, you can pull a t-chord and manually inflate the life vest.
Or you could opt for the more traditional foam life vest, no need to inflate the PFD here. The only drawback with foam vests is they tend to be bulkier and get in the way.
Check for an Approval Tag
Before purchasing a life vest check for the approval from the US coast guard or SOLTAS.
Either will mean the vest has met a particular set of safety standards. Whilst not all vests on the market will have the approval – Also check the reviews, if the vest has been purchased hundreds of times and is well received by the customers, it will likely do its job.
But you might rest better knowing it's been approved to the highest standards.
Perfect size
Never wear a life vest which isn't the right size. The whole point of a life vest is to keep your head above the water if you fall in.
Whether you have consciousness or not. If you pick a vest of the wrong size it won't support your back and neck properly and might not actually do what it is intended to do. Double-check the size guide or get one that is very adjustable and can be tightened to suit.
Buoyancy Rating
The Buoyancy rating is important, especially if you will be in rougher water. Usually, above 22lbs of buoyancy rate is effective for fishing and other purposes. If you are Kayak fishing in the offshore area, don't go below 35 lbs of buoyancy rate.
This is essential for the same reason the size and fit is! It's all about ensuring you're supported enough to stay out of the water.
Color
Color isn't the first thing that springs to everyone's mind – unless it's all about looking cool whilst out on the water. But remember the brighter you are, the more you can be seen!
Whistle
Whistles are always important to sound an alarm if you're in trouble. If your vest doesn't come with one you can always attach your own. Amazon has a good range of life vest whistles you can check out here.
Conclusion
We thoroughly hope this article has helped you discover the best inflatable life vest for bass fishing or any kind of fishing for that matter.
Staying safe whilst you're out having fun and fishing is the most important thing you should consider after all accidents do happen from time to time and it's better to be prepared for the worst.
Latest Fishing Posts: