Best Fishing Line For Walleye – 2023 Buyers Guide
Walleye are one of the most sought-after game fish in the US and Canada. Walleye are typically found in lakes, pools, backwaters, and runs of medium to large rivers.
Walleye are highly successful predatory fish, this is largely the reason why you will need the best fishing line for walleye. They have keen eyesight and can spot prey fish, lures, and bait in low light conditions, at night, dawn and dusk.
Best Fishing Line For Walleye at a Glance
Walleye is widely regarded as the best-tasting freshwater fish. It is the largest member of the perch family. However, Canada is the only commercial source of walleye. Commercial fishing of walleye was banned in the US to protect recreational fisheries.
Regardless of whether an angler is fishing walleye for the thrill and fun of it, or for commercial reasons, they will still need the best walleye fishing line to successfully land a catch.
We will discuss whether braid, fluoro, or mono is the best line for walleye in our buyers' guide. We will also give our top picks for each, as well as the best ice fishing line for walleye below.
Best Walleye Fishing Line Reviews
How To Choose Walleye Fishing Line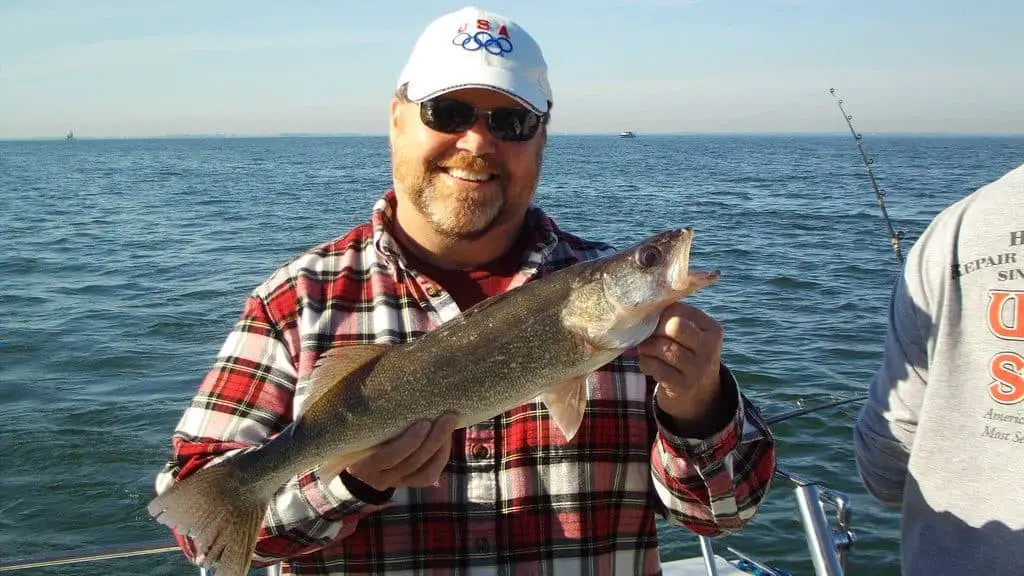 Now that we have looked at a few line choices, we will take a look at whether you should be using mono, fluoro or braid for walleye and some of the key features of each line type.
Braid
One of the earliest forms of a fishing line used was essentially braid – before any polymer extrusion processes were invented.
It's an extremely choice amongst anglers and especially those going after walleye due to its high knot strength, high tensile strength to diameter ratio, and low memory/high sensitivity.
The higher sensitivity of braid lets you know when you have gotten a bite, much faster than a mono or fluoro line. This is particularly useful if you are trolling.
The main downside to braid is that it isn't 'clear' or transparent, and can be bought in bright colors, this does make it more visible in the water.
Walleye have good eyesight, therefore if you want to have all of the benefits of a braided line, but low-visibility in the water, then it's best to use it in conjunction with a mono or fluoro leader line.
We have also reviewed our favourite list of braided fishing lines.
Fluoro
Fluorocarbon lines do have good sensitivity (more than mono, but less than braid), and depending on the brand bought, they are usually abrasion resistant, have high impact strength, and can be used force fishing.
But, the real advantage of using fluoro is ultra-low visibility in the water. Fluorocarbon line refracts light very similar to water, which makes it almost invisbile.
This is great when targeting predatory fish with good eyesight.
Fluorocarbon also has a high density which helps it sink faster, this can be useful if you want your set-up to target fish that lurk deeper in the water.
The main downsides to fluoro is that it's slightly more expensive than mono line, and is often regarded as more difficult to 'handle' and tie knots with.
We have also reviewed our favourite list of fluorocarbon fishing lines.
Mono
Monofilament is the most common form of fishing line used by recreational anglers, and it's probably what most beginners start off with. Mono is generally weaker than fluoro or braid for the same lb strength, but there are a few reasons why you might opt for mono whilst targeting walleye.
Mono lines have lower visibility in the water than most braids, you can purchase mono in a wide range of colors. If you are fishing dark murky waters, you could pick a dark green or blue line, if you are fishing clear water, then a transparent line will do.
Another reason mono is a good choice is that it can tie strong knots, the small diameter can easily compress against itself to form a strong bond. This is also true for braided lines, however.
Some anglers like using a zero-stretch line for early bite detection. Mono does stretch, but this can be beneficial in certain situations.
If you are spinning, or trolling with a lure/bait and expect a fast strike from a predatory fish, then a little stretch will prevent the line from reaching its maximum tensile strength rapidly and breaking.
We have also reviewed our favourite list of monofilament fishing lines.
So, what is the best walleye fishing line setup?
We believe that the best walleye fishing line setup is a braided mainline coupled with a fluorocarbon leader line of 4-8ft. If you use an 8ft leader, you can trim and re-tie new hooks on the line without swapping out the whole leader.
With this set-up, you have a sensitive line that can detect light bights, and the low-visibility in the water which is beneficial whilst fishing walleye.
What pound test line for walleye?
In our opinion, the best pound test line for walleye is 8 to 10lbs for braided line, 6 to 8lbs for monofilament and 10 to 12 lbs for a fluorocarbon leader line.
This numbers can change depending on your situation, if you fish a lot around rough cover, then you might need a stronger line. Or if you have the chance of catching bigger fish by mistake, then a stronger line will be needed to prevent loss of tackle.
Final Words
Walleye are an incredibly fun fish to target. They don't require the heaviest of setups, but they are a predatory fish which have good eyesight, and some sharp teeth.
Choosing the best fishing line for walleye shouldn't be a tough decision, braid, fluoro and mono all can work great if you select a reputable brand and one which has the right line qualities.
We truly hope that this post has helped you choose the best walleye fishing line, any of the lines on our list are a great choice. We particularly like setting up for walleye with a braided mainline followed by a 4-8ft fluorocarbon leader line.