10 Best Ice Fishing Pants
If you don't wear the right clothing ice fishing, then be prepared for an enjoyable ten minutes followed by hours of misery. The conditions of ice fishing are tough, cold, and damp. If you don't dress properly, then you'll never last. You certainly won't be out there long enough to catch any fish.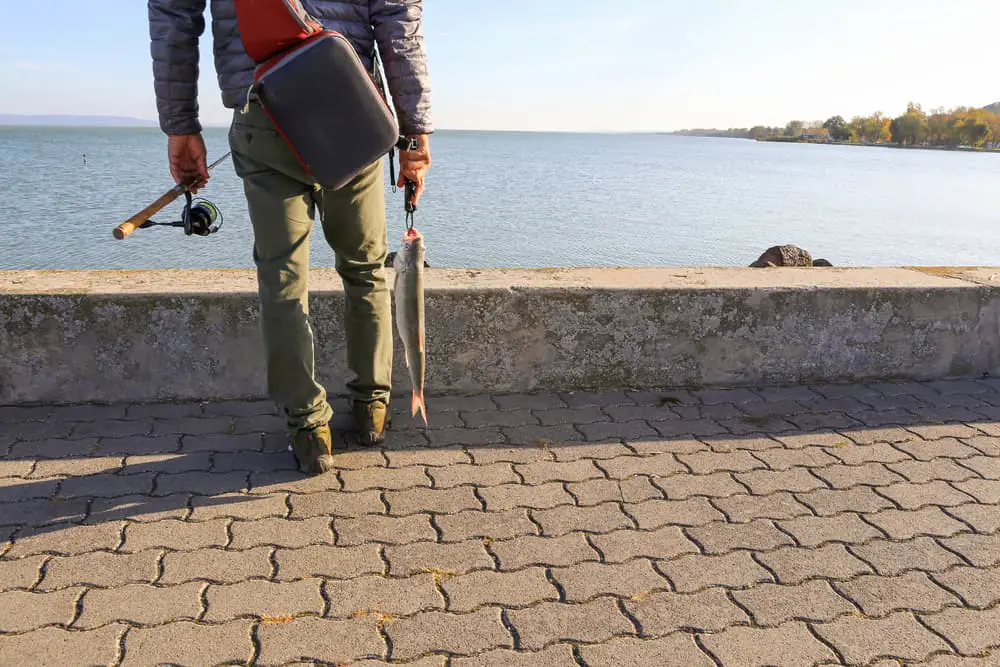 Bibs are the traditional outfit for ice fishing, but they come with their disadvantages. Bulky and difficult to fit, bibs aren't for everyone. But rather than under-dressing, there is a solution: ice fishing pants.
Ice fishing pants do the job of the bib, just in an easier design. Warm and waterproof, the best ice fishing pants will keep you comfortable for an entire day. We've rounded up 10 of the best options available, so you can keep your mind on the fish, not on your outfit.
10 Best Ice Fishing Pants
#1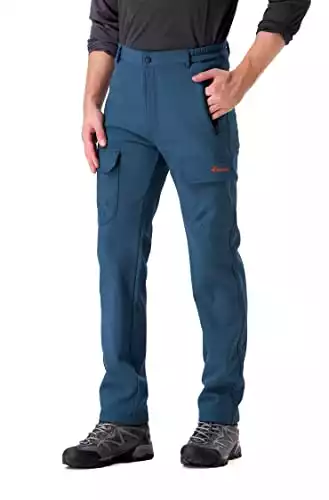 Men's Softshell Fleece-Lined Cargo Pants
If you're after a pair of pants to wear ice fishing, you won't get much better than these from Clothin. The soft shell exterior is coated in a durable and water repellent finish, which makes it ideal for cold and rainy days.
The 4-way stretch fabric and ankle side zips make them easy to get on and off, even over boots. A micro-fleece lining keeps you warm, while wicking away excess moisture.
3 zippered pockets, reflective strips on the lower legs, and a range of color options make these Clothin pants some of the best around.
Pros
Water repellent finish

- Keeps you dry on the ice.

Micro-fleece lining

- Warming but moisture wicking.

4-way stretch material

- Easy to move about in, and to take on and off.
Cons
Won't stand up to heavy rain.

#2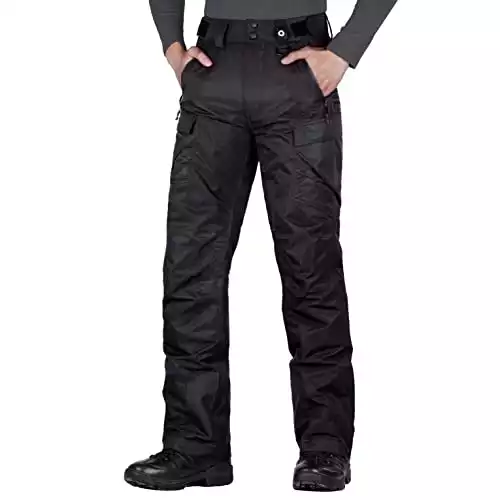 FREE SOLDIER Men's Waterproof Pants with Zipper Pockets
If you're worried about staying warm on the ice, then you need to invest in a pair of Free Soldier pants.
The 100% polyester shell is lined with 120 grams of insulation, and 30 grams of down-proof lining. Applied with Diamond Quilt Technology, this keeps your heat in even as the winds pick up.
A durable and water repellent finish make them ideal for ice fishing, as well as snowboarding and skiing. 
Pros
Fully taped seams

- Heat stays in, and water stays out.

Adjustable ankle

- Adjustable ballistic nylon gives a safe and secure fit around the ankle.

PU Coating Treatment

- Resistant to snow, water, and wind.
Cons
Bulky

- All that lining does create a less maneuverable pair of pants.

#3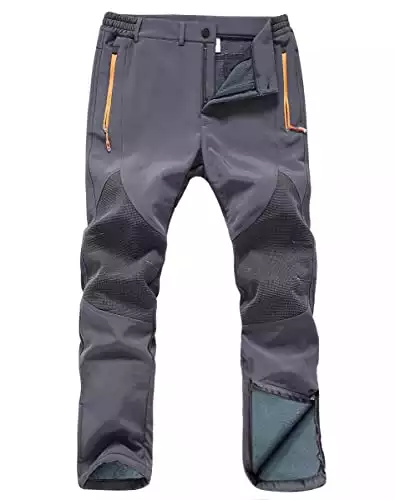 Gash Hao Mens Waterproof Fleece Lined Zipper Bottom Leg Pants
Gash Hao creates outdoor clothing for multiple uses. This pair of zipper bottom pants are waterproof, windproof, and insulated, to keep you comfortable out on the ice.
The quick drying outer soft shell fabric is particularly useful. Any moisture evaporates fast, so you don't have to sit in uncomfortable wet pants.
And if you've ever spent a day ice fishing, you might understand just how useful the reinforced knee is - these parts can get cold and wet when you're sitting on the ice.
Pros
Adjustable waist

- A comfortable fit throughout the day.

Inner plush fabric

- Incredibly warm.

4 zippered pockets

- Plenty of space for safely storing valuables.
Cons
Won't resist persistent, heavy rain.

#4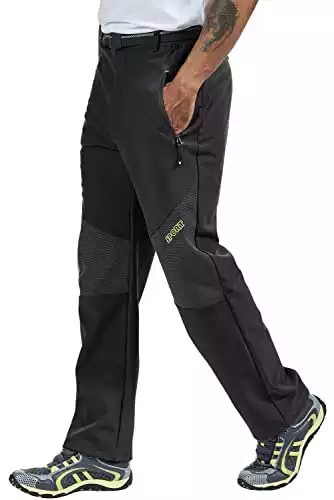 TBMPOY Men's Outdoor Cargo Pants
Quick drying nylon with premium stitching, the TBMPOY pants are a durable option for ice fishing.
The thick fabric does keep you warm with an insulated lining, and it also protects against harsh winds. Upgraded technology in the knees gives them extra strength, and keeps them wear resistant.
A comfortable pair of pants, they're strong enough to last through multiple ice fishing trips.
Pros
Insulated soft shell

- Warming, and wind resistant.

Durable

- High quality stitching for a lasting design.

Quick drying

- Stays comfortable in adverse weather.
Cons
Designed for durability, so warmth and weatherproofing isn't as good.

#5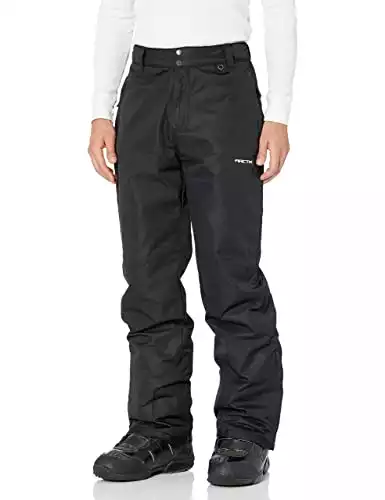 Arctix Mens Essential Snow Pants
Ice fishing can be a rough business, and these Arctix snow pants are designed to last through the worst of the weather.
The Thermalock design gives a durable coating, meaning wind, water, and snow are all kept out. It's also resistant to impact and scratches, so won't take damage as you're moving about.
They're reinforced from the waistband down to the ankle, with 600 Denier Ballistic hem guards that can face repeated wear. 85g Thermatech insulation keeps you warm, without weighing you down.
Pros
Thermalock

- Incredibly durable, against all kinds of weather.

Thermatech

- Synthetic insulation is warm without the bulk.

600 Denier Ballistic reinforced ankle

- Holds up over boots for daily wear and tear.
Cons
2 pockets

- Less useful for storage.

#6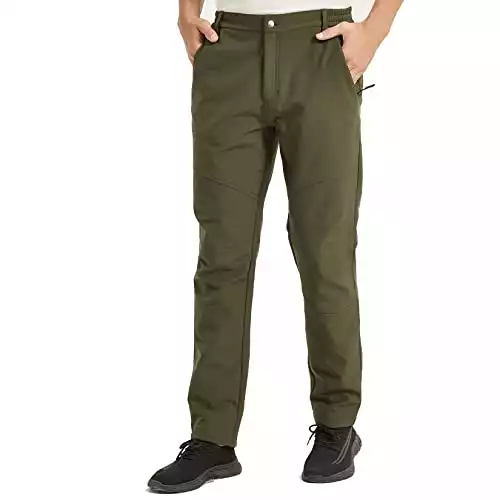 Inno Men's Waterproof Fleece Lined Pants
An issue with ice fishing pants is that they can be incredibly bulky. Layers of waterproofing, weatherproofing, and insulation add enough weight that it's difficult to move around.
If you want to layer your pants, then it's almost impossible.
These Inno waterproof pants don't have that problem at all. Instead, they manage to be streamlined, while retaining the features that make them useful. And they look just like normal pants, so you can wear them out and about easily.
Pros
Scratch resistant

- Designed to withstand tough outdoor conditions.

Design

- They look streamlined.

Fleece lining

- Keeps you comfortable in cold weather.
Cons
Less flexible, so difficult to fit.

#7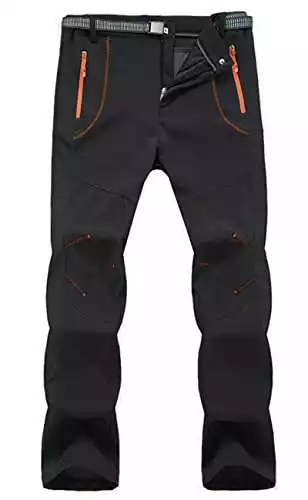 MAGCOMSEN Men's Quick Dry Water Resistant Outdoor Pants
Polyester and spandex are combined in these MAGCOMSEN pants, to make them flexible and durable.
This blend in the external shell aids waterproofing, wind proofing, and adds to the insulation. The inner fleece lining is super soft, and made of granule fleece for ultimate heat retention. 
The multiple layers of construction combine to increase warmth, without reducing maneuverability. These are great pants for all kinds of outdoor activities. 
They also come in a thin option, for fishing in the summer months.
Pros
Fleece lining

- Warmth stays trapped in.

Elastic waist

- Comfortable and moveable fit.

Multi-layered construction

- Traps warmth, and waterproofs.
Cons
Poor sizing

- You may struggle to get an accurate fit.

#8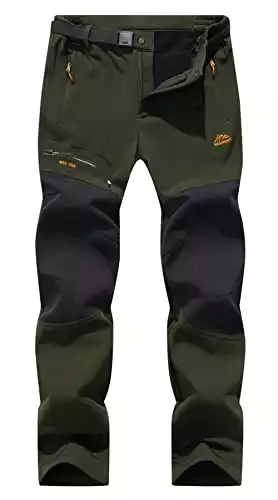 BenBoy Men's Outdoor Waterproof Windproof Pants
These slim pants fit comfortably and stylishly, for an adaptable piece of clothing. The blend of 92% polyester and 8% spandex is attractive, but it also serves a purpose.
Waterproof and windproof, these are perfect outdoor pants for an active person. Polyester is also anti-static, anti-friction, and wrinkle free, which makes them easy to care for.
BenBoy has created hardworking pants that are abrasion resistant and will stand up to wear and tear. They still stay comfortable, thanks to the soft fleece lining. 
Pros
Multiple designs

- Attractive design, sure to find something you like.

Belt

- Ensures a good fit.

Patchwork knees

- Designed to be durable with lots of movement.
Cons
Zipper closing can be weak.

#9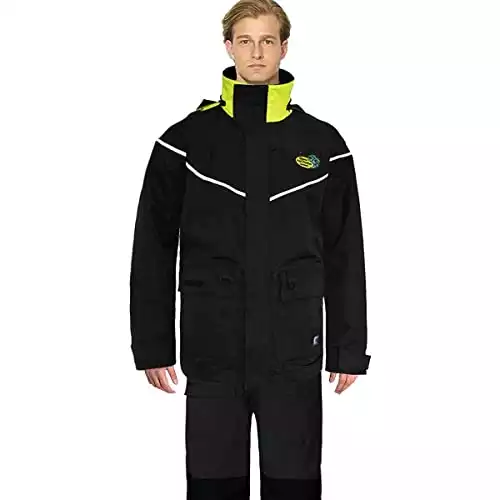 Navis Marine Sailing Jacket with Bib Pants
Technically, this set does include a bib, but it's not as bulky as other bibs available. The snap closures help the top of the bib to sit lower, making it easier to fit.
It can be worn under or over other layers, and you won't have to struggle out of it after a cold day on the ice.
With the bib and jacket set, you're sure to be kept warm all over, all day long. They're both also waterproof and windproof, without losing breathability.
A problem with the bib is it can get too warm, but this simple set prevents that problem.
Pros
SERA-TEX Pro fabric

- Soft and waterproof.

Multi-set

- Keeps the entire body warm on the ice.

Lower bib

- The traditional coverage of the bib, without any awkward fit.
Cons
Even a lower bib doesn't have the waist fit of pants.

#10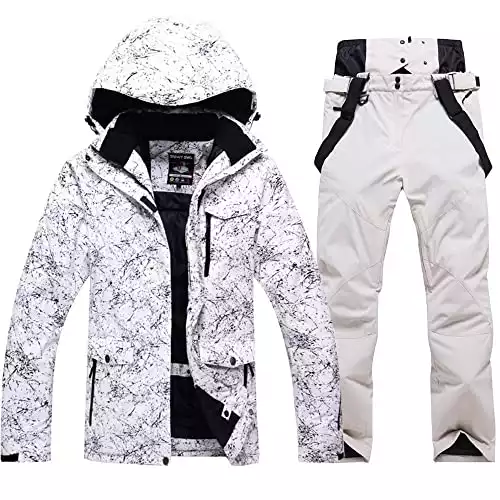 RIUIYELE Women's Waterproof Windproof Jacket and Pants
The majority of ice fishing pants are unisex, due to the looser fit and the heavy fabric. However, for women that can mean that the shape isn't quite right.
If you're a woman, and you like ice fishing, then you may have spent too long in baggy and uncomfortable bibs.
This set from Riuiyele is technically for skiing, but it's just as useful for ice fishing as well.
Windproof and waterproof technology is perfect for cold winter ice fishing, but the fabric remains breathable. The vast range of designs only sweetens the deal on a great set.
Pros
Multiple designs

- Attractive and colorful, alongside streamlined options.

Fitted waist

- Ice fishing clothing is often bulky. This set fits comfortably.

Anti-static

- The coating makes movement easy.
Cons
Simple sizing

- Jacket and pants are sized together, making the fit difficult.

Buyer's Guide
Buying a pair of ice fishing pants isn't as easy as picking the first pair you see off the rack. There are several key features that are important to note. This buyer's guide helps you to identify these features, and make the right choice.
Waterproof
One of the most important features of ice fishing clothing is the waterproofing. Although with ice fishing you're unlikely to be wading into the water, you're still likely to get damp.
If you plan on spending a long day out on the ice, you need to be sure you won't be sitting in the wet. Waterproof, water resistant, and weather resistant are all terms to look out for. Most fishing pants will give a clear indication of just how much water they can repel.
Warmth
It goes without saying that ice fishing is going to be cold. You spend a long time sitting around, exposed to the elements, so your clothing needs to be keeping you comfortable.
There's a variety of materials that will be used for insulation, and making the right choice isn't easy. Too much bulk can make the pants awkward to wear. Too little insulation and the wind gets in.
As well as the fabric, the seams make a difference. Look for well sealed seams, as this improves durability, and keeps the cold from leaking through.
Quality
You can buy cheap clothing for ice fishing. But you really, really shouldn't. Quality clothing keeps heat in and water out, and stays durable across multiple uses. Cheap ice fishing pants might warm you up slightly, but they won't withstand the tough conditions.
Moisture Wicking
As important as warmth is, it does come with a downside. Sitting in fleece during the midday sun, sweat starts to gather. Fishing is physical as well, so it's easy to get too warm.
When the weather cools down, so does the sweat, making the clothing sit uncomfortably. Moisture wicking helps this excess sweat to evaporate. This is an advantage to pants over bibs.
Wearing a bib traps heat across the body, which means many have to keep their jacket open. Insulated pants with moisture wicking keeps you comfortable through long hours.
Quick Dry
Quick drying links back to moisture wicking, but in this case it happens on the outer fabric. There are all kinds of reasons why you may find yourself suddenly damp when ice fishing.
With quick drying fabric, the water evaporates, and you aren't sitting in wet clothing all day. This is particularly useful if you're going to a place with frequent, sharp rain showers.
Ease of Use
Pants have a real advantage over bibs when it comes to the ease of use. They can be pulled on over layers, and don't need any adjustments in the top half.
This makes it easier to layer jackets and sweaters. Ice fishing sounds cold, but the temperatures do adjust throughout the day. With a pair of pants, any quick outfit changes can take place in minutes. They also fit easily over boots.
Fit
Be sure to check the fit of ice fishing pants (and any athletic wear) before purchasing. Often, the fit will be tighter or looser to accommodate for layers.
Ice fishing pants are often an adjustable fit, especially around the waist/ankles. If you have slightly unusual sizing, pants can be a significantly better choice than bibs.
Bibs have to fit the top and bottom, where pants only need to be comfortable around the legs.
Adaptability
If you're after a pair of pants, rather than a bib, it's probably because you want to use them for several purposes. Fishing bibs are great for fishing, but they just aren't particularly useful in any other situation.
When choosing a pair of pants, check to see what else they can be useful for. Many of the best pants for ice fishing are actually designed for skiing, hiking, or snowboarding.
However, the fleece lining, waterproof fabric, and easy use make them perfect when spending time on the water.
FAQ
How do you dress for ice fishing?
The most important factor when dressing for ice fishing is warmth and comfort. Out on the ice, it gets cold quickly. Be sure to layer your clothes, and take more than you think you need.
Remember that you can take layers off, but you can't add ones you haven't bought. Make sure to bring an insulated jacket with a hood – the hood protects from rain and wind.
Warm pants or a bib are also essential. Boots are vital, as are thick socks. The hands can get particularly cold, so wear gloves that your fingers can move in.
Underneath all this, wear warm and flexible clothing, such as cotton pants.
What's the difference between pants and an ice fishing bib?
The pants we wear for ice fishing are very much similar to ordinary pants. An ice fishing bib, on the other hand, is more like an overall.
The bib goes up to cover the stomach, and straps reach over the shoulders to connect at the back. Different bibs have a different level of coverage.
Bibs are often worn because they are easy, they trap heat, and the fit means they don't move around. Pants have their advantages, as they're quick to pull on, and don't trap moisture.
Why choose pants for ice fishing?
Fishing bibs are perhaps the most popular choice for ice fishing, but pants have their place too. The main advantage of pants is that they're fitted for your bottom half only.
That makes them easier to get in and out of, easier to layer up, and easier to fit to your body. Although the bib may give more overall warmth, many do prefer to wear pants.
Another advantage is how adaptable they are. Even a bib enthusiast will agree that they aren't something you wear at any time you aren't fishing.
Ice fishing pants are good for skiing, snowboarding, climbing, hiking, and all kinds of outdoor activities.
Wearing pants can also help you to cool down – something surprisingly useful when you're ice fishing. Although you may start off cold, over the course of the day, a fisher warms up.
Many compensate by leaving their jackets open. Pants ensure heat doesn't get trapped around the waist and torso, keeping you more comfortable.
Can I wear snow pants while ice fishing?
Yes, if they're waterproof. Snow pants are heavily insulated and durable, which makes them good choices for ice fishing.
Make sure they're waterproof as well, or you'll spend a day in uncomfortably damp fabric.