Best Ice Fishing Sled – Top 5 Sleds To Haul Your Gear
Every angle knows that fishing requires a lot of gear. If you are fishing from the beach or in the summer you can get away with just using a backpack.
However, hauling your ice fishing gear across the ice is a different challenge altogether.
Having the best ice fishing sled will make journeys across the ice that much easier. It will also allow you to easily transport gear you otherwise wouldn't have taken.
For example, an ice fishing shelter, or cooking equipment. As well as being able to carry more, you'll also get to your fishing spot much faster and end up less fatigued, allowing you to spend more time in the day fishing – important in the winter months when there aren't many hours of daylight!
The team as Water Sporting Adventure has sought out the toughest, well-made, and easiest to pull ice sleds on the market, so all you have to worry about is loading up all of your fishing gear and heading out on the ice as soon as possible.
Check out the reviews for the best 5 ice fishing sleds and why you should be taking one on your next ice fishing adventure.
Quick View: 
5 Best Sleds For Ice Fishing 
Best Ice Fishing Sleds – Buyers Guide & FAQ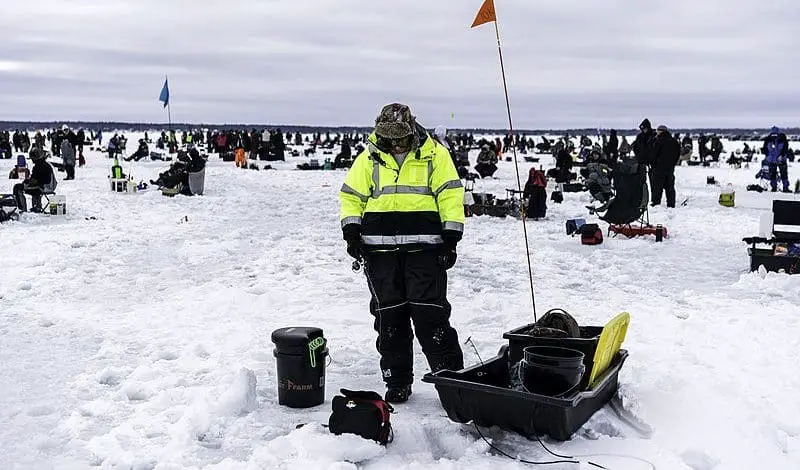 Why should you buy an ice fishing sled?
As we touched on earlier, ice fishing requires a lot of gear. Many items such as an ice shelter and an auger are heavy.
Add in all of your rods, reels tackle boxes, and food and it's near impossible to carry it without an extra form of transport or a sled to make the journey easier.
On top of this, you are on ice! Walking on snow and ice is a difficult task regardless of whether you are hauling along gear.
An ice fishing sled will allow you to carry much more gear for the journey. It's better to take more and not need it than take less and realize you have left something important behind.
Ice fishing sleds also can be used in the case of an emergency. If someone gets hurt, it will be much easier and quicker to pull them away to safety using a sled, than trying to carry them across the ice.
We would hate for you to have to use your sled in this manner, but it is nice to know the fact, that you can. 
Key features to look for in an ice fishing sled
Material
Most of the best ice fishing sleds will be produced with durability in mind. The extreme cold and rugged ice is a harsh environment for any piece of equipment.
Ice fishing sleds are typically made from thick, heavy-duty PolyEthylene which won't break, crack or flex under heavy stress. It is also extremely hard-wearing so the odd bump and scrape here and there won't affect the sled that much.
Most ice fishing sleds also include runners that are attached to the bottom (if not, you can purchase them separately). Runners protect the bottom of the sled from damage and wear, they aren't made to last forever and will need changing every few years depending on how often you ice fish.
The runners also make pulling the sled along the ice and snow much easier. They are low friction to give the sled that effortless gliding effect.
Sled Weight
The whole purpose of an ice fishing sled is that you want to make carrying heavy items across the ice much easier for yourself.
You, therefore, don't want to pick the heaviest sled possible, as the weight will quickly add up when you pile on your gear. However, there is a balance between the weight and durable materials.
Of course, thicker, more durable plastic will weigh more than thin, flimsy plastic. You need to strike a balance between weight and durability.
Size
The size of the ice fishing sled you choose will correlate directly to how much gear you plan on taking out on the ice.
If you plan on only taking a hand auger, rod, reel, and some food then you'll probably only need a small sled.
However, if you are taking gear for numerous people and plan on taking a shelter, you may want to invest in a slightly larger ice sled to accommodate for the extra gear.
Size also refers to the height of the sled. Height is important as it will allow you to stack your gear higher and fit more in.
Whilst considering the size of the sled, also make sure to check if you can actually get the sled in your van or car before traveling to the ice. Alternatively, some sleds can be attached to the top of a car, in a similar manner to tying down a kayak. 
Ice Fishing Sleds – FAQ
What is a sled shelter? 
A shed shelter is a sled, which has been converted to carry an ice fishing shelter that pops up at your desired location. Many ice fishing shelters look like a long backpack that you carry on your back, which can be too heavy for some people and difficult to haul over long distances. A shed shelter makes getting your shelter to your fishing spot much easier. 
How do I pull my ice fishing sled?
There is a variety of ways you can pull your sled along the ice. The most popular way is just by hand.
Most ice fishing sleds include hand tow ropes which are easy to use (or they have attachment points for you to add some). You can also use a sled harness to pull your ice sled, this frees up your hands and allows you to pull more gear.
Some ice sleds also have a hitching point so you can attach your sled to the back of a motorized vehicle and drag it along the ice that way.
Using a vehicle is necessary if you have a long way to travel, or an exceptionally heavy ice sled and gear.
Some cars and SUVs can manage to drive across the ice, so you can always attach a sled using a tow rope to the back of them. 
How do I clean my ice fishing sled?
Whilst snow and ice tend to be clean, it can sometimes become contaminated with lots of dirt and stones if the area you are fishing is popular.
This won't cause lasting damage to your ice sled if left, however, it can become unsightly and might affect how smooth the sled is to pull along the ice.
To clean your sled, just hose it down with water or wipe away the dirt at the end of your fishing trip before putting the sled away in storage.
Best Ice Fishing Sleds: Conclusion 
Ice fishing is an excellent way to enjoy the sport we all love year-round. Why stop fishing in the fall?
Fishing out on the ice also brings a whole new dynamic to the sport and is often favored by many anglers around the world. However, it does require the use of many other types of gear, one being the ice fishing sled.
It's not always a necessity for some people, but we can guarantee that as soon as you start using one, you'll never look back.
The ability to take more gear on the ice is a virtue and will make your ice fishing trips much more enjoyable!
Other Related Posts: