There is only one thing that's certain whilst you are ice fishing (and it's not landing a fish!), it's certain that you won't last long on the ice if you aren't properly prepared for the elements.
Having the best ice fishing bibs will ensure that you are suited and booted to take on the extreme conditions head first.
Whether you come up against strong winds, rain, hail, and snow, the best ice fishing bib will keep you dry and warm – Allowing you to spend much more time and the ice and thus increasing your chances of landing the fish you're there for.
For your own safety it's important you wear a warm ice fishing bib which can help protect you from hypothermia and frostbite – Never leave it behind on your next fishing trip!
Quick view the best ice fishing bibs:
7 Best Ice Fishing Bibs – Product Reviews
Best Ice Fishing Bib
1. Eskimo Keeper Insulated Ice Fishing Bib
Eskimo has been producing high-quality ice fishing clothing for many years, they are one of the most loved brands in the sport. These particular bibs will give you peace of mind whilst heading out on the ice, so you can trust you are always going to be protected.
The interior is warm and breathable to help keep your body temperature regulated. The exterior is a tough DuraDry finish that can endure the harshest conditions you are likely to meet on the ice.
Additional comfort features include adjustable inseams and stretch/reinforced components to ensure the bibs fit and feel comfortable.
Many customers report that the warmth from the Eskimo keepers is excellent and they perform exceptionally when paired with a thin moisture-wicking base layer.
Eskimo produce these bibs for both men and women and in a range of sizes from small all the way to 5-XL.
Key Features:
DuraDry 600-denier polyester with Durable Water Repellent
5,000/5,000 waterproof/breathable rating
Uplyft™ breathable, fast-draining flotation assistance
80-gram/60-gram Thinsulate Insulation
Zipper pockets
Adjustable, no-slip suspenders
YKK® zippers throughout
Next Best Ice Fishing Bib
2. StrikerICE Trekker Ice Fishing Bib with Sureflote Technology
The next best ice fishing bib on our list is the Striker Trekker. The trekker has the same flotation specs as Striker's most advanced jackets, however, it is compacted into a streamlined design that offers comfort on the ice, even when the conditions are less extreme.
The outer coating is a waterproof Hydrapore & breathable laminate which is guaranteed to keep you warm and dry. The bib also features 60-gram Thermadex insulation which provides the perfect warmth without feeling heavy or stuffy.
For added buoyancy, 150-gram Sureflote insulation is seamlessly placed in the bibs in a way that you'll hardly know it's there. The low-density polyethylene foam traps air in closed cells to help keep you afloat if you fall through the ice.
The Sureflote membrane is moisture-resistant and provides superior user mobility and added protection in the extreme cold.
Key Features:
600-denier Endura shell with Hydrapore® waterproof/breathable laminate
150-gram Sureflote® insulation flotation assistance
60-gram Thermadex® insulation
210T lining
Adjustable suspenders & cuffs
360º reflective accents
Zipper pockets, D-rings
Best Budget Ice Fishing Bib
3. Arctix Tundra Ballistic Ice Bib Overalls
The Arctix Tundra Ballistic Bib is an excellent choice for an ice fishing bib if you are more budget orientated or just getting into the sport.
One negative to note is that this bib does not offer any floatation properties if you accidentally fall through the ice, so if you are ice fishing alone, sometimes it's worth investing more for a higher-end bib as your safety is critical!
The Arctix Tundra features lightweight insulation with 'heat-trapping' microchambers which are designed to help you get warm & stay warm all day.
The outer shell is laminated with breathable material to wick moisture away from yor body, helping you stay dry and warm during higher tempo exercise.
All seams are reinforced and sealed for total wind and water resistance.
Key Features:
Boot zippers
Reinforced ankle, scuff, and hem guards
High-tech flexible materials
Zippered handwarmer pockets
Boot gaiters with grippers
Reflective safety webbing for night visibility
85 grams ThermaTech Insulation
4. Ice Armor Edge Cold Weather Ice Fishing Bib
These Ice armor bibs from Clam, are designed specifically with your comfort and efficiency as an angler in mind - You know this by taking a look at all of the thoughtful features which help to keep all of your ice fishing tackle and accessories readily available.
Our favorite features include the retractable D-ring chords (perfect for fishing pliers) and a magnetic towel release (great for drying your hands, rod, and reel). There is even a waterproof phone pouch.
Another awesome feature is the removable inner lining which makes these bibs versatile for all weather conditions from midseason bitter temps to milder late-season weather.
Key Features:
Specially designed for optimum tool storage
Waterproof shell with reinforced knees and 3M™ Scotchlite™ reflective elements
Removable lining with Thinsulate™ Insulation
Magnetic towel release, retractable D-ring cord, waterproof phone pouch
Fleece-lined handwarmer pockets
2-way waterproof front zipper with magnetic storm flap
Ankle-to-thigh leg zippers
Adjustable inseam
5. Guide Gear Barrier Ice Waterproof Insulated Ice Fishing Bibs
The Guide Gear 'Barrier Ice' Ice fishing bibs, hold true to their name by completely blocking all snow, sleet, water, and wind to keep you dry and comfortable whilst out on the ice.
The shell is 100% nylon which is waterproof and windproof with taped seams for extra protection against water inlet.
The interior features 150g insulation which helps to trap warm air close to your body.
Elastic panels on the side and back provide added comfort and a snug fit that moves with you. Padded, articulated knees make them extra-durable when you're kneeling on the ice, and 2 bellowed hook-and-loop cargo pockets provide plenty of space for tackle and gear.
Key Features:
100% waterproof and seam-sealed
150-gram polyester fiber-fill insulation
100% nylon shell
Elastic panels on the side and back for added comfort and fit
Padded, articulated knees and double-layer seat
2-way thigh-high leg zippers with storm flaps and adjustable boot openings
2 bellowed hook-and-loop cargo pockets
Reflective piping for added visibility
6. FROGG TOGGS Pilot II Winter Fishing Bib
The next ice fishing bib on our list is produced by Frogg Toggs, who we have featured many times whilst reviewing fishing rain gear.
This bib is produced from windproof, waterproof, and breathable materials so you can stay warm and dry whilst out on the ice and not have to worry about overheating or feeling 'stuffy'.
The inner layer is produced from micro-textured tricot fibers which are cool and comfortable to wear, they help wick moisture away from your skin to keep you dry.
Key Features:
Wind-resistant, and lightweight
2 zippered chest storage pockets and a quick-drain, expandable cargo pocket
Comfort-stretch suspenders with locking buckles
Multiple accessory D-rings and zip-to-knee side zips for easy on and off

15,000/10,000 waterproof/breathable rating
7. Rivers West Kokanee Fishing Bib
These fishing bibs from Rivers West are an excellent choice whether you are heading out in spring to a river, or over ice in winter whilst ice fishing.
The construction of these bibs makes sure they are built to last, a 600 denier woven exterior offers rugged durability whilst an interior Taffeta lining provides cooling and breathable comfort.
One of the features we love about this bib is that the adjustable suspender buckles can reverse and turn this fishing bib into a pair of pants which is great when the weather starts to get a little warmer towards the end of the season.
There is also plenty of pockets on the legs and hidden double sherpa-lined pockets that are hidden on the chest - perfect for warming up your hands on a cold day.
Key Features:
Woven Oxford Finish
Two-Tone Design
Converts to Pants
2-Way Center Front Zipper
Hidden Sherpa-lined Pockets
How to choose the best ice fishing bibs – Guide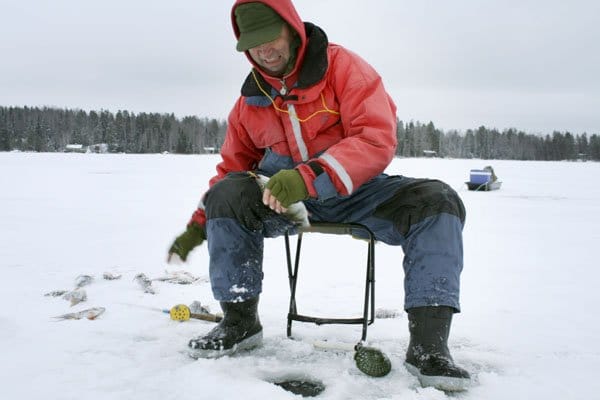 As you have probably already gathered, we believe that an ice fishing bib is an essential part of your gear.
Ultimately it's going to ensure that your time on the ice is a whole lot safer by keeping you warm, dry, and protected from any elements that are thrown your way.
Some ice fishing bibs even come with foam which can help support you above the water if you have a breakthrough and end up on the wrong side of the ice.
Below we are going to go over the key features and must-knows before buying the best ice fishing bib.
Flotation
By no means are any of these ice fishing bibs meant to act as a replacement for your life jacket or PFD, however, some of them do have additional features that can help keep you afloat and give you extra buoyancy if you happen to accidentally fall into the icy water.
This feature isn't always needed, in fact not every fishing bib on our list has this feature and it largely comes down to your own situation, assessment of the area you fish, and how dangerous it is.
If you have a buddy you fish with, you can get away without it. However if you ice fish alone it may be worth something investing in!
Insulation
When it comes to ice fishing in freezing temps it goes without saying that you want to be wearing clothing that offers you insulation.
Of course, you don't want to get on on the ice to find out that your fishing bib is cold and will never keep you warm enough.
Remember that it's always worth also wearing a good base layer to 1) increase your warmth, and 2) wick moisture and sweat away from your skin to keep you dry.
Towards the end of the season, the temps will start to rise, some ice fishing bibs have adjustable straps and sections which can be removed to allow for more airflow and to give you an overall cooler experience. These are great if you are fishing all season.
Waterproof
Waterproofing is one of the main features you want to look at when choosing the best ice fishing bib. It's important that your bib will keep you dry from rain, sleet, and snow – even when the winds are howling.
Before purchasing your bib ensure to read about the waterproof rating (usually in the product descriptions).
Staying dry will not only make your trip more enjoyable, but it will keep you much safer. There are many implications to getting overly cold and wet, and none of them are good!
Hypothermia can cause death if not dealt with, however, we believe it's best to prevent it in the first place by staying warm and dry.
Padding
After a few trips onto the ice, it's easy to see how harsh the environment can be on the clothing.
Ice is hard and sharp, and can quickly cause damage to your joints if you are not protected. Padded bibs will allow you to kneel and work on the ice in comfort.
It's not only the knee areas that can be padded either, some bibs offer complete lower body padding which is great if you find yourself occasionally slipping on the ice.
Reflective Tape
Additional safety features are always worth looking into when choosing the best ice fishing bibs.
Many have a reflective tape that will make your bib (and more importantly you) more visible in emergency situations.
In heavy downpours or snowstorms, visibility can drastically decrease and any search and rescue team might struggle to see dark and plain colors through the storm. The reflective tape will make finding somebody much easier.
Layering Space
Your ice fishing bib isn't made to be worn on its own (that would look ridiculous, and also dangerous!).
It's important that you size up so you can fit plenty of layers under the bib and your jacket over the top. Layering properly will keep you warm, but also allow you to remove layers and make yourself cooler when you need it.
Mobility
Another major thing to think about whilst you are ice fishing is your mobility, yes you aren't exactly casting beyond the waves with your surf rods, but it's still important to be able to move how you want.
Plus you'll be carrying most of your gear across the ice to your home, so being able to move your arms and legs properly is important. Most well-reviewed and bibs produced by top brands (like the ones on our list) are very well made, they are designed to move and stretch in the areas that… move and stretch so to speak.
It's always worth investing in a good ice fishing bib as without your mobility the trip will soon become frustrating.
Material
Nylon is the most popular and common material used for ice fishing bibs. It is durable, lightweight, and waterproof which means it does the job.
But there is plenty of other options out there, some good, some bad. We would recommend checking the product description and double-checking that all build materials are durable, waterproof, and windproof.
Making the wrong material choice can only end badly. The last thing you want is to figure that out whilst you are already on the ice. It will make for a poor ice fishing experience.
Pockets
Pockets are useful whilst ice fishing. Having all of your crucial items like pliers, lines, lures, and snacks within arm's reach will make you a much more efficient angler (ok, maybe not the snacks, but it can't hurt!).
It does mainly come down to your personal preference whether you want lots of pockets or not but it's better to have them and not need them than need them and not have them!
Some bibs also come with fleece-lined hand warming pockets (usually in the chest area) which allow you to tuck your hands in whilst you aren't holding your rod and reel and keep them toasty and warm.
If you aren't a fan of many pockets then make sure you have plenty of storage space in your fishing backpack or your ice fishing chair.
Durability
Durability is not only the material choice that has been used to make the main parts of the bib, but you should also consider the durability of other key features like seams and zippers.
Ice fishing weather can be harsh, and choosing the best ice fishing bib will ensure that it can take the beating that will be thrown its way over the many years it should last you.
Ensure that seams are taped or sealed to prevent any water or wind ingress, that key areas like the knees include padding and that zippers are weatherproof and well designed with the strongest materials on the market.
Comfort
Ice fishing can be a slow sport. Sometimes a full day of waiting is required to reel in a few fish (but we put up with it anyway!).
And because you are out there all day, you want to be comfortable. We have already touched on making sure that your bib is non-restrictive, padded, and allows you to place extra layers underneath.
All of these ultimately ensure that the comfort levels you need are met. An ice fishing chair will also be worth investing in.
The best ice fishing bibs – Conclusion 
Choosing the best ice fishing bib isn't always a straightforward task. There are literally hundreds of options on the market which all claim to be the best and perform as you'd expect.
But that's why we have covered this topic, so keen anglers like yourself can spend less time surfing the net and more time out on the ice, doing what you love.
We truly hope that this post has helped you choose the best bib for ice fishing and gave you an insight into the key features that make up a great choice.
Other fishing equipment you might need: