Best Braided Fishing Lines – Our Top 6 Picks
Choosing the best braided fishing line isn't a straightforward task. Whilst many anglers stick with what they know, sometimes switching things up and trying new products is the best way to take your fishing game to the next level. 

We know all too well that there are hundreds of different options on the market and they all promise to be the best braid. But who is right?
In this post, we are going to cover our picks for the best braided fishing line and why you might want to consider giving one of them a spot in your tackle bag. 
The Best Braided Fishing Lines at a Glance  
Why use a braided fishing line?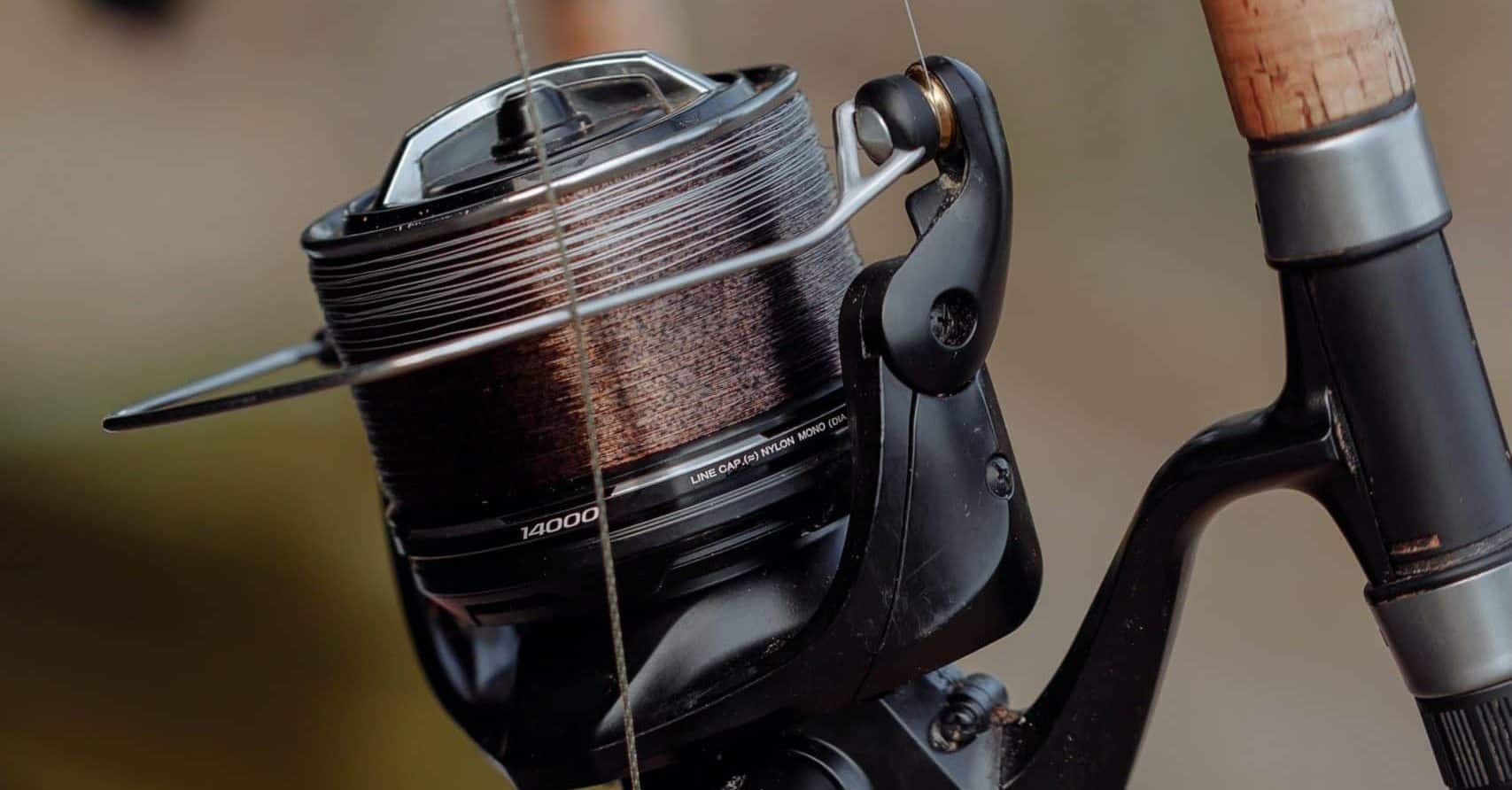 Whilst mono line might still hold the spot of the best all-purpose line for most anglers, braid is quickly climbing the ranks, and for good reason.
When fishing in clear waters most anglers want a clear line, braid makes an exceptional mainline that you can easily tie your fluoro leader onto and still reap the casting and sensitivity benefits of a braided fishing line.
In murky and dark waters you can forget the leader and just use braid as your all-purpose line. 
Better casting ability: Braid fishing line is well known for longer and more accurate casts. This is largely due to the fibers it is produced from.

You will often see them marketed as "Spectra", "Gore" and "Dyneema" fibers. Each has been specially designed to have unique properties that make them smooth.

Combine these properties with a small diameter line and you have yourself a braided line that outperforms all others when it comes to casting ability.

Small Line Diameter: Braided fishing line has a much smaller diameter than fluorocarbon and mono lines of equivalent strength.

What this essentially means is that you can spool more line onto your reel and be able to tie much tighter knots. 

Highly Sensitive/No Stretch: Braided fishing line has virtually no 'stretch' which is also referred to as being highly sensitive.

The lack of stretch in the fishing line allows the angler to feel where and how the lure is moving through the water. It also makes it much easier to detect even the lightest of bites allowing you to set the hook much faster.

There are some fishing situations where you might want a little stretch in your line, but for most anglers a high sensitivity line is a great option.

Durable: The braid fibers are tough. If you like to fish over rough covers like rocks, wood, brush, and boat docks then braid is a great fishing line for you. Using a durable line will lead to less re-tying and less purchasing of the line itself.  
Braided Fishing Line Reviews
Best Braided Fishing Line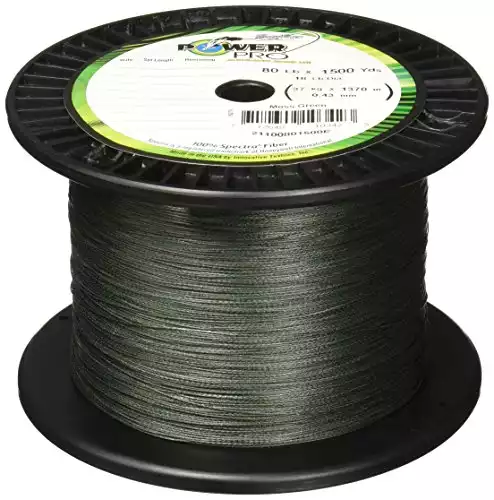 Power Pro Spectra Fiber Braided Fishing Line
PowerPro has undoubtedly been one of the best braided fishing line manufacturers for a long time. This particular option takes our top pick and will serve well as an excellent all-round performer for almost any angler.
This line is an ultra-strong braided Spectra Fiber, which has been treated with enhanced body technology to produce a line that is incredibly round, smooth, and highly sensitive.
With 7 different color options to choose from, you are always going to find the right line depending on what color water you are mainly fishing in. As well as this, there is also a vast number of length and strength variations to pick from. All the way from 150YD/5LB to 1500YD/150LB.

Next Best Braided Fishing Line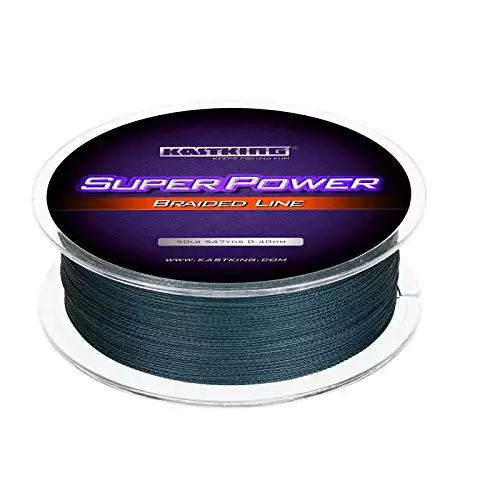 KastKing Superpower Braided Fishing Line
We have tried and tested almost all of KastKings' fishing lines and we are always blown away with their performance and quality. It was a tough decision between this line and the PowerPro but it thoroughly deserves our next best braided line pick.
This line is a budget-friendly option when you compare it to other top brands whilst still producing all of the benefits of a braided fishing line. Such as high knot strength, low memory for better casting performance and less chance of 'wind knots', zero stretches for superior hook setting, and a small diameter allowing you to spool much more line onto your fishing reels.
There are 5 different color options to choose from and the line options range from 6LB/327YDS to 150LB/1097YDS.

Best Braided Line For Casting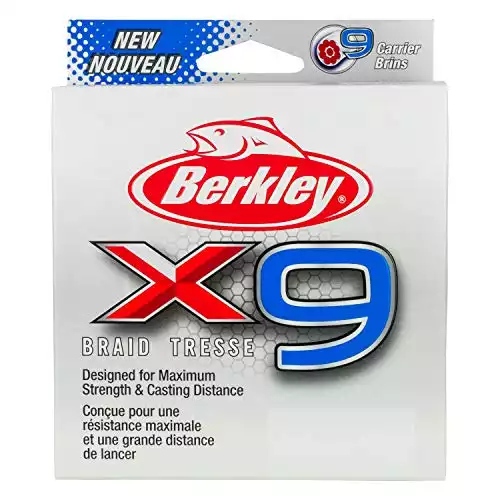 Berkley X9 Lo-Vis Braided Fishing Line
It goes without saying that Berkely produces some of the most premium fishing products on the market and the X9 braided fishing line is no exception.
Designed with casting performance and strength in mind, this line is great for any angler who is struggling to get the distance from their casts they desire.
With a 9 carrier construction and PE core, this braid fishing line is round, smooth, and very strong. Promoting better durability around rough structures like rocks and trees, as well as a very high knot strength - perfect if you are tying on expensive fluoro leader lines.
With 3 colors and many strengths and yardages to choose from you are guaranteed to find the perfect line for your set-up.
Ranging from 165YDS/8LBS to 2188YDS/100LBS.

Best Budget Option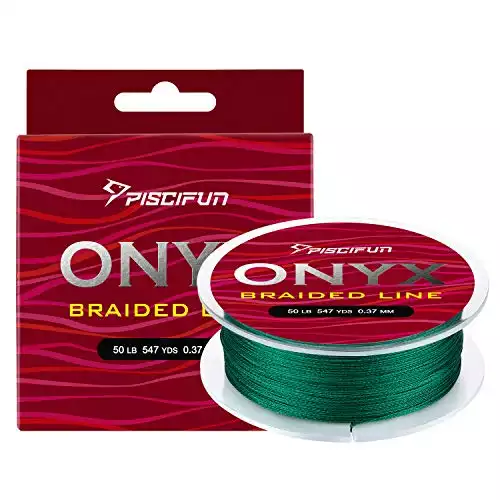 Piscifun Onyx Advanced Superline Braided Fishing Line
Another great braided fishing line to make our list is the Onyx Advanced Superline. Whilst it is budget-friendly at the lower strengths, do not allow this to give you any preconceptions about the quality compared to other brands.
With superior abrasion resistance produced by new epoxy coating technology, this line is great when being cast around sharp structures.
As with many high-quality braid fishing lines, this line has zero stretch and low memory allowing for a fast hook set and early detection of any bites.
There is a wide range of yardages and strengths to choose from with 6lb-50lb strengths having 4 strands whilst the higher tensile strength options of 50b-150lb have 8 strands for extra power when going after bigger game fish.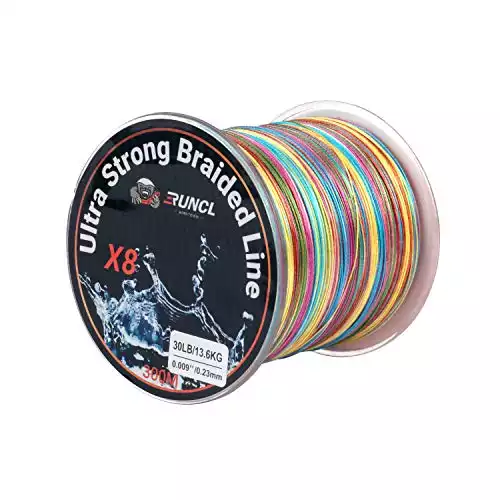 RUNCL Braided Line With 8 High-Strength Strands
Another great line you might want to consider adding to your tackle bag is the RUNCL ultra-strong braid. Produced with 8 strands rather than a conventional 4, this line has superior wear and abrasion resistance.
Compact weaving of the strands leads to zero stretch and a smaller diameter, so you can feel the lightest of bites and spool more yardage onto your reel.
This braid fishing line has a round and smooth diameter without any burr allowing the line to easily pass through the rod guides which in turn leads to longer and more accurate casts.
With strength ranging from 12LBS to 100LBS and yardage from 328YDS to 1093YDS, you are sure to find a configuration for your setup.
The only drawback to this line is that it only comes in the multi-colored variation. Perhaps in the future RUNCL will add a wider range of color choices to choose from.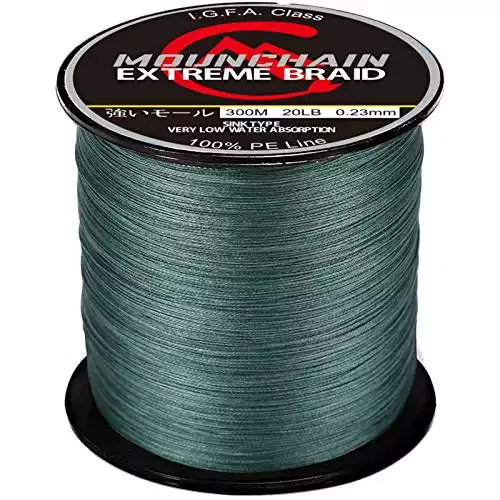 Mounchain 100% PE Braided Fishing Line
One of the stand-out aspects of this braid is that it utilizes a unique coating that is different from the typical water-based dyes you find on most other braids. This increases UV resistance and prevents the line color from fading.
Improve your chances of landing a fish by using this zero stretch line which allows for rapid hook setting and early detection of light bites.
Ultra-small and round diameter allow you to spool more line onto your reel, tie very strong knots, and allows the line to flow smoothly through the rod guides.
There are 6 great color options to choose from, and strengths ranging from 10LB-40LB and, yardages from 328YDS to 1094YDS.

Key Features Of Braided Fishing Line
Zero Stretch
Braided fishing line is often referred to as a line with zero or no stretch. Another way to explain this is that there is no 'give' in the line when a fish strikes. Stretch is also closely correlated to sensitivity – where there is no stretch, there is a high sensitivity and vice versa. 
A highly sensitive line provides the angler with a lot of feedback about what is happening below the surface of the water. It's easier to 'feel' where your lure is and how it is moving.
You can also feel any bites on your bait or lure almost instantly, even from small fish. This allows you to set the hook rapidly and increase your chances of catching a fish. 
Abrasion Resistance
Whilst all line manufacturers (even mono & fluoro) make abrasion resistance a key part of their product development, it's mostly apparent in braided lines.
The fibers used are inherently strong by nature and when wound together to form braid, this increases the lines abrasion resistance.
Braid is great for when you are casting around sharp structures such as rocks, docks and trees. Don't want to use braid but you need the abrasion resistance? Use a leader line. 
Small Diameter
Braided line has a small diameter relative to its strength, especially when compared to monofilament or fluorocarbon lines.
You will sometimes see on products of braid two numbers like "25/10". This means that this spec of braid has a 25lb test with a diameter that is equivalent to a 10lb test mono or fluoro line. 
A small-diameter line also allows you to spool more lines onto your reel or use more mono backing. 
High Knot Strength
Due to the small diameter that a braided line has compared to mono and fluoro, you can tie much tighter and stronger knots. This is one of the reasons it works great as a main line with an attached leader. 
High Tensile Strength
Tensile strength is the maximum load a material can support without fracturing whilst being stretched.

Due to braid being multi-strand which is wound together, the tensile strength is much higher than fluoro and mono when similar diameters are compared.
Braided Fishing Line FAQs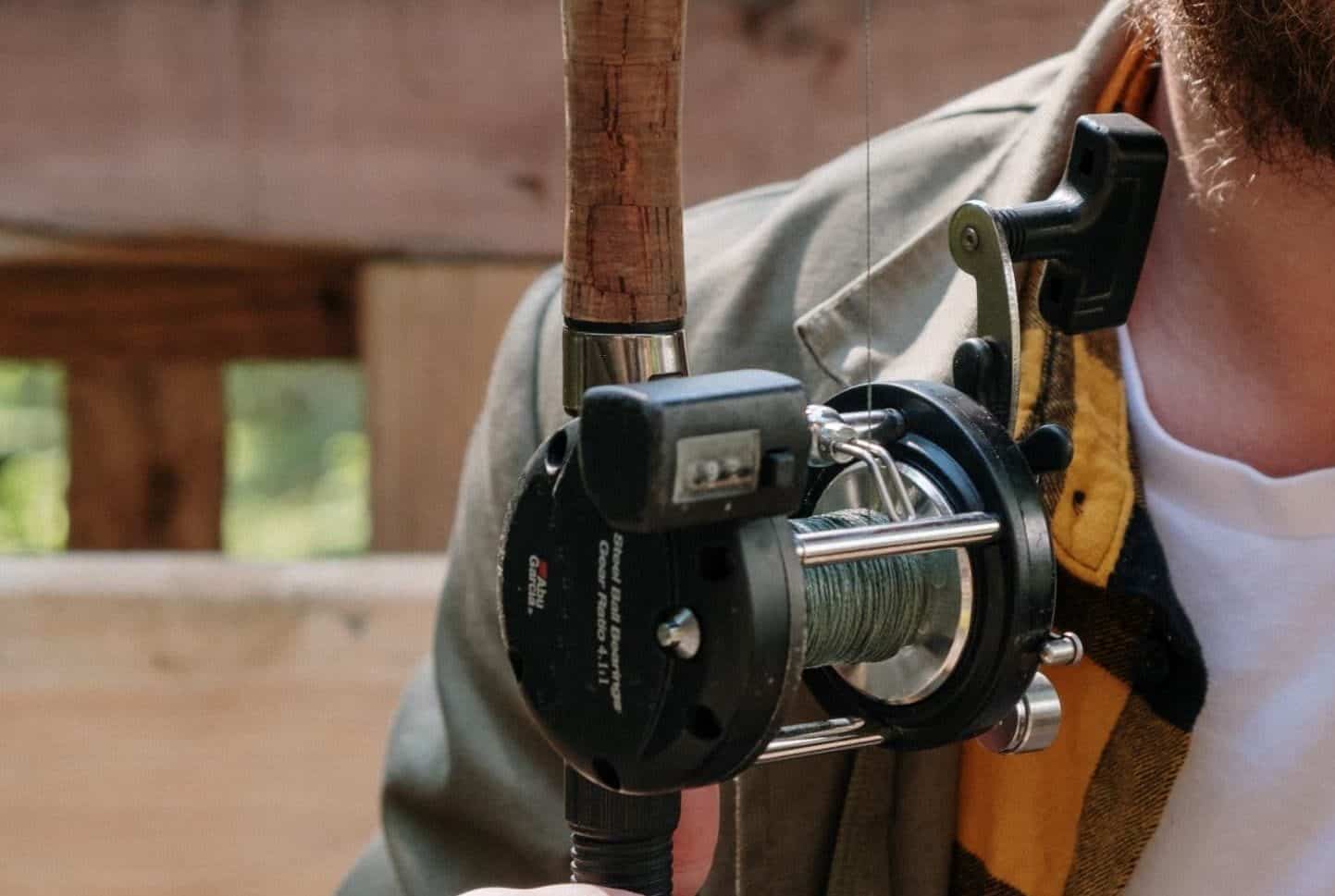 Is braided fishing line better than mono?
It's difficult to explicitly say which type of fishing line is better as both are suited to a wide variety of applications. Mono has more memory and stretch than braided fishing line and thus won't be as sensitive to bites and will give a slower hook set – not always desirable.
However, the stretch of mono might be beneficial when hunting fish that strike hard and fast. A little bit of 'give' in the line will prevent any instant breaks when the fish strikes. 
Braided line has a smaller diameter which will allow for stronger knots and more line spooled onto the reel.
Braid also tends to be much stronger than mono due to the multi-strand construction. At the end of the day, which is better? It comes down to where and how you intend to be using your setup. 
What is the best color braided fishing line to use?
Green or 'low-vis green' is widely regarded as the least visible braided fishing line to use whilst fishing. However, your color choice depends on where you are fishing and the color of your water.
For example, if you are fishing in murky, dark water then you can get away with dark green, red, blue, and brown (the color doesn't matter as much here).
But if you are fishing in crystal clear water then many fish will be put off by a line they can easily spot. In these circumstances, it's best to use a fluoro leader line and use the braid as your mainline. 
How long should a leader be on braided line?
The average length of your leader should be 2-4 feet. This gives plenty of room to tie on your lures and other tackle whilst still being long enough to hide the braided main line from the target fish. 
What is the best way to cut braided fishing line?
Braided fishing line is definitely stronger than most alternatives and therefore can be more difficult to cut if you haven't come prepared with the right tools. It can be cut with a sharp knife and scissors, but to get the best cut possible it's best to use a dedicated pair of fishing pliers. 
How do you tie braid to mono or fluoro?
There is a variety of ways to accomplish tying a braid to other lines, but the most popular method is to use a Uni-knot.
The uni knot is regarded as one of the most useful knots in fishing as it can be used with a variety of lines and be used for many connection methods. You can see a step-by-step guide in the video below:
How often should you change fishing line?
For most anglers fishing line should at the very least be changed once or twice a year, however, if you fish frequently or go through a lot of lines per fishing session then you will be changing the line more often.
One of the factors affecting the time between line changes is the quality of the line you opted for. This is why picking the best braided fishing line is essential. 
Conclusion
Fishing is a great hobby to be a part of. As a beginner or even an experienced angler, it's important to use quality gear that can cope with the demanding environments and challenges at hand – trust us, it saves you money in the long run! 
The fishing line is a major part of your setup, and braid is a great choice for most fishermen. Therefore choosing the best-braided fishing line is crucial. 
We know that it can quickly lead to a headache and frustration when sifting through the hundreds if not thousands of different braided fishing line options on the web.
Therefore, we hope that this guide has helped you make a better-informed decision and that you have settled on the best-braided fishing line for you. To recap our top pick was: Power Pro Spectra Fiber Braided Fishing Line and our next best pick were: KastKing Superpower Braided Line.