Best Fishing Sunglasses Under $50 In 2023
Sunglasses: they're not just for celebrities at airports! We've all forgotten sunglasses on a sunny day and ended up squinting, tense and uncomfortable. Unfortunately, being on or close to water makes this much, much worse.
The reflection of light on the water means that you're exposed to more of it, and this can easily give you a headache and ruin your day. It also means that you can't spot the fish, which can be a real disadvantage.
To help, fishing suppliers have started making sunglasses specifically for anglers.
Quick view the best fishing sunglasses under $50:
Wearing sunglasses that block ultraviolet radiation (UV) while a person is in the sunlight is recommended by the American Optometric Association to protect the eyes from UV and blue light, which can cause multiple serious eye problems.
​Protective eyewear is a must if fishing is your passion. As one of the most sensitive organs in the body is your eyes, you can protect them from the harmful rays of the Sun as well as from intrusive elements such as sand and wind.
Finding the best fishing sunglasses under 50 is not a straightforward task, there are literally hundreds of models on the market, and not all of them will give you the protection you need.
Below we have reviewed our top 10 picks, so you can spend less time searching and more time on the water fishing! Let's dive right in!
10 Best Fishing Sunglasses Under 50 
Our Top Pick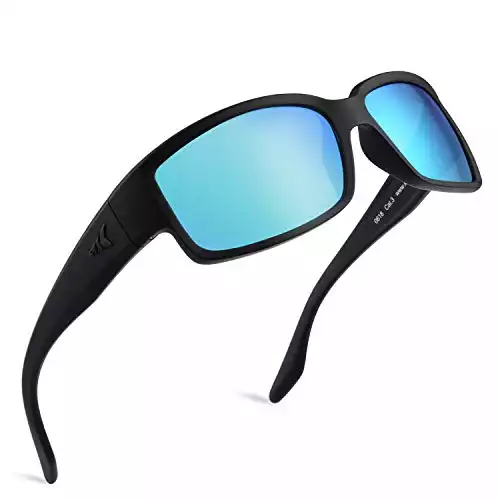 1. KastKing Skidaway Polarized Fishing Sunglasses
For prolonged comfort during extended periods of use, Skidaway bifocal sunglasses feature a lightweight, portable Grilamid frame. To withstand years of active use, KastKing frames are ultra-lightweight, highly durable, heat-resistant, UV-resistant, and have an excellent memory and maintain their shape.
KastKing polarized lenses are produced with high-quality Japanese and German raw materials to create an ultra-lightweight, robust, and scratch-resistant lens with excellent optical quality.
A double decentering check is passed by KastKing lenses to ensure that they meet the highest visual clarity requirements with no optical distortion that can cause eye strain and headaches. Polarization helps decrease the glare created by reflected light, enhancing visibility and lower eye pressure. Both KastKing eyewear lenses block the harmful UVA and UVB rays by 100 percent.
Key Features:
Impact-resistant TAC lenses
Block 100% of the harmful UVA and UVB rays
Lightweight and durable
Comfortable Grilamid frames

Next Best Pick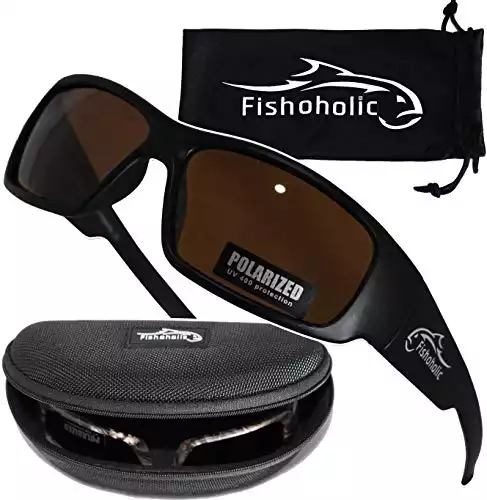 3. Fishoholic Polarized Fishing Sunglasses
If you want to fish for fun or even as a serious sport, this pair of polarised fishing sunglasses from Fishaholic is great for you. The style is unisex and is pretty classy, so these glasses are perfect for you, whether you are a man or a woman.
The Fishaholic logo represents fresh and saltwater fish of all kinds. The price for these sunglasses and all the basic functions needed make these sunglasses great value for money. The lenses are polarized and provide ideal protection against UV. The anti-glare lens and the large side lens prevent glare from causing your eyes to get tired or harmed.
The glasses are covered by a 30-day warranty, so you can always end up returning them if they are damaged.
Key Features:
Lightweight and optimal for everyday use
Sides are wide to avoid or decrease side glare
UV resistant
Polarized lenses

Best Budget Pick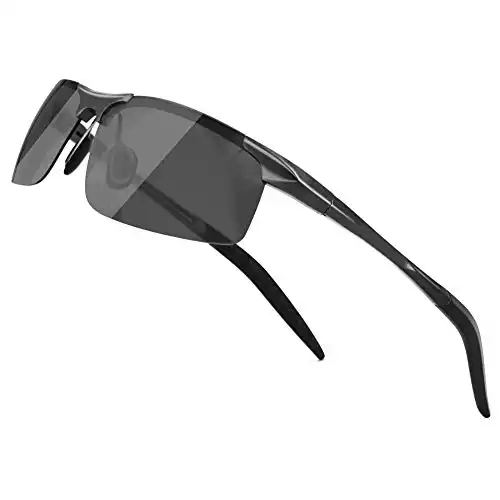 4. SUNGAIT Men's HD Polarized Sunglasses
Another best option for the best fishing sunglasses under 50 is the SUNGAIT Men's Polarized Sunglasses. These are lightweight sunglasses, thus leading to optimum comfort. They are not only shock-absorbent but resistant to higher temperatures as well. Their classic and straightforward style includes side ventilation to improve these beautiful pair of glasses' comfort factor.
A limited breakage warranty and a 100 percent satisfaction guarantee are included in the SunGait Men's Polarized Sunglasses. You can return it if you don't like it, and you get your money back in full. This is reflective of the full confidence of the producers in their brand.
Key Features:
Best for fishing and outdoors
Lightweight Frame
TAC Polarized Lens
Comfortable to wear
Fashionable and Stylish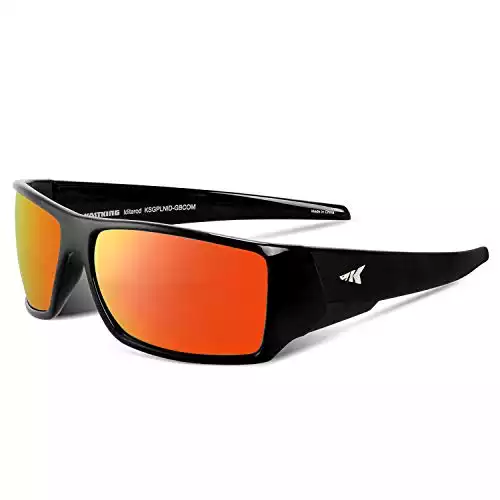 5. KastKing Iditarod Polarized Sport Sunglasses
Another great and stylish addition to our best fishing sunglasses is KastKing Polarized sunglasses. With KastKing Iditarod sunglasses designed in the USA for fashion and function, you can enjoy the outdoors in style and comfort.
Side-light blocks of the large temple full wrap design provide maximum coverage, making this style ideal for driving and sports activities such as skiing, biking, running, boating, fishing, and golfing.
For prolonged comfort during extended periods of use, Iditarod sunglasses feature a lightweight folding Grilamid case. KastKing frames are engineered to endure years of active use, are ultra-lightweight, highly durable, heat-resistant, UV-resistant, and have excellent memory to maintain their original structure. With a durable saltwater resistant coating, the KastKing mirror finish lenses are covered to protect the lenses from harsh saltwater conditions.
Key Features:
Impact-resistant TAC lenses
Block 100% of the harmful UV Rays
Comfortable Grilamid frames
Saltwater resistant lens coating protecting mirror finishes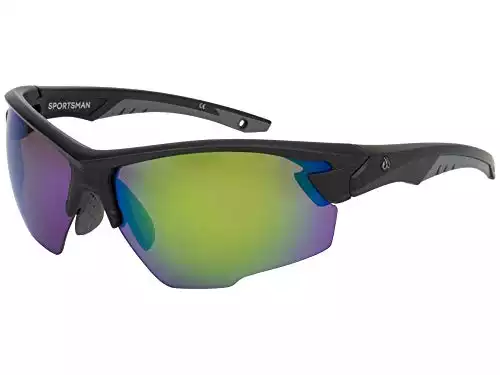 8. Filthy Anglers Sportsman Polarized Polycarbonate Men's Fishing Sunglass
These polarized Filthy Anglers' sunglasses are intended for extreme outdoor enthusiasts who spend a lot of time on the water. If you prefer saltwater or freshwater, these glasses are for you if you love fishing.
Enthusiastic fishermen make these polarized fishing sunglasses for other fishermen. They are made of polycarbonate, which is more stable because it doesn't crack like glass.
The sunglasses are anti-glare, so if the sun is shining you won't be blinded by the reflection off the water.
Key Features:
100% clear views
Blocks 100% harmful UV rays
Scratch-resistant hydrophobic coating
Polycarbonate frame

10. Filthy Anglers Delta Men's Polarized Fishing Sunglasses Matte Black
Are you looking for an old school frame and something classy? The Delta sunglasses from The Filthy Anglers are the best for you. These sunglasses are designed to provide a total old-school wrap fit that helps to hold the glasses on your head still. This style ensures that excellent light shielding and wind protection are present from all angles.
These glasses have a polarizing film, like higher-priced glasses, that is encapsulated inside the lens for scratch safety and adds to the optical clarity.
The lenses also feature a hydrophobic coating that is scratch resistant and repels water, oil, and sweat, keeping vision through the lens pristine in all weather conditions.
Key Features:
One of the lightest sunglasses
Provides full eye protection
The Sunglasses are exceptionally comfortable to wear
Scratch-resistant
Hydrophobic coating

Best Fishing Sunglasses Under $50 – Buyers Guide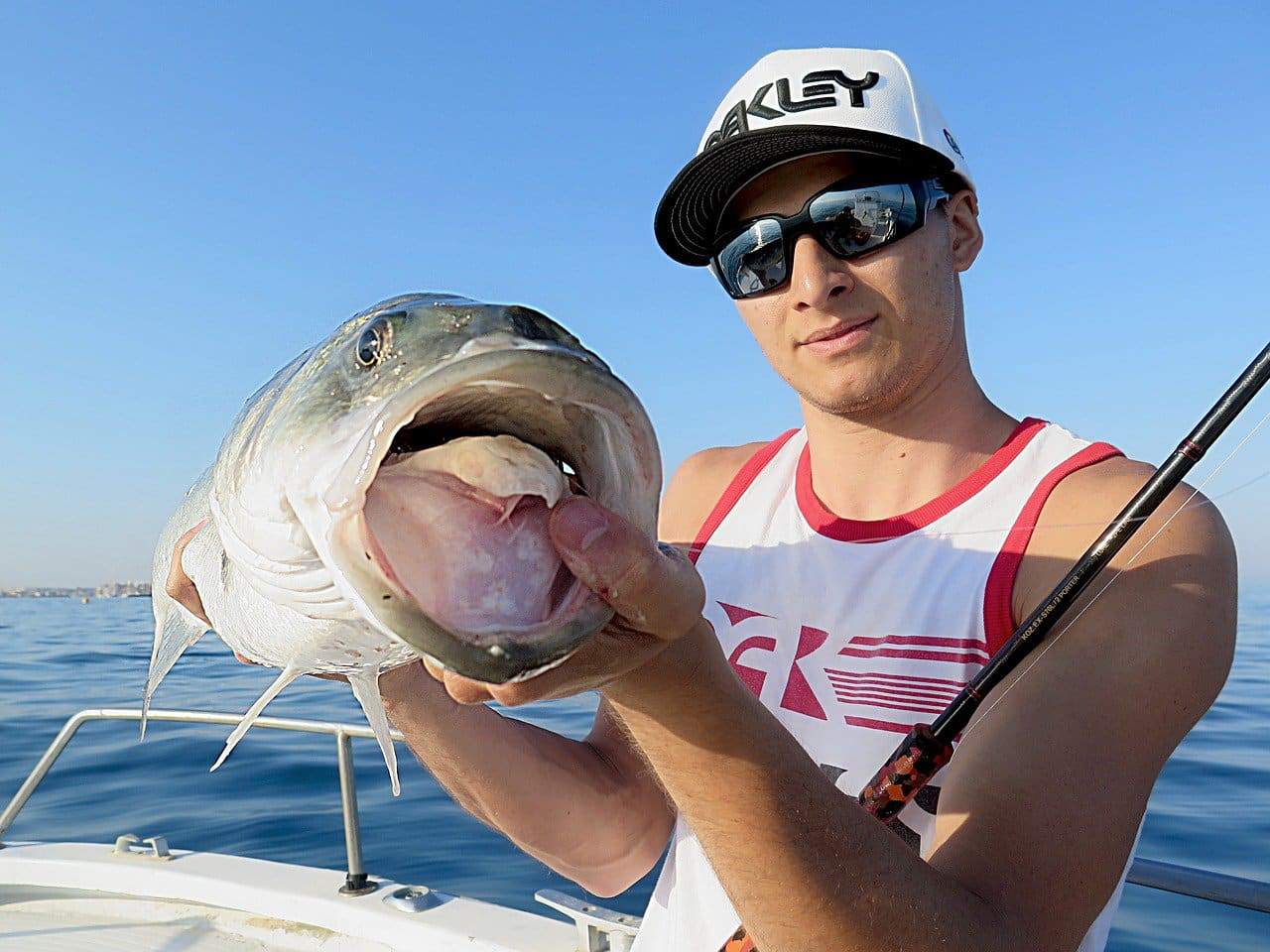 What are fishing sunglasses?
Fishing sunglasses are carefully designed for use on and around water, where the light is strongest because it reflects from the water's surface.
This means that you'll need enhanced protection for your eyes, and stronger UV protection. Most people have been sunburned from spending a day by a lake, and have then realized that they'll need to increase the SPF and apply sun cream more regularly.
Fishing sunglasses are exactly the same: they need to be stronger and specifically designed for that situation. This is why they're usually more expensive because they're specialized, but you should be able to find a good option fairly easily.
UV Protection 
Exposure to sunlight can cause blindness, or photokeratitis, which is where your cornea gets a sunburn. That's probably the most horrifying thing I can think of, and if that doesn't make you want to get a pair of sunglasses I don't know what will.
It's important to make sure that you don't go blind from fishing, especially if it's so easy to avoid. So: make sure you've got sunglasses, and possibly a spare pair, and make sure that they've got 99% or 100% UV protection.
Polarized Lenses
Polarized lenses are specifically designed for outdoor activities. They're usually darker, and therefore can't be used in low light conditions.
They work by filtering some of the light out, which means that you won't get the full glare of the sunlight and its reflection from the water.
Polarized lenses won't automatically have UV protection, so you'll need to make sure that you've got UV protected lenses, too.
You can fish better with polarized lenses because they'll stop you from squinting and allow you to see the water more clearly. If you're looking at tinted sunglasses, a grey tint is the best for fishing.
This can help you spot fish, and other things like the location of the line and if the bait is attached correctly. Fishing partially blind probably won't mean you fall in the water, but you also won't catch as many fish.
Frame Material & Durability 
These aren't supposed to be particularly fashionable. In fact, most of the fishing sunglasses you can find are solidly 'dad' style.
That doesn't really matter – the fish aren't here to judge your choices. What you do need is something that's going to cover your eyes, completely, and won't break too easily.
The frames and lenses are usually made of plastic, although you could probably find wood if you wanted. We're a bit concerned that they'd get damp and either smell of a) mold or b) fish, neither of which is especially pleasant.
If they're made of plastic they're more likely to bend and fit your face, which is important and helps ensure that no unfiltered light gets in.
You should also check and see if they're scratch-resistant because there's nothing more annoying than trying to peer around a mark. You can get soft bags to store the fishing sunglasses in, and it's worth doing, especially if you've invested a lot of money in them, or you may be able to find backpacks with special compartments for your fishing sunglasses.
Size, Comfort & Fit
Again, this is really up to you. You should try sunglasses on before you buy them, to make sure they fit your face and fully cover your eyes – you won't want anything that gapes, especially because the light coming from the water arrives in a different direction.
Remember that it's likely that you'll be wearing these for hours at a time, so you don't want them to chafe on your nose or ears. It's also a good idea to find something lightweight so they don't leave dents on your face.
Finally, make sure that you can lean forward without the sunglasses slipping off! You don't want them to end up down with the fish.
Extra Accessories 
There are two main accessories that we think would be useful for fishing sunglasses, a chain, and a bag to store the sunglasses in.
The bag should fit with the rest of your fishing kit and prevent scratches or damage to the lenses. They're a good idea even if you've got scratch-resistant lenses: you don't need to try it out!
If you're concerned about getting your sunglasses broken, you could find a hard-shell case like one for regular glasses, and you may actually be able to find sunglasses that come with these as a bonus.
The other thing that could come in useful is a chain to stop you from losing the sunglasses. If they're hanging around your neck they're not in the way and you can't always push them to the top of your head if you're wearing a hat, which is also a good idea.
Best Fishing Sunglasses Under $50 – Conclusion 

So. Sunglasses are essential for fishing, and will ensure that you don't accidentally hurt yourself or miss any good fish. Try to find a pair that's specific for fishing, because the light is stronger on the water, and make sure they don't slip off your face! Good fishing sunglasses are a worthwhile investment and should last for years.
Happy fishing!
Other Fishing Gear You Will Need: 
Related Fishing Posts: