Best Headlamp For Fishing: 5 Product Reviews
Being able to fish at night or before the sun has risen, can give you an advantage for going after different species of fish that are more active at these times.
Unfortunately, fishing in the dark has one major obstacle… being able to see. Fortunately, fishing headlamps are ideal for expanding your fishing time into early mornings as well as late nights.
When it comes to fishing, the best fishing headlamp is one that is equipped with various modes along with unique color options.
Choosing the best fishing headlamp can be a daunting task, how do you sift through the thousands of options on the market?
As a result, we decided to do the heavy lifting for you and take you through the vital aspects you will need to consider when looking for the best fishing headlamp and listed our favorite picks.
Best Fishing Headlamps – Top 5 Picks
Best Headlamp For Fishing – Buyers Guide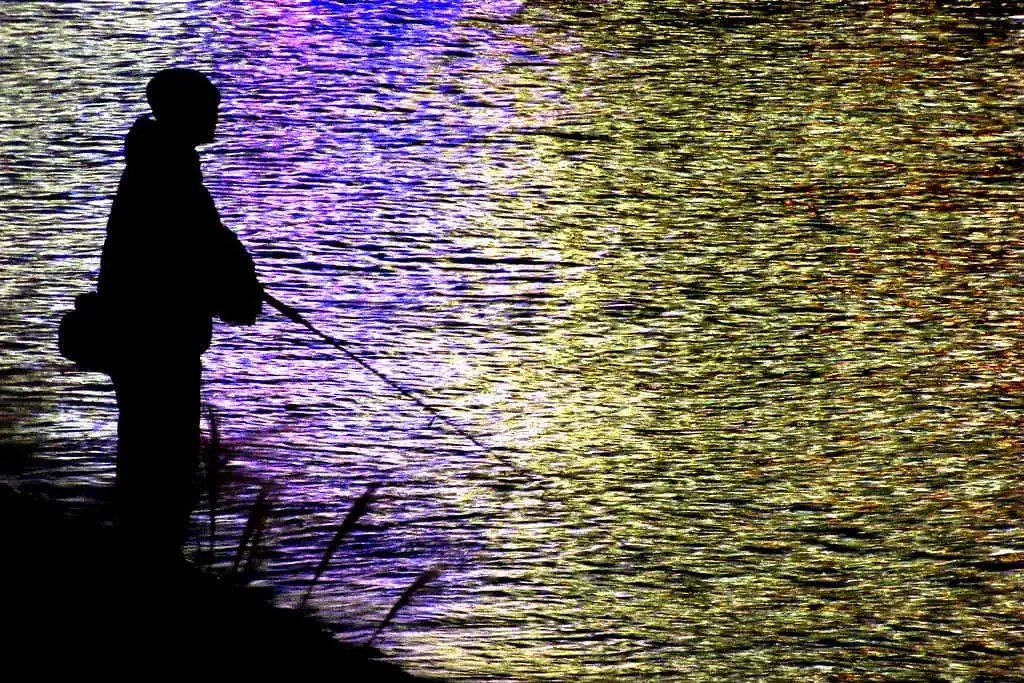 Why use a headlamp for fishing?
Fishing at night or early in the morning is considered the most peaceful time of day to fish; however, you will probably see nothing due to the lack of light. This makes fishing very challenging. Having a reliable fishing headlamp will be ideal, allowing you to see the water and all of your fishing tackle. Advantages of using a fishing headlamp include;
Attracts fish
When using a certain brightness level, you will be able to attract more fishing using your headlamp. This will help boost your experience significantly and hopefully help you land more fish. For instance, using a UV or a green headlamp while fishing, you will be able to attract lots of fish. On the other hand, a red light will help to prevent spooking the fish in the water. 
Navigation and setting up
Observing your environment while fishing is vital; therefore, a headlamp will help in improving your navigation to and from the area you are fishing from. In addition to that, the best fishing headlamp will allow you to illuminate your camp/area and aid you in rigging up your lines, setting up camp and also help you decide where to cast your line.
Key features of the best fishing headlamp:
Brightness
When choosing the best fishing headlamp, the brightness level or the amount of lumens tends to have a significant impact on your fishing experience.
In addition to that, safety should be your top priority; this means that you should consider choosing a headlamp with incredible brightness levels.
Since most of the fishing spots are pitch black once the sun sets, a headlamp with a brightness level of 1,000 lumens is often considered the best. However, when fishing in a well-lit area, the brightness level of your headlamp should not be a problem.
When working in an area with sufficient light, a headlamp with a brightness level of 150 lumens is considered sufficient.
As a fisherman, you need to keep in mind that brightness is an essential aspect you will need to factor in when fishing at night. When it comes to brightness, the brighter your headlamp, the further you will be able to see.
Color of the headlamp
Different manufacturers design different fishing headlamps equipped with unique colors including; blue, red, white, green, and yellow.
As previously mentioned, UV lights and green headlamps are said to help in attracting lots of fish. A green light, on the other hand, is said to be effective in fishing at night since when it is submerged underwater, it emits strong light intensity which attracts most species of fish towards it.
Granted your headlamp won't be going underwater (hopefully), but the principle still applies.
Red lights are a preference for most anglers since it helps to improve their eye adjustment while in the dark, allowing them to have a sharp vision. In addition to that, it helps calm the fish down from any fishing disturbances.
Water Resistance
A fishing headlamp needs to be water-resistant. This is a vital aspect since you will be getting splashed every time and quite often will be angling in the rain, and using a headlamp that is not water-resistant can be challenging.
Therefore, you should consider choosing a fishing headlamp that can survive for an extended period when submerged underwater. A full-fledged waterproof is regarded as the best option over a water-resistant headlamp.
To know whether or not your fishing headlamp is water-resistant, you will need to assess its water rating. Usually, it is equipped with an IP or IPX water rating. With this rating, you will be able for how long your fishing headlamp can be submerged underwater before it becomes completely damaged.
Beam Distance
With fishing spots being extremely dark once the sun sets, investing in a fishing headlamp that gives you control over the light beam is vital.
Controllable beam distance is vital since narrow beams help in improving your focus on a specific spot allowing you to see further into a distance. This is vital when fishing at night.
On the other hand, a wider beam helps improves your vision of your immediate area, allowing you to study your environment even better. In addition to that, some fishing headlamps are equipped with SOS or strobe function, which allows you to be seen during an emergency situation.
In addition to that, another aspect you will need to note is how accessible are all the vital functions are allowing you to avoid unnecessary fumbling.
When choosing a fishing headlamp, you should consider settling for one that offers control over beam distance. This will help improve both your fishing experience and navigation on large water bodies.
Beam width, narrow vs. wide
A narrow beamwidth tends to have a concentrated pattern that is relatively narrow and long.
The narrow beamwidth can reach a distance of 10 feet to 1000 feet. This makes it ideal for looking across large water bodies.
On the other hand, a short beam width headlamp features a wider pattern and is ideal for use in short reach.
A short beam width tends to reach 60 to 80 feet. However, it disperses light allowing it to light up great space and can visualize your surrounding better.
When it comes to fishing, both narrow and short beam width is essential; this means that you should consider investing in a fishing headlamp equipped with an adjustable beam.
Battery Life
Since you will be using your headlamp frequently, you should consider factoring in battery life.
You don't want your headlamp to run out of juice while you are in the middle of a fishing trip.
Just like any lamp, when using a headlamp equipped with a high brightness level, you should be expecting its battery power to drain faster compared to a headlamp running on a low brightness level.
If you are concerned about battery life running out and having nowhere to charge it, perhaps replaceable batteries will be a better option as you can carry spare batteries in your fishing backpack.
Regular vs Rechargeable Batteries 
Regular batteries are said to be the best when it comes to holding the energy for an extended period.
This makes it ideal for use in a fishing headlamp. The best part of using a regular battery is that they are always ready for use while rechargeable needs to charge before using them.
Both regular and rechargeable batteries have advantages and limitations; this means that choosing the best design will highly depend on your needs.
Different Headlamp Modes
Fishing headlamps come equipped with various brightness levels that you can choose from. This tends to be vital since different fishing situations call for different illumination levels.
This means that you will need fishing a headlamp that allows you to have full control over the brightness level. When you switch between low and high brightness level is essential when it comes to fishing.
Some fishing headlamps are equipped with a setting for strobe lights which ideal for use during an emergency situation. It is also useful for reasons previously mentioned if you can get a fishing headlamp which can produce red or green light.
Comfort
Comfort is a vital aspect that you will need to consider before purchasing a fishing headlamp. Since you might be fishing for an extended period, you should consider investing in a comfortable lamp.
It would be best if you considered looking for a headlamp equipped with a wide strap at least one inch in width. This design will ensure that it does not dig into your head.
In addition to that, ensure that the strap is designed from an elastic material, allowing you to have that customized fit.
The last thing you will need to consider is adjustability. Ensure that your headlamp is adjustable, allowing you to change your strap's setting for a perfect fit easily.
An adjustable strap will also allow you to fit the strap over any hats or hoods you are wearing.
Durability 
When purchasing any product, you should always factor in durability, and a fishing headlamp is no different.
In order to assess durability, you will need to factor in water-resistance; the material used in constructing the headlamp if it is rust-resistant or not, and how strong is the lamp when it accidentally drops.
Some fishing headlamps have been approved as shock or drop resistant. 
Night fishing vs. day fishing -why go at night? 
During the summer months, fish can be more active and feed more at night due to a drop in temperatures. During the day, they will often swim deep to cooler water, making them hard to catch.
However, it is worth noting that the light from a full moon can deter some fish. Another key benefit of fishing at night is that there is less competition. There will be much less competition for the hottest fishing spots.
Extra gear you should take night fishing
In addition to a fishing headlamp, there are other essential equipment you will need for night fishing. Some of these tools include an Extra headlamp. You should avoid going night fishing with only one headlamp.
First aid kit. Anything can happen when fishing out in the ocean at night; therefore, you should never forget to carry with you a first aid kit.
Pocket knife.
Emergency blanket.
Life Jacket if you are fishing next to deep water.
Backup batteries
Make sure to pack your fishing rain gear.
You should note that every time you go night fishing, you should inform someone either a friend or family. Let them know where you will be going and for how long will you be out there fishing.
Best Headlamp For Fishing – Conclusion
Night fishing can be extremely fun and rewarding, and you will probably catch plenty of fish with less competition.
However, you will need to factor in all the required safety precautions before fishing at night. Having a high-quality and reliable headlamp for fishing is vital for your survival as well as enhancing your fishing experience.
As we come to conclusion, you should always factor in all the aspects discussed in this article before going night fishing.
You should always remember that the best fishing headlamp is one of the key pieces of gear you just invest in as an angler.
We truly hope that this article has helped you choose the best headlamp for fishing and that you have managed to choose a headlamp for your next fishing trip. Happy fishing! 
Related Fishing Posts: