When it comes to fishing equipment, there are a few essential tools that are a must-have for fishermen, if you ask any angler about their must-have tools, the answer will include a pair of the best fishing pliers.
Fishing pliers come in handy whether no matter where you're fishing. They help cut lines, bend wires and pull out hooks easily that are hard to pull by hand.
A pair of good quality pliers are resistant to corrosion, allowing them to function in both salt and freshwater.
Below we have compiled a list of the best fishing pliers with their important features to help you decide which tool is the best for you according to your needs.
Let's dive right in!
Fishing Pliers at a Glance:
7 Best Fishing Pliers – Product Reviews
Best Fishing Pliers
1. KastKing Cutthroat 7 inch Fishing Pliers
The KastKing Cutthroat Fishing Pliers are made of stainless steel which is corrosion resistant and durable. These pliers are coated with tough Teflon that provides added protection, they feature multi-function jaws that can easily grab and remove any fish hooks easily.
The Cutthroat Fishing Pliers are also equipped with Tungsten carbide cutters; the handle is made of rubber which provides comfort and control as well.
These pliers are easy to use, durable, and versatile - perfect for long term performance.
Key Features:
Corrosion Resistant
Comes with Sheath/Lanyard for ease of access
Freshwater and Harsh Saltwater Approved
Tungsten Carbide cutting blades
Next Best Fishing Pliers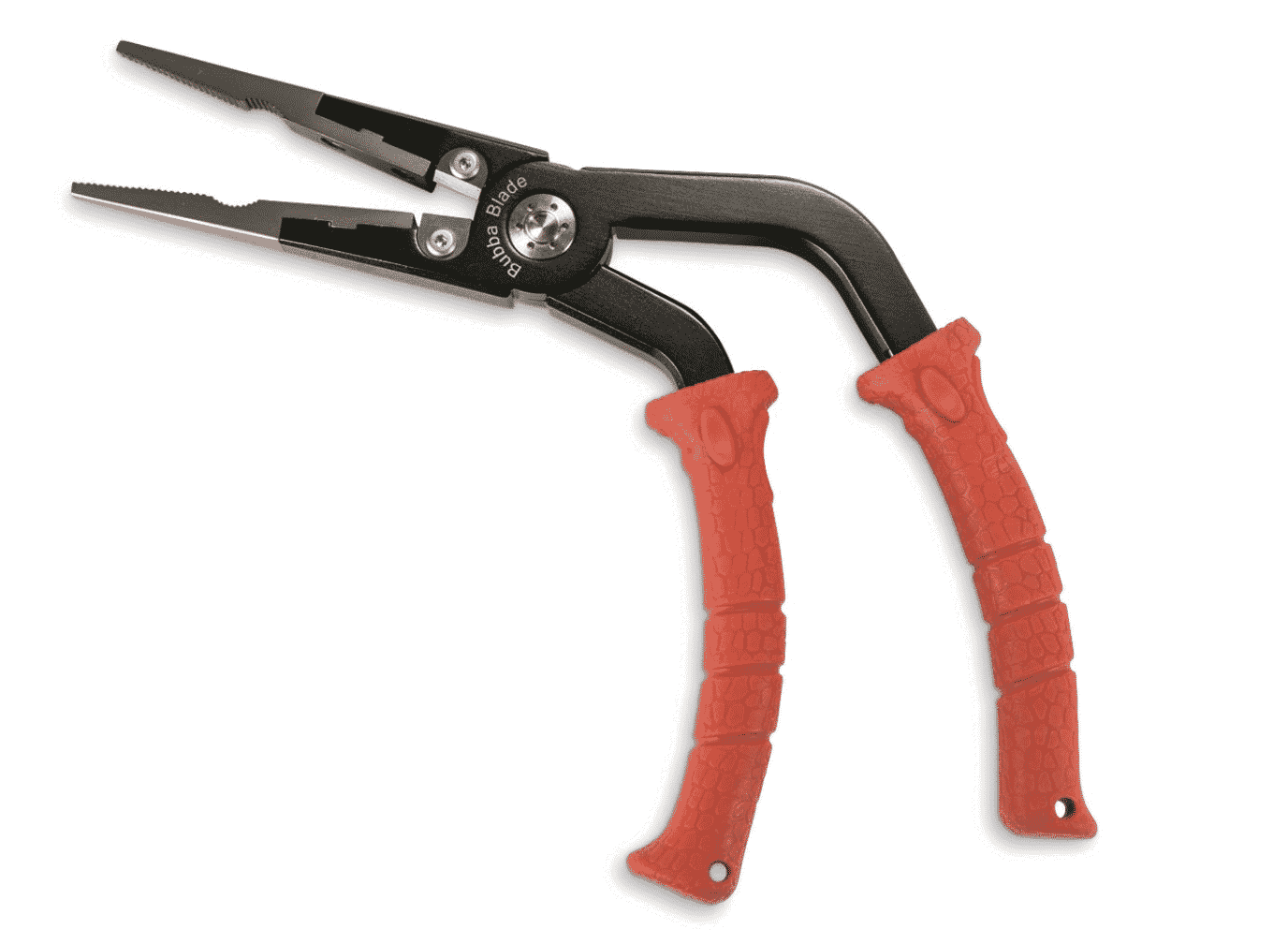 2. Bubba 8.5" Pistol Grip Fishing Pliers
Sometimes it gets difficult to remove hooks as the handle of the pliers gets in the way, that's where Bubba Pistol Grip Pliers come in.
These pliers have a unique and high-quality construction with its firm pistol grip handle, it provides good leverage and removes hooks easily.
It features high carbon stainless steel jaws and carbide cutters that offer great cutting ability with minimum effort.
These Pistol Grip Pliers also feature no-slip grips that offer strong grip and comfort at the same time.
Key Features:
Strong High Carbon Jaws with a coating of Titanium Nitride
Includes Synthetic Nylon Sheath
Built with 90-degree Pistol Grip
3. Piscifun Aluminium Fishing Pliers With Lanyard
The Piscifun Fishing Pliers are one of the best fishing pliers on the market. The pliers are made with aircraft-grade Aluminum that offers corrosion resistance ensuring long-term use in both salt and freshwater applications, while the CNC cut handles provide comfort because of its lightweight and durability.
The Piscifun Pliers feature strong Tungsten carbide cutters which make it extremely easy to cut the heaviest fluoro leaders and the strongest braided lines.
Key Features:
Spring Loaded Pliers providing ease of use
Convenient to carry as it comes with Nylon Sheath, Coiled Lanyard, and Belt Loop Clasp
Includes replaceable Line-Cutters
Best Budget Fishing Pliers
4. Booms Fishing H01 Fishing Pliers Scissors
Booms H1 Fishing Pliers are our best budget pick, they are budget-friendly in comparison to the other fishing pliers on our list, yet they are still packed with great features that make them a good choice.
These pliers have high-quality stainless steel construction which allows them to be used in salt and freshwater without corroding. They are easy to handle because of their lightweight and sturdiness. The H1 Fishing Pliers are equipped with sharp cutters that allow you to cleanly cut wires, mono, braid, and fluorocarbon fishing lines.
Key Features:
It comes with a Sheath offering protection
Equipped with Sharp Cutters and Split Rings
It is made from Stainless steel
Comes with lanyard
5. ZACX Fishing Pliers With Fish Lip Gripper
The ZACX Fishing Pliers is a multi-functional tool; it consists of an EVA foam handle of 4.3 inches for the classic T-handle grabber which makes it easy to hold in all weather conditions. It also features an ergonomic lip gripper to help you grab the lip of the fish which will aid in hook retrieval.
These fishing pliers have an aluminum construction that offers durability. It has a hollow-out design and features machine cut aluminum which reduces the weight. The pliers also offer multifunction for split rings and cutting the toughest fishing lines.
Key Features:
Convenient to Operate as it is Spring Loaded
Saltwater and Freshwater Approved
Features, split rings, hook removal, and line blades
6. RUNCL Needle Nose Fishing Pliers Pliers
The RUNCL Fishing Pliers are an affordable tool to add to your fishing backpack. It is versatile and features many interesting specs.
The RUNCL Fishing Pliers S1 is made of 420 stainless steel with a black Teflon finish, which keeps it free of rust and corrosion, they are also spring-loaded - that helps them stay open and always ready to use.
These pliers feature stainless steel jaws, built-in split rings, crimping cutouts, Tungsten carbide cutters that help anglers with maximum versatility when it comes to cutting tough lines like braid.
Key Features:
It Features Ergonomic PVC Handles
Spring Loaded
Saltwater & Freshwater Approved
7. SAMSFX Aluminium Saltwater Fishing Pliers
Whether you want to bend a hook, tie a knot, or cut a line, the SAMSFX Locking Aluminum Fishing Pliers makes your fishing experience effortless and efficient.
These pliers have an aluminum alloy body with sharp Tungsten carbide cutters that slice easily through braid lines and also include replaceable titanium jaws.
It features a built-in open and lock system. It comes with split rings and a coil lanyard that makes it easy to carry with you on fishing trips. The SAMSFX Pliers are rust-resistant and thus saltwater approved.
Key Features:
Exchangeable Carbide Cutters
Includes Zinger Retractor ensure safe use
It comes with a Camouflage Sheath and a quick tying tool
How to choose the best fishing pliers – Buyers Guide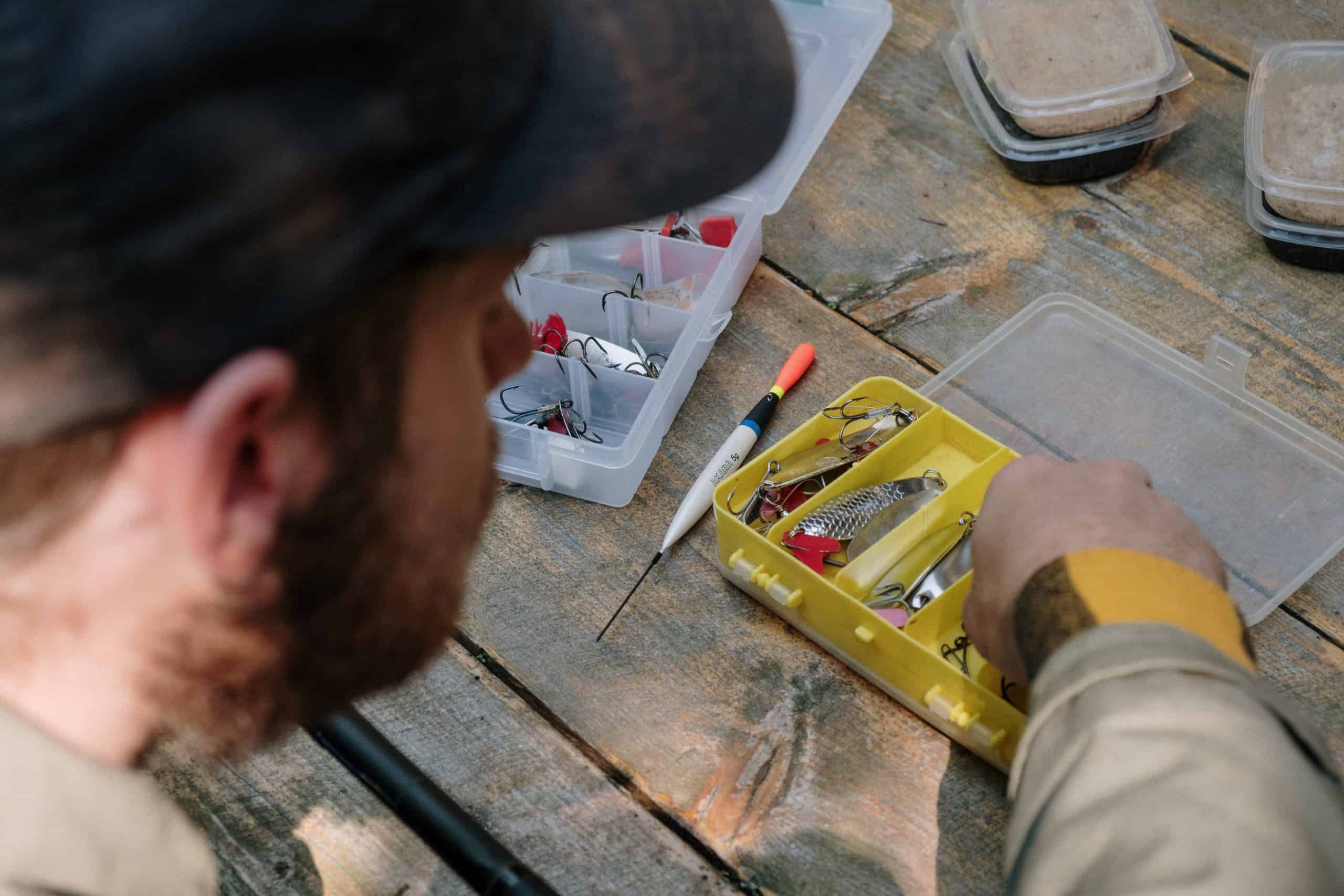 A pair of the Best Fishing Pliers is worth having when going out for your next fishing trip, adding a pair of fishing pliers to a fishing tackle box is essential but when it comes to choosing the best fishing pliers it can be a challenge.
We know there are literally hundreds of options on the market to choose from, that's why we have put together this guide to give you our top picks and how to choose them.
We have come up with a list of its must-have features that will help you determine what to look for when you're buying a set of pliers.
Material 
When it comes to choosing the best fishing plier always pay attention to the material that is used, it should be fresh water and saltwater approved.
The majority of fishing pliers are made of stainless steel which is a strong, durable, and in most cases corrosion resistant material.
Other material includes anodized air-craft Aluminium which is a lightweight option without sacrificing on strength and durability. 
Line Cutters
The best fishing pliers are equipped with many attractive features but the anglers mostly use pliers for line cutting, it is an important feature and you should always go for a pair of pliers that allow you to cut main lines, leaders, tag ends, and other types of lines.
It is also worth noting that you can buy a pair of pliers that allow cutting blades to be replaced whenever it is required.
Side Cutters
The best fishing pliers are also equipped with side cutters that allow you to cut through small areas that are hard to cut with other pliers, it is the right tool for precision cutting which cuts the edges smoothly.
Side cutters should only be used to cut copper or aluminum wires; they should not be used to cut steel wire or anything much harder.
You should purchase pliers that have replaceable side cutters, as you may need to change them when they're worn out.
Nose Length 
Sometimes the length of plier you need will come down to the size of fish you regularly catch.
When it has a long nose it ensures that you can easily hook a big fish and remove or cut the hooks easily from deeper within the jaw.
You must also make sure that your pliers are equipped with good quality crimping jaws in the nose that offer high strength for crimping and gripping.
A generous nose length ensures that you're able to get into all corners of the mouth especially when you're saltwater fishing as those critters may have sharp teeth.
Good Grips
The best fishing pliers must have good grips; you should look for a plier that offers comfort. Some pliers end up getting slippery which decreases its functionality that is why we must take this feature into consideration before making the purchase.
It is recommended to opt for a plier that has an ergonomic handle; a good grip plier will have individual inlays for your fingers or a soft rubber coating that make it easy to handle in any weather condition.
Split Ring Tool 
The best fishing pliers feature the split rings tool that is combined with a small hooked end present on the nose of the plier, it comes as a bonus feature and it is used to replace or change hooks on your lures.
It is particularly useful when you're out for saltwater fishing. With the split rings, you can quickly and safely remove a hook from your lure easily.
If you don't have a plier, with this tool you may need to use your fingernails to open and install the split rings onto the lure which is tough.
Crimper
The best fishing pliers consists of jaws that come with a crimping tool of various dimensions and sizes, the crimper helps you to make joins, sleeves, and crimping leads with your plier.
Crimpers are used to join two wires, if that is the feature you require, look for a pair of fishing pliers that have crimpers in their jaws.
Lanyard
Most of the manufacturers offer the best fishing pliers with an additional feature of lanyards. Lanyards are nylon or rubber ropes that make it easy to carry the fishing pliers with you; you can easily attach them to your vest, clothes, or fishing bib.
It provides you with ease when you want to quickly grab your pliers for use and store it simply as it's within your reach. Most lanyards come with a sheath, it is a holder for fishing pliers that helps you store your pliers more efficiently without getting scratches or cuts on your clothes.
Best Fishing Pliers – Conclusion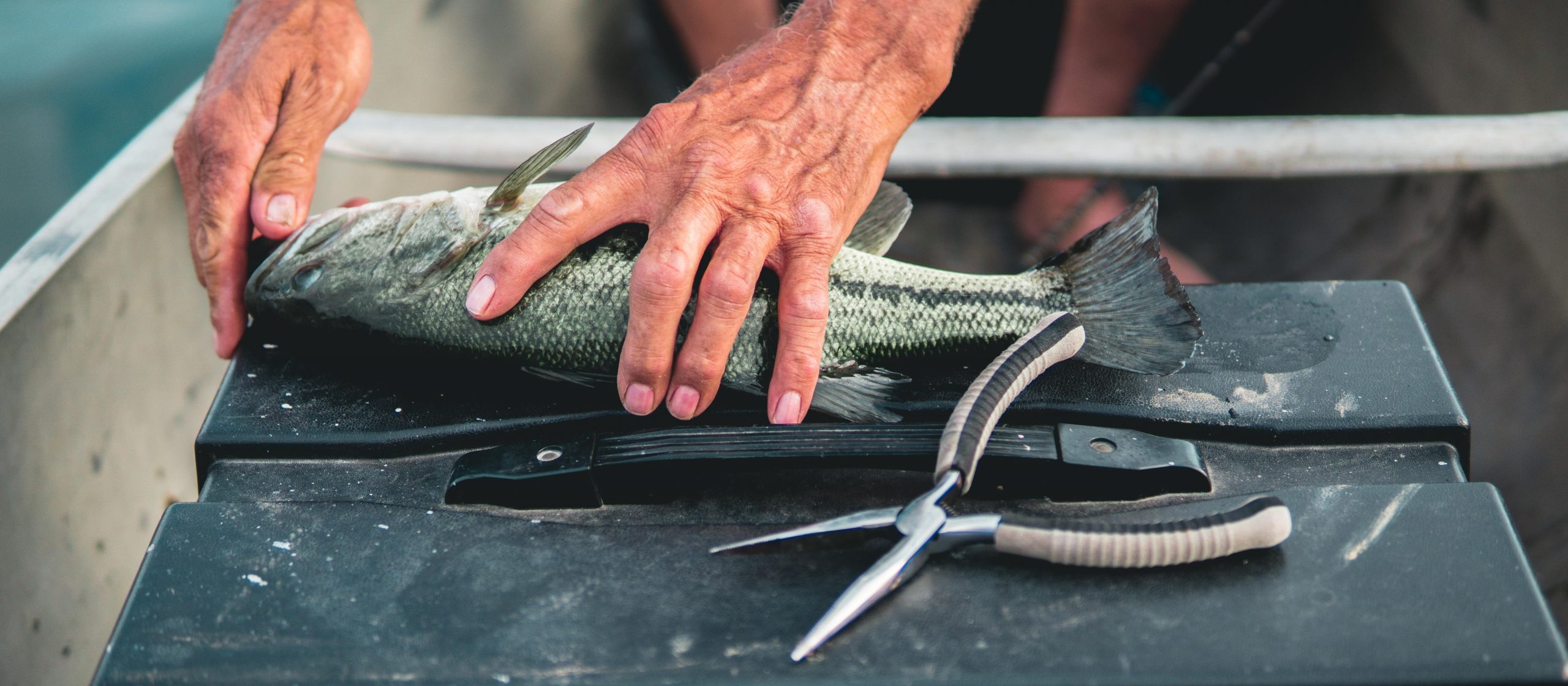 The fishing pliers are also known as workhorses of a fishing trip, they are an essential addition to your tackle box, and they come in handy when you want to remove hooks, tighten knots, bend wires, and cut lines.
You must make sure that you invest in a decent pair of the best fishing pliers, make sure that they are long-lasting, and are made of rust-proof and corrosion-resistant material such as stainless steel and aluminum with an extra layer of titanium or Teflon. The pliers fulfill multiple needs and offer versatility when you're out fishing.
In this article we've reviewed some of the best fishing pliers that are available on the market, as there are many it might be difficult for anglers to choose which one qualifies for them, we've also discussed their important features that you should consider while making a purchase decision.
Happy Fishing!
Other Fishing Posts: