10 Best Catfish Reels – Product Reviews & Guide
Catfish are agressive fish. They readily attack bait and provide wild strikes which makes going after them so much fun. But due to their power and potentially massive size, it can be difficult to find a fishing set-up tailored to reeling in big cats.
But, that's where the best catfish reels come into play. Making sure you have a high-quality catfish reel will ensure you can fish all day, and put up some fights against monster catfish.
Best Catfish Reels at a Glance
To the untrained eye, all reels might look the same, and they do often have similar designs. But, when targeting catfish, you will need a premium drag system, large line capacity, and a gear ratio to match.
Some catfish anglers will opt for reels designed for going after large saltwater fish, especially when targeting cats over 100lbs.
Below we have reviewed our 10 top picks for the best catfish reels. We have tailored our choices to suit a wide variety of anglers and budgets.
10 Best Reels For Catfish
Best Catfish Reel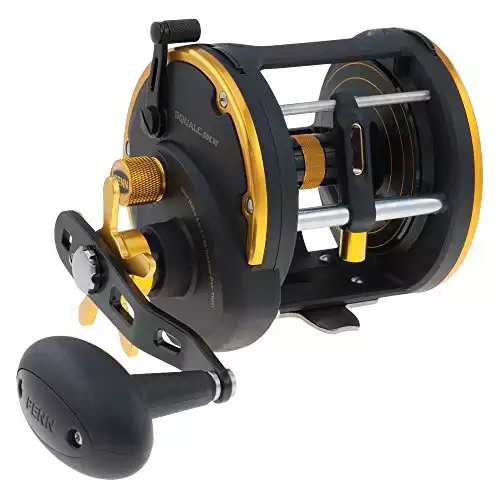 PENN Fishing SQL50LW Squall Level Wind Catfish Reels
The first catfish reel on our list is the PENN Squall Level Wind. You can tailor this reel to your needs, by selecting different gear ratios, handle positions, and reel size.
This reel has been designed for going after large big game fish, so it's perfect for some monster catfish. It can be used in both fresh and saltwater due to the corrosion-resistant graphite frame and Aluminum spool.
The HT-100 Carbon fiber drag system provides you with a powerful drag without compromising on the overall smoothness of the reel.
Another feature we really like is that the Aluminum spool is braid ready and features line capacity markings at 1/3, 2/3, and maximum capacity.
Overall, this is a great fishing reel for catfish. It is constructed from durable and strong materials, and you can tell the immediate quality of the reel when you first pick it up. It's designed for fishing monsters, so you can be sure that when you finally land the 100+lb catfish you've been looking for, this reel won't let you down.
Key Features:
Lightweight graphite frame and side plates
Forged and machined aluminum spool with Line Capacity Rings
Bronze main gear and stainless pinion gear
HT-100 drag system
2 stainless steel bearings
Instant Anti- Reverse
Switchblade lugs on the 50 size

Next Best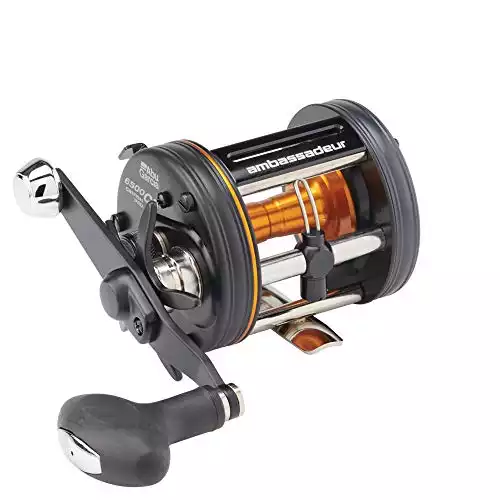 Abu Garcia Ambassadeur Catfish Pro Baitcast Reel
The next catfish reel is the Abu Garcia Ambassadeur. This catfish baitcasting reel features a six-pin centrifugal braking system and robust aluminum construction; the Catfish Pro delivers superior casting performance and rock-solid durability.
It features a level wind system, to ensure that your line is evenly distributed across the spool to prevent any annoying build-ups which can be common in baitcasting reels.
You can use this reel in both salt and freshwater thanks to the corrosion-resistant Aluminum spool and carbon fiber frame.
It features 5 Stainless Steel bearings which provide a very smooth operation and line flow. It is a 6500 size reel and weighs 11.5oz.
Whilst many of the reels we have chosen can be used for going after different species (this one included), it has been designed primarily with catfish in mind.
Key Features:
4 stainless steel ball bearings + 1 roller bearing
Carbon Matrix™ drag system
6 pin centrifugal brake
Synchronized level wind system
Extended bent handle
Made in Sweden

Best Budget Option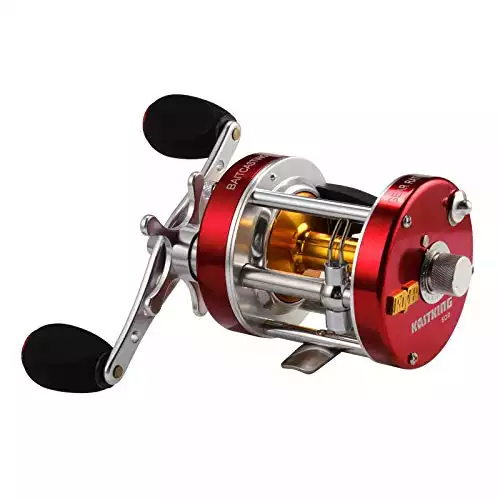 KastKing Rover Round Baitcasting Reel For Catfish
This next reel is our budget option, and we believe it is the best catfish reel for the money. Even though it comes at a very attractive price, it by no means suffers on performance and durability.
The Kastking Rover has an all-metal body compromising of thick anodized Aluminum side plates, CNC machined spool, and precision cut brass gears. All metals used are suitable for use in both saltwater and freshwater environments.
You can choose from a range of sizes that alter the number of Stainless Steel ball bearings in the reel, with sizes 70-90 you have 4 bearings, and sizes 40-60 have six.
Overall, the Kastking Rover is a perfect reel for trolling, bottom fishing, baitcasting, and more. It can be used in all environments, features nonslip EVA grips and a line-out clicker. For the money, it will be hard to find a catfish reel as high-quality and as cheap as this.
Key Features:
Superior Carbon Fiber Drag
Oversized T Handle
Smooth Operation
Stainless Steel Worm Shaft
Clicker Line-Out Alarm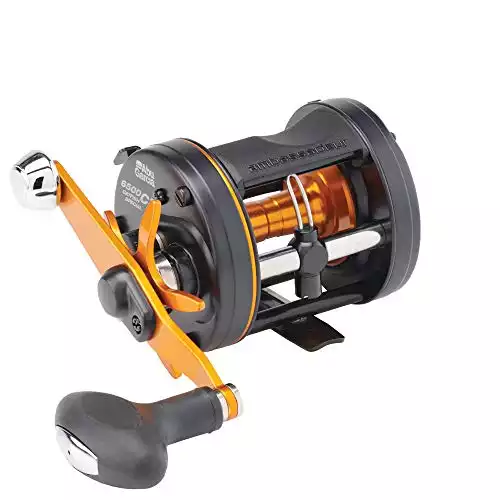 Abu Garcia C3 Catfish Special Baitcast Round Reel
Another fantastic catfish reel is the Abu Garcia C3. We love it when manufacturers produce a reel to target a particular type of fish as you know that what you're getting can deal with the exact type of fish you are going after.
The C3 is designed for big cats, and we love the look of the reel with a catfish illustration on one side plate.
The C3 was produced with inspiration from the Ambassadeur reel, however, it comes at a slightly lower price point. It features proven components that are designed specifically for catfish fishing.
The reel has smooth operation due to the Stainless steel ball bearings, roller bearings, and the Carbon Matrix drag system.
Your casting will be controlled thanks to the 6-pin centrifugal brake system, whilst the extended bent handle with knob gives you extra torque and pulling power when fighting aggressive cats.
The synchronized level wind system ensures that your line is even and allows for a smooth retrieve.
Key Features:
3 stainless steel ball bearings + 1 roller bearing(6500 sizes)
2 stainless steel ball bearings + 1 roller bearing (7000 sizes)
Carbon Matrix™ drag system
Extended bent handle
6 pin centrifugal brake
Synchronized level wind system

Best Catfish Spinning Reel
Best Spinning Reel For Catfish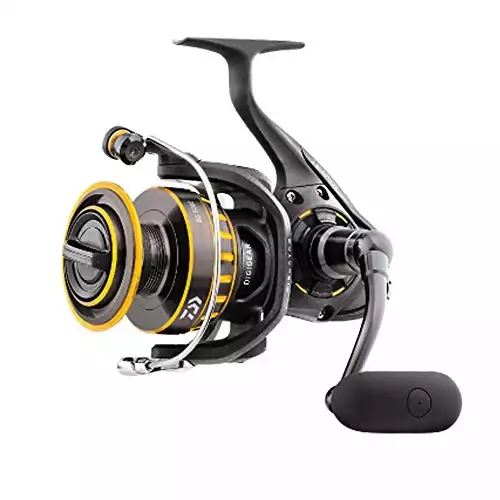 Daiwa BG6500 Saltwater Spinning Reel
The first spinning reel on our list is the Daiwa BG. We have featured this reel many times before, and it's always due to its ability to go after big game fish - especially the larger 6500 size reel.
The Daiwa BG features a machined Aluminum body and cover which provides strength and internal stability.
This reel has the largest drive gear of all Daiwa spinning reels. The oversized gear increases the teeth-gear contact area and provides a smoother and extended gear life as well as more power and increase torque - perfect for monster cats.
Another feature we love is the BG's Air Rotor which weighs up to 15% less than ordinary rotors. Its unique shape reduces unnecessary weight while distributing stress more evenly throughout the rotor for maximum strength.
If you are an angler that doesn't like using baitcasters, and prefers the use of a spinning reel, but you still want to be able to reel in huge catfish, then the BG6500 will be a great spinning reel choice.
Key Features:
Dynamic Cut Aluminum ABS Spool
Braided Line Ready Spool
Waterproof Drag System
Carbon ATD
Machined Aluminum Screw In Handle
Manual Return Bail (4500 and Larger)
6 Ball Bearings +1 Roller Bearing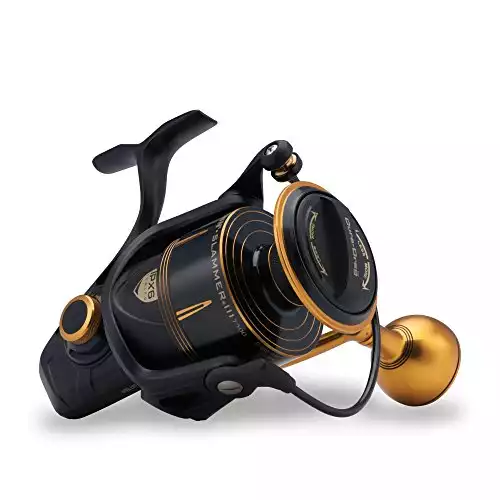 PENN Slammer III Spinning Reel For Catfish
Another one of the best spinning reels for catfish to make our list is the PENN Slammer III. We love this reel so much that we created a more in-depth guide on its features and specs that you can find here.
The slammer 3 comes in a wide range of sizes, to suit all types of angler. We would recommend the bigger reel sizes (5500 and greater) for catfish fishing.
The body of the Slammer is all metal. This helps to provide extra rigidity and strength when you are reeling in a monster catfish.
The Slammer III reels feature PENN's new IPX6 Sealed System which keeps water and debris out of the gearbox and drag system - perfect if you are saltwater fishing.
Key Features:
Full Metal Body, side plate, and rotor
CNC Gear™ technology
IPX6 Sealed body and spool design
Sealed Slammer® drag system with Dura-Drag™
7+1 stainless steel bearing system
Sizes 3500-5500 have automatic bail trip
Sizes 6500-10500 have manual bail trip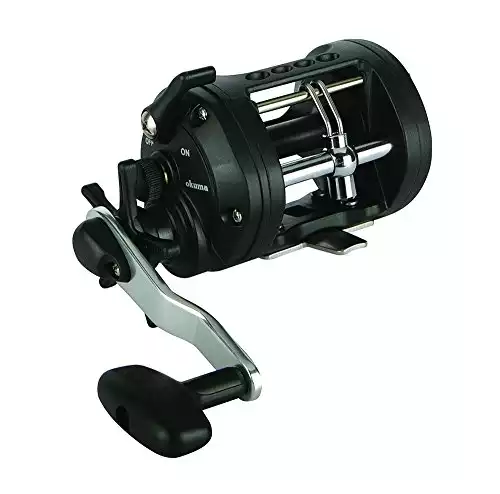 Okuma CLX - Level Wind
Another one of the best catfish reels under $100 is the Okuma CLX. It is a great all-around baitcasting reel, that comes in a range of sizes for different species of gamefish.
This reel features a level wind system, which ensures that your line is spooled evenly across the spool, ensuring that you have no wind-ups, it also helps with proper knot clearance which fishing with double lines.
The frame and side plates are corrosion-resistant, allowing you to fish with this reel in both salt and freshwater environments.
For increased strength, there is a Stainless Steel foot. The reel also features a multi-disc drag system which improves the smoothness of the reel.
Key Features:
Lightweight corrosion resistant frame and side plates
Corrosion-resistant graphite spools
Dependable multi-disc Rulidium drag system
Aluminum power handle with T-style knobs
Self-lubricating gear system
Stainless steel level wind line guide system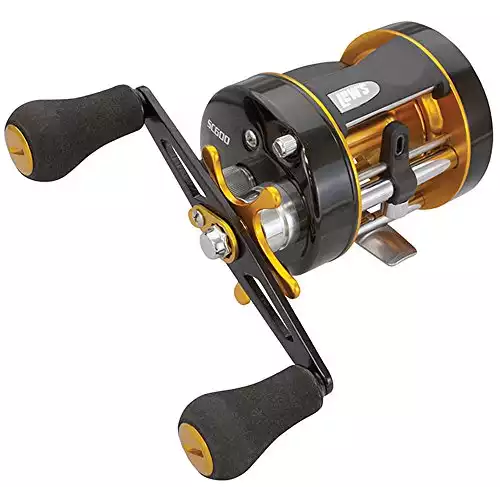 Lew's Speed Cast Reel
The Speed Cast features a 5-bearing system with stainless steel ball bearings and a zero reverse one-way clutch bearing.
The reel has a brass main gear and crankshaft that ensures that strength is a top priority, while its anodized aluminum frame and side plates provide a no-flex housing.
The drag system is made from carbon fiber and can be easily controlled by the aluminum star, making sure that the reel is smooth and tough at the same time.
Overall, this reel is a great choice for any catfish angler, it features a strong and durable design, whilst maintaining lightweight, and smooth operation. It's very well priced at around the $100 mark.
Key Features:
Zero-Reverse one-way clutch bearing
5-bearing system with 4-ball bearings
15-lb. maximum drag system
Anodized aluminum spool
Six pin centrifugal brake system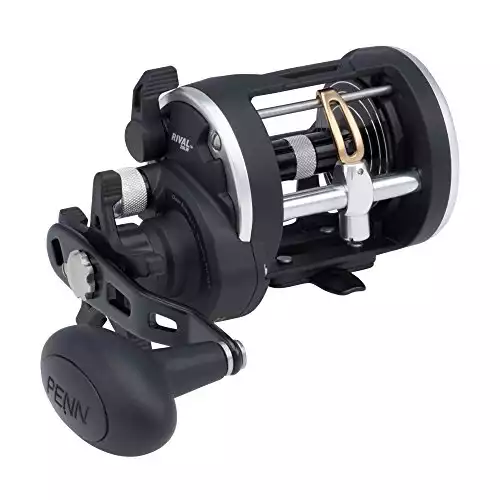 Penn RIV30LW Rival Level Wind Reel
The PENN Rival was engineered to be an extremely versatile all-around reel at an affordable price, and we believe it's worth every penny.
It features a lightweight graphite frame and side plates with aluminum frame rings for improved rigidity to prevent frame-flex when fighting those monster cats. 
The HT-100 drag washers provide smooth drag under heavy loads. 
Line capacity rings also let you gauge how much line you have left on the reel.
Overall, this is another great reel from PENN. Whilst it may not be as heavy-duty as our top PENN pick, it will serve you well in the hunt for catfish, especially when paired with a heavy rod combo.
Key Features:
Lightweight graphite frame and side plates
Auto-engaging gears
Marine-grade bronze alloy main gear
Machine cut brass pinion gear
HT-100™ carbon fiber drag washers
2 shielded stainless steel ball bearings
Line Capacity Rings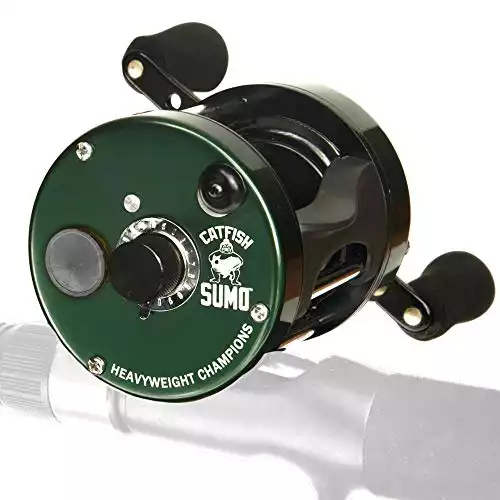 Heavyweight Champions SUMO Catfish Baitcaster Reel
The final reel on our list of the best catfish reels is the Heavyweight Champion reel from Catfish SUMO. Who makes angling gear specifically tailored to catching catfish.
This reel features a centrifugal brake system and spindle brakes that help to prevent any bird nests in your reel - perfect if you are just starting out with a baitcasting reel for the first time.
It is built to last, with a Steel mounting plate and thickened Aluminum side plates, this reel can take abuse from catfish of any size. An extra bonus is that the reel has been salt-water approved so you don't have to worry about it corroding.
Overall, this is a great catfish reel for the money, it has a super-strong construction tailored for fighting massive catfish, and for lasting you years to come.
Key Features:
Loud Bait Clicker
Steel Ball Bearings (6bb+1RB) for a smooth retrieve
Carbon Disc Drag
Gear Ratio: 5.3:1

Things to Consider When Buying a Catfish Reel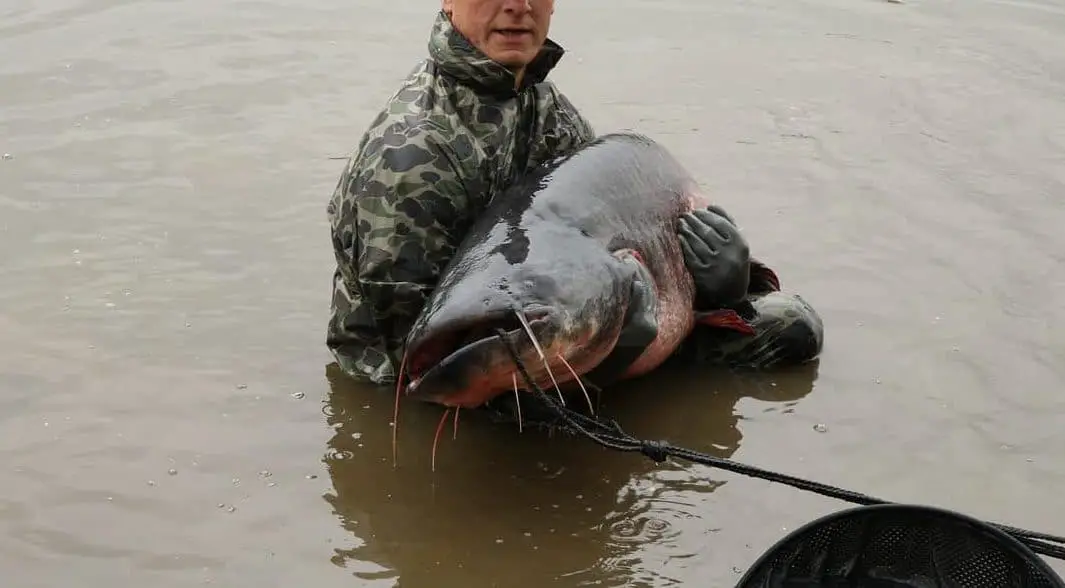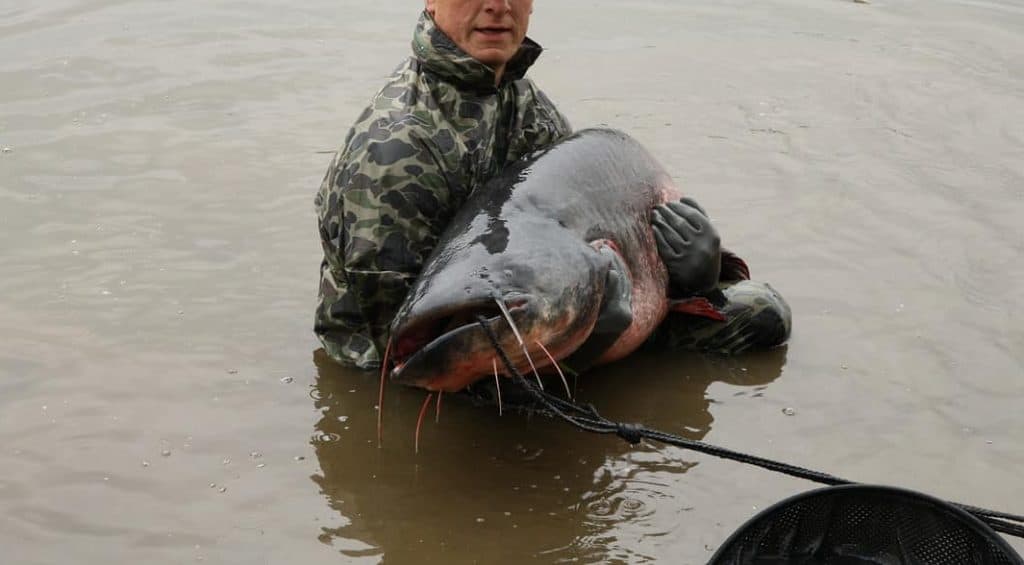 Type of Catfish Reel
The two main reel options when it comes to fighting catfish, are the two typical reel options for most types of angling; baitcaster or spinning reel.
Both are suitable choices, should you get the specifications like size and weight correct – more on that below.
If we had to choose, then we would always opt for a baitcaster, they can usually hold more, and stronger fishing line. As well as having a more durable construction and better drag systems more tailored towards fighting larger fish.
If you are a spinning reel fan or haven't got around to using a baitcaster yet, they can still be a great choice for fishing catfish if you pick a big enough reel. Spinning reels also tend to be cheaper than baitcasters.
Reel Size
The size of your catfish reel is an important factor in the selection process. If you are going after big catfish, ranging anywhere from 30-100+lbs, you will need a reel that can successfully stand up to the task.
For a spinning reel, we would recommend a size that is at least above 5000, and for a baitcaster, if you are using heavier tackle then anything above 6000 should do the job.
Unfortunately, small reels just won't cut it when fishing for catfish. Neither will smaller rods, mainly because they aren't strong enough, or they are not the right size to accommodate a larger reel.
Reel Materials
Your catfish reel needs to withstand a beating, from the fish and the harsh environments. All of the reels on our list are produced from high-quality materials and have been salt-water approved.
Materials like Aluminum, Stainless Steel, and Carbon Fiber are typically used to produce the mainframe, side plates, rotor, and spool. They are all a good choice, with carbon fiber being the lightest, and Steel is the strongest.

All are also corrosion resistant and should be able to withstand salt-water environments.
The ball and roller bearings inside of your reel are crucial to maintaining the smooth operation of your casts and retrievals. Stainless steel ball bearings are the most common option, and the type we would recommend..
Line Capacity
Line capacity is essentially how many lines your reel (or spool) can hold. As a general rule of thumb, when it comes to catfish you want a big line capacity.
Not only because catfish are aggressive and strong fish that can soon run with your line, but also because you will need to use a strong fishing line, which is thicker and takes up more space on your spool.
Having a large line capacity also gives you confidence when it comes to fishing different techniques, you can perform longer casts, and fish at deeper depths where the catfish often lurk.
Gear Ratio
Gear ratio is the measure of how much line is moved around your spool with each turn of the reel handle. With higher ratios like 6:1, the spool will spin 6 times for every 1 turn of the handle. This is faster than a ratio of 3:1 for example.
Higher gear ratios are important when it comes to catfish fishing. The best catfish reels will usually have a gear ratio between 5:1 and 6:1 – although this can vary depending on your lure choice or fishing style.
Higher gear ratios will allow you to reel the catfish in faster, this is useful if you have turned the tide on the fight and the fish is tired, or if you cast long distances and you need to retrieve a lot of line quickly.
Drag System
The drag system is essentially a safety mechanism that allows the spool to turn when a certain tension is reached – allowing the line to flow. This prevents your line from snapping and losing all of your tackle and the catch!
A good drag system is very important for the best catfish reels. Catfish are aggressive and very strong. When you think they are beaten, they can kick it up a gear and rapidly take line, this is why it's best to invest in a reel with a high-quality drag system.
Try to look for drag systems that use high-quality washers, like Aluminum or Stainless Steel over plastic. Metal washers will last much longer.
Reel Weight
No matter what kind of fish you are going after, whilst buying a reel the weight is always an important consideration. Big catfish, means a bigger and heavier reel.
Whilst it sounds better to always go for the lightest reel possible to make life easier, it's not always the right idea. Lighter reels don't have either the materials or thickness/durability to go after larger species of fish.
The balance of your rod and reel is also key when it comes to fighting and casting. You will find it tough to fish with a heavy rod and an ultralight reel.
Reel Handle/Knob
Most large baitcaster and spinning reels will feature a bigger than usual knob. It helps to provide more torque, power, and better grip – great for catfish fishing.
If your reel doesn't feature a large handle, it can often be bought separately and attached to the reel.
Catfish Reels FAQs
What is a Level Wind reel?
Level wind reels are a type of baitcasting reel that has a line guide that moves back and forth while the line is being retrieved. The line guide helps to ensure that the line is evenly distributed across the spool, minimizing any build-ups.
What is the best gear ratio for catfish?
Catfish fishing requires a good balance of power and fast line retrieval. We would recommend a gear ratio between 5:1 and 6:1 for catfish. Anything lower and your retrieval rate will be too slow, and anything with a higher ratio will have reduced power.
Do you need to use a leader line for catfish?
Most anglers will use a braided mainline and a fluorocarbon or mono leader line for catfish.
Mono leaders will stretch more, however, they are more prone to breaking and are also more visible than fluorocarbon leaders.
Fluoro is the best overall option for any leader line, you can check out our top picks for the best fluorocarbon fishing lines.
What are the different catfish species?
There are over 40 species of catfish scattered around the globe. But there are 3 main species that anglers set their hopes on catching.
This includes Blue catfish (Can exceed 100lbs), Channel catfish (Rarely exceeds 30lbs), and Flathead catfish (Can exceed 100lbs). All tend to live in rivers, streams, and lakes.
You can also commonly find saltwater catfish and fish for them from the surf. The most common saltwater species is the Hardhead catfish.
Conclusion
There are many catfish species to target, and all pose a different challenge. Whether you are fishing for monster 100-200+lb blue catfish or targeting smaller saltwater hardhead catfish, you need to be equipped with the right gear, and this includes the best catfish reels.
We truly hope that this post has helped you select a catfish reel, or at least gave you some insight into the different buying considerations and key features that are crucial in the best catfish reels.
For smaller fish, a light rod and reel works, but this is rarely the case with catfish reels and other catfish gear. For large aggressive fish, you need an equally large, strong, and aggressive setup.