Ski Boots that are comfortable, fit snugly and keep you warm can be difficult to find, but getting it right will leave you feeling comfortable all day to ensure you get the most out of your time on the slopes.
As well as making your time on the slopes more comfortable and enjoyable, a good fitting ski boot will allow you to enhance your performance and stay out on the slopes longer which is what we all want.
We will help you find the best ski boots for wide feet whilst still keeping in mind the different features that should be included in your ski boots to ensure you can find the perfect pair for you.
Ski Boots For Wide Feet Reviews
Best Mens Ski Boot For Wide Feet
Rossignol Evo 70 Mens Ski Boots
The Rossignol Evo 70 Ski Boots feature a relaxed fit with 104mm last with a wider forefoot, toe box, and ankle areas which allows users to have a great, generous fit as well as support all day. The Engineering Sensor Matrix shell reduces the weight of the boot meaning increased energy transmission to your skis for an easier time on the slopes. With a soft plastic around the instep, you don't have to worry about struggling to get your boots on and off, this feature allows for an easier opening of the boot overlap for a smooth entry and exit. If you're looking for comfort, the custom liners offer internal customization for enhanced comfort and support to ensure these boots will fit perfectly. Additionally, you can purchase the GRIPWALK sole which features a rubber tread and rockered toe for increased traction when in the snow.
Key Features:
Relaxed Fit 

Engineered Sensor Matrix shell for better energy transmission to the skis 

Lightweight

Easy entry 

Custom Comfort 

GRIPWALK Compatible (sold separately) 
Next Best Pick For Men
Tecnica Ten.2 70 HVL Ski Boots For Wide Feet
Many have stated The Tecnica Ten.2 70 HVL is a fantastic ski boot for true beginners to intermediate skiers that have a wide forefoot and medium size leg shape. With a 106mm last made from the high volume liner, the fit of these boots is great- the liner is thinner in the forefoot to provide users with the widest fit available in any ski boot. Specialist i-Rebout construction allows users more forward flex resistance, rearward support and added rebound to allow you more control over your skis. Tecnica's Quick Instep Max uses a softer plastic injected across the top of the foot that allows your foot to easily slide in and out of the boot. An UltraFit HVL Liner can be heated for some slight customization and extra comfort.
Key Features:
Widest boot on the market

Specialist i-Rebound construction for more control 

Thinner liner in the forefront

Quick Instep Max for ease
Salomon X Access 80 Ski Boots For Wide Feet
The Salomon Access Wide Ski boots and design to provide you with quality comfort due to their comfy and extensive flex liner which has deformation zones in specific places. This model is wider than your average ski boot with a width of 104mm for those who have wider feet- you should not have to compromise on quality to get the right fit. The intuitive shell offers an easier fitting whilst the calf adjustment systems allow you to modify the shoe to fit your needs. An oversized pivot and twin frame provides you with better energy transmission to your skis as well as being made from lightweight material to allow you to perform to your full potential.  
Key Features:
Lightweight

Oversized pivot and Twin Frame provides users with better energy transmission to the skis. 

104mm Width and more room at the cuff for those with wide feet.

Adjustable calf systems
Best Womens Ski Boot For Wide Feet
Rossignol Kelia 50 Ski Boots Black/White Womens
Being lightweight is one of the best features of these Rossignol Kelia Women's Ski Boots boots- is one of the lightest women's alpine boots on the market as well as providing users with ultimate comfort. The generous fit allows novices skiers to put their boots to the back of their mind when skiing. A soft 50 flex and 104mm 'wide fit' means these boots are great for wide foot skiers looking for the perfect boot. The Kelia retains a contoured forefoot, strong heel cup and asymmetrical toe box for ultimate support and control. Revolutionary sensor fit technology is a fantastic feature in these boots as it provides an open instep and more articulate ankle for maximum comfort, circulation, and warmth. With a 3-buckle design that features an extra-wide cuff buckle and XL power-strap means these boots will be secure all day. 
Key Features:
Maximum comfort

Great for novice skiers

Great support systems 

A 3-buckle design with the extra-wide cuff buckle 

Secure
Next Best Pick For Women
Salomon X Access 60 Wide Ski Boots Womens
The Women's Salomon Access 60 Ski Boots are a great choice when hitting the slopes. Crafted with an intuitive shell they provide users with an easy step in making life much easier. A flex liner gives users an adaptable comfort, as well as an oversized pivot and Twinframe technologies, give you a precise energy transmission. The lightweight construction is key in this design to ensure you can have a more enjoyable experience out on the slopes.
Key Features:
Lightweight 

Easy step-in

Adjustable flex liner for comfort

Oversize pivot and Twin frame technologies which drive more power to your skis
Dalbello Kyra MX 70 W Womens Ski Boots 2018 - 24.5/Black-Black
The Dalbello Kyra MX 70 W is a firm favorite amongst beginner to advanced intermediate skiers. These wide fit boots are better for those with a medium instep and medium calf size which can sometimes be difficult to find. The Cabrio Design is a unique 3 piece construction that secures the foot and lower leg for optimal flexibility and responsive performance. While the Contour 4 technology creates comfort zones at critical fit points to provide a more accurate fit. It comes with a special low profile cuff specific to women that are designed to be lightweight and are also removable to allow the expansion of the boot top opening. An adjustable rear cuff spoiler adapts to a variety of lower leg shapes and provides additional rear support. The heavy-duty Ski & Hike Mechanism makes switching from walking to hitting the slopes simple and easy unlike many other boots on the market. Flex Control allows the boot's forward flex to be adjusted for weight, skill level, and snow conditions. A Super Comfort Liner makes these boots comfortable and warm, with additional insulation- also used to create more flex than similar men's models. It comes with a narrow heel and wider forefoot for optimal support for a female skier to help with power transmission and all-day comfort.
Key Features:
Unique 3 piece construction for a more secure fit
Adjustable flex control
Heavy-duty ski & hike mechanism for ease
Super comfort liner
How To Choose The Best Ski Boots For Wide Feet – Buying Guide
Type
There may be copious amounts of styles of ski boots out there, but they all come under one of 4 different types. Knowing the unique qualities of each type will help you choose the best ski boot for you and stop you from wasting money on boots that will only get one use.
Alpine Ski Boots – these boots are designed specifically to aid in downhill skiing as they provide you with optimum control due to the specially designed fixed spine.

This can make skinning and hike

tough as it puts your foot into the natural ski position. Alpine ski boots are made to be used for skiing in resorts where you can use cable car lifts to the top of the slope.



Cross-country Ski Boots 

– The design of these boots is specifically for a combination of styles such as racing, touring,

and thick know which makes them perfect for cross-country skiing.

The heel of these boots so not connect to the ski to enable you to move easily by hanging forward. Cross-country ski boots need to have the ability to provide ankle and heel support along with allowing your toes to move

. This provides users with great performance on different terrains.
Telemark Ski Boots

– The main type of ski boots for beginners are Telemark ski boots.



This is because they improve your overall skiing ability by forcing you to lean forwards and find your center of gravity due to the free-heel design. These boots are best used on flat and steep

alike as they can assist in sharpening your balance and agility.





The binding which locks down the front of your foot is adjustable to provide you with comfort when skiing on rolling terrain when loosened as well as keeping your heel in position for downhill skiing when tightened.



Alpine touring ski boots – Alpine touring is a specific style of all-mountain skiing which is a mash-up of telemark and alpine skiing. A unique feature of

these boots is that they have a walk mode and touring mode which can be changed as needed.





With the walk mode on you have more flexibility in the boot for ascents and touring on flat terrain. Switching into touring mode is great for descents as it adds stability to the boot.





As well as this, most AT boots feature a rubber outsole for better grip and traction should a time come you need to step out of your boots and walk in the snow.
Design
With various designs to choose from we can sometimes forget about the main things we need in our ski boots.
Always go for comfort over design, although some boots may look cool and stylish, this does not mean they will be comfortable. The best ski boots for wide feet should be warm, durable, comfy and should boost your skiing ability whilst out on the mountain.
A good buckle system should be the only part of the design you should worry about as this is what can really make or break a boot.
Flex
Having the correct flex in your boot can drastically improve your skiing experience. There are general guides for which flex ratings you should choose but men and women should have different flex ratings.
This is because men and women are built differently so it is only natural to have specific ski equipment to provide you with a comfier and easier experience. Using the table below, you should be able to work out the perfect flex rating for you:
| | | | |
| --- | --- | --- | --- |
| Ability | Beginner – Intermediate | Intermediate – Advanced | Advanced – Expert |
| Style | Cautious | Average | Confident |
| Speed | Slow | Medium – Fast | Very Fast |
| Terrain | Bunny Slope / Groomers | Fast Groomers / All Mountain / Park and Pipe / Off-Piste | All Mountain / Park and Pipe / Off-Piste / Steeps / Cliffs / Race |
| Fit | Indicated Size or 1/2 size larger | Indicated size or 1/2 size smaller | 1/2 to 1 size smaller than indicated |
| Flex Index | Men's 60-80, Women's 50-70 | Men's 85-100, Women's 65-90 | Men's 105-130, Women's 85-110 |
Last
Footbed width, also known as 'last' is something you should pay close attention to when choosing your ski boots. The correct 'last' should be based on the width of the forefoot- and measured in millimeters.
Most ski boots are designed specifically to fit those with narrow, average, or wide feet. You should always aim to get the fit as perfect as you can as it can negatively affect your performance on the slopes. If your boots are too loose it can be difficult and become uncomfortable when you are skiing downhill.
You can check to see which type of boot will have the best fit when it comes to 'last' by checking here:
Narrow: 97 – 98mm
Average: 100 – 102mm
Wide: 103mm+
How to keep your feet warm during skiing
There are multiple things you can do to keep your feet warm whilst skiing, this is important as as your feet and toes get cold they can go numb and make for an unpleasant experience and in some instances even up with frostbite.
Firstly, wearing socks designed specifically for skiing is your best option. These socks are usually made of a blend of nylon, wool and elastic which act like a second skin.
Your socks should come just above your calf to stop them from falling down and prevent any rubbing around the top of the boot. Thinner socks will keep your feet warm more effectively than a thick pair as they allow your feet to breathe- this prevents moisture from getting trapped, which would make your feet even colder.
Another thing you can do to let your feet breathe is to open your boots when resting. When you get to a restaurant or bar for a break between skiing, it is a good idea to open up your boots and allow the warm air to circulate in.
Having a boot that is the perfect fit will be very beneficial when trying to keep your feet warm- if you have lots of movement in your boots this can allow cold air and sometimes snow to get in- making your feet wet and cold. Getting your socks wet is a no-go if you want to keep warm so investing in a pair of boots that fit right is a great way to prevent this from happening.
Some people like to add foot warmers inside their boots to ensure they will stay warm all day. Foot warmers are uniquely designed air-activated insoles that are placed underneath your feet specifically between the socks and the insoles of your ski boots to ensure your feet are toasty warm whilst out on the slopes.
Best Ski Boots For Wide Feet – FAQ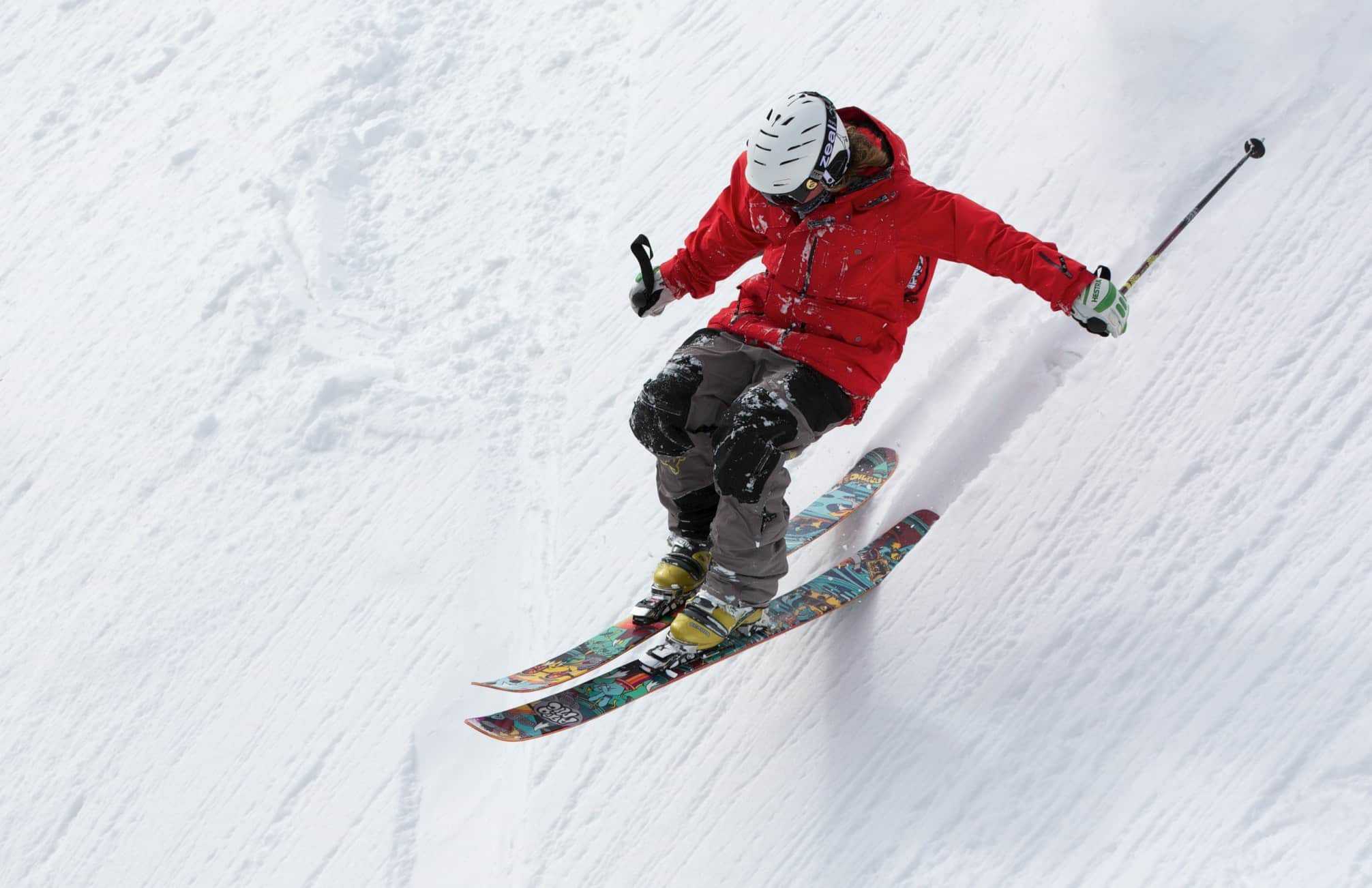 What is a wide ski boot?
As humans, we come in all shapes and sizes- and so do our feet. Manufacturers know this and that is why they design and create boots to fit everyone no matter what size your feet may be. A wide ski boot is specifically designed for wide footed skiers to provide them with the same comfort that everyone else gets from a great fitting ski boot.
Why do my ski boots hurt so much?
Usually, if your ski boots are uncomfortable it is because the fit isn't right for you. If your boots are too narrow, your feet and toes will be squeezed or pinched which is not what you want on the slopes.  If they are too big then you can have pain from shin bang, pressure points or cold feet. You should always try on your boots properly before heading out on the slopes or you might get a not-so-nice surprise.
What happens if my ski boots are too big?
Ski boots which are too big, too wide or too loose can affect the amount of control you have over your skis. As a beginner, boots which are too big will make it very hard to have any control over your direction or technique- if you are an intermediate or advanced skier then an boot which is too big can cause great discomfort due to pressure points, cold feet, shin bang and lots more issues which all lead to making your skiing experience un-pleasurable.
How do I know if my feet are too wide for my ski boots?
To check if your feet are too wide for your boots, measure your feet and measure the width of your ski boot liner and shell, minus the width of the material. Your foot should have room to sit within that space without being squeezed or your boots are too narrow for you.
Why do my ski boots hurt my calves?
The reason you may be experiencing pain around your calves could be caused by numerous reasons. Improper technique when skiing is a main factor alongside boots that fit too high or low on the calf as well as boots which are too tight or loose on your calf.
How do I know if my ski boots are too narrow?
If you ski boots are too narrow then your feet can feel like they are being squeezed or pinched, this can also cut off circulation meaning your feet get cold and numb or you may experience aches and pains.
To check your boots are not too narrow you can measure the width of your feet and your ski boot liner and shell, minus the width of the material. Your foot should have room to sit comfortably in that space without being squeezed.
Are rental ski boots wide fit?
Most rental shops will pick a boot for you from the size of your shoe, without even measuring your foot. This can leave you with boots that are uncomfortable and can affect the quality of your skiing experience. It is always best to buy your own ski boots as you can ensure they are the perfect fit for you and can try them out beforehand to give you peace of mind.
Is there a difference between skiing and snowboarding boots?
There is a huge difference between skiing and snowboarding boots, in fact they only have one thing in common- they strap your feet in. You cannot use snowboarding boots in place of ski boots and vice-versa. Ski boots have a hard shell whereas snowboarding boots have a more flexible shell and they have very different supports- this is because when skiing you face downhill whereas snowboarders face sideways.
Conclusion: Best Ski Boot For Wide Feet
Related Skiing Posts: