Best Fishing Line For Crappie – Our 6 Top Picks [Buyers Guide]
Crappie is a relatively small and simple fish to catch. They are one of the most popular fish to catch in North America, whilst they don't put up a massive fight in the water, you are sure to catch a lot of them which makes for a fun day out on the water.
Most anglers who go after crappie opt for an ultralight set up utilizing ultralight spinning rods. With the addition of the best fishing line for crappie, you are sure to further increase your chances of success.
In this article, we are going to cover our top picks of fishing line for crappie. Typically there are 3 main types of fishing line that anglers opt for when fishing; Mono, Fluoro, and Braid.
We will give our top choices for each and why you might want to consider the next time you are out crappie fishing. Let's dive right in!
Best Fishing Line For Crappie – Product Reviews
Quick View: 
Best Mono Line For Crappie 
Best Braided Line For Crappie 
Best Fluoro Line For Crappie 
How To Choose The Best Fishing Line For Crappie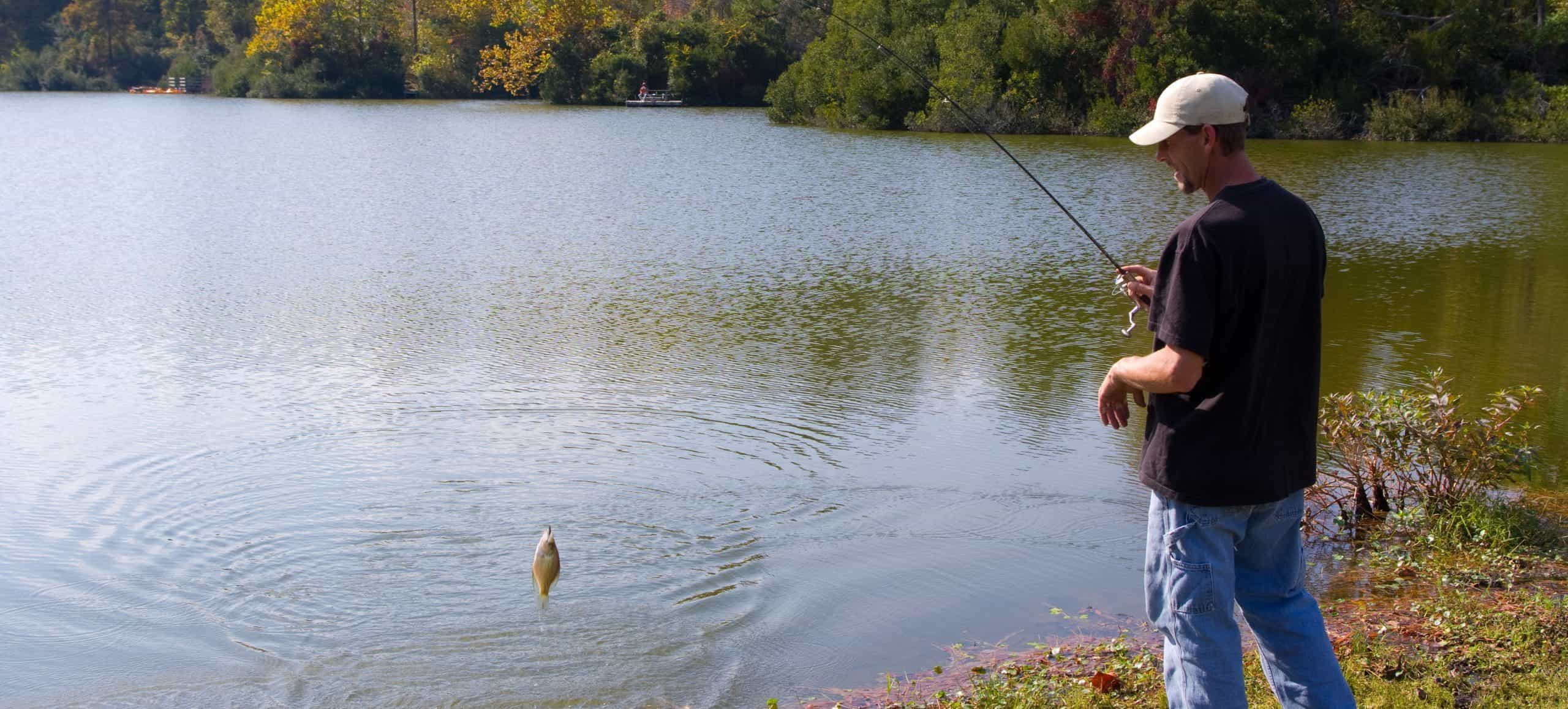 The 3 different kinds of fishing line for crappie:
Mono
Monofilament is typically the most affordable form of fishing line on the market, it's widely used and very versatile.
Mono lines are transparent which is good for low visibility in the water however they are usually regarded as weaker and more stretchy than braid and fluoro counterparts.
Monofilament line is usually fine for fighting crappie. As mentioned in the introduction, crappie is a small fish that is easy to fight.
The additional stretch in mono line, shouldn't pose an issue. If you're a beginner or it's your first time going after crappie, mono line will be just fine.
However, if you are casting your line and targeting a variety of fish then you may want to look into stronger lines with additional features that can improve your chances of catching a fish, and prevent a bigger fish from stealing your bait and lures!
Fluoro 
Fluorocarbon is an excellent type of fishing line, it's practically invisible in the water and never puts a fish 'off' taking a bite.
It's usually more expensive than mono, but in certain circumstances, it can be worth it. For example, if you are fishing for trout, which have exceptional eyesight, we would always recommend a fluoro line as it will increase the number of bites you get.
However, with crappie fishing, it's not as important to choose a fluoro line as crappie are easy enough to catch. If you can afford to use fluoro it definitely won't hurt having it on your reel.
Many anglers use a mono or braided mainline and attach a fluoro leader via a swivel to improve their odds. This is a great option!
Braid
Braided fishing lines are regarded as extremely strong and highly sensitive. The sensitivity plays a good role whilst catching crappie as you will be able to tell if you have a bite, especially from such a small fish, however, many anglers will argue that you don't need all of the strength of a braided line whilst fishing for crappie.
Perhaps if you normally target bigger freshwater fish like northern pike, but occasionally want to cast a line with small bait for a crappie, braided might do the trick.
But if you are solely after crappie then it's sometimes overkill. The braided lines we have recommended do however come in low line strength in the range of 4-10lb which is ideal for small crappie.
Braided lines also have a smaller diameter when compared to mono or fluoro which allows you to put more line on your reel and tie tighter knots.
Ultimately all 3 lines can be used to fish crappie. Most anglers will stick to what they know, and fish with whatever they're used to or have good success with.
We would recommend that if you're a complete newbie to crappie fishing then a monofilament line that has lots of good positives and is budget-friendly will do just fine.
What Is Line Strength?
Line strength is well… the line strength. It's also referred to as line test and is rated in-lbs.
The higher the lbs, the stronger the line. If you're catching big fish that thrash around a lot, you'll want something that won't snap and lose the fish and potentially recoil onto you.
This is where a strong line would come in. Check the line test charts to see what the best option is for you, and always stay away from sharp rocks or anything your line might get tangled in!
Crappie aren't a huge fish therefore when choosing the best fishing line for crappie it's best to stay around the 4-10lb mark.
Remember that the weight of your lures, and weights will have an impact on how much your line can hold!
What Is Fishing Line Diameter?
Line diameter is also fairly straightforward: it's the width of the fishing line.
If you can find something with a smaller diameter, it's less visible in the water, plus you can fit more on your reel and it will sink faster because there's less resistance.
Thin lines also tend to tie stronger/tighter knots. Braided line is regarded as the smallest diameter line when compared to mono or fluoro.
What Is Line Stretch?
Line stretch is again, pretty much what it sounds like. Some lines will extend a bit when 'under stress'.
If your line is 'high stretch' it'll extend and if it's 'low stretch' it'll snap if under too much pressure.
This is also called 'line forgiveness'. You'll want a certain amount of stretch in your line to prevent any quick jerks from snapping the line, but not so much that you can't actually tell when you have a bite on the line.
Best Line For Crappie – FAQs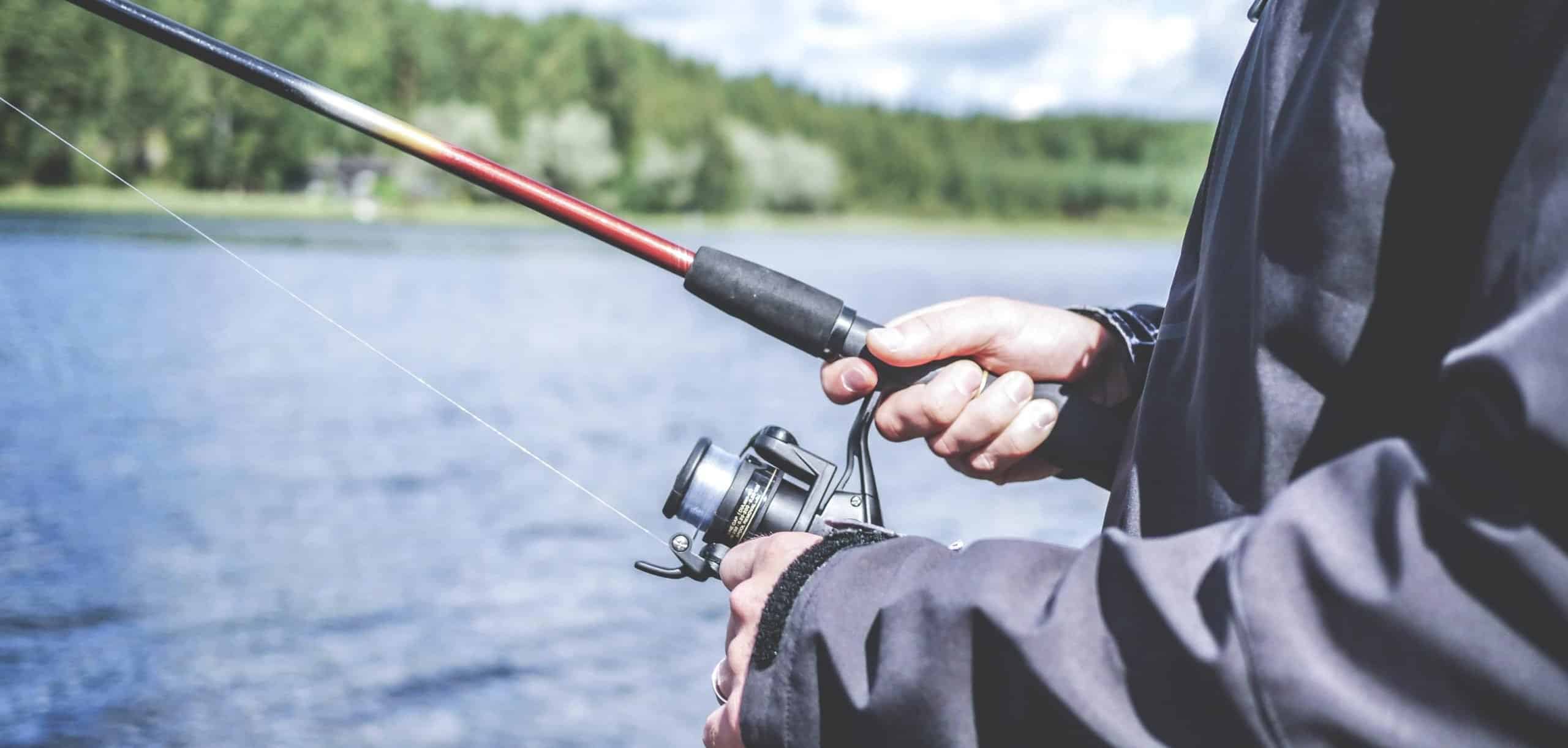 Can crappie see fishing line?
Crappie is an intelligent species of fish and will avoid almost anything that looks out of the ordinary.
If your lure or bait is presented to them with an easily visible line hanging from it, they will never take a bite.
It's important that a clear mono or fluoro line is used whilst crappie fishing. Or if you opt for a braided line, use a fluorocarbon leader line to reduce visibility in the water.
Is braided line good for crappie fishing?
Braided line offers many benefits whilst fishing almost any species of fish; it's strong, durable, has high sensitivity, and high knot strength.
The one thing that prevents it from being excellent whilst going after crappie is the visibility in the water.
Ideally whilst using a braided line, you would use a fluoro or clear mono leader line.
How long should a leader be on braided line?
Most leader lines will be 2-4 feet in length. If your rig requires it to be slightly longer, that is fine.
What is a good crappie bait?
Crappie will just about eat anything that they can find in their habitat. Most anglers will opt for using small minnows as they seem to work well for grabbing a crappie's attention. Worms and insects also work great.
Fishing line for crappie – Conclusion 
That just about wraps it up for the best fishing line for crappie. We truly hope that this article has helped point you in the right direction when it comes to choosing the best line for crappie.
If you are just starting out then any of the mono lines on our list will be a great option, if you can afford more or want an invisible line then fluoro lines are a good choice.
If you are a die-hard braid fan, then there's no reason why you can't use it for going after crappie, just remember you'll have more success if you use a leader line.
Happy Fishing!
Other Fishing Equipment You Might Need: