Best Fishing Backpack For Tackle And Gear
Every angler knows the importance of staying organized whilst out on a fishing trip.
The last thing you want to happen is to find out where all the fish are but not be able to find the right lures and tackle! Having the best fishing backpack will ensure all your gear is properly organized, right on hand, and well protected from the elements.
Fishing backpacks aren't like your conventional backpack that you'll see someone wearing whilst walking down the street or wearing to work.
There should be more than enough pockets and storage areas to hold all your important tackle and sometimes even quick access pockets and clips to hold things you need on hand such as fishing pliers and hook removal tools.
Some fishing backpacks will even have a rod holder. The way I see it, the best fishing backpack should allow you to head on down to the water carrying nothing else other than your rod, reel, and backpack.
The Best Fishing Backpack at a Glance
Why do you need a backpack for fishing tackle?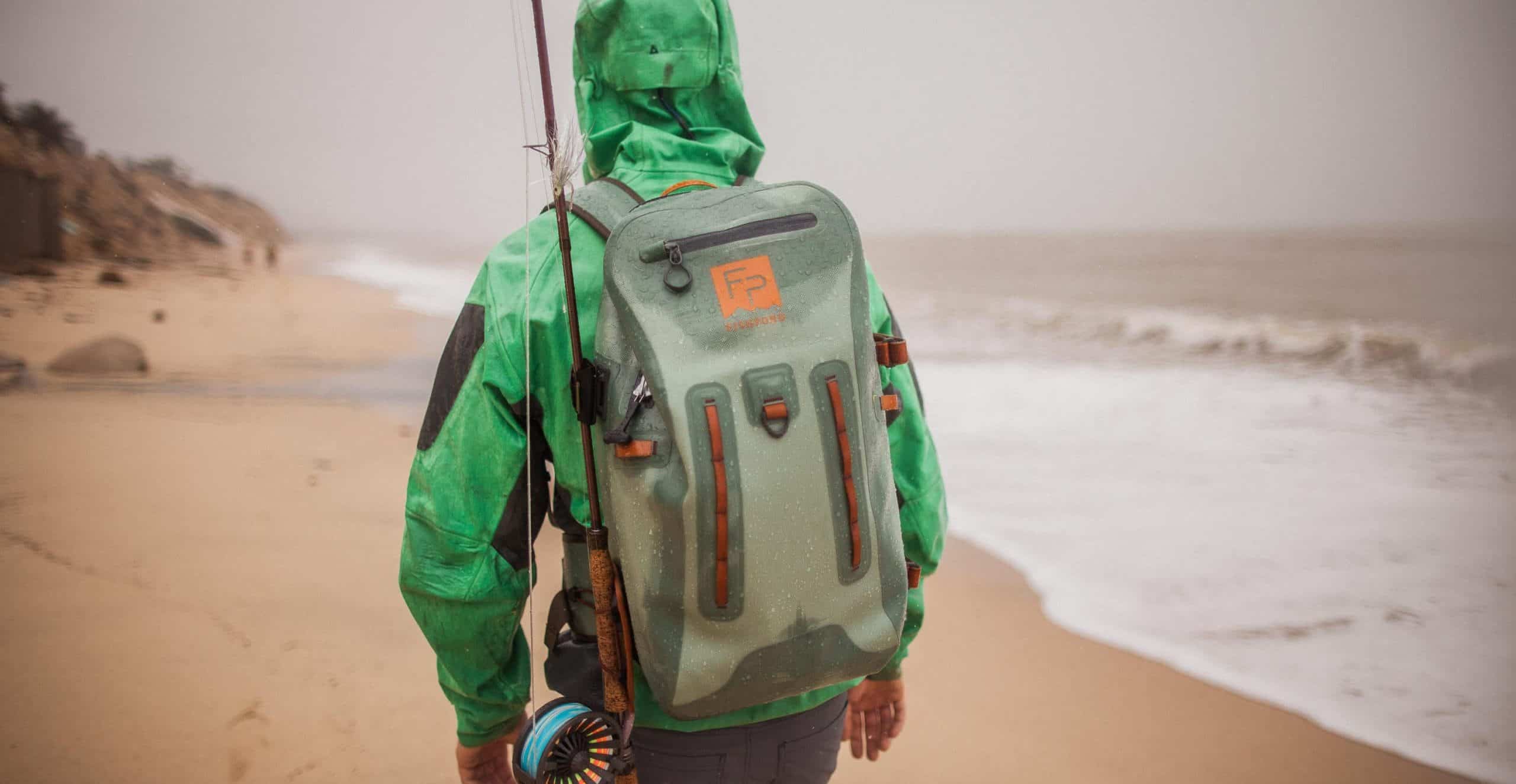 Any fishing trip, especially one you want to be successful (every one!) requires the correct equipment. When it comes to fishing there are dozens of pieces of equipment you need to take along with you e.g. spare line, hooks, bait, lures, etc.
It's impossible to carry all this with you in your hands or your pockets. This makes the need for a backpack even more apparent.
A fishing backpack gives you the ability to easily carry everything you need for your fishing trip.
Every angler knows that you cant always rely on one line to withstand an entire trip or that you'll only need one or two lures.
One of the main benefits of a backpack is that you can carry all of your extra gear to ensure you've got everything you need on hand when you need it.
A backpack can come in especially handy whilst you are fly fishing. Fly fishing requires the angler to stand in the water for long periods of time.
Wearing a fishing backpack allows you to access all of your gear without having to exit the water to grab it from the riverbank, you can just reach around and take it out of your best fly fishing backpack.
Not only can you take along your fishing gear in a backpack but you can also carry other essentials such as sunscreen and your electronics. What's also great is that most of the backpacks are water resistant so you know your electronics will stay safe even if it rains.
Fishing Backpack Reviews:
Best Fishing Backpack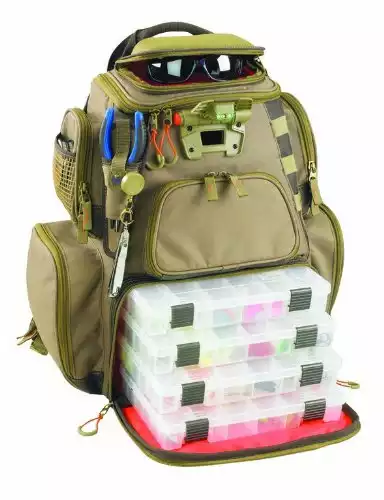 Wild River Fishing Tackle Backpack
This fishing backpack takes our editor's choice due to the many numerous features and hundreds of customer reviews singing its praises. This bag boasts great comfort whilst on your back whilst carrying all of your tackle gear. 
You don't have to worry about leaving behind any of your tackle with this bag due to the large storage compartments with the main section able to hold 4 tackle trays. 
You can really get the sense of a well thought out design when using this backpack, there is even a removable pliers holder and a top pocket to hold your sunglasses. One of the top compartments even folds down to provide you with a little work station which you can use to help you rig up your line etc. 
The upper storage compartment has a removable divider which can convert the space into an area for holding larger equipment such as reels. 
This backpack also features an LED light so you won't have to worry about not finding your tackle in the dark if you enjoy night fishing. 
Whilst this backpack isn't fully waterproof, it does come with a handy rain cover which is easy to slide on and off if needed. 
Key Features:
Large Volume Storage Areas

LED Light For Night Fishing

Removable Pliers Holder

Built-In Workstation

Padded Shoulder Straps

Next Best Fishing Backpack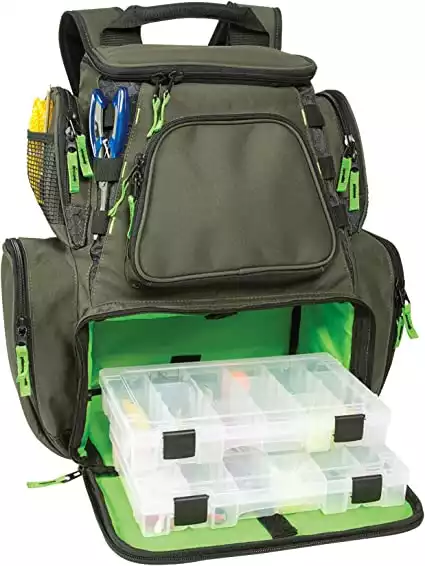 Wild River Multi-Tackle Large Backpack
Another great backpack from CLC. This company really has understood the needs of the angler when it comes to designing their range of fishing backpacks. That's why CLC has taken both the title of our next best and editors' choice. 
The Multi-tackle backpack is a large fishing backpack ensuring you have more than enough room to take along all of your fishing essentials on your trip. This back is perfect if you are camping and need to take along a few days worth of supplies. 
The bottom zipper door folds down to reveal a spacious compartment that can hold up to 4 tackle trays depending on their size (CLC sells the perfect fitting trays). The upper compartment is deep and can easily hold up to 3 fishing reels if you require it. 
You can also easily store all the things you need quick access to in the mesh side pockets and the front pouch. There is also a specific strapped area to house your fishing pliers so you'll always know where they are. 
Similar to our editors choice bag, this fishing backpack also has a work station that folds down to assist you whilst rigging up your lines and lures. 
Another great aspect of this back is the internal fully waterproof pocket which will make sure that all of your valuables and electronics stay dry. 
Key Features:
Large Volume Storage Areas

Fishing Pliers Holder

Built-In Workstation

Comfy Shoulder Straps

Internal Waterproof Pocket

Best Sling Fishing Backpack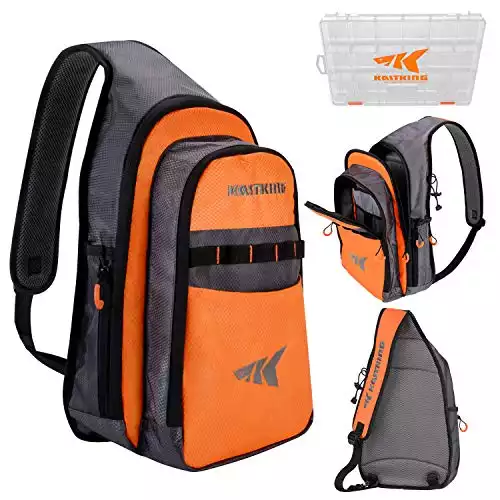 KastKing Pond Hopper Fishing Sling Backpack
If you take a look around our fishing category you'll quickly see that we have reviewed many products produced by KastKing and for good reason! Their products are always well received by their fans and they are cementing their name amongst the top fishing brands.
This is another sling bag that is worn around one shoulder and can easily be worn all of the time whilst you are fishing as a sling bag doesn't restrict your range of motion and casting ability. 
The Pond hopper is made from 420D ripstop nylon material which makes the bag super durable and tear-resistant ensuring it will last you years to come. A hydrophobic coating on the exterior of the bag repels moisture from the outside and a PVC layer on the inside provides extra protection to ensure your tackle is protected from the elements.
A 3600 utility box is included with the purchase and fits perfectly into the main pocket of the bag, this should be more than enough tackle storage for a full day of fishing.
If you're an adventurous fisherman who likes yon your feet moving from pond to pond and to multiple fishing spots quickly then this is the perfect lightweight bag for you. 
Key Features:
Lightweight

Hydrophobic coating provides great water resistance

420D rip-stop material

Tackle box included

Best Value Fishing Backpack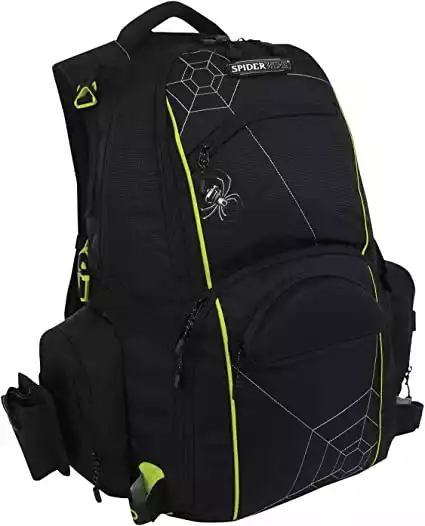 Spiderwire Fishing Tackle Backpack
Spiderwire has been producing fantastic fishing products for many years and has turned into one of the most loved brands by avid anglers. This best fishing backpack is no exception. 
Split into 3 compartments, top, middle, and lower there is enough room able to pack a good amount of fishing gear. This product also comes with 3 tackle compartments which slide nicely into the lower compartment which will store all of your lures, hooks, and line, etc. 
Produced from 100% polyester with premium stitching this bag can take heavy loads however it is not waterproof so you will need a rain cover if you want to store more valuable items like a smartphone. 
The main compartment is divided into 3 sections to neatly arrange all your gear for quick access. There is also a removable fishing tool holder on either side of the bag so you can have quick access to items such as a pair of fishing pliers. 
Many users report on how easily you can store your rods in the side of the bag and walk around with them hands-free. 
Key Features:
Strong polyester construction

Comes with 3 tackle trays

Center cooler compartment for drinks

Comfy shoulder straps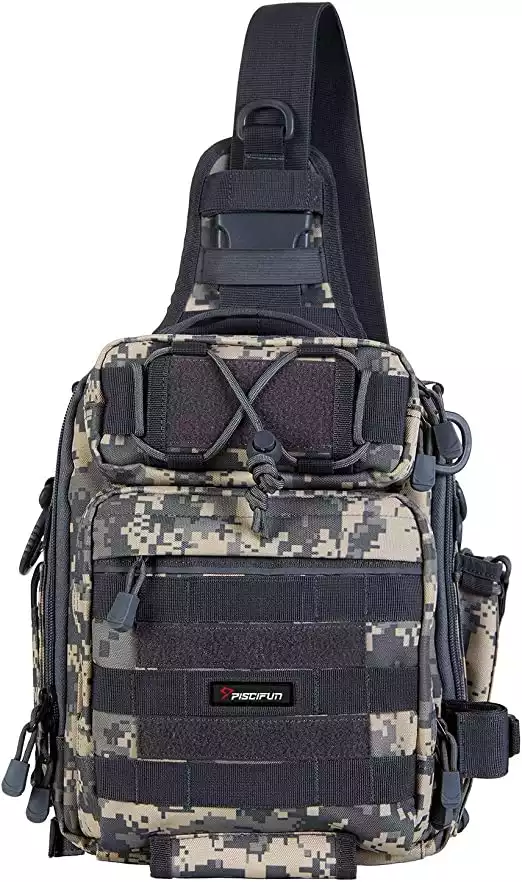 Piscifun Fishing Tackle Backpack
This has to be one of the most highly rated fishing backpacks I have seen on Amazon. This cross the body - shoulder sling fishing bag has some exceptional features and Piscifuns' customers can't say enough good things about this product. 
Different from the previous two bags we reviewed, this one only has one shoulder strap which causes this bag to be worn across your body. Depending on your build and personal preference you might actually find this much comfier and easy to carry than a traditional backpack. 
Another great aspect of a sling bag is that it doesn't restrict your range of motion; many anglers report on the fact that they can easily wear these bags whilst casting and reeling in fish. This makes it great as the best fly fishing backpack when you need your gear with you whilst out on the water.
This backpack is water-resistant and very durable due to being produced from 1000D high-density nylon fabrics. You can fish confidently knowing your valuables are safe and protected. 
One of my favorite features of this bag is the removable and adjustable straps. It actually comes with 2 straps so it can be worn as a traditional backpack should you want to. As well as this it can even be adjusted to become a chest bag! The versatility is amazing. 
Key Features:
Large volume storage areas

Fully adjustable straps - wear as a backpack, shoulder bag, or chest pack

Water-resistant 

Durable 1000D nylon materials

3 separate compartments to help organize your tackle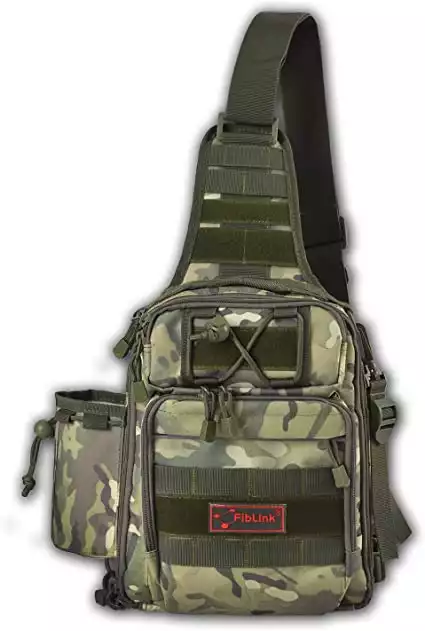 Fiblink Waterproof Fishing Backpack
Another over the shoulder sling backpack is highly rated. We've reviewed several of Fiblinks fishing products and have always been very impressed with the quality and the amount of thought which goes into every one of their products. 
This fishing backpack is waterproof and wear-resistant due to being made from high-quality 1000D nylon and then covered with a waterproof coating. There are multiple compartments and exterior pockets so you won't run out of room to store all of your most important fishing gear. 
Another great feature of this bag is that there is a cylindrical pocket on one side which can nicely hold a telescopic fishing rod - ideal if you need to take a spare rod with you. 
The straps are fully adjustable and removable so you can make sure the bag is comfy before you set off hiking. The back of the bag is also a padded extra pocket which can be used for storing flatter items or it just acts as nice extra back support. 
Key Features:
Waterproof coating

Telescopic rod holder

Durable 1000D nylon material construction

Numerous interior and exterior storage areas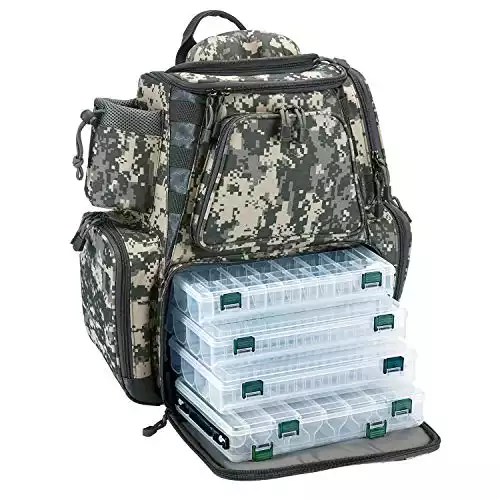 Piscifun Fishing Backpack with 4 Tackle Trays
Another Piscifun fishing backpack to make our top 10 list. This is a high-quality bag that has heaps of great customer feedback. 
Its produced from high-density 1200D nylon which creates a strong wear-resistant and waterproof surface so all of your tackle is well protected from the elements. For extra peace of mind, there is a full waterproof clear pocket inside of the bag for your electronics.
You can tell this is a high quality constructed backpack as extra care has been taken to use 86 sewing procedures to ensure that all the seams are extra waterproof and can take heavier loads. 
The bag is split up into 11 compartments so you can efficiently organize all of your tackle to prevent you from having to dig around in the bag trying to look for your gear. 
Thick back support and shoulder straps ensure you are always comfortable whilst carrying this bag. 
Other additional features include a built-in molded sunglasses case and protective rain cover which is easy to slide on and off. 
As a bonus, you also get 4 tackle trays with the purchase & a 1-year warranty!
Key Features:
Waterproof coating

4 tackle trays

Durable 1200D nylon material

1-year warranty

Thick back and shoulder support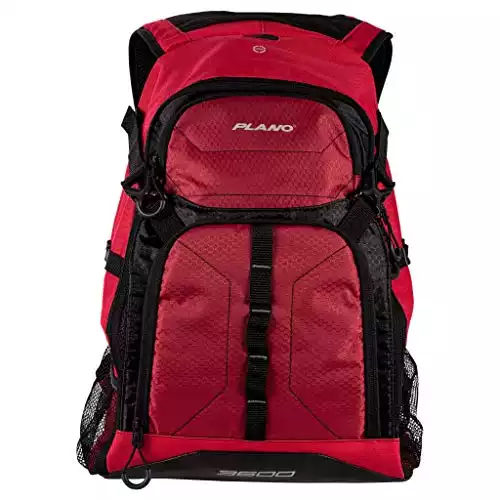 Plano E-Series 3600 Tackle Backpack
This fishing backpack is from Plano the popular fishing and hunting brand. This bag has a nylon and plastic exterior which gives it a tough, durable, and water-resistant finish - ensuring that all of your gear is well protected from the elements. 
Air mesh straps are breathable and comfy on your shoulders allowing you to walk for long periods of time whilst carrying heavy loads without feeling any discomfort. As well as this there is a thick padded back cushion to provide extra comfort. 
With this purchase, you also get 3 tackle boxes that fit nicely into the main compartment of the bag to hold and organize all of your important fishing tackle. The side mesh pockets allow you to keep fishing tools such as pliers close to your hand. 
In the bag's interior, there is also a soft felt pocket for delicate valuables such as your fishing sunglasses and your cellphone. 
Key Features:
Nylon and plastic tough exterior

Water-resistant

Breathable straps and padded back support

Comes with 3 tackle boxes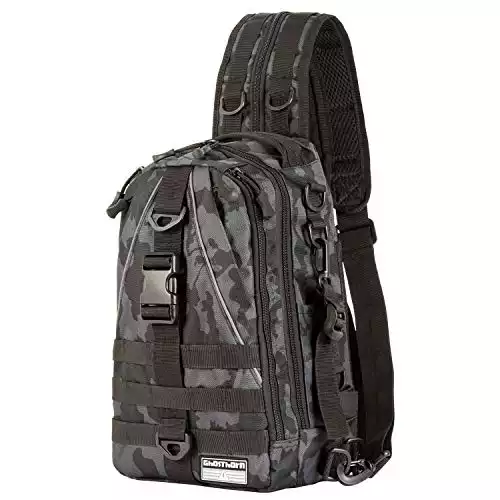 Ghosthorn Fishing Tackle Backpack
This bag from Ghosthorn has been designed with comfort and convenience in mind. If you're an angler who likes to move around the pond and amongst the different river banks a lot then this fishing backpack will be great for you. 
The shoulder straps are padded for comfort and can be adjusted to turn this bag into a two-strap standard backpack - so you have a couple of options to play with when using this bag. 
The bag is produced from high-density strong nylon fabrics with extra firm stitches which makes the bag extra water-resistant to keep out the rain and protect your tackle. 
Two-rod bets on the side and bottom are designed for rod storage so you can easily take a spare rod along with you and move freely hands-free without carrying your rods. 
Another vouch for the quality of the backpack is that it comes with a 1-year warranty against any defects so you have peace of mind whilst purchasing this product. 
Key Features:
High-quality stitches

Padded shoulder straps for comfort

Main section big enough for a 3600 tackle box

Convenient clip buckle and storage straps

What to look for when purchasing a fishing backpack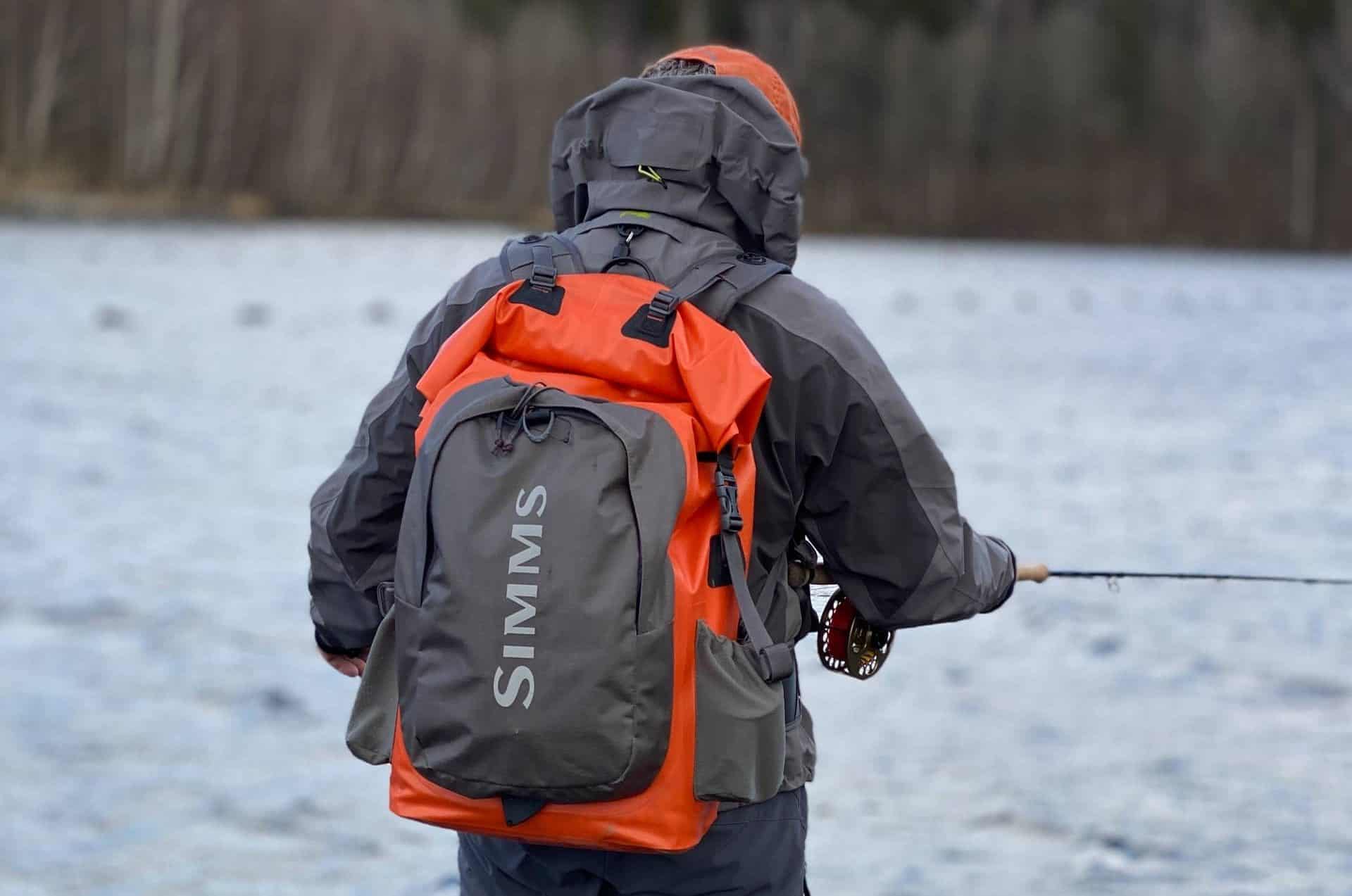 So if you have decided that a fishing backpack is going to improve your experience whilst out on your fishing trips, you need to make sure it's the right backpack for you and your needs. It's important to make sure the backpack is durable, lightweight, can store all your required gear and easy enough for you to carry.
There is tonnes of options out on the market which can soon leave your head spinning if you start comparing them all. This is exactly why we create these articles which we pour hours of independent research into to ensure you can make the best informed choice without getting confused.
So below we would like to list what we look out for when deciding if a backpack is worth buying or not. These tips should give you an insight into our decision making process and make the whole thing slightly easier for you when you make the choice for yourself.
What is the fishing backpack type? 
There is a few different types of fishing backpack that you will come across on the market. It basically comes down to how you actually wear the bag on your body. The main variations include a sling bag which is worn across one shoulder, a waist pack, a chest bag and a backpack.
If you are wanting to carry small amounts of fishing gear with you then a chest pack will probably get you by. It's big enough to fit some spare line, hooks and probably a few lures.
You often see fly fisherman wearing a chest pack to carry the essentials as they can quickly access it whilst out in the water.
However, a chest pack will not be big enough to carry a few days trips worth of gear along with you.
Sling packs are a step up in size and allow you to carry more gear and weight, they are thrown over one shoulder to help you take the load easier. The great thing about the sling pack is that you still retain your full range of motion whilst fishing so you will be able to wear it and still have full casting ability.
Waist packs are the smallest of the bunch and will only fit a really small amount of gear. Personally i've never used one, however I can see how they would be useful for keeping items such as pliers and hook removers close by.
Backpack is a… backpack. Everyone knows what a backpack is. If I was purchasing one i'd opt for a decent sized one which I can fit all of my important gear in.
Essentially you should buy a fishing backpack that allows you to spend a full day or even a few days trip away, without worrying about not taking any fishing tackle along with you.
Storage Space
Storage is probably the most important thing to consider when buying a fishing backpack. After all what is the bag for? Storing things!
The amount of storage and bag design you ultimately decide on comes down to personal preference. Some bags have many smaller pockets and mesh pockets etc. Where as some bags have a singular larger pocket which can be great for fitting larger tackle boxes and maybe even spare reels in.
Some backpacks on the market even come with specially designed lure and tackle trays which are the perfect size to slide and out of the bag. These can come in handy when organising your lures, bait and hooks.
If you can see yourself hiking longer distances to get to the better fishing spots then you could also opt for a backpack which has a rod holder to store your rod whilst you walk. It can even be used to store a spare rod whilst you are fishing.
Water Resistance
As someone who has been fishing for a long time, I can confidently say that at some point, no matter how hard you try… your bag and belongings will have a run-in with some water.
Whether that's dropping your bag in the water or getting caught in an unexpected downpour.
Usually, it's not an issue as your fishing gear is made to get wet however if you are taking along valuables such as your wallet/purse or your electronic devices such as a camera or mobile phone then you'll want your bag to have a certain level of resistance to water so everything is protected.
Some fishing backpacks will claim to be 100% waterproof, these usually have extra protection at the seams and zips to prevent water from entering in the bags weak points. If you are stood in the water whilst fly fishing, these can be a great choice in case you accidentally slip and take a dip.
Other bags will be made from water resistant materials but aren't 100% waterproof. This is common so don't worry. Just make sure that these bags come with a rain cover which is easy to slip on and off.
Backpack Durability 
To make life carrying the backpack easily I would always say go for the lighter version but sometimes this will compromise on durability by using thinner materials.
Make sure the backpack is produced from durable materials which are tear resistant and wont tear whilst put under stress.
It's likely you'll be placing the back down on some shoreline rocks at some point, you don't want to pick it back up to realize it's been scuffed or torn.
Seams of the backpack are also another important thing to consider. Double stitch seams will be much stronger than single stitch and allow you to carry much more weight in the backpack without worrying about it failing.
Make sure the zippers are made from corrosion resistant and strong materials such as Stainless Steel. The last thing you want is to find the best fishing backpack for your needs and it break at the zipper!
Comfort
The best fishing backpacks are comfy on your back and easy to wear for long periods of time. Look out for padded shoulder straps and back support.
It's also a bonus if the back material is made from breathable fabric to ensure you don't get too hot and sweat a lot. If you can find a backpack which sits comfortable on the contours of your body that is ideal as it will allow you to cast properly and maintain a good range of motion.
Fishing Tackle Bag FAQs
Are LED backpacks worth it?
Whilst shopping around, it's likely that you'll come across a some fishing backpacks with a built in LED light. Every angler knows that it's very easy to get lost in the moment and lose track of the time whilst you are fishing.
And LED backpack makes sure that you will always be spotted whilst out fishing, it's also useful if you're actually in the water for example when you are fly fishing.
If you enjoy night fishing, an LED backpack also has the benefit of lighting up your backpack in the dark so you can easily see all of your tackle.
What type of fishing rod should I pack?
Some rods come in up to 3 or 4 separate parts, these are especially popular amongst people who enjoy travel fishing. These are great to insert into your backpacks rod holder or can be easily strapped to your bag if it doesn't have a specific rod holder.
Other fishing rods can even fit inside your backpack. Yes inside! These are the hugely popular telescopic fishing rods which take up a minimal amount of space in your bag whilst still remaining a high performing fishing rod.
If you opt for a more traditional fishing one or two piece rod then that is absolutely fine, most backpack rod holders can accommodate these rods, you'll just have to ensure it's not scraping along the ground as you walk!
Which fishing essentials should I be putting in my fishing backpack?
There is the most obvious essentials such as a fishing reel. Be careful putting your reel into the bag as certain types can be quite delicate.
You'll want to make sure you pack all of your tackle such as lines, lures, hooks, bobbers, bait, sinkers, swivels, your pliers, hook removal tool and anything else you think is necessary to take along with you.
Don't forget to pack all of your other essentials that might not correlate directly with fishing such as your snacks, drinks, extra clothing, and maybe even a compass.
Depending on the season you'll definitely want to remember to pack your waterproof jacket! The last thing you want is to get caught out in the rain and have to end your fishing trip short due to getting soaking wet.
More Fishing Posts: