Penn Slammer 3 Review – The Best Fishing Reels
Penn Slammer 3 Review Introduction 
PENN is an extremely well-known fishing brand. Renowned for their quality rods that are often spotted in high-profile fishing tournaments. Holding 1,400 IGFA world rankings due to their effortless and incredible performance especially when it comes to saltwater fishing tournaments.
One of the standout features of Penn's rods, and as a brand in its entirety, is its affordability. Not only are they high-performance and well regarded used on the professional circuit, but they are also well priced enough for the average consumer to use. Ever wanted to feel like a pro? Well, now is your chance.
PENN produces extremely talented spinning reels. For those that are unsure of what the difference between spinning and a casting reel is, its quite simple:
Casting reels sit on top of the rod and the spool is in line with the fishing rod meaning that the line is cast directly in line with the rod.
Spinning reels have their spool perpendicular and underneath the rod meaning that once the line is cast it has to turn to follow its length.
Spinning reels essentially keep the cost down; focusing on lightweight fish, whilst also having the ability to place your rod in a holder to sit back and relax.
Quality: 5/5
Performance: 4.5/5
Cost: 5/5
Ease of use: 4.5/5
View on Amazon
View Customer Reviews
Key Features
Design/Looks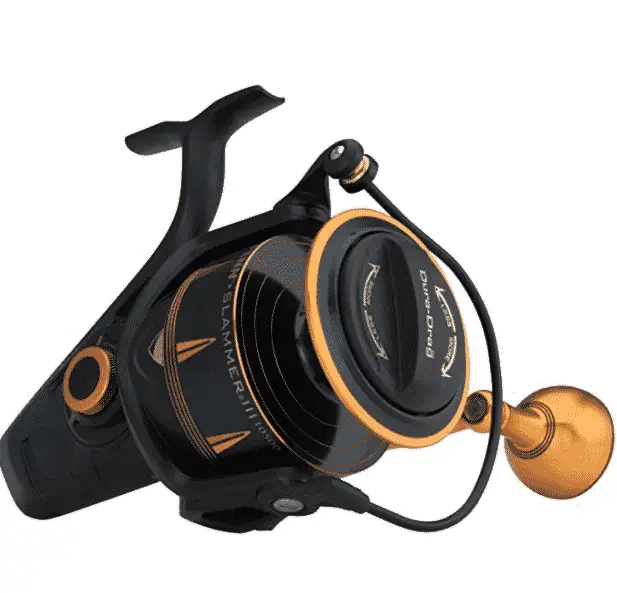 First off, Penn believes like many of us out there that looks like matter. Something that looks professional or good looking is going to tap into our impulses.
It is the gold/red trim on the rails which separates the Penn Slammer 3 from any of the other Slammers giving it a super sexy, streamlined look. Ever heard of the saying 'Look good, feel good'? Well, that is exactly what one customer felt:

Materials
The Penn Slammer 3 includes incredibly advanced technology such as the new IPX6 Sealed System, which keeps water out of the gearbox and drag system. The strength and tightness of the seal are super important to prevent even a concentrated stream of water from entering your gearbox or drag system and causing corrosion.
This new technology reduces the change of any corrosion due to water displacement and keeps your device stronger for longer.
The full metallic body including the side plate and the rotor is made from Aluminium. Not only does that increase the strength due to the durability and solidity of the metal but also further reduces any corrosion damage.
Corrosion typically occurs when iron and water are Oxidized (met with oxygen). That's why PENN chose to use the full Aluminium body as this metal doesn't include any iron in its properties, making it as corrosion resistant as possible.
The full metal body also makes the rod feel sturdy. Indeed, it won't be as light as any sort of graphite model, but it is heavy duty and feels like a reel that you can count on.
Handle Options
Regular Handle or The Specific Jig Knob which can be placed on either the left- or right-hand size, depending on preference.
Specific Jig Knob: this handle knob is the machined aluminum knob just like you'd expect to see on the regular Slammers, however, this is filled with extra weight so its heavy.
When you're jigging all day, if you manage to get the momentum going with this specific Jig Knob with extra weight it can manage to save you a lot of energy, keeping you fishing for longer and lets you keep the jig moving.
Regardless of which one you choose whether you'd like some extra weight for increased momentum or not, these handle arms fit both reels.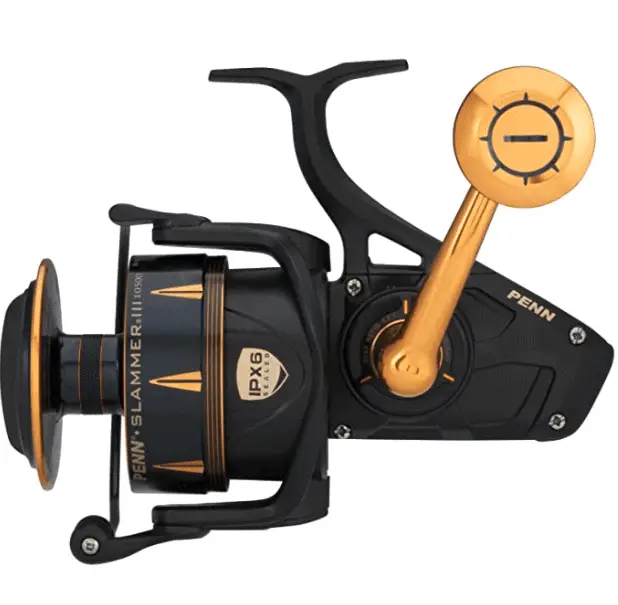 Reel Size & Gear Ratio Options

Comparison Table
| ​ | Penn Slammer III 3500 | Penn Slammer III 4500 | Penn Slammer III 6500 | Penn Slammer III 8500 | Penn Slammer III 9500 | Penn Slammer III 10500 |
| --- | --- | --- | --- | --- | --- | --- |
| Weight (Oz) | 13.9 oz | 14.7 oz | 24.3 oz | 30.8 oz | 40.9 oz | 43.1 oz |
| Max Drag (LB) | 30lb | 30lb | 40lb | 50lb | 60lb | 60lb |
| Gear Ratio | 6.2:1 | 6.2:1 | 5.6:1 | 4.7:1 | 4.2:1 | 4.2:1 |
| Line Capacity (yards/lbs) | 360/6 | 320/1 | 345/15 | 310/30 | 300/40 | 360/40 |
| Size Available | 3500-10500 | 3500-10500 | 3500-10500 | 3500-10500 | 3500-10500 | 3500-10500 |
There are 10 options when it comes to the Penn Slammer 3, spanning from the 3500 option to the 10500 option (each option going up in 100-reel size) including a 6500HS and an 8500HS option. However, the two favorites are the 6500 and the 8500 option.
You've got the 6500 option which grants you 40 pounds of drag. It comes in at 24.3 Oz or around 43 grams, so it is super lightweight. It has a gear ratio of 5:6:1
Or the 8500 which grants you up to 50 pounds of drag. It also comes in at 30.8 Oz or around 1.1Kg. It is a little heavier, but that grants you some extra power. It has a gear ratio of 4:7:1.
If you really want to go for the 10500 option, then it will grant you 60 pounds of drag, but comes in at 43.1 Oz or 1.22Kg and a gear ratio of 4:2:1.
Penn Slammer 3 FAQ
Can the Penn Slammer 3 be used in fresh and saltwater?
Yes. In fact, the Penn Slammer 3 has been designed for fresh and saltwater conditions. With an Aluminium body that withstands whatever you can throw at it.
It is super rust-resistant and the new IPX6 Sealed System helps keep any water at bay.
How many bearings does the Penn Slammer 3 have (and the bearing material)?
The Penn Slammer three incorporates 8 stainless steel ball-bearings, which are placed to balance the weight when trying to catch those heavy fish. They also serve to help prevent any wear and tear.
Is the bail trip on the Penn Slammer III automatic or manual?
Sizes 3500-5500 have automatic bail trip.
Sizes 6500-10500 have manual bail trip.
Penn Slammer 3 Review – Conclusion
The Penn Slammer 3 is clearly a go-to in terms of spinning reels. Not only is it heavy-duty, but its construction is also completely solid including superb sealing technology to keep at bay any rust or corrosion.
Its affordable price tag is also an eye-opener. Not only are you getting a well-priced device, but it will also last an extremely long time, unlike other 'budget' devices.
With exceptional drag capabilities achieved through its Sealed Slammer® drag system with Dura-Drag, the Penn Slammer 3 is a must have device.
It looks good, feels great, performs at the highest level and is made to last.
Other Fishing Equipment You May Need: