Sea Eagle 370 Inflatable Kayak Review
Sea Eagle 370 Review
Out of all the sit on top inflatable kayak manufacturers, Sea Eagle has been one of the best kayak producers available in the market for a long time.
The 370's usefulness ranges from amateurs to professionals paddlers alike. As it is an inflatable kayak, It offers ultra-portability to its users.
Sea Eagle 370 is very lightweight. But don't you get skeptical by how light it is. It is lightweight yet very robust. With its rugged puncture-proof construction, this inflatable kayak is designed to bear the weight of 650lbs or three people comfortably.  
Sea Eagle 370 is also certified by the National Marine Manufacturers Association (NMMA).
This review will weigh up all the key features Sea Eagle 370 has to offer. We will also discuss the pros and cons associated with it.
And last but not least, we will talk through some FAQs to make this review as worthwhile for you as possible.
Quality: 4/4
Speed/efficiency: 3.5/5
Cost: 5/5
Ease of use: 5/5
View on SeaEagle.com
View on Amazon
View Customer Reviews
Sea Eagle 370 Key Features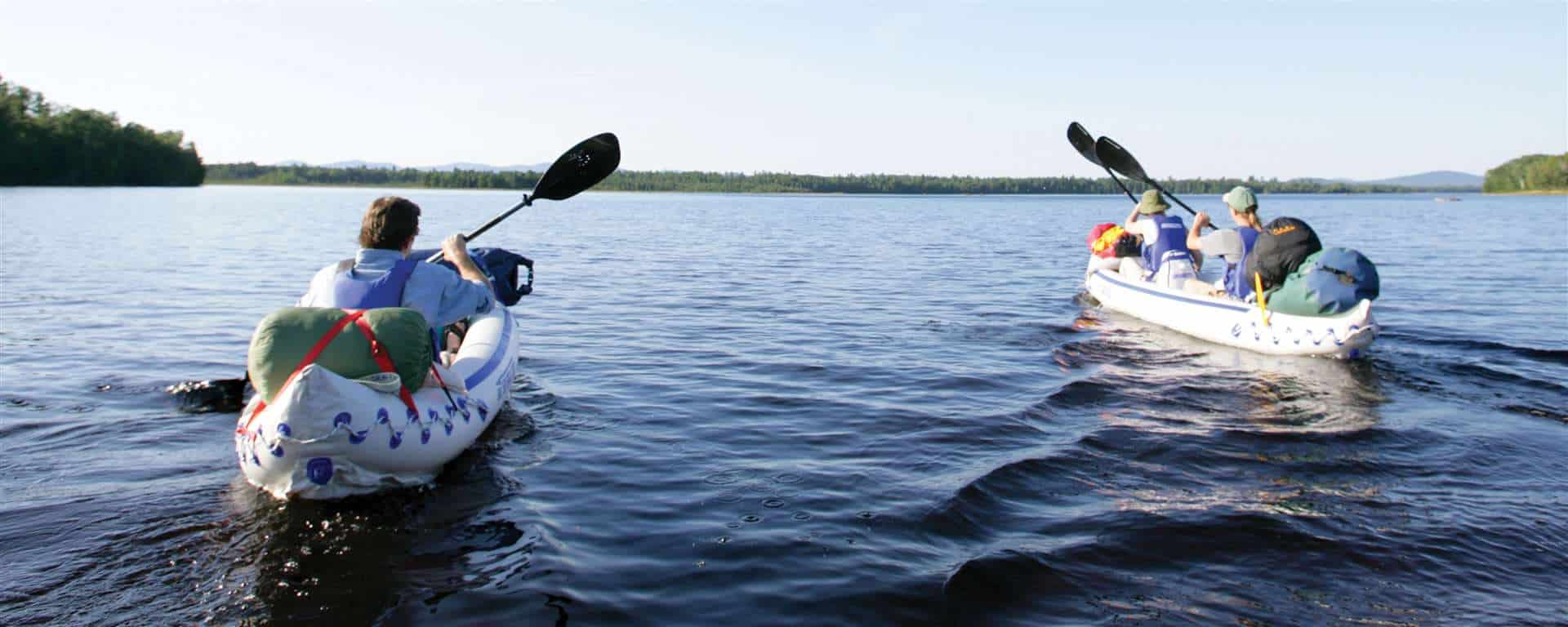 Material
Sea Eagle 370 is made up of rugged 38 mm thick K80 PVC material otherwise known as Polykrylar. This material is tough enough to withstand sharp rocks and dog paws. That's why SE 370 is impeccably resistant to punctures.
Construction
Cockpit: SE 370 has a very spacious cockpit that features two highly comfortable inflatable seats. Each seat comes with adjustable supporting straps and a back pouch for safekeeping of your phone or snacks.
Even after hours of continuous paddling, you won't feel cramps in your back or under your neck. That's how much comfort it has to offer.
Floor: SE 370 has five-tube I-beam inflatable construction. This kind of floor design ensures maximum stability and rigidity.
Two rear skegs are also present which again add up extra stability and aids with tracking in a straight line.
Hull: SE 370's hull weighs just 15 kg. It is made up of 38 mm Polykrylar, which is a highly durable material. This material is the reason why SE 370 is regarded as puncture resistant and can even bear your dog paws and claws.


Durability 
Even if Sea Eagle 370 is a base sports inflatable kayak, it still is very durable and versatile. Most people doubt its durability due to its ultra lightweightedness but worry not, its construction is rigid and durable.
It is a known fact that the more you take care of something, the more time it lasts. Taking proper care of things can increase their shelf life. If we talk about the sports inflatable kayak specifically, there are some pieces of advice you should comprehend in order to ensure the longevity of the kayak.
They are as follows:
You sure want to protect your inflatable kayak from harsh UV rays. So in order to do that, use 303 protectant. It will help in protecting your kayak's material from those rays.
Saltwater can have adverse effects on the material of the kayak. Make sure to rinse your kayak thoroughly with fresh water after you are done paddling in saltwater.
As discussed earlier, UV rays can damage the material of your kayak. If you have to store the kayak outside, keep it out of sunlight for long periods of time.
The last and most important, let your kayak dry off before you store it in the carry bag or storage spot. This will help prevent the kayak from becoming moldy. It is not that SE370 is not durable; they are just extra precautions you must take care of to increase the life of your kayak.
Ease of Use 
Sea Eagle 370 has a very sleek design that offers maximum ease of use. It is ultra-portable and effortless to inflate and deflate. Not only effortless but also very quick.
It takes no more than 8-10 minutes to inflate it fully. To put it simply, you are all ready to get into the water within 10 minutes with Sea Eagle 370.
You have three separate air chambers in this sports kayak. With the included foot pump, the kayak will get fully inflated within 8-10 minutes as described earlier.
There is no pressure gauge provided through which you can check the pressure, however when the foot pump becomes too hard to push, leave the pump as the kayak will be fully inflated by that time.
Kayak's seats are also very easy to inflate. It takes no more than seconds to inflate them.
If the question is of ease of use in transporting, SE 370 is a no brainer. It is very lightweight and can be taken along with you anywhere, quite conveniently.
Roll it up in a small package, put it in the car trunk or even in your shoulder bag and you are good to go.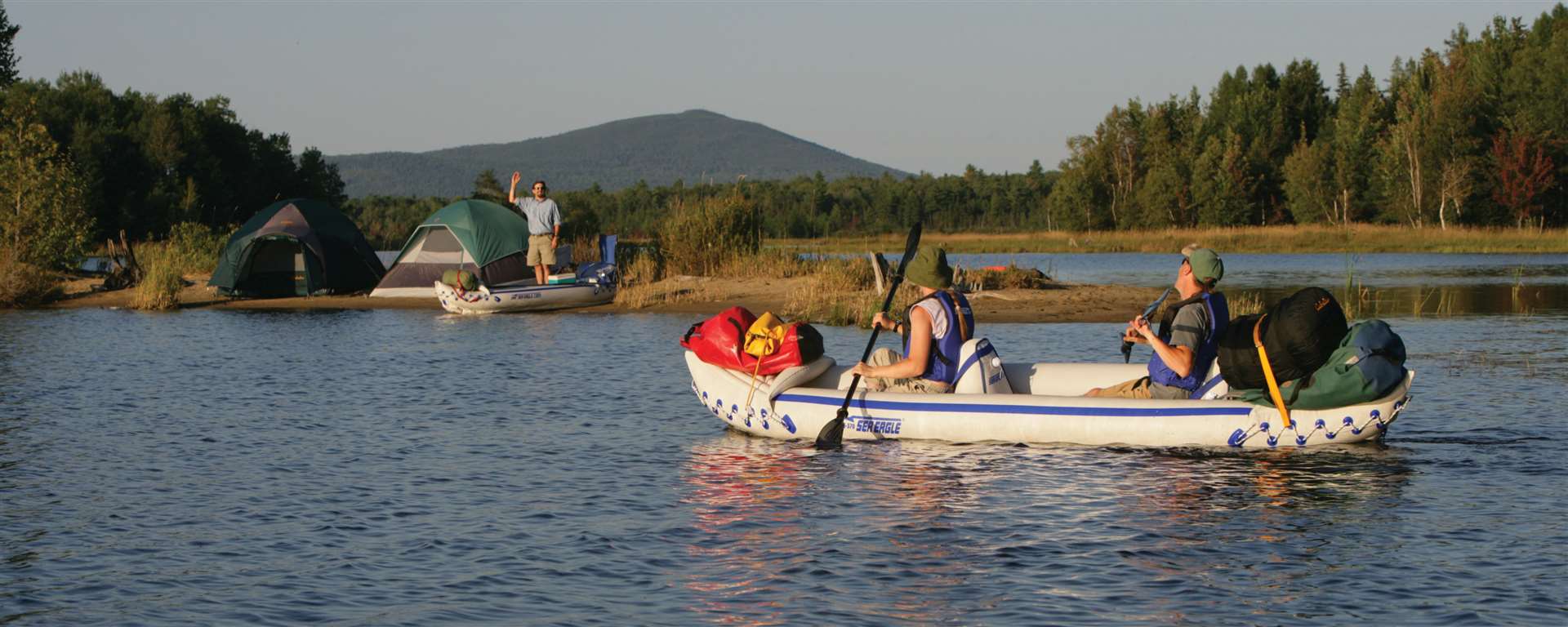 Performance
Even Though it is a base model, it still offers many features which are generally provided by more advanced models.
For instance, let us talk about the capacity of SE 370. It can easily bear 650 lbs weight while keeping the smoothness of floating and tracking intact.
Its performance in the water is also very good. Sea Eagle 370 has found to be very convenient to maneuver in the water. It is easy and quick to turn due to its lightweight design.
One little problem you might have to face is faulty tracking. It may irritate you, but if your kayak is loaded correctly, you won't have to face this issue.
Correctly loading means, you should try to distribute weight across the kayak evenly. If you succeed in doing so, you will have no issue whatsoever.
Specs
Capacity: three people.Carry weight: 15 kg.Length: 381 cm. Width: 86 cm.Inflation time: 8 minutes.
Sea Eagle 370 Pros & Cons
Pros
Stability is spot on.
Rugged construction.
Puncture-resistant.
Highly portable.
Quick and straightforward inflation and deflation.
Cons
Tracking is not easy, but that is apparent with most inflatable kayak.
SE 370 FAQs
Why choose an inflatable kayak?
While there are many benefits of choosing an inflatable kayak, most important are as follows; Easy to transport – Quick setup- Convenient application, Lightweight, Easy to navigate.
Is the sea eagle 370 easy to set up?
Yes. Sea Eagle 370 provides its users with a very comfortable and convenient process of setup. It will take almost eight minutes, and before you know it, you will be in the water paddling around.
Can the Sea Eagle 370 kayak be used by just one person instead of two?
Sure. Sea Eagle 370 is great for solo adventures. It can easily be carried and manoeuvred around by just one person.
Conclusion
Even though SE 370 is a base model, it still is one of the best inflatable kayaks available in the market at its price range.
It is a reasonably lightweight and very durable inflatable kayak. Its convenient functionality makes it equally best for both amateur and professional paddlers.