Kastking Blackhawk 2 Telescopic Fishing Rod Review
KastKing Blackhawk 2 Telescopic Fishing Rod Review
Fishing can be one of the most entertaining activities that manage to capture all of the surrounding nature.
KastKing is one of the leading manufacturers of fishing rods, started by a group of college students who loved getting out onto the waters during their summers. Having great amounts of fun trying to catch bites, rather unsuccessfully at the time, they decided to put their minds to a new project.
They wanted to create a brand based on keeping fishing both fun and innovatively affordable.
The KastKing Blackhawk 2 is the exact definition of KastKing's mission: keeping the technology side of fishing simple and easy. There is no faff when it comes to the Blackhawk 2 with portability functioning as one of its best features.
Quality: 4.5/5
Performance: 4.5/5
Cost: 5/5
Ease of use: 5/5
View on Amazon
View Customer Reviews
That is what the difference is between a telescopic fishing rod, and any other rod around. Simply, it includes these extending guides that manage to extend and collapse the rod for easy portability.
Clearly, the leading benefit of choosing a telescopic fishing rod is the ease in which it is to carry and transport around, being able to fit snug into a busy and packed-full car for your getaway weekend with friends or family.
Too many times have you had to leave things behind or sit awkwardly whilst you transport your rod around – no longer. The KastKing Blackhawk 2 solves those problems head-on.
The best thing about telescopic fishing rods is that you tend not to lose any performance or strength out of them. This means that you don't need to sacrifice anything for easier transport or extracting and collapsing of the rod.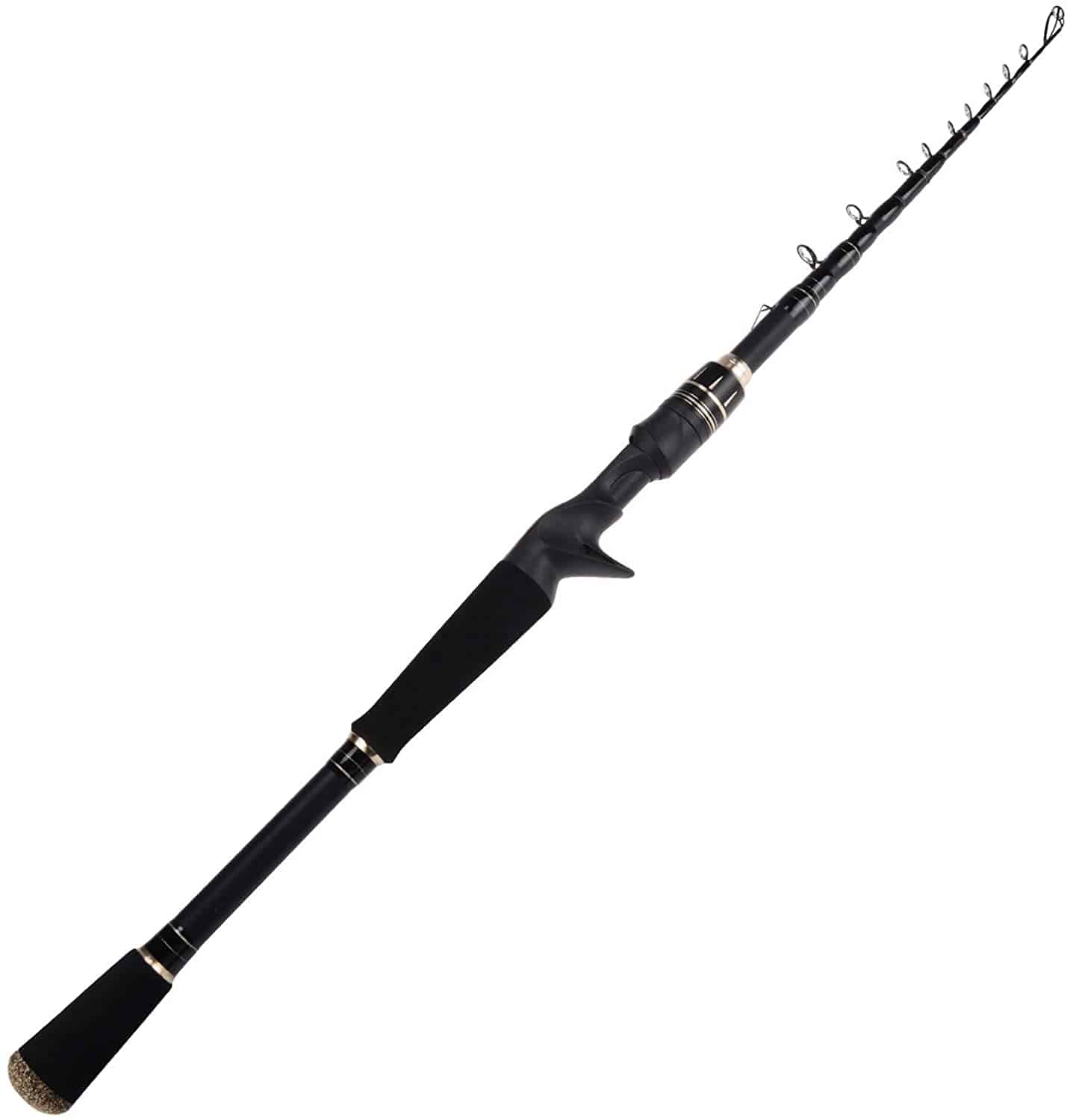 Key Features
Construction
With a strong rod and great portability, the construction of the KastKing Blackhawk 2 cements this telescopic fisherman's rod as one of the best collapsible rods on the market.
The rod reaches an incredible length of 11ft and 10 inches whilst extracted, collapsing to just 27 inches allowing for easy storage and travel in any fishing backpack.
The handle is made from black tapered foam allowing for maximum comfort. It gives a good feel in the hands and is further strengthened by the carbon fiber skeleton underneath.
Topping the foam handle is another anodized aluminum ring allowing for increased strength as well as an additional 7 inches of 3/4 inch thick 24-ton carbon fiber tubing.
Who knew that a telescopic rod could be strengthened so much by carbon fiber whilst keeping the cost at an affordable price?
Carbon fiber tubing within the handle not only makes it super strong but helps as the length of the handle really allows you to gain some great leverage when casting your line.
The base of the rod includes a threaded end cap that can be unscrewed to reveal an anodized piece allowing access to the inner tubing of the rod for cleaning of debris and dirt.If you're worried about how the reel fits with the rod, you can cast that thought away.
Where the rod meets the reel there is a large amount of adjustment catered for which allows pretty much any reel to fit in nicely. In the upper part of the reel seat is a large machined chunk of aluminum that is made to fit your hand. This keeps the comfortability of the KastKing Blackhawk 2 at an all-time high.
Line guides are another part of the rod that has excellent and stable construction. Incorporating rust-proof stainless steel as well as a unique design to provide unparalleled strength compared to other rods of this type or a 2-in-1 rod.
Within each line, the guide is a high-strength ceramic eye. This rod includes a total of 7 guides including the tip!
Talking about the tip, the KastKing Blackhawk 2 fisherman rod's tip comes with a uniquely designed cover which is made to protect those smaller, more nimble guides whilst also aiding the collapsing of the rod.
If you extend the first section of the rod it reveals some important information including the rod action, length, and suggested line in lure weight.
Not only that but just below the first guide we have a diameter of carbon fiber at 5/8 of an inch thick. The next section measures 1/2 an inch in diameter and is manufactured from spiral-wound carbon fiber – the material is still as strong as you may expect out of traditional carbon fiber.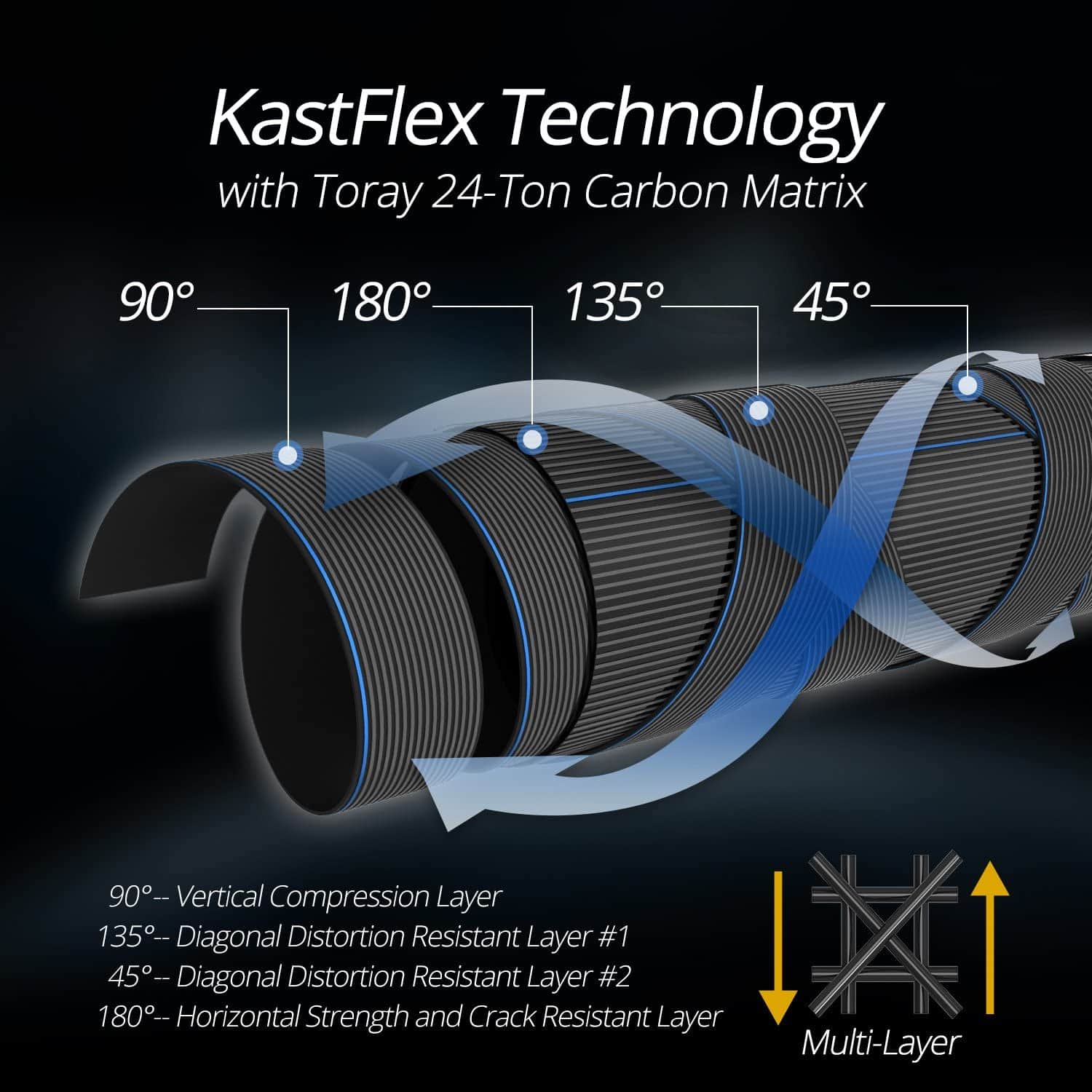 Ease of Use
Extending The Rod:
The KastKing Blackhawk 2 makes extending and collapsing the cast super easy and simple, not to mention effective.
Its design is beautiful, compact, and super easy to use makes it a go-to choice ahead of any other sort of telescopic, collapsible, or even regular fishing rods:
Firstly, gently pull the guides into place using their alignment to make sure they fit in nicely and are secure.
Continue doing so until the full rod expands, trust us you'll be surprised just how far it goes.
You'll find that the rod at full extension is extremely well balanced and lightweight.
It provides a good amount of flex; the long handle and 'fit-in-your-hand' grip make it easy to cast and achieve great leverage for those long-distance casts.
Collapsing The Rod:
Collapsing the KastKing Blackhawk 2 is even easier than extending it. If you thought that its extension was a piece of cake, wait until you hear about the ease of putting it back into its travel form.Grab the guides and push them into place, they should slide together nice and smooth, replace the cover.That's it. Simple right?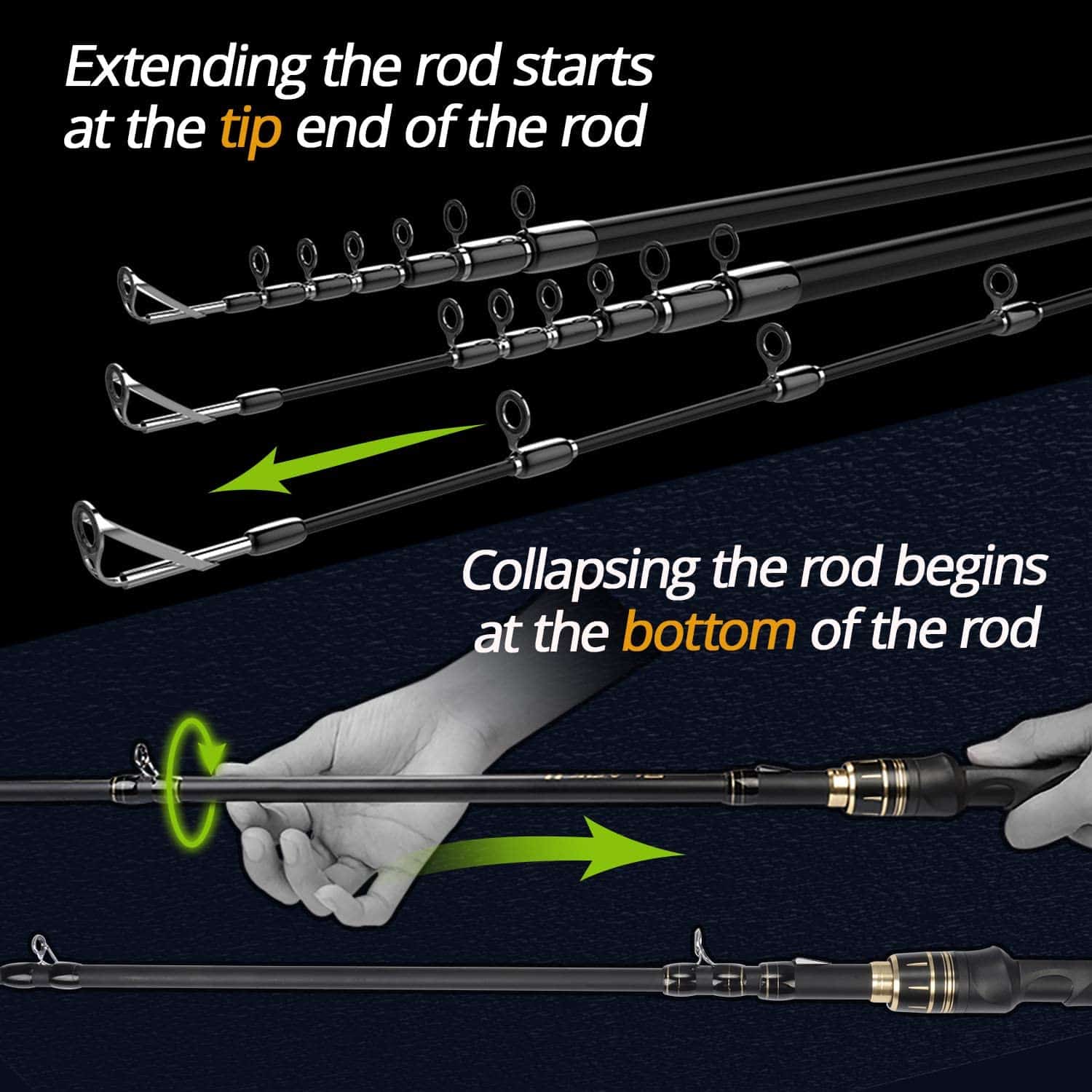 Soloscopic Performance Technology
24-Ton Carbon Matrix blank and glass tip delivers excellent durability, performance and responsiveness.
A 6-piece device where each guide is designed to help improve casting performance, eliminating any dead spots in the blank.
Snug-Fit ferrules (things that fasten or tighten other things) allow for full-length power and transition, giving you the capability of a regular 1-piece rod.
Versatility
The KastKing Blackhawk 2 has great functionalities. The telescopic fishing rod is available in 14 lengths with the options of spinning rod and casting rod models.
Spinning Rods: perfect for fresh or saltwater fishing. It holds the spinning reel underneath the rod with the guides facing downwards. Spinning rods tend to be used with lighter lures.
Casting Rods: slightly more accurate when casting your reel and offers slightly more power for going after the larger fish.
Biggest advantage of the KastKing Blackhawk 2
The first and most valuable asset to the Kastking Blackhawk 2 telescopic fishing rod is its ease to travel. Have you ever found yourself traversing through wildlife only to spot the perfect fishing location, but found you couldn't carry a great big rod with you? Well, no more.
This rod is super compact and easy to carry around, so why not just take it wherever you go!
You can leave the reel on the rod. Open the bail with the line through the guides and the hook attached. Extend the rod to its appropriate length. Start fishing once more without re-rigging.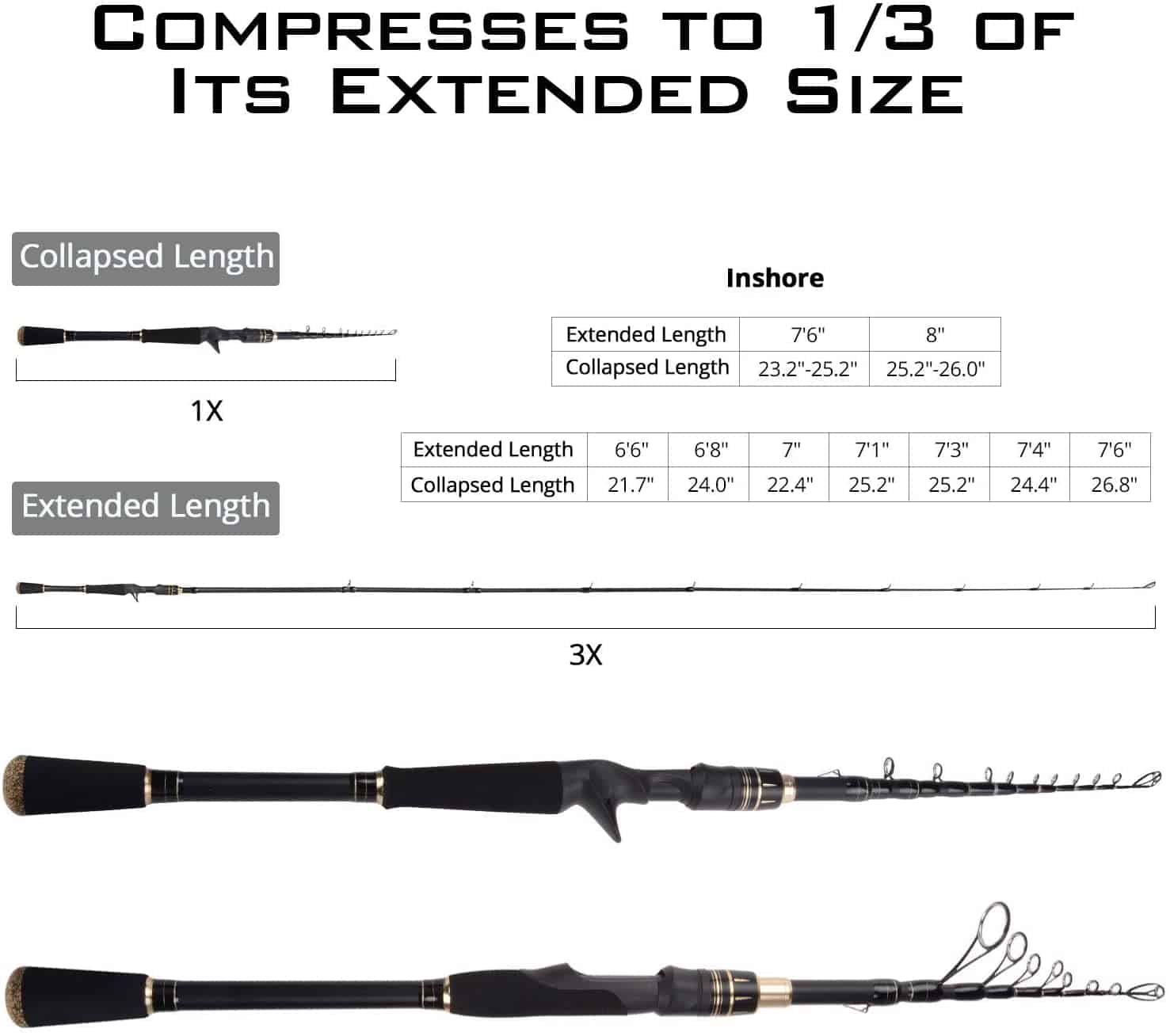 KastKing Blackhawk 2 Review Conclusion
Having a fishing rod that you can take pretty much anywhere is a massive bonus, especially when that rod performs like a regular one or two-piece rod.
The KastKing Blackhawk 2 scores highly in our overall rating, due to its high-quality construction, ease of use, versatility, and cost. It will be tough to get a better telescopic rod at a better price.
We truly hope that this KastKing Blackhawk 2 rod review has helped you make your mind up as to whether this will be the next tool in your arsenal for going after those game fish. 
Happy Fishing!