Best Wakeboard Ropes & Handles For 2023
Wakeboarding is a water sport in which the rider stands on a wakeboard and is propelled forward by a boat or a jet-ski.
It is a fun sport full of excitement and adrenaline – It's fair to say, it's understandable why the sport is growing in popularity every year!
Wakeboarding is done at incredible speed and the rider can perform mid-air tricks such as jumping and doing flips in the air.
The equipment required to wakeboard is simple; you just need a wakeboard, a boat, and a rider.
However, you also need the best wakeboard rope to pull you forward and no simple rope or cable can do the job.
Wakeboarding Ropes are uniquely designed that allows you to generate the force needed to perform the tricks and be pulled at high speeds, but how do we select the best wakeboard rope?
Below we will be discussing the different types of wakeboard ropes that are available in the market and how you can find the perfect pick for yourself.
Wakeboarding Ropes at a Glance:
7 Best Wakeboard Ropes
How to choose the best wakeboard rope – Buyers Guide 
When choosing the best wakeboarding rope for your wakeboarding adventure, your personal preference will be key in deciding which one you go for.
Many wakeboarders don't pay attention to the quality of the wakeboard rope, it is important that you buy a rope that has zero stretch and a comfortable handle, it is best to know about some of its specifications so you can easily decide which ones the best rope for you according to your needs.
To choose a wakeboard rope you may consider a few things, let's discuss them below.
Length 
A quality wakeboard rope is made of non-stretch material that ranges from 55 to 75 plus feet.
The length you choose depends on your personal preference, your experience level, and boat wake.
It is important to select the right length that shouldn't be too long or too short. As a beginner you just need a short length as you will first learn to jump, you can start by using a 65 feet rope.
And as you gain some experience in wakeboarding, you will know what length suits you best and increase the length as you advance, a longer rope will generate more speed and allow you to spend more time in the air.
Material 
The wakeboarding ropes and handles are designed with different materials and you should choose the one that has no-stretch as it should maintain the same length while you're wakeboarding.
The materials used are different in performance as well, ropes that are designed with Spectra have zero-stretch, it is superlightweight, durable and floats on the water as well.
Poly Ropes are beginner-friendly and not for an advanced wakeboarder, it is inexpensive but it stretches when it's in use. Dyneema ropes are really strong and come with UV protection; they are strong and have a lightweight.
Stretch 
When you're selecting a wakeboard rope, it is recommended that you choose a rope that is a no-stretch rope. What does it mean?
Well, it means that when you are wakeboarding the length of the rope remains the same length and does not stretch.
A stretchy rope is definitely not recommended as you will have difficulty controlling the rope and the rope will not allow you to perform tricks, and turn as well as you are used to.
Handles
Handles are an important feature to consider when it comes to choosing the best wakeboard rope; the handles should be comfortable, light in weight, and durable.
The handles are made of different materials, they should be ergonomically designed with a strong grip and be light and comfortable at the same time. Handles are made of EVA, aluminum, and carbon fiber.
The handles also feature texture to provide a strong grip. The diameter of the handle should be small for women and kids or people with small hands and the large diameter grip will be best for men or people with large hands.
Wakeboarding vs Wake-surfing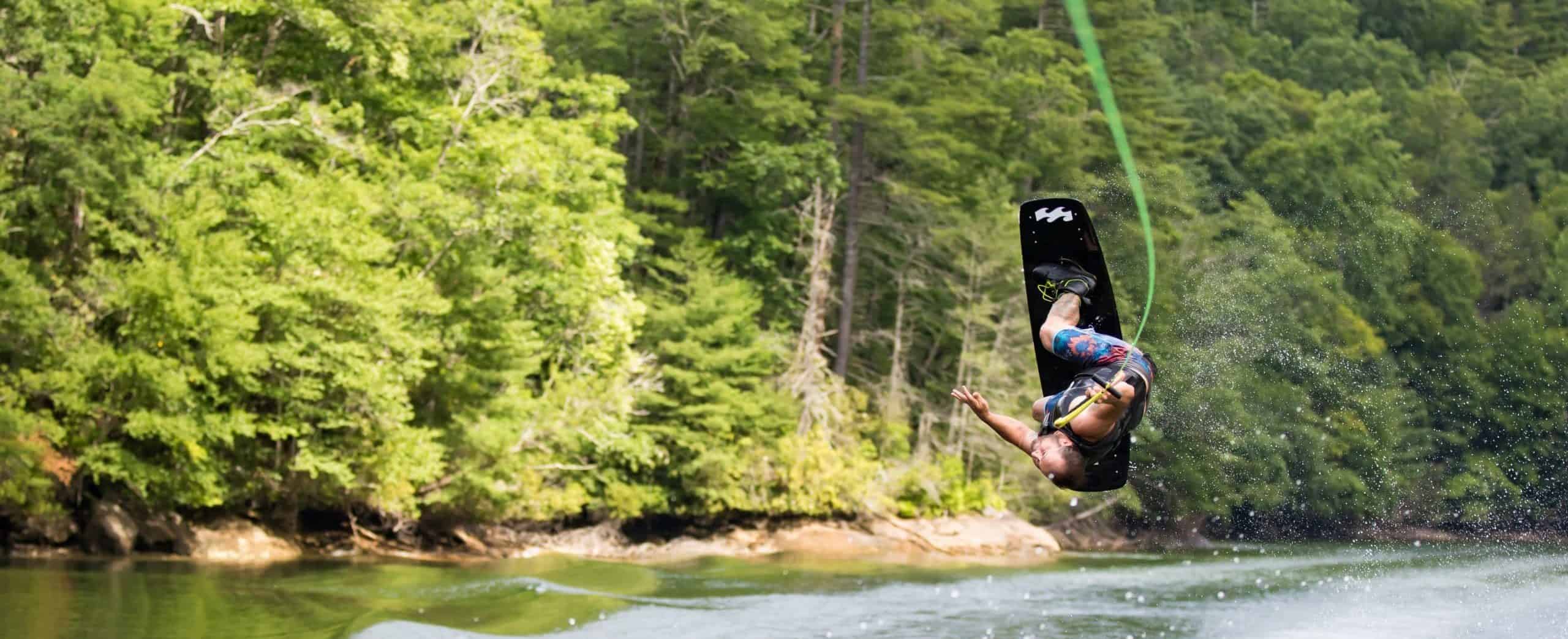 The most distinguishing way wakeboarding is different from wakesurfing is the way a person is propelled forward in the water. While wakeboarding, the rider holds on to the rope and is pulled by a boat or a jet-ski the entire time on the water.
When you're wakesurfing the rider starts out first by holding onto a rope and then later releases it at some point and rides a wave generated by the boat.
Wakesurfing allows the riders to immediately find a wave, surfers prefer this sport as the waves are created continuously by the strong movement of the boat towing the surfer and they can surf all day long.
While wakesurfing, the boat drives slow at 10-12 mph. When you're wakeboarding, you hold on to a handle and get up to the speed of the boat, which is often much faster.
You ride on the wakeboard by drawing lines across the boat wake while jumping from one side to the other. As you're being pulled by the boat the whole time, the boat drives faster at around 15 – 30 mph.
You should never use a wave surf rope for wakeboarding, the rope is cheaper but it's not worth the risk. You should buy ropes that are specifically made for each water sport.
Best Wakeboard Rope – Conclusion
The best wakeboard rope and handle is an essential to buy when you want to go for a wakeboarding adventure.
Wakeboard ropes and handles carry the weight of the rider and allow you to perform many fun tricks in the water effortlessly while providing you with comfort and safety at the same time.
You must choose the best option that is suitable to you according to your needs and skill level, whether you're a beginner or an advanced rider; this guide will assist you as it includes all the details that you must know.
I hope we have helped you decide which product is right for you and you are able to easily pick the best, durable, light, and quality product. Have an amazing wakeboard adventure!
Related Boarding Posts: