Ice fishing is exciting and rewarding, making it a popular choice for both novice and seasoned anglers. But spending hours on a frozen body of water in harsh weather conditions can be challenging, so having the right gear is essential to ensure a safe and fun experience.
Are you struggling to stay warm and dry on the ice? Perhaps your knees are feeling wet and sore, or you keep getting snow in your clothes? Finding the right ice fishing bib will help solve those problems and make you more comfortable, letting you focus on reeling in the big catch!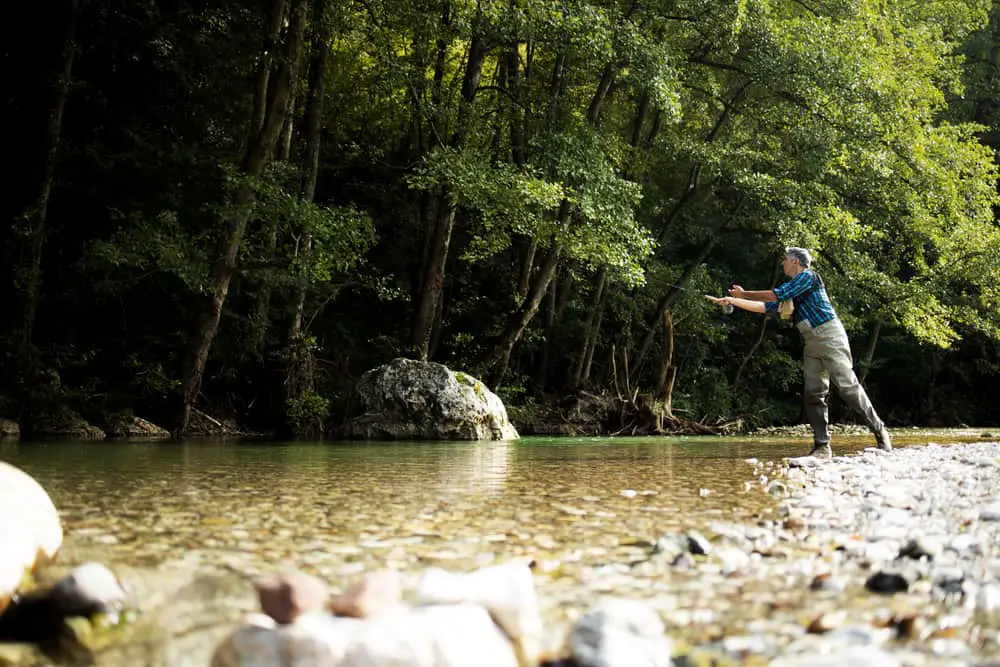 There are many different features to consider when choosing your ice fishing bib, and a wide range of products available.
It can get overwhelming, so whether you're new to ice fishing or an experienced angler looking to upgrade your gear, we're here to help! To make things easier for you, we have put together a guide of the top 5 ice fishing bibs on the market.
Buyer's Guide
Now that we have shown you the 5 best ice fishing bibs, how do you know which one is right for you? 
There are several things you need to consider to ensure the ice fishing bib you choose will meet your individual needs. 
Check out our buyer's guide to help you narrow down the options. 
Weather:
Are you a fair-weather fisher or will you brave the elements for the perfect catch? Most ice fishing bibs are equipped with basic insulation, but if you plan on being out on the ice in adverse weather conditions you may need extra protection from wind, rain and snow. 
The Sherpa fleece lining of the Eskimo roughneck or the insulating foam in the WindRider suit would be perfect for keeping you warm and dry in snow storms or heavy rainfall. 
Remember- the more insulation is built into the bib, the heavier it will be, making it less suitable for long-distance walking or high energy activities.
If you plan on using your ice fishing bib for hunting or snowmobiling, you may want a more lightweight option like the Frogg Toggs Pilot Pro. Keep in mind that you will need to wear additional thermal clothes underneath when sitting still for long periods of time while fishing.  
If you tend to fish on sunnier days, make sure you choose a bib with a ventilation system or double zips. Both the WindRider suit and the StrikerICE Predator allow you to release heat to prevent you from overheating. 
Safety: 
Ice fishing can be dangerous. The biggest risk is falling through the ice and ending up in the freezing cold water. The more insulated your ice fishing bib, the heavier it will become as it takes on water, making it more difficult for you to get out of the water safely. 
Some ice fishing bibs counteract this problem with flotation assistance – a layer of foam or buoyant padding that keeps the wearer afloat.
This life-saving technology is an excellent feature found on the Eskimo roughneck, the WindRider suit, and the StrikerICE Predator. But the additional layer can make the ice fishing bibs bulky and restrict movement.  
Snowmobile accidents are another risk to ice fishers. Many anglers use snowmobiles to cover long distances on the ice, especially when travelling to their fishing spot.
Visibility can be poor so choosing a suit with reflective strips will prevent those nasty accidents by making you visible to your fellow fishers. The Eskimo roughneck, StrikerICE Predator, and the Fabrill I-3 all have excellent reflective fabric incorporated into the garment. 
For more tips on how to stay safe on the ice, check out the FAQs section!
Comfort: 
When you spend hours at a time on the cold, hard, ice, comfort is key!
Ice fishing bibs with extra padding around the knees stop you getting wet and sore when kneeling over the hole. Some bibs, like the StrickerICE Predator and the Fabrill I-3, have additional seat padding to protect you when you sit on the ice.  
Getting in and out of your gear can be fiddly, especially after a long day of fishing. The full-length zips on the Fabrill I-3 make this easier. Ideally, you don't want to undo the whole bib when nature calls! The magnetic front straps of the StrikerICE Predator make it easy to lower the front of the bib for urination.  
The fully adjustable design of the Frogg Toggs Pilot Pro guarantees a comfortable fit, and the ergonomic design of the Fabrill I-3 allows for flexible movement.
As mentioned earlier, the more flexible and lightweight the bib, the less insulation and flotation padding is included. You need to decide which is more important to your fishing experience. 
Storage: 
The final thing to consider when buying your ice fishing bib is storage. Keeping your accessories and essentials handy will make you a more efficient and successful fisher! 
The Frogg Toggs Pilot Pro has built in D-rings to attach your accessories. 
The WindRider has a unique mesh pocket designed for wax worms and a flap to allow access to your pants pocket. The magnetic storm flap pockets on the StrikerICE Predator are easy and safe to use in adverse weather conditions, and the snap on cloths click back into place to stop them getting lost.
The ice pick holders on the Fabrill I-3 let you keep life-saving tools close to hand. 
Frequently Asked Questions
What size Ice fishing bib should I buy? 
Most manufacturers provide a size guide, but you need to consider what you will be wearing underneath. If the bib is well insulated, you won't need as many layers. If you choose a lightweight ice fishing bib, be sure to allow room for thermal clothing. 
I don't want flotation assistance- what other safety measures can I take? 
Flotation assistance can make ice fishing bibs bulky and difficult to move around in. If you go for something more lightweight, there are alternative steps you can take to stay safe on the ice.  Attach metal cleats to your shoes to assist with traction when walking over the ice.
Consider wearing a life vest under your bib to help you stay afloat if you end up in the water. Always carry a whistle so you can alert others if you are in danger. To make the area safe for yourself and other fishers, holes in the ice should be clearly marked to prevent people stepping on them.
Ice fishing alone is not recommended- always have someone with you so you can keep each other safe.
How do I know if the ice is safe to fish on? 
The best way to test the thickness of the ice is with a spud bar, an auger or an ice pick. A minimum of 4 inches of solid, clear ice is needed to hold the weight of the average person. If you have heavy equipment or a snowmobile you will need the ice to be thicker. Keep a close eye out for rotten ice- avoid areas of discoloration or cracks/holes.