Surf Fishing At Night – How To Stay Safe & Practical Advice
Surf fishing at night can be one of the most rewarding, exciting and memorable activities you can undertake. When you are out under the stars, hearing the waves you really do find a sense of peace which is hard to replicate in any other walk of life.
That being said, surf fishing at night offers up unique challenges for beginners and experts alike. Therefore, we have put together our top tips so that you can stay safe whilst getting the most out of your surf fishing trip.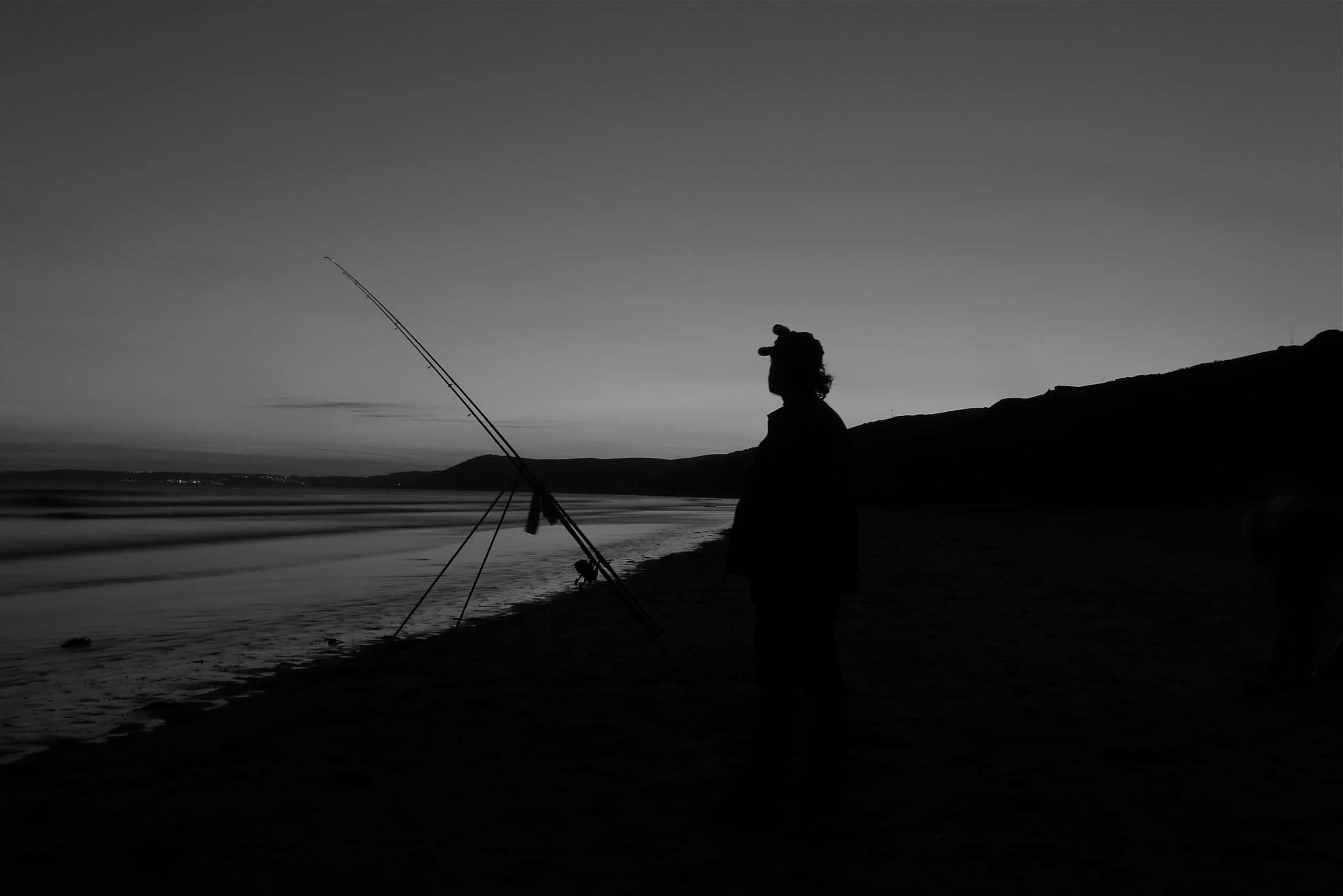 So, let's dive in!
1) Safety in numbers
It (almost) goes without saying that fishing near any body of water at night the risk is heightened. We would always strongly advise that you only go surf fishing at night if you have someone else going along with you. However, if you prefer surf fishing at night alone there are a few things you can do to mitigate the risk.
Firstly, can do this by preparing a detailed itinerary of your trip with a family member or friend. This should include details such as:
What time you are leaving;
What time you expect to be home;
Where you are going (be specific); and
An emergency contact number.
Secondly, you should thoroughly research where you are going. This includes checking local weather reports and tide conditions. I would recommend walking the shore during daylight hours so you are comfortable with your surroundings.
Thirdly, take essential items such as a first aid kit, a compass and even a tent for if you need to shelter if the weather turns. Ideally you will take a tent which is performs great in heavy rain. 
Finally, make sure you always have a charged phone which people can contact you on.
Remember, you must put yourself, and your companions, safety above all else.
2) Stay close to the shoreline
Many people like to wear waders whilst fishing, venturing out into the water a few yards can give us a better casting position. When surf fishing at night it is probably not the best idea. To be honest, surf fishing at night is likely to be more productive nearer the shoreline anyway. Predator fish are nocturnal feeders so you will have no problem getting that great catch whilst staying safe.
3) Take a red light with you
Again, this is another common-sense item but one which a lot of people who surf fish at night forget. Take a light. A red light will give you preserve your night vision, so you do not scare off any potential catch. A top tip would be to use a headtorch. This ensures that you keep your hands free for dealing with baits, unhook any fish you might catch, and whatever else you might need to do.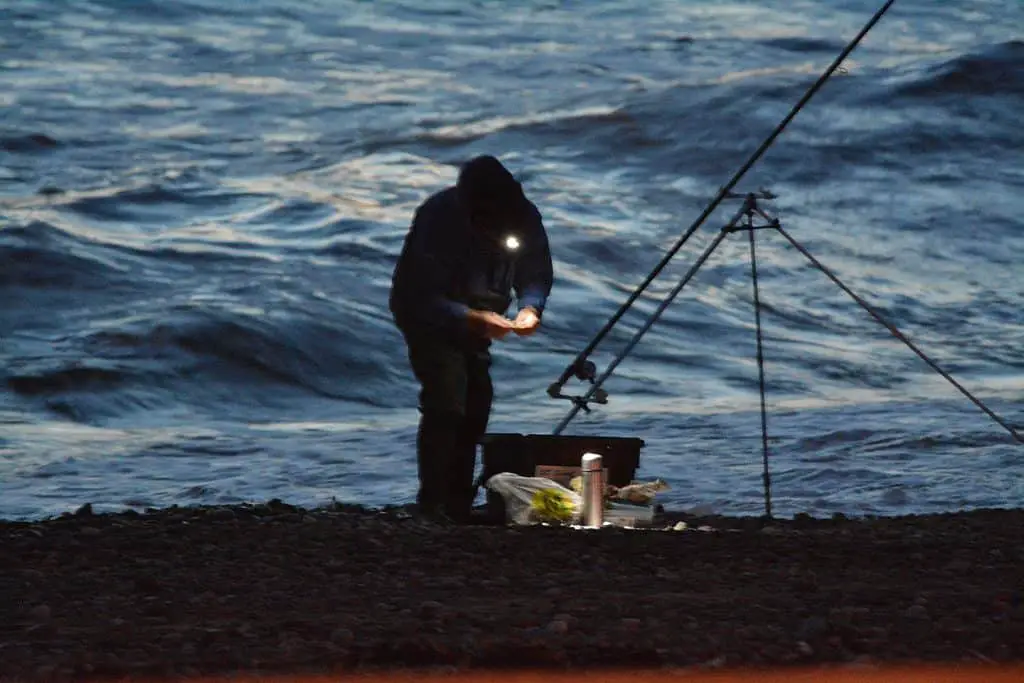 4) Having more than one rod is important
Another top tip is to bring along multiple rods when surf fishing at night. During the night you have no idea what is out there. Having multiple rods gives you the versatility to fish with multiple baits as well as giving you the option to fish for more bait if it is needed.
I would recommend setting up with a spinning reel with bait runners so you can enjoy the night without worrying that a big fish is about to come along and take out your set up.   
5) Make sure you wrap up
Surf fishing at night is great. But it can be cold. You should make sure you wrap up correctly using the correct clothing layers. Also make sure you take provisions for when you finish. You should properly layer your clothing to ensure that you stay warm before, during and after your trip.
6) Timing is important
Surf fishing at night is best undertaken between 10pm and 3am.  In general two hours either side of midnight is the time to expect cod, whiting, pouting, dogfish, bass, conger eels and many other species of popular fish. Furthermore, calm and clearer nights are more productive than rough and choppy conditions. This is because the calm evening encourages fish to come closer to the shoreline. Also, fishing becomes a real drag when in windy and wet conditions so picking a calm night will increase your enjoyment also.
7) Paint your rod tip white
Surf fishing at night throws up many logistical challenges. One additional problem you may not have considered is how are you going to see when you have a bite. Our top tip is to paint your rod tip white. This will reflect any moon or natural light which will allow you to see when you have got that bite.
8) Practice casting in the dark
For many novices the most difficult part of surf fishing at night is knowing when their lead weight has hit the sea. There are a couple of simple work arounds which you could try. Firstly, switch to a fixed spool reel which won't overrun. You could also load your multiple reels with less line and tighten up the magnetic spool control. We would always advise starting in a well-lit arena before moving on to surf fishing at night. The feel of an experienced fisherman is always going to be superior to any advice which I can offer.
Conclusion
Surf fishing at night is an amazing experience. You will find yourself immersed in a new form of the sport we all love. As daylight fades you will find that fish transition from hiding from marauding predators to coming closer to shore.
This gives you the perfect opportunity to make that incredible catch as fish which would never usually be in your casting range are now closer to you than ever before. In addition to this you will find that you are at complete peace to fish with less competition from day-surf fisherman and less disturbance from swimmers and surfers.
If that isn't enough for you to get excited, surf fishing at night is a real fraternity. Fisherman band together making this a sociable and enjoyable undertaking.
Always remember though, surf fishing at night brings with its unique challenges. You must always stay safe and remember that no risk is worth taking. There will always be another evening and there will always be the next catch.
Other Related Posts: