10 Best Ice Fishing Lures For Panfish
Ice fishing for panfish is good fun until you've been sitting in your fishing chair in the cold without a bite for hours on end. Imagine making the effort to pack up all your gear and spending the whole day on the ice to return home empty-handed with nothing to show for your efforts.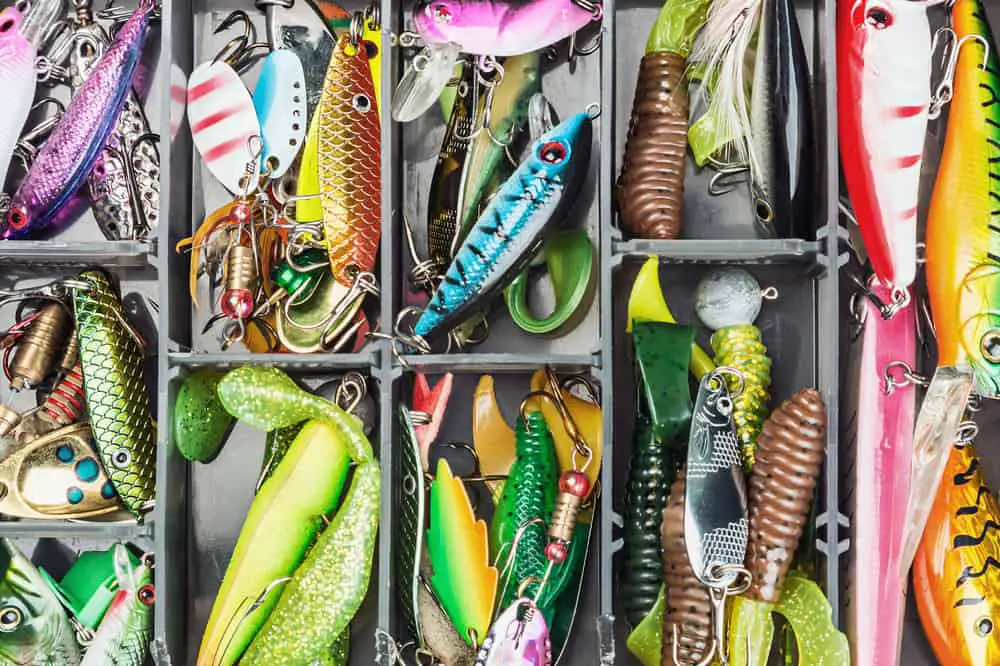 We're guessing if you've found yourself upon this article, then you may be having some troubles catching panfish. Not to make you feel worse, but panfish is some of the easiest types of fish you can catch, but don't worry we'll have you catching 'em in no time.
We've tried and tested so many ice fishing lures for panfish and today we'll be bringing you the best ones, so you'll be able to easily catch one after another. 
Some panfish may respond differently to these lures in various ice fishing spots, so it's best to have a variety of lures in your tackle box so you've always got a backup if things begin to slow down. 
Best Ice Fishing Lures For Panfish Reviews
#1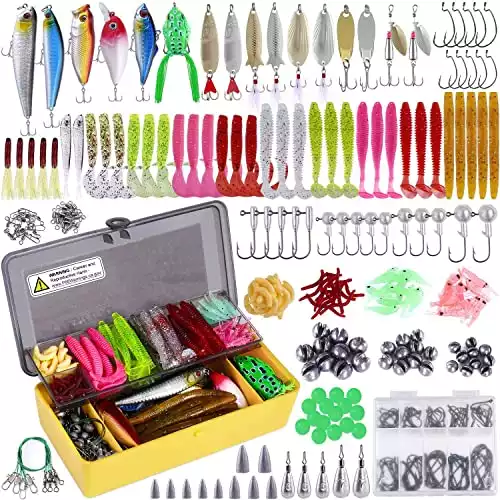 PLUSINNO Fishing Lures Baits
The best way to maximize your chances of catching panfish is by having a varied collection of lures in your tackle box that you can switch between. That's why this Plusinno lure kit set is our top choice. 
The 302 piece set comes with jigs, worms, hard baits, and spoons all within a variety of colors and designs so we do not doubt that you'll be able to catch some decent-sized panfish and other types of fish with these lures. 
Whether you're a seasoned fisherman looking to upgrade their gear, or someone just learning the ropes, it'll suit a variety of skills and fishing levels. 
All the fishing tackle is stored in a compact double-layered tackle box, so you can carry everything around with you and have all your tackle neatly displayed. 
All the lures are made from high-quality corrosion-resistant materials that will be able to withstand years of fishing in different environments. The lures have realistic fish patterns and come in lifelike designs that will easily fool even the most stubborn panfish. 
Pros
Massive set - Everything you could need within one collection
Realistic looking fish - Will easily tempt panfish and other kinds of fish to bite
High-quality - Will be able to withstand years of fishing trips
Comes with a tackle box - Everything is stored neatly inside and can be carried around
Cons
Not all lures are suitable for panfish ice fishing -

Can be used for other types of fishing though

#2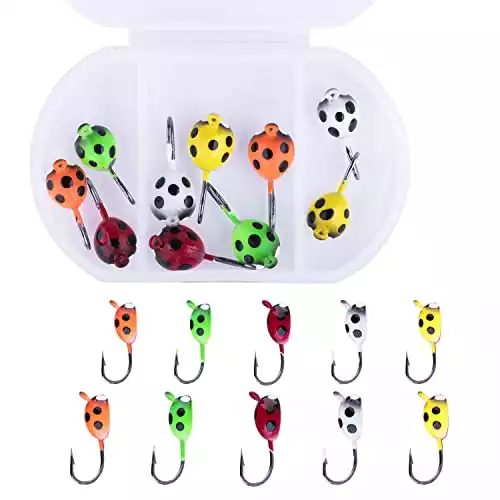 Goture Ice Fishing Jig Set Ice Fishing Lures for Panfish
If you've already got a decent collection of lures and you're looking for some decent jigs, then this Goture set is a good one to go for. 
These jigs drop quickly into the water and will create vibrations whilst it reaches the strike zone which will help the fish around to locate the lure and to strike more quickly. 
The jig lures are painted with high-quality bright paint that will be easier for fish to see within darker or murkier waters and will increase your hook-up ratio. They'll also glow darker, which will also attract larger panfish that are hiding in deeper areas under the ice. 
The jig hook is made from strong carbon and stainless steel to ensure good penetration and to prevent any panfish from escaping.
The 10 piece set will be more than enough to get you some hookups, even on the slower days out on the ice. 
Pros
Quickly drops in the water - Allowing you to fish more efficiently
Strong carbon hook - Ensures good penetration of the fish
Glow in the dark material - Great for fishing at night/in cloudy waters/deep ice fishing
Just one type of lure - Great if you only plan to fish for panfish
Cons
Smaller than what they look in the picture - Adding live bait may alter the way it sits underwater

#3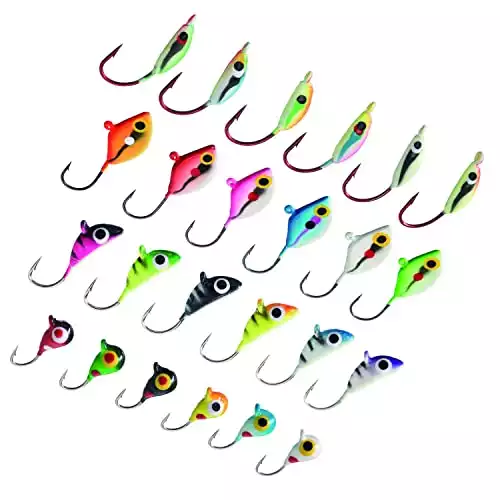 BASSDASH Ice Fishing Lure
If you and your friends are keen jiggers and you're looking to share the tackle between you, then this large collection of BassDash glowing paint jigs is better suited for groups. 
This is a 24 assorted set with a mixture of teardrop, flat-belly, neon, and moon jigs that'll suit all kinds of panfish fishing.
21 pieces of the set glow in the dark, which is great if you're fishing in the middle of winter when the ice is thicker and the water is darker underneath.
However, all of the pieces offer great performance in bright environments as well due to the solid bright coating and detailed paint. 
The jigs come in a compact tackle box with a foam pad to keep everything organized on your trip. 
Pros
Large 24 piece set - Ideal for sharing around with friends on a fishing trip
Detailed and brightly painted - Great performance in bright environments 
Glow in the dark - Suitable for nighttime ice fishing or darker environments
Foam padded tackle box included - Can keep everything well organized 
Cons
Quite small in size -

Better suited for smaller panfish

If you're a beginner, having a ready-made tackle box for your panfishing is the way to go as you'll be able to switch between the different jigs and lures until you find something that appeals to the fish you're after. 
This 75 piece tackle box contains various sized ice jig heads, ice fishing soft plastics, and also some lures like minnows and a curve flutter spoon. 
The collection has pieces that are more suited to bright day conditions and also one's for ice fishing during darker hours or waters under thicker ice. 
There is also a free 26-page booklet on ice fishing included which will show you tips and tactics of how to catch some quality panfish wherever you are. 
As we said, the set is ideal for beginners, but more novice fishermen might find it's a step down from their current fishing tackle. 
Pros
Perfect for beginners – Everything you'll need to start fishing for ice fishing
Versatile lures – Suitable for day and night ice fishing
Free ice fishing booklet included – Will be able to teach beginners how to optimize the use of the lures
ConsMore suited for beginners – Novice fishermen will find it's not enough
#9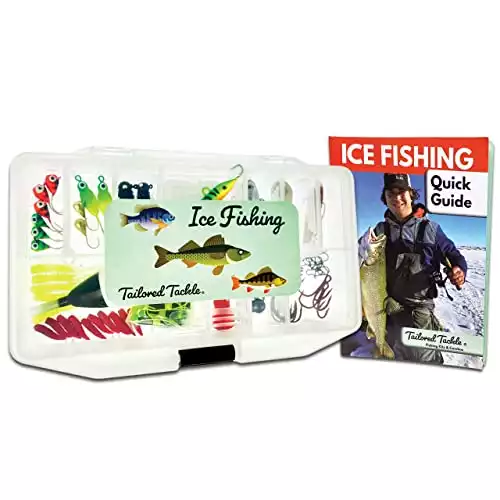 Tailored Tackle Ice Fishing Jigs
The Tailored Tackle ice fishing jigs will give you everything you need to catch perch.
There are 12 ice fishing jigs included as well as 4 ice fishing lures. This will give you plenty of choice for catching perch.
A handy feature of this particular ice fishing jig set is that it comes with a handy guide to get you started with ice fishing.
So this will be the perfect fit for beginners who are just starting out.
Pros:
Versatile -

comes with a range of ice fishing lures for you to use

Complete kit -

gives you everything you need to set up your jigs for ice fishing

Helpful guide -

can help beginners to get ice fishing
Cons:
Beginners -

better suited for those just starting out with ice fishing

#6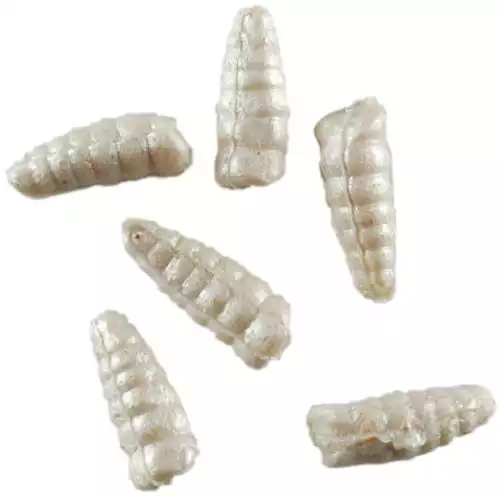 Berkley Gulp! Alive! Waxies Fishing Soft Bait
These Berkley Gulp! Waxies are a firm favorite with seasoned panfish fishermen and also with panfish all year round but especially during the winter months when food reserves become more limited.
They come in either pink or white to suit whatever ice fishing conditions you're in and they're also scented like real bait to help lure in the panfish.
Add them directly onto your line, or you can choose to attach them onto a jig and wait for them to start biting. 
Despite being so small, they're pretty durable and will stay in your collection for many years to come. 
Pros
Durable - Will withstand many fishing sessions
They come scented - Attracts more fish without having to scent them yourself
They stay on the jig for ages - Minnows seem to get torn off the hook quicker
Lots in the jar - Will last for ages if you do lose some
Cons
Some panfish won't even take the bait -

Will need to try something else

Panfish love minnows and if your tackle collection is pretty much set, then just try adding this Rapala fishing lure to complete it. 
This is a well-loved ice fishing lure due to the single hooks on each end and the triple hook on the bottom to increase your chance of hooking up panfish under the ice. 
The bright glowy colors are ideal for fishing in deeper waters under thick ice where there is not much light, but also in brighter lit fishing environments where the colors will reflect the light well and attract the panfish.
The hooks are super sharp, so good news for you but not for those panfish. However, you'll need to watch out for obstructions underwater as the fins on these little guys are prone to breaking off.
Pros
Bright colors – Works for both lit and dimly lit fishing waters
Sharp hooks – Will easily pierce biting fish
Fisherman's favorite – Can catch some large-sized panfish
Cons
Fins easily break – Fishing in rocky or obstructive areas will break them
#1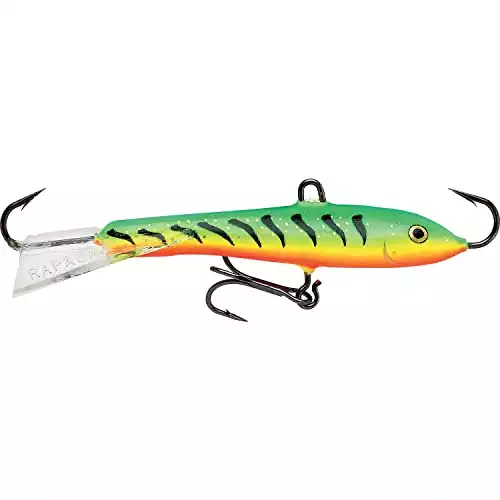 Rapala Jigging Rap Fishing Lure
The first device on the list is the Rapala Jigging Rap, one of the most popular ice fishing lures of all time. It swims in circles as it falls into the water, helping to stir up and attract any pike that may be loitering nearby. 
Furthermore, this lure has a balanced design with a profile that closely resembles a baitfish, something which northern pike are always on the lookout for. 
In terms of other features, the Rapala Jigging Rap has a center treble and two fixed single hooks (one reversed on the tail and another on the nose). This combination is perfect for providing consistent hookups. 
Finally, this lure comes in as many as five different weights, with the larger sizes being the best options for catching pike. 

Key Features:
Circular motion as it falls into the water to stir up and attract pike

Two fixed single hooks for consistent hookups

Similar profile to baitfish, which northerns are constantly looking for

Five different weight options

#8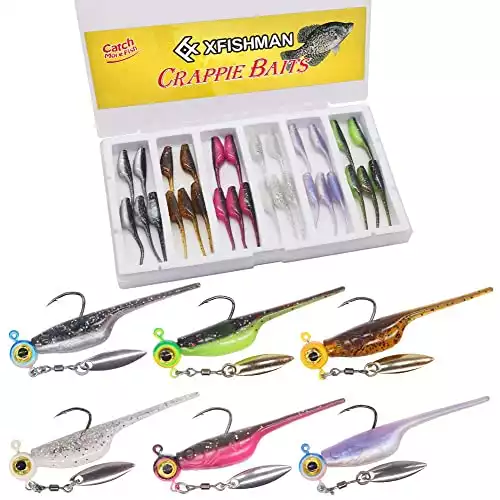 XFISHMAN Store Fishing Lures For Panfish
This 40-piece minnow set is ideal for ice fishing panfish, especially crappie with the fluke-like design imitating the body design of the pan fish's favorite snack.
The soft plastic baits are easily pierced with the included quality jig heads and will help the lure produce a subtle darting action that imitates baitfish whilst also appealing to more dubious panfish who are wary to bite. 
The minnows come in 6 effective colors whilst the jig heads come in 5 colors so you'll be able to switch between them according to how your panfish is best responding to that day. 
Everything comes in a thin compact for easy access when you're out on the ice fishing for panfish. 
Pros
Comes in a compact box - Easy access and stays organized throughout the day
Lures come in a variety of colors - Offers fishing in versatile ice fishing environments
Minnows produce subtle darting action - Even the wariest fish will bite
Cons
The scent is not distinguished enough -

May need to use additional scenting materials

#9
Double Catch Fishing Dancing Waxie 1.5 Inch Panfish Bait
These 1.5-inch glow-in-the-dark waxies are the ideal panfish bait and will make the perfect finishing additions to your tackle box. 
There are 40 dancing waxies in a pack and great for anglers on a budget who still want to achieve some great ice fishing performances.
They come in 5 options colors, but the blue glow and the chartreuse glow are most recommended, especially by us, as they attract more wary panfish in deeper areas underneath the water. 
The waxies have some great tail attention and imitate the movement of fish bait just right. However, the product description says these are baitfish scented but unfortunately they do not smell of anything. 
Pros
Good tail action - Mimics fish bait and lures in panfish
Good value - 40 dancing waxies in a pack
2 glow in the dark colors - Ideal for dark water areas under thick ice
Cons
Not baitfish scented -

Incorrectly advertised

#10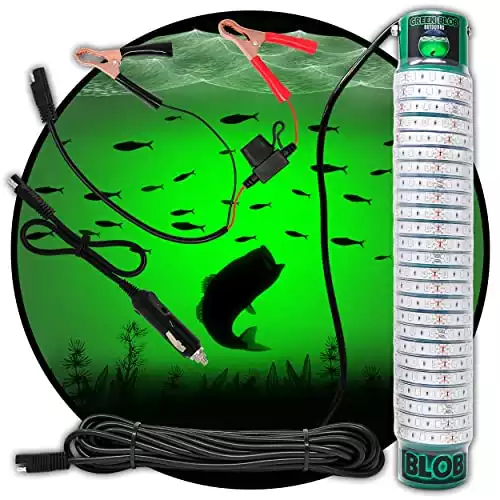 Green Blob Outdoors New Underwater LED Fishing Light
A rather unconventional yet effective lure is the underwater LED fishing light, a durable and convenient way to encourage fish to take additional lures in your favorite ice fishing spots. 
It comes with a 30 feet power cord, so you'll be able to drop it into the deepest of ice water areas to catch bottom-feeding panfish. 
The green blob light will be able to attract all kinds of fish, so if you want to use this for regular freshwater or saltwater fishing then you'll be able to.
The light is good for over 50,000 hours of continuous use so it'll be able to last you years of ice fishing trips with friends.
Pros
Versatile - Can be used for ice fishing panfish and salt and freshwater fishing
Comes with a 30 feet power cord - No need for extension cords
50,000 hours of continuous light - Will last you for years
Cons
May have to use extra lures -

Light on its own might not be enough

Buyer's Guide
Types of Lure
There are different types of fishing lures that are suited for different types of fish and also for different fishing techniques.
Some have qualities that will suit the more laidback ice fisher, whereas some will be more suited for those who aim to be more hands-on to be able to catch as many as possible.
Jigs
Jigs should be a staple in your tackle box no matter what kind of fishing you're doing. They're so versatile and will allow you to also add soft plastics to them. They're normally weighted on one side and will sink quickly, so great for catching deep panfish. 
Hard Baits
There are different types of hard baits out there, all of which work well for catching panfish under the ice. They're able to easily imitate the natural swimming movement of the baitfish so that the panfish will be attracted to it. 
Hard Baits are great as they're pretty durable, meaning no matter how often you use them, they should stay in great condition, enabling you to reuse them for years to come. 
Spoons
Spoons are great to be used for vertical jigging when ice fishing for deepwater panfish. They slowly fall into the water and the reflective material will light up on the way down which can quickly attract fish to it. 
The bigger the curve of the spoon, the larger the movement will be and large movement often indicates an injured bait, which will make panfish more inclined to go for the lure. 
Lights 
A light isn't always the go-to option for those fishing but is great for those ice fishing for panfish during the nighttime. It'll illuminate dark areas under the ice and will hopefully attract panfish from further away regions in the water to come near. 
The light will have to be used alongside another lure like a spoon or a jig. 
Soft Plastics
Soft plastics are another popular choice for lures for panfish. They mimic the shape of the type of creature that the panfish eat and will come in a variety of colors and designs. 
Color of The Lure
The deeper down you go in the water, the darker it will get, so you'll want to use more fluorescent colors to stand out to the panfish as much as possible. The same goes for thicker ice or thicker snow as this will also make it darker under the water.
If the ice is thinner, you'll want to use primary or natural colors. The natural brightness coming through the ice will show these colors well. 
The color of the lure you're using will also depend on the cloudiness of the water. If it's clear water, you should use primary colors, however, if it's cloudy and murky, you should try to use a variety of fluorescent colors.
Frequently Asked Questions
How deep should you ice fish for panfish?
The depth that you should be ice fishing at when looking for panfish will depend on the time of year that you're fishing, the type of fish you're looking for, and also the underwater structure of the area you're fishing in.
In the early winter, crappie can be fished at a depth of 8 to 12 feet whereas in the deep winter months they can be fished as deep as 20 to 40 feet.
Yellow perch can be found in depths of around 12 to 15 feet during the early months of winter and then 20 to 35 feet in the latter months. As for bluegills, you'll be able to find them in depths of around 15 to 35 feet, especially when the vegetation has died off due to the cold weather.
How do you target panfish for ice fishing?
There's no way of just targeting panfish when you're out ice fishing, but there are things you can do to try and increase the amount of panfish that you catch in comparison to other fish. 
Make sure to choose the right location at the right time of year for panfish and if you're only managing to catch something different, then don't be afraid to quickly move on to another spot. 
Use various jigging techniques to coax in the panfish and also use appropriate lures like the ones we've recommended above to entice them to bite. 
The best time to catch ice fish for panfish is during the early ice so don't wait until the depths of winter to begin your panfish ice fishing trips. 
Can you reuse your ice fishing lures?
Of course, you can continue to reuse your panfish lures over and over again until they become damaged or ineffective.