Best Kayak Tents For Overnight Trips [Guide & 6 Tent Reviews]
What is a kayak tent for camping?
Kayak camping is amazing. You're out in the wilderness, on the water all the time and you get to go for at least two days.
It's a great way to spend the weekend – or even longer! The idea is you start out in the morning with your kayak and your kayak tent (and everything else you need) packed neatly.
You then paddle to your campsite, pitch up for the night and then the next day you either return – also in your kayak – or keep paddling onto the next campsite.
It's very physically demanding, and you'll be away for a while without some of the fancier parts of modern life, but it really is brilliant.
You can go alone, but we'd recommend taking another person to share the adventure. It's a great way to bond with friends, family or partners and could even make an unconventional stag 'do, if you're looking for something more outdoorsy.
It's also a good idea to have another person with you for safety: although you should be experienced and careful, accidents do happen, and this means that someone can call for help if necessary.
6 Best Kayak Tents – Product Reviews
How does a kayak tent differ from a 'normal' tent?
There are two main differences between a 'normal' tent that you might use for camping with your family, and a tent that you should take when you are kayak camping.
The first is the weight. Tents are often bulky, heavy and awkward and it can be difficult to carry them for a few meters from your car to the actual site they're to be pitched.
Kayak tents can't have this problem. They need to fit into the kayak, and there should still be enough leg room for the paddler to sit comfortably.
They also shouldn't weigh too much, because you're going to be supporting that weight for much longer. A heavy tent will drag the kayak down and make paddling much more difficult.
The other thing is they need to be waterproof. You're going to get splashed when you're kayaking – and not just by your partner!
Kayak camping tents should be made of polyester, because this is both lightweight (see above) and is completely water resistant.
Some tents are made of canvas, which can be great but isn't suitable for kayak camping because they absorb water, which will weigh the boat down and make the tent smelly and unpleasant when it's pitched.
How to choose the best kayak tent – Buyers Guide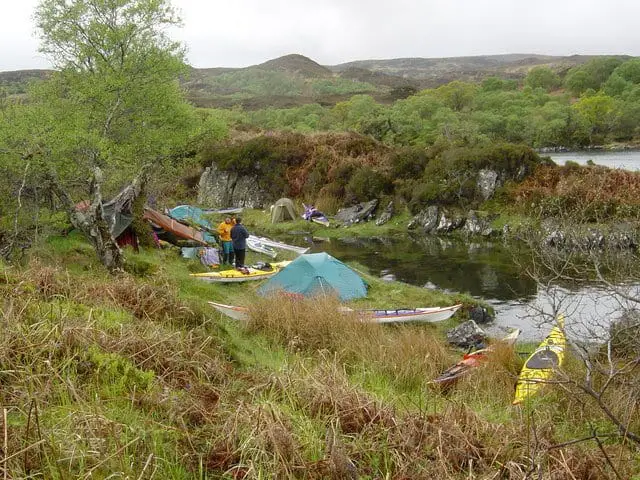 Choosing the best kayak tent or selecting the right one for your needs isn't always a straightforward task.
There is literally hundreds if not thousands of examples on the market, and if you don't know what you're looking at, or what key features to look out for then you'll end up stuck and never making a purchase.
Below we are going to cover the key features of a kayak tent.
Capacity 
This really depends on who you're going with and how long you'll be kayak camping. If you like longer adventures, you'll need to take more stuff with you (like food) and that may need to be stored in your tent.
Also, if you're planning on sharing a tent with a couple of friends or your partner a one person tent probably won't work. So, this is really up to you.
We would recommend looking for something slightly more snug, though, so it packs up into a smaller bag and doesn't take up as much room in your kayak.
Some larger tents which won't fit into one kayak can be broken down and split into their main components.
If you have more than one kayak, someone could take the poles and pegs, and another kayak could take the outer and inner shell. 
Waterproofing 
All tents need to be waterproof. Otherwise you'd actually be better in a plastic bag.
Fortunately, we're yet to come across a tent that isn't waterproof – the thing that varies is to what extent. We'd advise getting a tent with a high hydro static head measurement so you definitely stay dry.
The hydro static head measurement is a tool used by tent manufacturers where they pour water from various heights onto the tent and see what permeates.
If you're kayak camping, you should try to find a tent with a high hydro static head measurement.
It's also a good idea to make sure that the bag that the tent comes in is waterproof and, most crucially, you can zip it all the way up.
Tents often have to squeeze into their bags, and it's sometimes easier to leave them partially undone: this is a bad idea, as your tent may get wet when you're paddling and it will take up more room in your kayak, which can be a problem.
Weight
We touched on this earlier, but it is important to emphasise this. Your tent needs to be lightweight, because you're responsible for getting it between campsites and it'll be in your boat all day.
You'll have to carry it to your kayak, which can be troublesome if you're not camping directly next to the water; it'll then weigh down your boat and increase the drag and the amount of effort you have to put into paddling​.All of this is annoying (although not annoying enough that we don't still want to go kayak camping) and can easily cause grumbles.
You're also more likely to hurt your back if you have to carry a heavy tent around, and aside from being unpleasant this will make kayaking difficult.
Ventilation 
Well ventilated tents are much, much nicer than badly/non-ventilated tents. They're better for sleeping and breathing in, and that can make all the difference for the following day.
If your tent is not properly ventilated, it will get too hot and too humid very easily. Most tents have double-layered windows, where you can either have the window completely open, or have a fly net layer zipped across or the waterproof material that covers the rest of your tent fully stretched over.
It might take some adjusting to find what works best for you, but we'd recommend using the fly net layer to keep the bugs out and the fresh air flowing wherever possible.
Kayak tent set-up
This is pretty essential. Firstly, there's nothing nicer than putting your tent up quickly and then watching (or helping) your friends do theirs.
But it's also good because after a hard day of paddling you're likely to be physically exhausted, and the last thing you'll want to do is mess around with a fiddly or complicated tent.
Remember that you'll only be in it for one night at a time, so if you're not interested in getting the porch perfectly angled you can probably skip that bit.
However, you should still make sure that it's secured and if the tent is double-layered for waterproofing that it's done properly so you don't have leaks in the night.
Other camping gear you should consider taking
There are lots of things that you could take with you when you go kayak camping, but because of the limited space on the boat it's important to be careful.
You could bring a lot of clothes, but be aware that you'll then have less room for a tent, or food.
Try to plan out your meals in advance and think about what you're going to wear.
Here are four things we think you should take:
A waterproof coat that packs up, small.
If you're good at kayaking, you might be able to get through the day without splashing yourself too much. However, there's a good chance it'll rain at some point, and that likelihood actually increases dramatically when you forget to bring a coat (Not really, but it seems to be true for us!).
Try to find one that packs up to around the size of a packet of crisps, and doesn't weigh much more.
That way if it does start to rain you're not stuck in wet clothes all day, and you can keep them fresh and dry to wear the next day.
A small snack that will give you a big boost. It doesn't have to be trail mix but starting each day with a snack for between meals is a good idea.
Remember, you're going to be doing a lot of exercise so your body will need more food.
A Dry-bag. We very rarely try to capsize, but it does happen. Between that, splashes from your paddle and rainwater your stuff is likely to get wet.
This can range from slightly annoying (wet socks, anyone?) to an absolute disaster if your phone, credit cards or car keys get ruined.
A dry bag will protect them and should prevent any damage.
A Hat. Beanies look good on absolutely everyone, and they're a good way to cover messy hair. They also keep you much warmer and you can wear them at night or when you're out on the water during the day.
You can even get ones with peaked caps, which stops the sun from getting on your face.
Kayak Tent – FAQs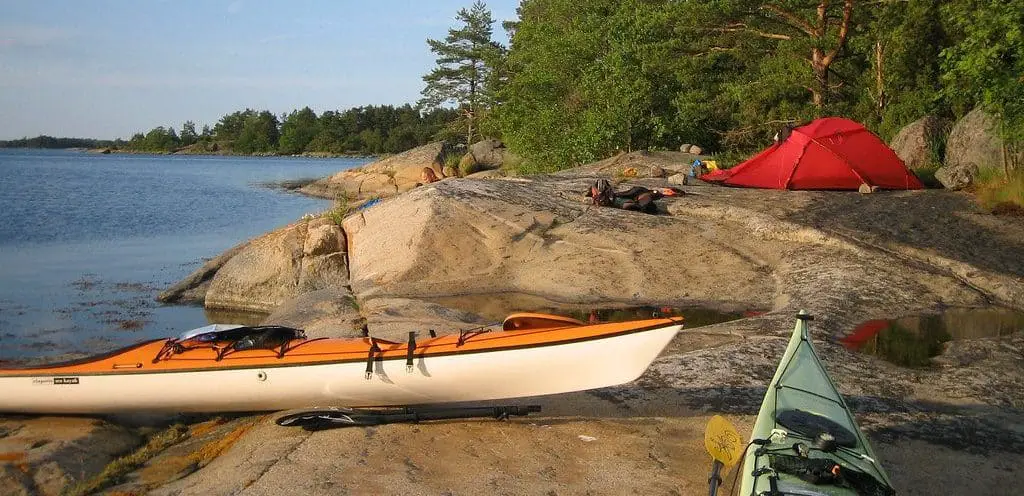 How do you store the tent in the kayak?
This will really depend on the type of kayak. There are usually three different options for kayak storage space: behind you, in front of you or on your back.
We can almost completely rule out carrying your tent on your back: it'll interfere with your paddling and is just generally a bulky nuisance.
Some kayaks have storage space in the front, but this can get in the way of your legs, reduce mobility and affect the kayak's performance.
The usual advice is to have the weight in the back, to help streamline the boat most effectively. You'll probably still have to have some equipment up with your legs, but if possible it should be lighter and minimal.
Do I need a specific type of kayak for kayak camping?
Possibly! You'll want something that's going to be efficient and will provide enough storage space (see above) so you can take your tent and any other equipment.
If you're used to going on day-long trips with a picnic you might be able to make it work, but it's worth taking some time to plan your trip in advance, pack your kayak and see if you can fit everything in.
If this isn't working, look for kayaks with additional storage space, preferably behind the cockpit. You're still going to have to travel light, but you should have enough room for your tent!
Conclusion 
Kayak camping is a lot of fun and can be a great adventure. However, it could all go wrong if your tent fails and you're left tired, wet and miserable.
Taking the time to find the right tent – and as we've said, your tattered old one-man canvas with a hole and one wobbly peg won't do – will make all the difference.
Make sure you plan your trip carefully in advance and monitor weather forecasts, campsites and think about if you're going alone or with other people.
Kayak camping isn't something you can do for the first time impulsively, but when you've got a regular route and your best kayak tent sorted it can make for a great spontaneous weekend away. Have fun!
Related Posts: