Whilst you are ice fishing you will experience harsh conditions, rain, snow, and icy-cold winds. It's extremely important to prepare ahead of time, and use specialized equipment and clothing to ensure you stay warm and safe.
As an angler, your hands are your most important tool, you use them to tie knots, handle bait, fine tune your tackle and deal with any fish caught. Ensuring your hands are well protected and can function properly is crucial to a successful day on the ice.
A pair of the best ice fishing gloves will keep your hands warm, dry, and protected. They will offer enough dexterity, enabling you to handle light lines, small lures, and bait.
Best Ice Fishing Gloves at a Glance
7 Best Ice Fishing Gloves
Why is it important to have the best ice fishing gloves?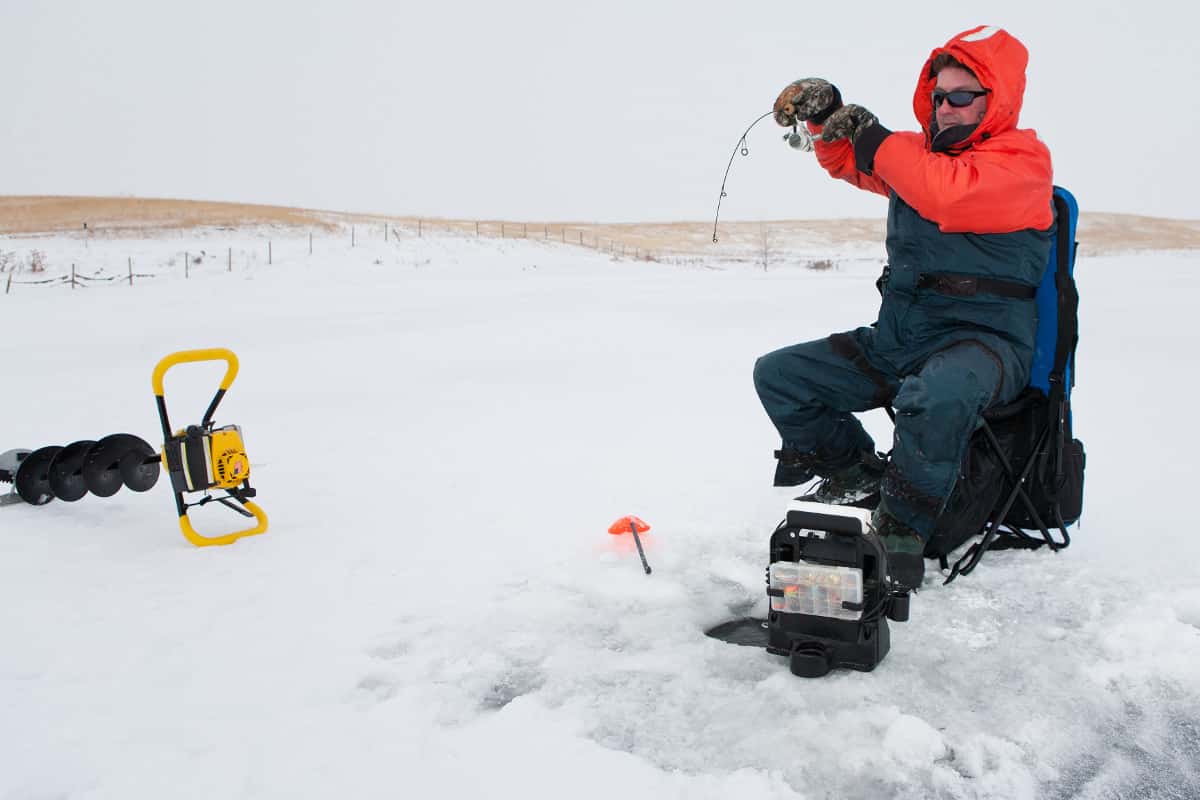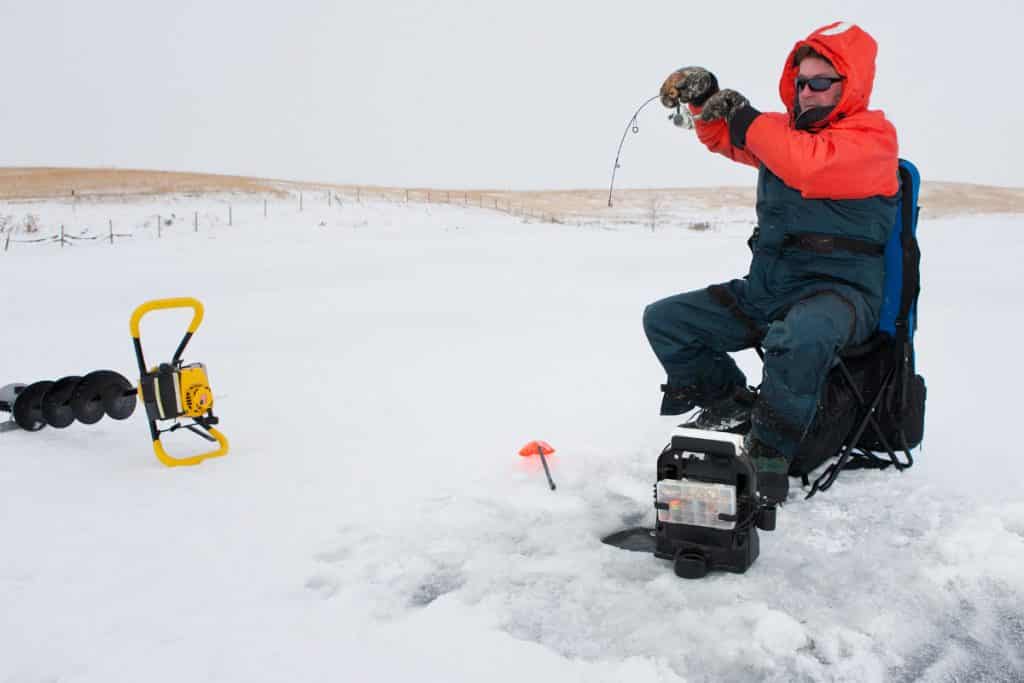 As an angler, the main thing you need to ensure can work properly whilst out on the ice in your hands.
It is extremely easy for your hands to become wet, cold, and numb when ice fishing as you are working in sub-zero temperatures- working in such temperatures can lead to catastrophic injuries such as frostbite and losing fingers.
This is the last thing you would want as a passionate ice fisher as your hands really are your best tool. 
In freezing-cold temperatures, your body's natural response is to stay warm and it does this by reducing blood flow to your extremities- your hands and fingers.
This means having properly designed gloves that will really keep your hands dry and warm are essential before heading out on the ice.
Including everything you would look for in ice fishing gloves such as keeping your hands warm even with constant exposure to ice-cold water as well as retaining a degree of dexterity meaning you can still accurately handle ice fishing lines and other things, you may need for your ice fishing trip.
Choosing the best material for your ice fishing gloves
Ice fishing gloves can consist of various types of materials, some gloves are 100% waterproof whereas others are just water-resistant.
Although you may think waterproof materials will make the best ice fishing gloves, water-resistant ice fishing gloves can be equally as impressive as the two types have different advantages and disadvantages. This is why it is important to choose the best ice fishing gloves for your specific needs.
Waterproof gloves are made of a material named 'neoprene' and it is the same material used in scuba diving suits or they will include a waterproof lining.
These gloves will keep your hands 100% dry as long as they are not damaged and the cuff of the glove is kept above water as this is an access point for the ingress of water. 
Neoprene gloves can be susceptible to damage such as tears or punctures as well as making it difficult to handle small items.
Best ice fishing gloves – Buyers Guide
How do I know which type of winter fishing gloves are best suited to me?
You may find yourself swimming in choices of ice fishing gloves because there are so many different types and designs. You should really think about what features would be most beneficial to you and your style of ice fishing. 
Although certain brands and styles of gloves may have amazing reviews, they may not be the best fit for you.
Ensure you fully understand the pros and cons as well as the main features of each pair of gloves before buying- the last thing you want is to have to buy multiple pairs to get the right style for you.
If you are constantly deal with small lures, and tackle, then you might favour a fingerless pair of gloves that offer better dexterity. Or if you are in sub-zero temperatures, then you will most definitely need a pair of the warmest ice fishing gloves.
Flexibility & Dexterity
If flexibility and dexterity are key factors in choosing your ice fishing gloves then you should choose a pair of gloves that have articulated knuckles or pre curved fingers as these have the best design for your requirements.
They allow you to move your fingers and hands more freely meaning you can be more accurate when ice fishing and handling hooks, lines and fish.
Ice fishing gloves with slits that allow you to free 2-3 fingers also make handling your line, lures and other fishing gear easier.
Warmth & Comfort
Warmth and comfort play a big role in a lot of peoples' decisions when picking a pair of ice fishing gloves. After all, you are going to be stood on a sheet of ice!
If you are wanting optimum warmth and comfort then choose a pair of gloves that have a thick layer of good insulation such as Thinsulate or PolarFleece as well as having a soft inner layer lining made from fleece.
Waterproofing / Water-resistance
Waterproof or water-resistant gloves are the two main types of Ice fishing gloves because ultimately, if your hands get wet then you are not going to have a good ice fishing experience and it could even lead to getting frostbite.
Whilst ice fishing you'll often find yourself experiencing the worst of the elements from rain to snow and sleet, a good set of gloves will shield your hands from getting wet. 
If you are often reaching into your ice fishing hole to retrieve fish and tackle, and you are getting wet, then a 100% waterproof pair of gloves will be the best option.
Extra Features
If you are looking for gloves with handy extra features then ice fishing gloves with pockets and touch screen fingertips are a great choice, this means you can bring along hand warmers to keep your hands toasty all day long.
You can also use the touch-screen compatible finger tips to use your electronic devices, like a mobile phone or fish finder.
Conclusion
The team at WSA knows all too well hoard it can be to sift through hundreds (sometimes thousands) of product options on the web. But that's exactly why we create these guides, so people like yourself can spend less time behind a screen, and more time out on the ice, doing what you love.
We hope this guide to the best ice fishing gloves helped you find the right pair for you. Being prepared ahead of time when heading out onto the ice is crucial as you may face severe consequences if not. 
Ensure you research your choice properly before buying, and always double-check the sizing requirements to ensure a snug fit.
Related Posts: