11 Best Reels For Crappie Fishing – Review & Buyers Guide
Intro Into The Best Reel For Crappie Fishing
Crappie is one of the most popular and tastiest fish to catch and eat in North America. They are one of the most desirable game fish in the world of fishing. Knowing how to catch them is one matter but having the correct gear is another. So in this article, we are going to go over the best fishing reel for crappie fishing. 
We have chosen 11 of our favorite crappie fishing reels for you to choose from. The Water Sporting Adventure team has poured hours of research into finding and testing these fishing reels, so you don't have to spend hours scrolling the internet. Spend the extra time out there fishing!
We made sure to review all of the key features you should look out for when shopping for the best reel for crappie fishing. Some of these features include the following:
Reel Weight
Line Capacity
Drag Pressure
Gear Ratio
Materials and Construction
Longevity 
Ease of Use
If you are still wondering how to choose the best reel for crappie fishing then make sure to check out the buyers guide we have put together at the end of this article.
Let's not waste any more time and dive right in!
11 Best Spinning Reels For Crappie Fishing

Best Reel For Crappie Fishing – Buyers Guide

Should I Choose A Spinning Reel?
One of the first questions you should ask yourself is what type of reel should you be buying? Crappie can be caught on any fishing reel type whether that be spinning, fly, or bait-casting reels. However, you will have noticed that all 11 reels on our list were spinning reels. Why? 
Well, Spinning reels are by far the most popular reels used in the fishing world. They typically tend to be the first reel you pick up as a beginner and unless you venture into the world of fly fishing or deep sea fishing then you'll probably stick with a spinning reel for the rest of your fishing career. 
Crappie is typically found in fresh and brackish waters which include lakes, ponds, rivers, and streams. A spinning reel will serve you absolutely fine in these waters. 
What Features Should I Focus On Whilst Buying My Reel?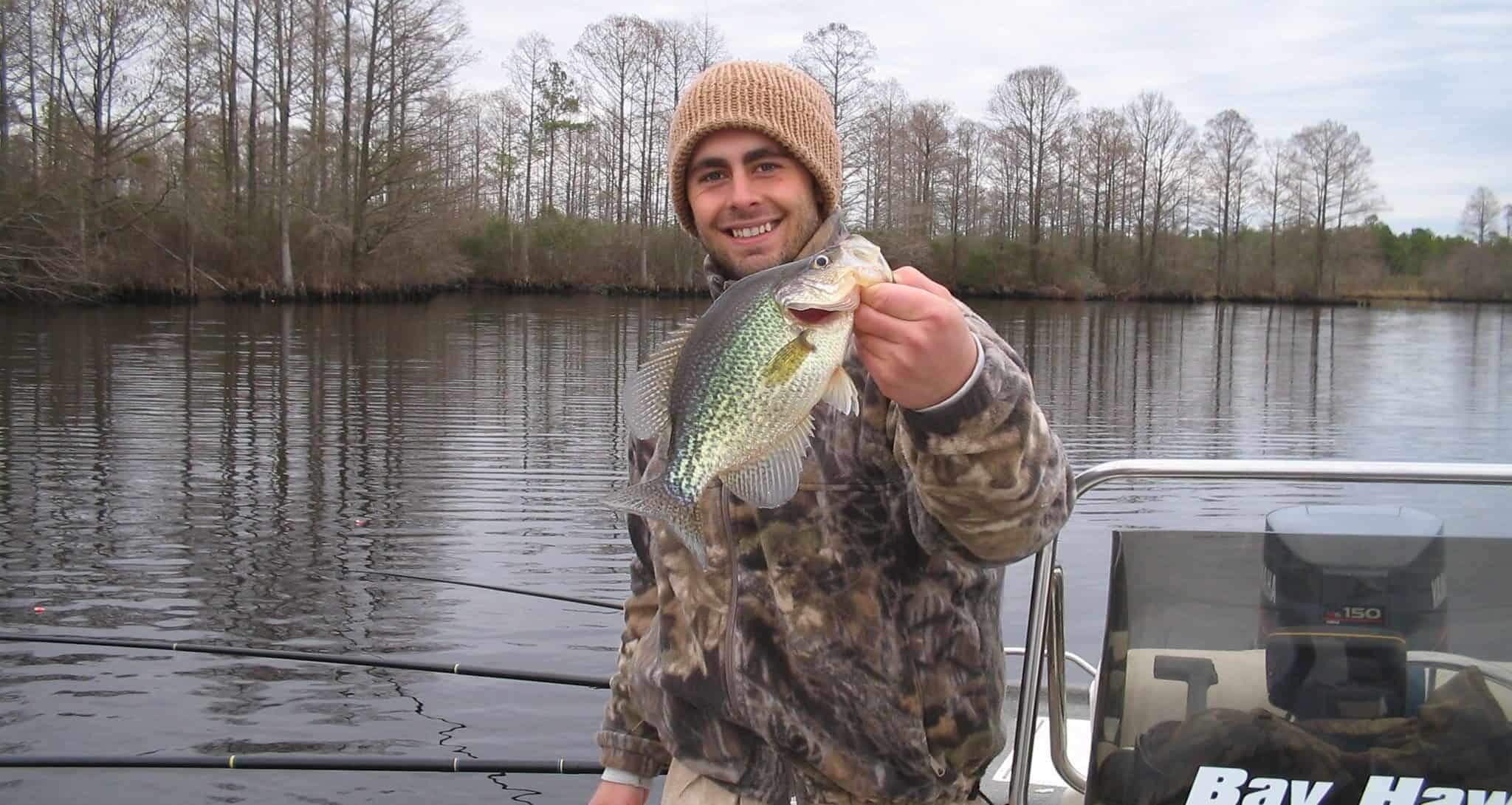 Finding the best spinning reel for crappie fishing can be a difficult task, especially with the huge number of options on the market today. We could talk about fishing reel features all day, but that wouldn't help you out. Below we will concisely cover the main features to help you out. 
Weight
Weight is a key feature often overlooked by anglers. But when you might be fishing and holding the rod for hours on end the extra few oz. of weight can make a difference. If you are big and strong then this probably won't matter as much to you, but if not then check out the weight of the reel. 
A lighter reel will be easier to carry around, use on your rod, and cast with. 
Spool Size
Spool size is another important feature to look for. Spool size relates to how much fishing line the reel can actually hold and use. I tend to go for the maximum line length I can as it doesn't hurt to have extra even if it's not used. However, if you don't need the extra length, this might not be of much concern to you. 
Check the description of the products, the manufacturer should list the yardage of line your spool can hold depending on the lbs of the fishing line whether it is monofilament or braided. 
Metal Used and Durability
Fishing reels come in a wide variety of materials. The Material choice will determine how strong the reel is, the weight, and the durability. The most common reel materials are plastic, steel, aluminum, carbon, and sometimes magnesium. 
I would opt for a metal or carbon body. Carbon is strong and lightweight. When choosing a metal, I would opt for aluminum or magnesium as they are both strong, lightweight, and corrosion-resistant. Steel reels aren't common nowadays, they are too heavy and rust easily.
Even though all of our best reels for crappie fishing are highly affordable they are all produced from high-quality materials that will serve you well. 
Anti-Reverse
Anti-reverse is a feature that prevents the reel from un-winding unexpectedly, which can quickly put your line into an irreversible bird's nest tangle. If possible always go for a reel with this feature. 
Bearings
Bearings ensure the spool and handles can rotate in a buttery smooth motion without causing friction and 'wobbling'. Most good reels will have at least 5 bearings, some on our list have up to 11! 
Drag Pressure
Drag pressure is the pressure placed onto the spool to stop it from releasing more lines. The system allows you to pull on big fish without breaking the line. Choosing a quality drag system ensures your line won't break and you'll be more confident in holding onto a strong fish. 
Conclusion
So that's it! We truly hope you have found the best reel for crappie fishing. We believe any of the 11 on our list will serve you very well and for many years to come. 
If you still aren't sure what to choose, they check out our buyers guide or review the customer feedback for each reel. Customers tend to provide the best insights into the quality of a product. 
To recap our list, our top 2 best spinning reel for crappie was the Cadence CS8 Crappie Spinning Reel and the Penn Battle II Spinning Reel. 
Other Related Fishing Posts: